Description
The Redleaf SOM-2 is a photo adapter designed for smartphones. It allows you to take photos and capture unforgettable views captured through the eye of a telescope, binoculars, monocular, spotting scope or microscope. It allows you to easily mount your smartphone on virtually any optical device equipped with an eyepiece with a diameter from 26 to 43.5 mm.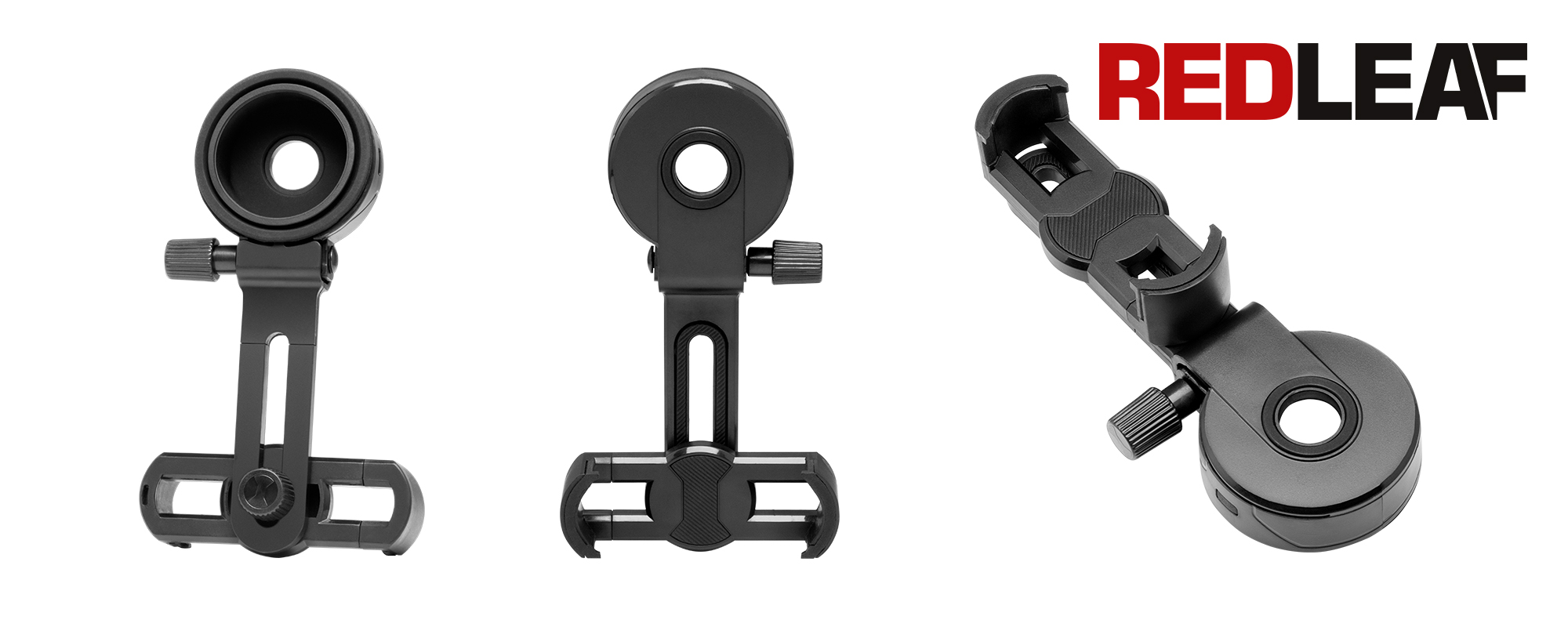 Main features of the Redleaf SOM-2 adapter
easy and quick installation
wide range of applications – telescopes, binoculars, microscopes, telescopes, monoculars
soft rubber rings for extra eyepiece protection
different sizes of rings
various sizes of adapter rings
thinkful phone holder design, wide compatibility, secure grip
perfect workmanship, durable materials
Universal and durable adapter
The Redleaf SOM-2 is made of durable plastic. Thanks to its well-thought-out design you can easily adjust it to your equipment. The rubber finish of the mounting elements prevents accidental scratches and damage.
Easy and fast installation
Mount the Redleaf SOM-2 adapter on your microscope or telescope in such a way that the lens of your smartphone is pointed directly at its eyepiece. This will allow you to capture amazing images in the form of photos or videos.
Become an astrophotographer!
Keep your memories of observing the night sky forever. Share photos of the night sky, craters on the moon or explosions on the sun with your friends, or maybe you are interested in capturing the world on a micro scale? With our adapter it's no problem!
Say goodbye to outdated adapters
Redleaf is constantly improving its solutions. The new Redleaf SOM-2 adapter is the answer to the problems faced by users of other adapters. The mount provides wider compatibility, easier and faster installation, no more problems with accidentally pressing the "volume keys" and no more hassle with flares and glare coming through the eyepiece.
Compatible with most mobile devices
The phone clamp can be adjusted from 62mm to 105mm. It doesn't matter if you have an Android or iOS device. For best results, use the main lens on your smartphone. The adapter fits most popular phones on the market, such as iPhone SE, iPhone 11 Pro, Honor 10, Huawei P40.
Adapter for eyepiece
With the included interchangeable rings, it is possible to install the adapter on the eyepieces of most amateur and professional optical devices. Matching rings made of rubber, will protect the eyepiece from damage and accidental scratches.
Purchase Tip
Before purchasing, make sure that our adapter will fit your binoculars, microscope or telescope. Measure the diameter of the eyepiece of your optical device. If it is between 26 and 43.5 mm then our adapter is perfect for you!
Specification
model: Redleaf SOM-2
color: black
material of construction:
eyepiece diameter: 26 – 43.5 mm
Smartphone mount: 62 – 105 mm
Dimensions: 142 x 81 x 39 mm
weight: 77 g
Compatibility
smartphones from 62mm to 105mm wide
optical instruments (binoculars, monoculars, microscopes, spotting scopes and telescopes) equipped with an eyepiece diameter of 26 mm to 43.5 mm
Kit contents
Redleaf SOM-2 adapter for mounting smartphones on scopes, telescopes and microscopes
rubber eyecup for eyepiece diameter 38.5 – 43.5 mm
rubber eyecup for eyepiece diameter 34 – 38.5 mm
rubber eyecup for eyepiece diameter 34 – 38.5 mm
rubber eyecup for eyepiece diameter 31 – 34 mm
rubber eyecup for eyepiece diameter 31 – 34 mm