Description
The Redleaf T20WF 4K WiFi is a trail camera that connects wirelessly to your smartphone using WiFi and Bluetooth technology. The device offers a wide range of applications – from wildlife observation to field surveys, property surveillance or crop inspection. Thanks to the solar panel, the camera can operate continuously without the need for regular charging via a USB-C cable. The device offers impressive photo quality (max. 9040 x 5072 px) and video (4K). The camera can operate in total darkness. The response time to motion is just 0.3 seconds. The device is resistant to harsh weather conditions (IP66 standard). It also comes with a camouflage overlay imitating a tree trunk for even more discreet observation.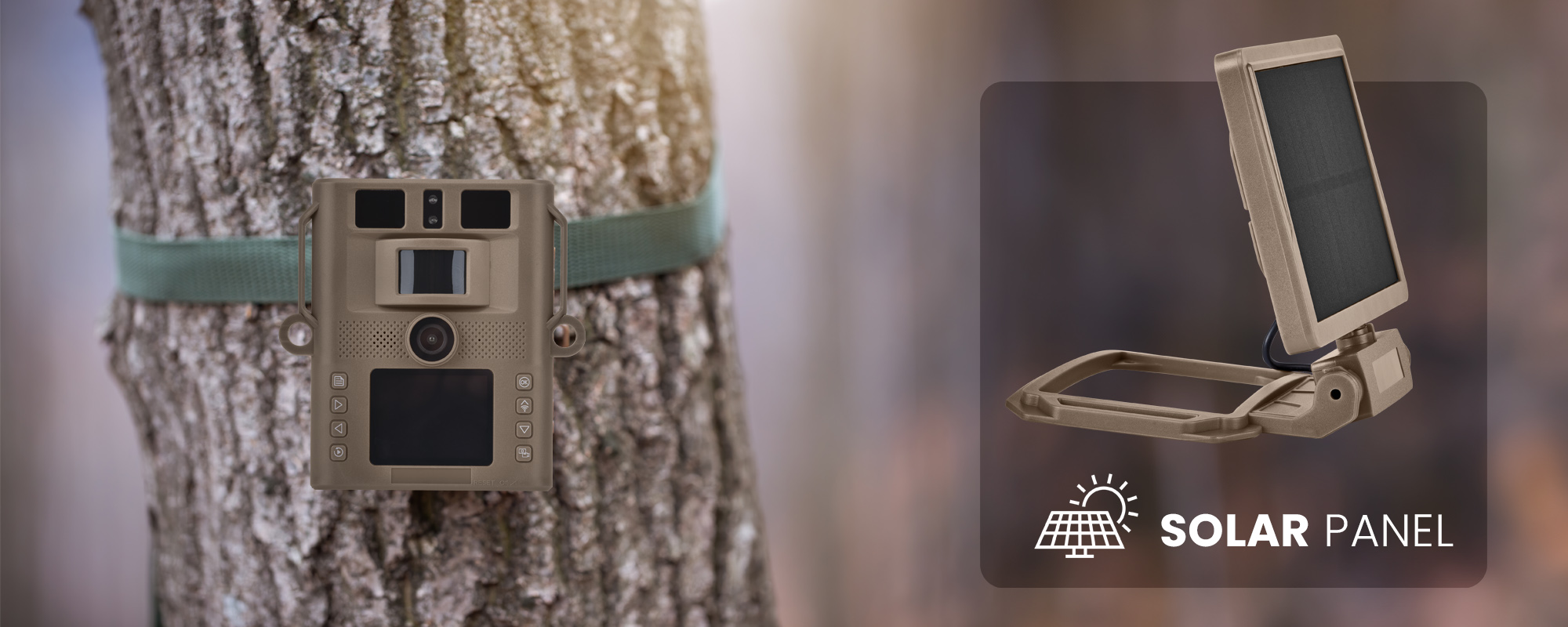 Main Product Features
a trail surveillance camera offering WiFi and Bluetooth connectivity
applications: animal observation in the wild, habitat observation, animal migration observation, field surveys, animal feeder surveillance, gardening, plant growth observation, forestry, hunting, timber surveillance, control of illegal waste disposal to forests and poaching, livestock and crop surveillance, fish pond observation, orchard and field monitoring, as well as observation of lots, houses, garages and parking lots
the included solar panel ensures uninterrupted operation
maximum video resolution of 4K (3840 x 2160 @ 30 fps)
impressive maximum photo resolution of 46M (9040 x 5072 px)
built-in 5000 mAh battery
possibility to charge the battery via a solar panel or USB-C port
recording videos and taking photos in the dark (infrared LEDs)
remote control and access to recorded media from the mobile app (Android / iOS)
the mobile app also provides real-time video preview
color 2.4″ screen for easy operation from the camera housing
audio recording capability
built-in speaker
built motion sensor with 3 sensitivity modes
automatic video recording when motion is detected
motion response time is just 0.3 seconds
Internet Protection Standard (IP66) – provides complete resistance to dust and strong water spray from any direction
operation in temperatures from -20°C to 60°C
possibility to record video in a loop
recording of video on Micro SD memory cards (up to 256 GB)
included belt and mounting kit for convenient installation of the camera on trees
also included is a camouflage overlay imitating a tree trunk
Impressive photo and video quality
The Redleaf T20WF 4K WiFi surveillance camera allows you to capture videos and photos with impressive detail and high resolution. Are you looking for a way to identify the person who regularly leaves trash on your property? Or perhaps you want to get a better understanding of the habits of animals living in the surrounding forest? This surveillance camera will allow you to capture photos at an impressively high maximum resolution of 9040 by 5072 pixels. These photos are perfect for printing or developing at a photo shop. On the other hand, the 4K resolution of the recorded video footage will provide great image quality viewed both on a small smartphone screen and on a large TV.
2 ways to power
The built-in 5000 mAh battery used in the Redleaf T20WF 4K WiFi surveillance camera gives you exceptional flexibility in terms of power supply. Thanks to the solar panel, the device's operation can continue for months without interruption. Simply place the camera in a strategic location where the sun's rays will allow the battery to recharge regularly. Alternatively, the device can be charged via a USB-C port. This is a practical solution for situations when you need a quick battery boost, but don't have access to the sun's rays.
Functional solar panel included
The solar panel is a separate module that is not permanently integrated into the Redleaf T20WF 4K WiFi surveillance camera. This gives you the option to place it in a slightly different location for better access to sunlight. The 120 cm long cable will provide a convenient connection. Mounting the panel is simple and trail – you can use screws and bolts or a special mounting strap – just like the camera itself. In addition, the solar module is equipped with a pivoting joint, which allows you to fine-tune the angle of tilt with respect to the sun. The device, like the camera, meets IP66 requirements.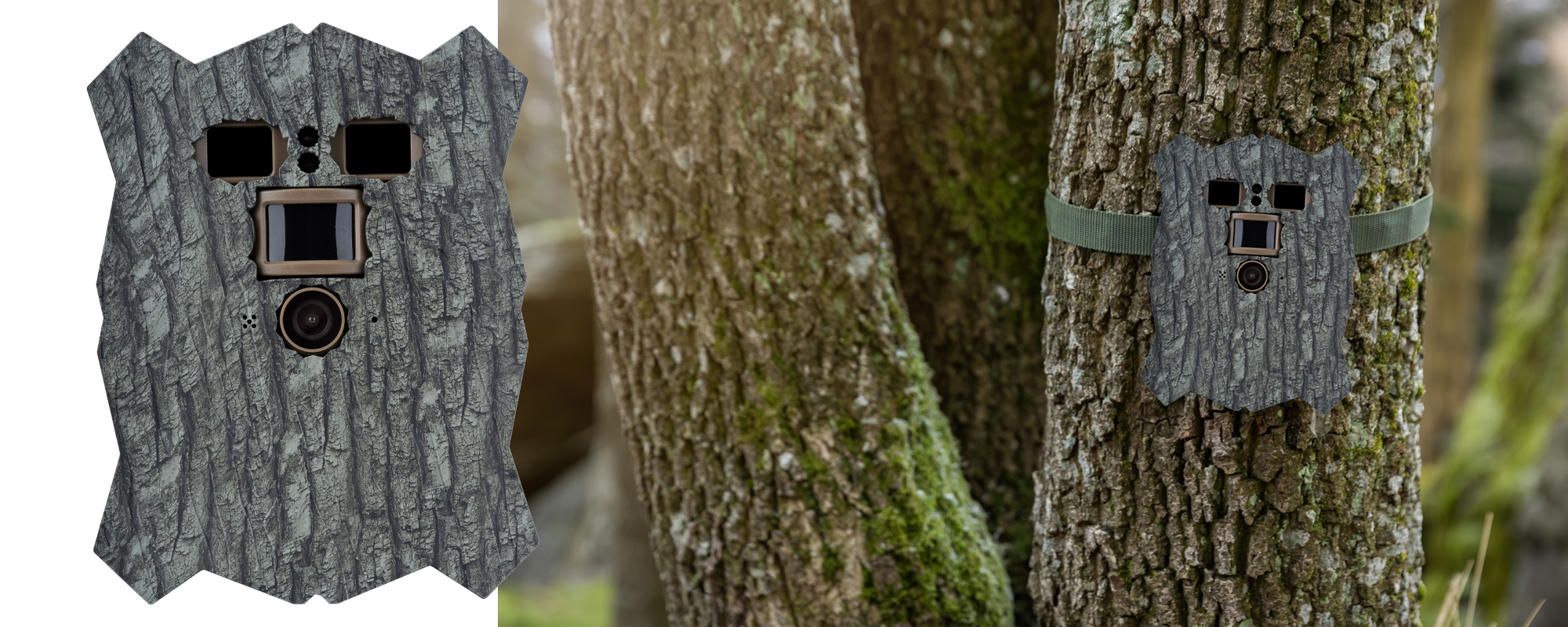 Redleaf T20WF 4K WiFi Surveillance Camera
The Redleaf T20WF 4K WiFi surveillance camera meets the IP66 standard, so it's not intimidated by heavy streams of water and dust. As a result, when you install it outdoors, you don't have to worry about a canopy or additional protective measures. The airtight housing will ensure proper operation of the camera both during a snow blizzard, heavy rain and during extremely hot days. The device can operate at temperatures from -20°C to 60°C, so you can be sure that motion-activated monitoring will be effective in both summer and winter.
Excellent visibility even at night
Thanks to the use of infrared light-emitting diodes, the Redleaf T20WF 4K WiFi surveillance camera can capture high-quality black-and-white videos and photos while operating in complete darkness. When operating at night, the device activates when it recognizes movement up to 20 meters away. Importantly, the infrared light emitted is completely invisible. As a result, the camera works unobtrusively, without interfering with the natural behavior of animals.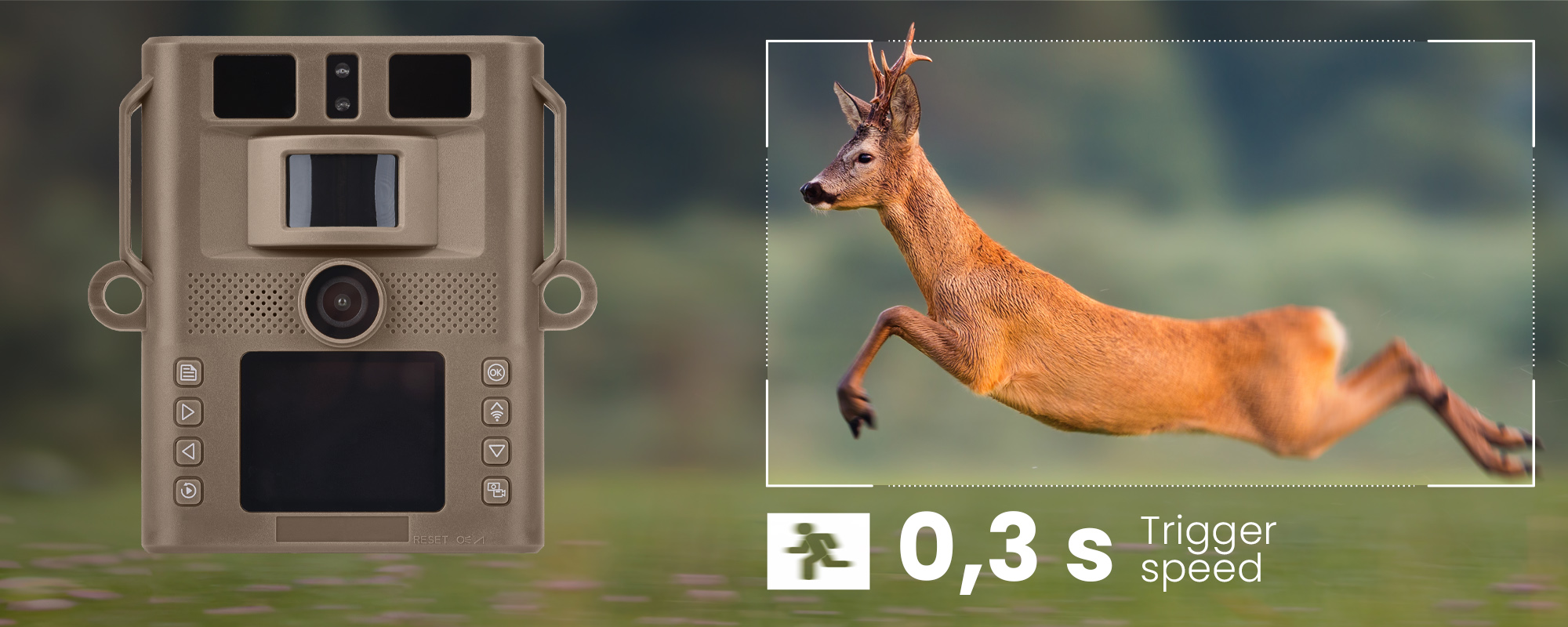 Instant response to motion
Activating in just 0.3 seconds, the motion sensor is perfect for situations where lightning-fast response time is crucial. The device will successfully detect an intruder or wild animal, from up to 20 meters away. Any living creature, regardless of the time of day or night, will be photographed or captured on film as soon as it approaches the camera. In addition, this trail camera will allow you to continuously monitor your grounds or property, providing effective surveillance around the clock.
Wireless WiFi and Bluetooth connectivity
You don't have to dismantle the Redleaf T20WF 4K WiFi camera every time you want to review the captured photos and videos. All thanks to the "WILDLIFE CAM" mobile app, which is available for iOS and Android smartphones. It will give you remote access to the "photopic camera" – including settings, remote control, real-time preview and saved files. There is also a 2.4 screen and functional buttons on the camera housing. If you don't have a smartphone at hand, these are the ones you'll use to review recordings or change the device's settings.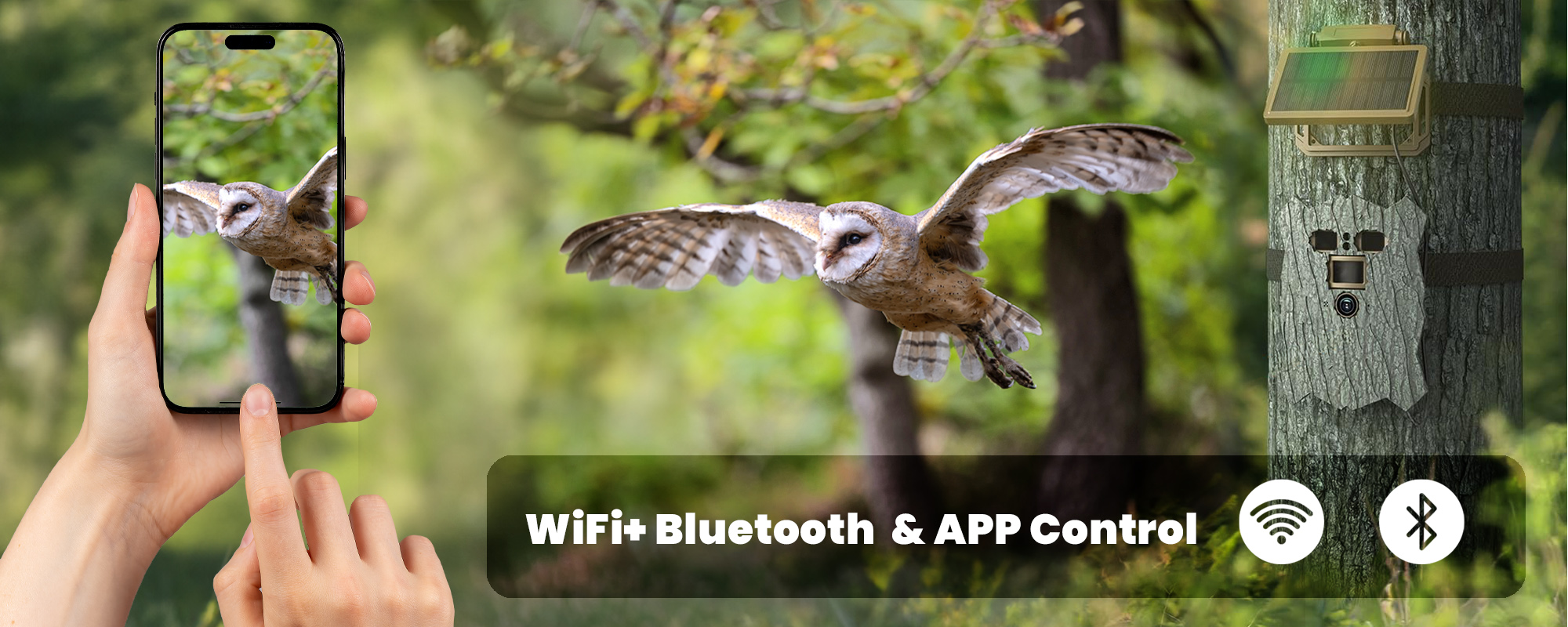 Convenient installation system
Included with the Redleaf T20WF 4K WiFi Surveillance Camera, you'll find two straps to facilitate quick and convenient installation, both of the main module with lens and the solar panel. Using sturdy straps, you are assured that the devices will stay in place for many months. The kit also comes with pins and screws, which will work well wherever mounting straps fail.
Perfect camouflage
An additional piece of kit that makes the Redleaf T20WF 4K WiFi surveillance camera even more trail is a camouflage overlay that imitates a tree trunk. The panel perfectly camouflages the camera in natural surroundings, allowing for discreet observation. With the overlay, the camera becomes invisible to bystanders, while retaining full functionality for recording video and taking photos.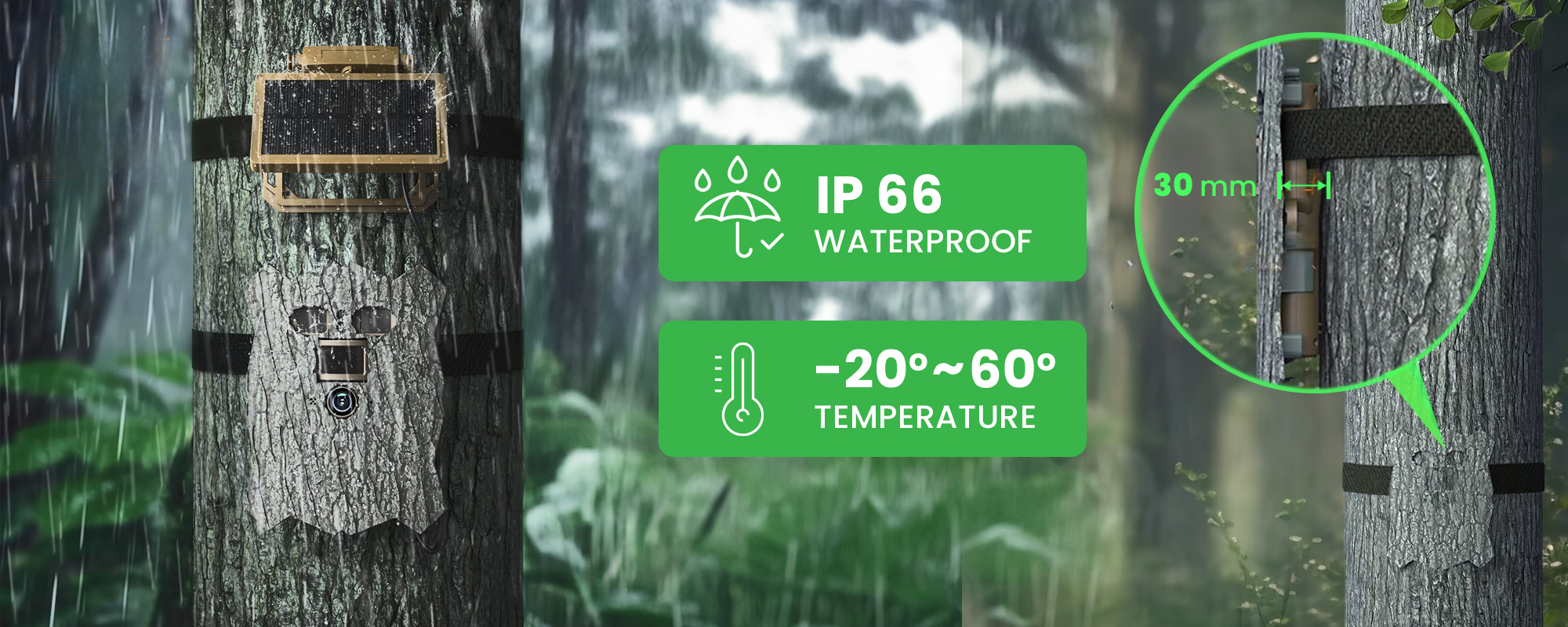 Sounds of nature
Videos captured with the Redleaf T20WF 4K WiFi Surveillance Camera not only provide excellent image quality, but also realistically rendered sound. The built-in microphone will allow you to capture the sounds of nature, such as birdsong, the love songs of bulls vying for the favor of doe, or the nocturnal howls of wolves communicating as they hunt. This is a unique chance to immerse yourself in the authentic soundscape of nature.
256 GB for your photos and videos
The Redleaf T20WF 4K WiFi Surveillance Camera is equipped with a Micro SD (TF) memory card slot that supports media up to 256 GB. This means you have the ability to store hundreds of hours of video footage and thousands of photos, without having to frequently tamper with the files. This means you don't have to regularly visit the location where the camera is placed to manually delete unnecessary data. In addition, using the loop recording function, the camera automatically overwrites the oldest files, guaranteeing continuous recording, similar to advanced car cameras.
Specification
model: Redleaf T20WF 4K WiFi
Lens:

focal length – f 4.15 mm
aperture – F/NO=1.6
field of view – FOV=80°

Image:

image resolution: 46M: 9040 x 5072; 44M: 8832 x 4960; 40M :8416 x 4736; 36М: 8000 x 4496; 30М: 7392 x 4160; 24М: 6544 x 3680; 20M: 5888 x 3312; 16M: 5376 x 3024; 12M: 4608 x 2592; 8M: 3840 x 2160; 4M: 2560 x 1440; 2M: 1920 x 1088
film resolution: 4K (3840 x 2160 @ 30 fps); 2K (2560 x 1440 @ 30 fps); 1296P (2304 x 1296 @ 30 fps); 1080P (1920 x 1080 @ 30 fps); 720P (1280 x 720 @ 30 fps); 480P (848 x 480 @ 30fps); 368P (640 x 368 @ 30 fps)

File storage format:

photos: JPG
films: MPEG-4 (H.264)

screen: 2.4″ (TFT LCD)
motion sensor range: up to 20 m
IR LED range: up to 20 m
motion response time: approximately 0.3 seconds
support for Micro SD (TF) cards: up to 256 GB
Connectivity:

WiFi – 2.4 – 2.5 GHz, 802.11 b/g/n (up to 150 Mbps)
Bluetooth 5.0: 2.4 GHz (ISM band)

Battery: lithium battery (3.7 V / 5000 mAh)
Power supply:

solar panel (1.2 W)
USB-C

Charging time via USB-C port:

7 h (when the camera is turned off)
24 h (in SETUP/ON mode)

charging time with solar panel: 4 to 10 days
protection rating: IP66 (total resistance to dust and strong water spray from any direction)
allowable operating temperature: -20 – 60ºC
allowable storage temperature: -30 – 70ºC
permissible humidity: 5% – 90%
dimensions: 138 x 136 x 30 mm (camera without camouflage cap)
weight: 290 g (without camouflage overlay and solar panel)
Kit contents
Redleaf T20WF 4K WiFi surveillance camera
a camouflage overlay imitating a tree trunk
solar panel
mounting straps</li
USB-A / USB-C cable
set of pins and screws