Description
The Redleaf 32LED 3d RGB Equalizer is a unique light column equipped with 32 LEDs that responds to sound in real time. Accentuate the sound of your favorite songs or create a unique atmosphere in your home! It is also a great addition to the gaming station and an alternative to the Ambilight technology used in TVs. The device offers 153 combinations of light animations in different colors. Application for smartphones allows you to control the panel remotely, as well as to control a group of several devices simultaneously. A special mode makes it possible for the equalizer to also act as… arcade game. Redleaf 32LED 3d is also a unique effect of three-dimensional animations. The LED panel goes from the front of the equalizer to its side edges, making the visualizations even more visible.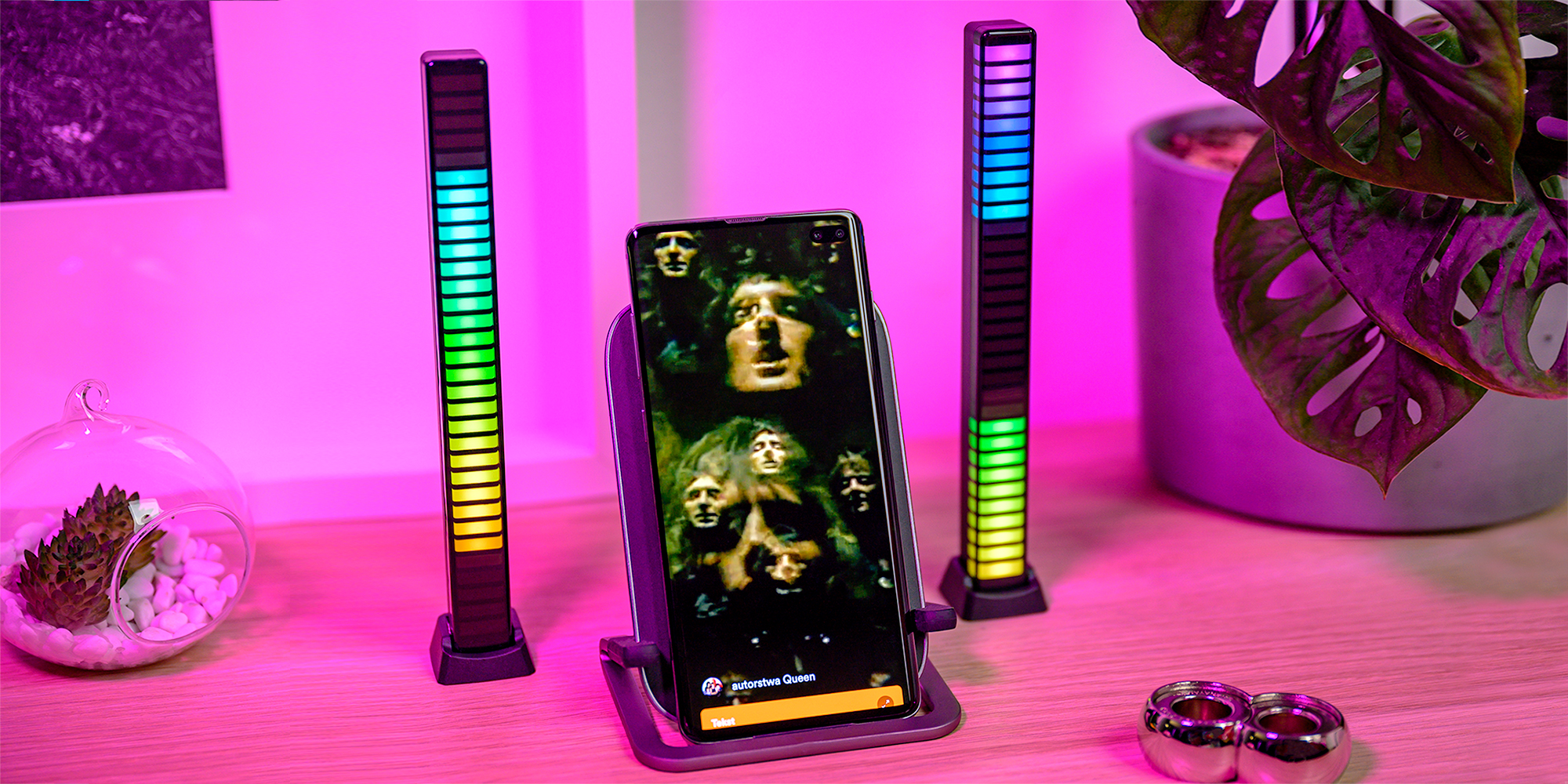 Main Product Features
a sound responsive light column equipped with 32 LEDs
perfectly emphasizes the rhythm and atmosphere of different music genres with colorful lights
a great addition to a home theater system or a gaming station
Built-in high-sensitivity microphone for ambient sound with noise-canceling function
Like a stylish case, it can be used in a variety of environments.
stylish casing made of durable materials
Built-in microphone with high sensitivity and noise cancellation function
32-bit ARM processor for excellent light-sound synchronization
Support for auto-synchronization of sound and light
support for Automatic Gain Control (AGC), which adjusts microphone sensitivity to the volume of sounds
the 3D effect created by the microphone's sound design
a 3D effect created by curved LED panels moving from the front of the equlizer to its side edges
special Colorful Lights application enabling remote light control
Possibility to control a few equalizers at the same time, from the application level
Convenient operation with physical buttons on the back
5-step adjustment of the speed of displayed light animations
4-step brightness adjustment
9 operating modes providing diverse ways to visualize sound with light
17 preset color combinations for each of the 9 modes
12 preset colors
A color wheel accessible from within the app that allows you to precisely match the color to your needs
fast and convenient charging via USB-C port
included stand, tripod and adhesive mounting tape
Sound-responsive light panel
The Redleaf 32LED 3d RGB Equalizer is a unique device that will allow you to create a unique atmosphere with a unique combination of colored lights responding to sound in real time. Create a disco atmosphere in your home or take your gaming station to an even higher level. The innovative sound recognition technology is based on a modern 32-bit ARM processor. Thanks to it, the LEDs will display unique colorful animations to the rhythm of club hits or will light up red exactly when you fire a weapon in your favorite game. Once the music LED panel is in your room, car, or music studio, you're sure to find hundreds of ways the light can accentuate the character of the venue or the sounds that accompany you!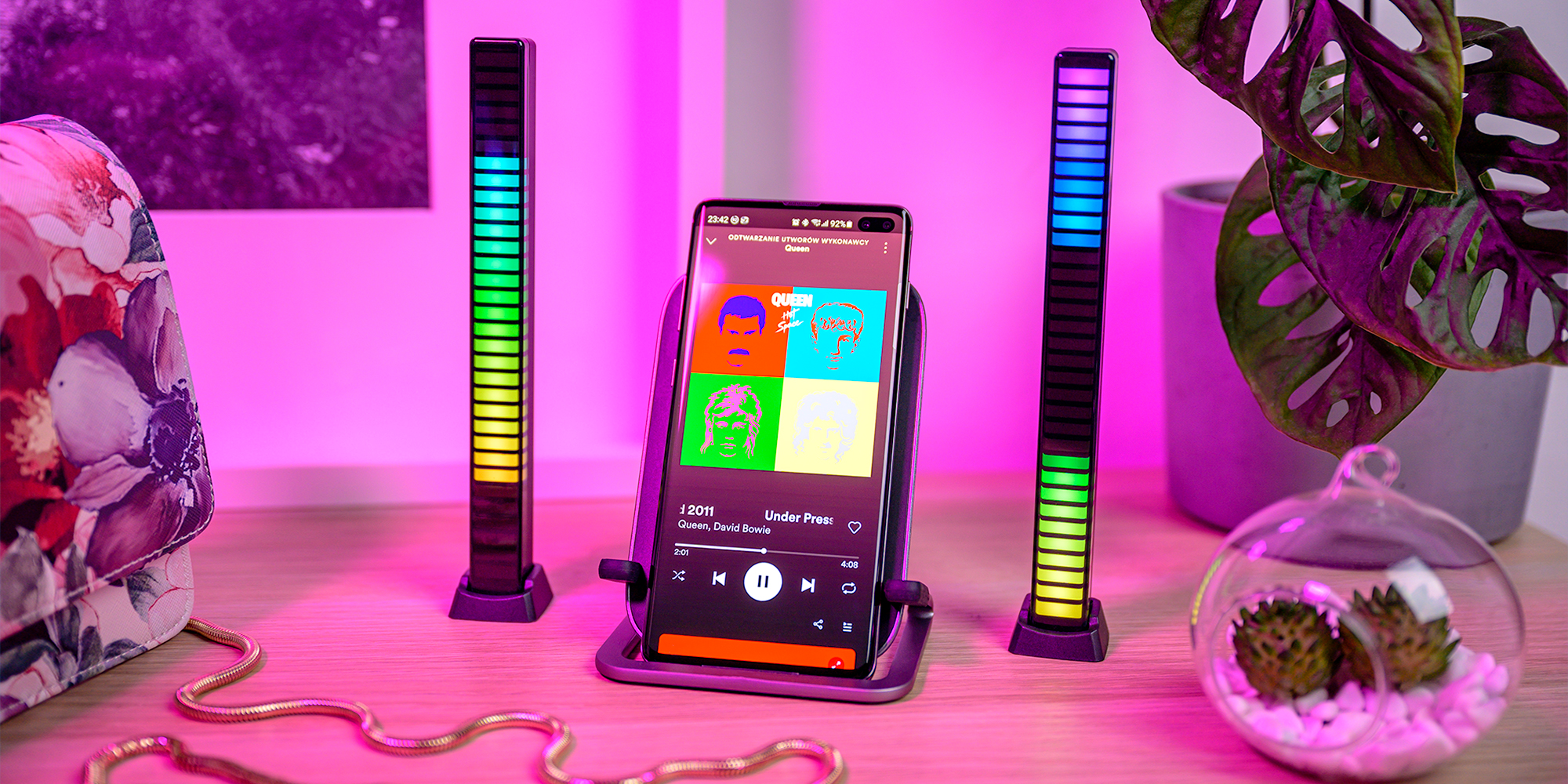 Infinite spectrum of colors
The device offers 9 unique light animations that respond differently to sound through changing LED colors. In addition, each mode can operate on the basis of 17 variants of color visualization. That's as many as 153 unique combinations! Add to that the ability to adjust the brightness level and speed of the displayed animations, as well as the color wheel available from the application level and you get an almost unlimited number of options for personalizing the equalizer for any type of music and sound.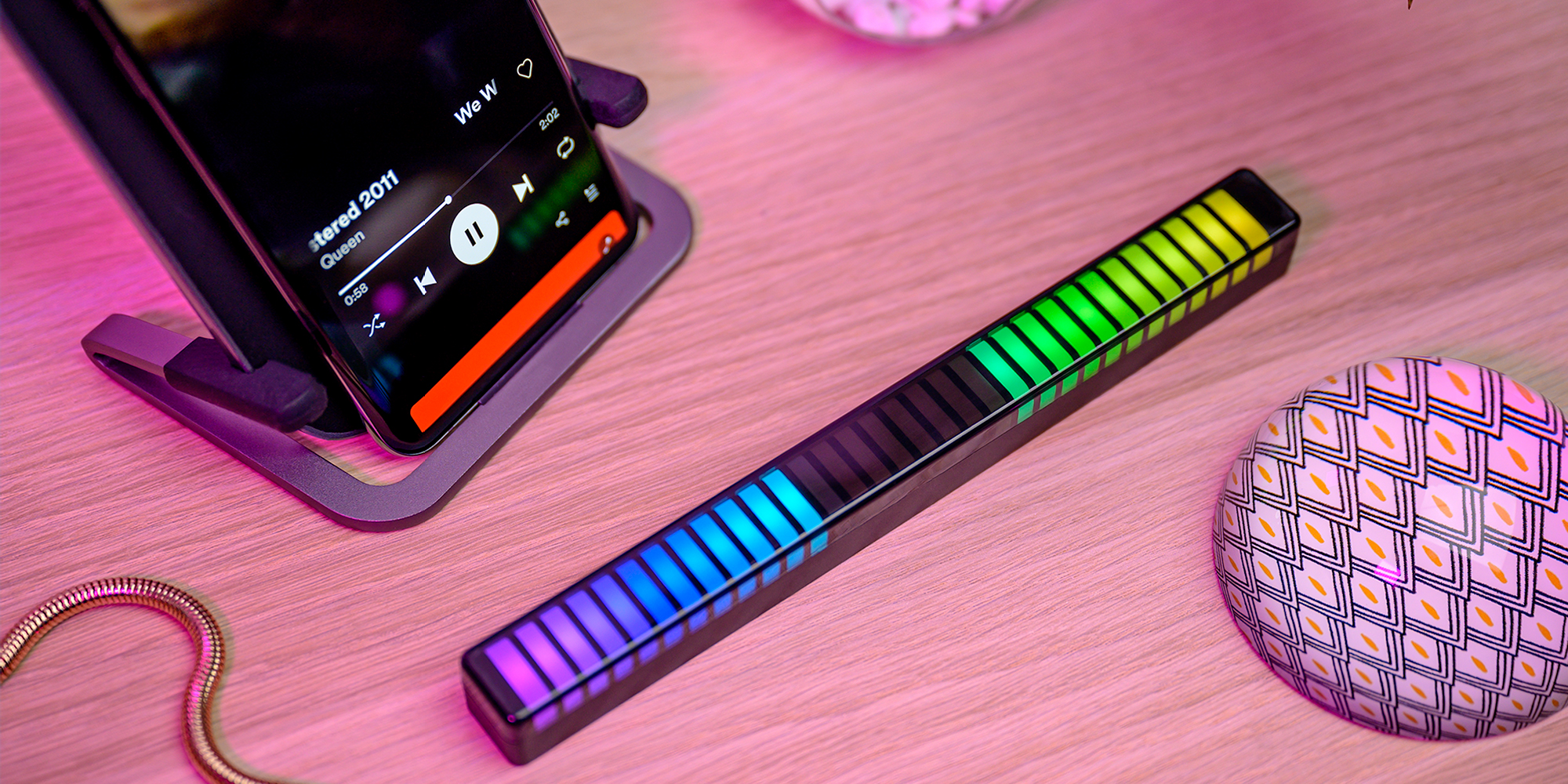 Music LED strip with 3D effect
Unlike many similar LED speakers, the Redleaf 32LED 3d RGB equalizer features a unique design, allowing you to enjoy colorful sound visualizations that display not only on the front of the panel. The innovative design allowed to achieve a unique effect of three-dimensional animations. The LED panel moves from the front of the equalizer to its side edges. This makes the striking light animations more visible, providing greater versatility when it comes to the angle of the unit.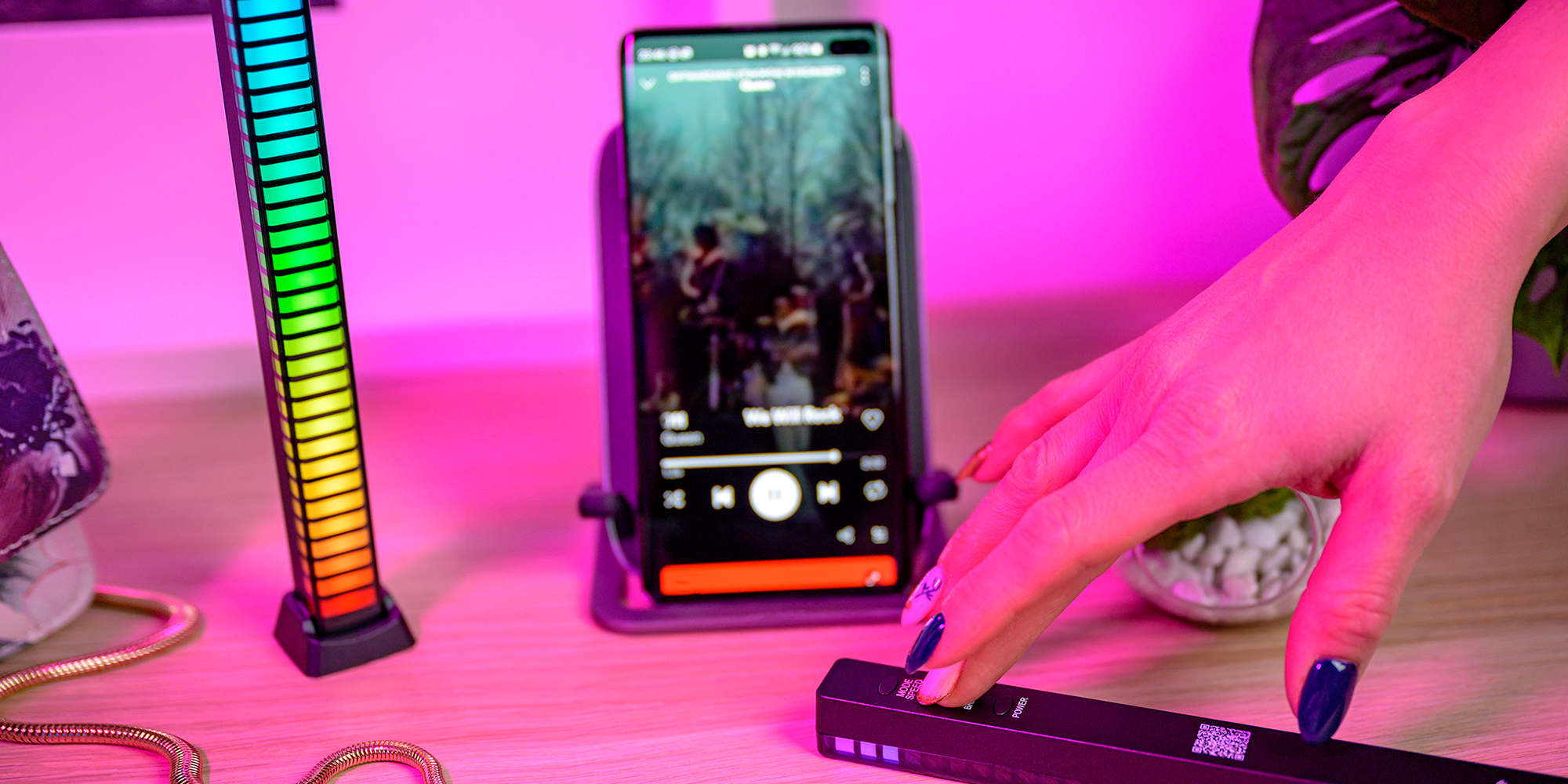 Remote smartphone control
In Google Play and App Store you will find a special application that will allow you to further expand the control capabilities of the Redleaf 32LED 3d LED music panel. Its intuitive interface allows you to quickly and conveniently switch between 9 types of light visualizations responsive to sound, as well as 17 preset color sets. Touch sliders will also allow you to control sensitivity and speed of operation. There are also preset uniform color settings and a color wheel where you can choose the shades that best emphasize the atmosphere of the songs you're playing.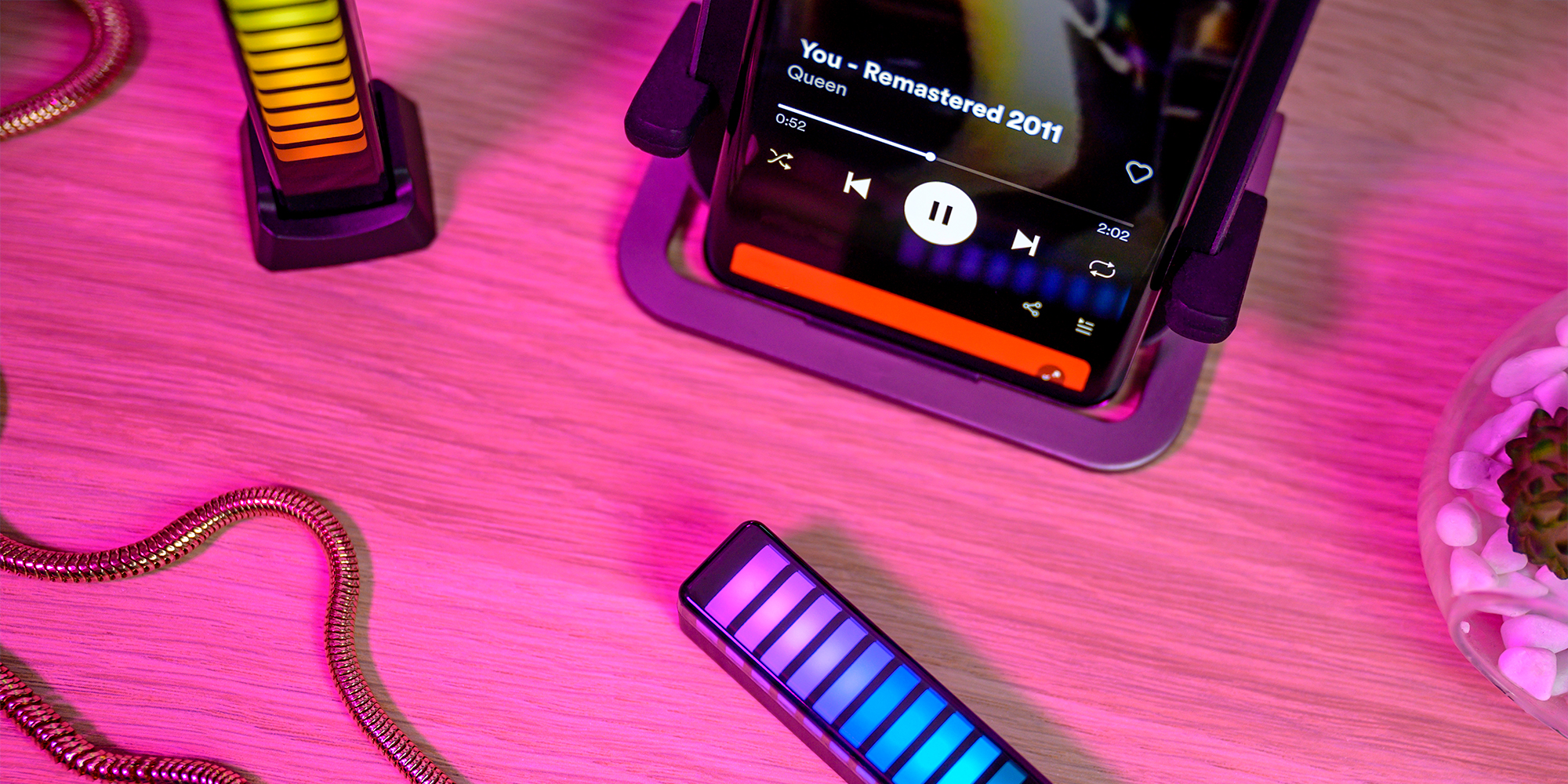 Combine multiple equalizers
Colorful Lights mobile app is not only a convenient way to remotely control the device and comfortably switch between different modes of the music LED panel. With its help, you can simultaneously connect to several different Redleaf equalizers and at the same time personalize the colors and ways in which the light reacts to sound. A group of several panels that switch between different modes in an instant is a great way to create a party atmosphere wherever your favorite songs accompany you!
Fast and convenient charging
When you choose the Redleaf 32LED 3d RGB equalizer, you do not have to worry about battery backup. You can quickly charge the device from a power bank, computer USB port or charger. The set comes with a one meter USB-A / USB-C cable, which will facilitate this task. You will be informed about the level of charge of the music panel by luminous LEDs, which will be more and more as the power is replenished.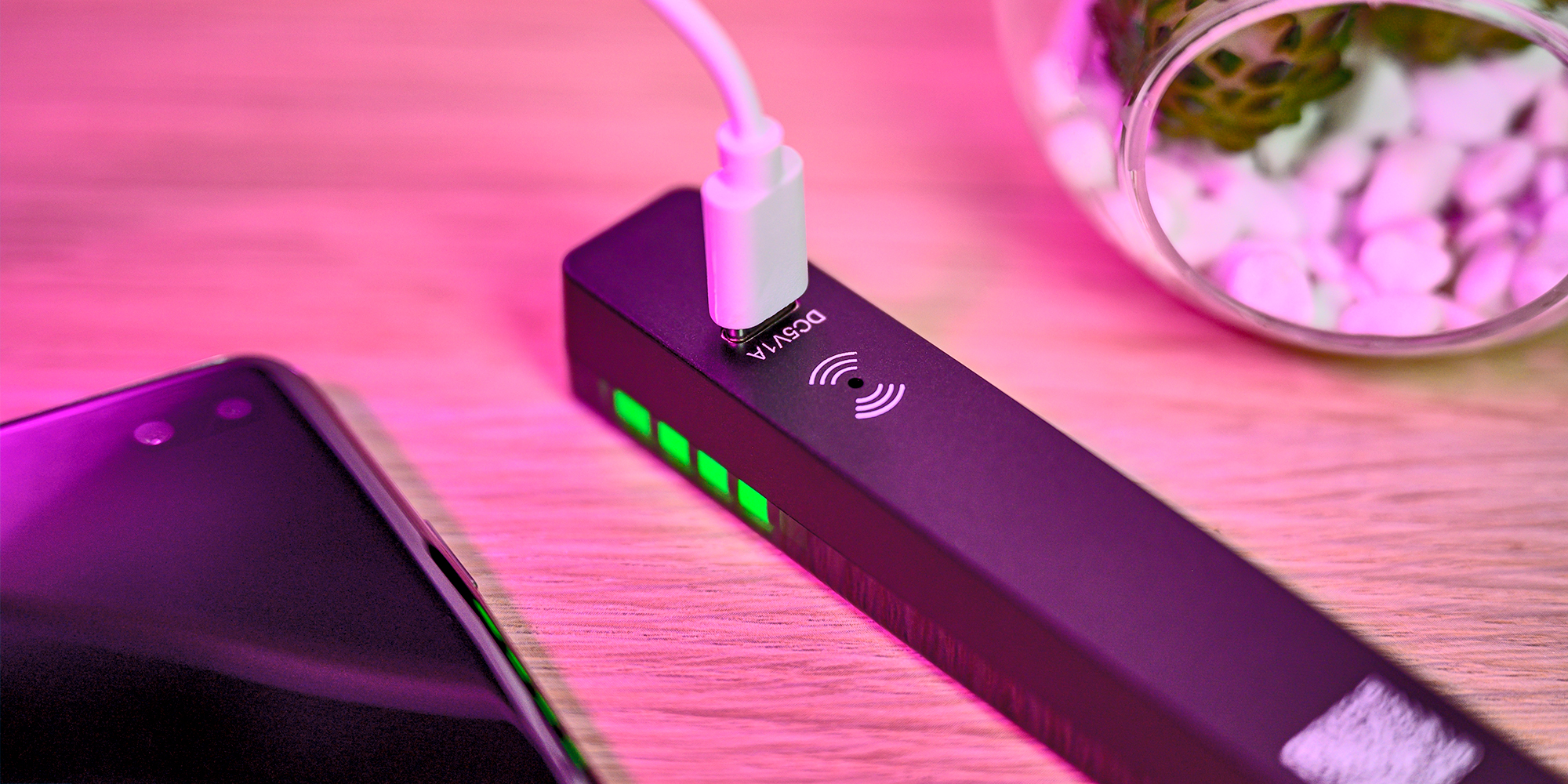 Play an interactive game!
RGB Equalizer Redleaf 32LED 3d is not only an eye-catching decoration that enhances the mood created by your favorite songs or adds variety to playing games and watching movies. The device has a special mode that allows you to turn the LED music bar into… arcade game! It's great fun, which will appeal to both children and adults. Pass the time during long car journeys or challenge your loved ones. Exercise your reflexes by "catching" the light moving in the area of 32 led "tiles". See if you can fill the whole strip with color without any mistake!
Always in its place
The set with RGB Redleaf 32LED 3d equalizer does not lack accessories that allow you to comfortably position the panel in the place of your choice. A small stand provides optimal stability and does not take up much space. Or maybe you use the LED music strip in the vicinity of powerful speakers and you are afraid that the force of sound may knock it over? Use the included stand which can be easily screwed into the 1/4″ threaded hole on the equalizer housing. You can also stick the music panel to the dashboard in your car, monitor or any flat surface. You can do it using special double-sided stickers, which you will also find in the box with the RGB Redleaf 32LED 3d equalizer.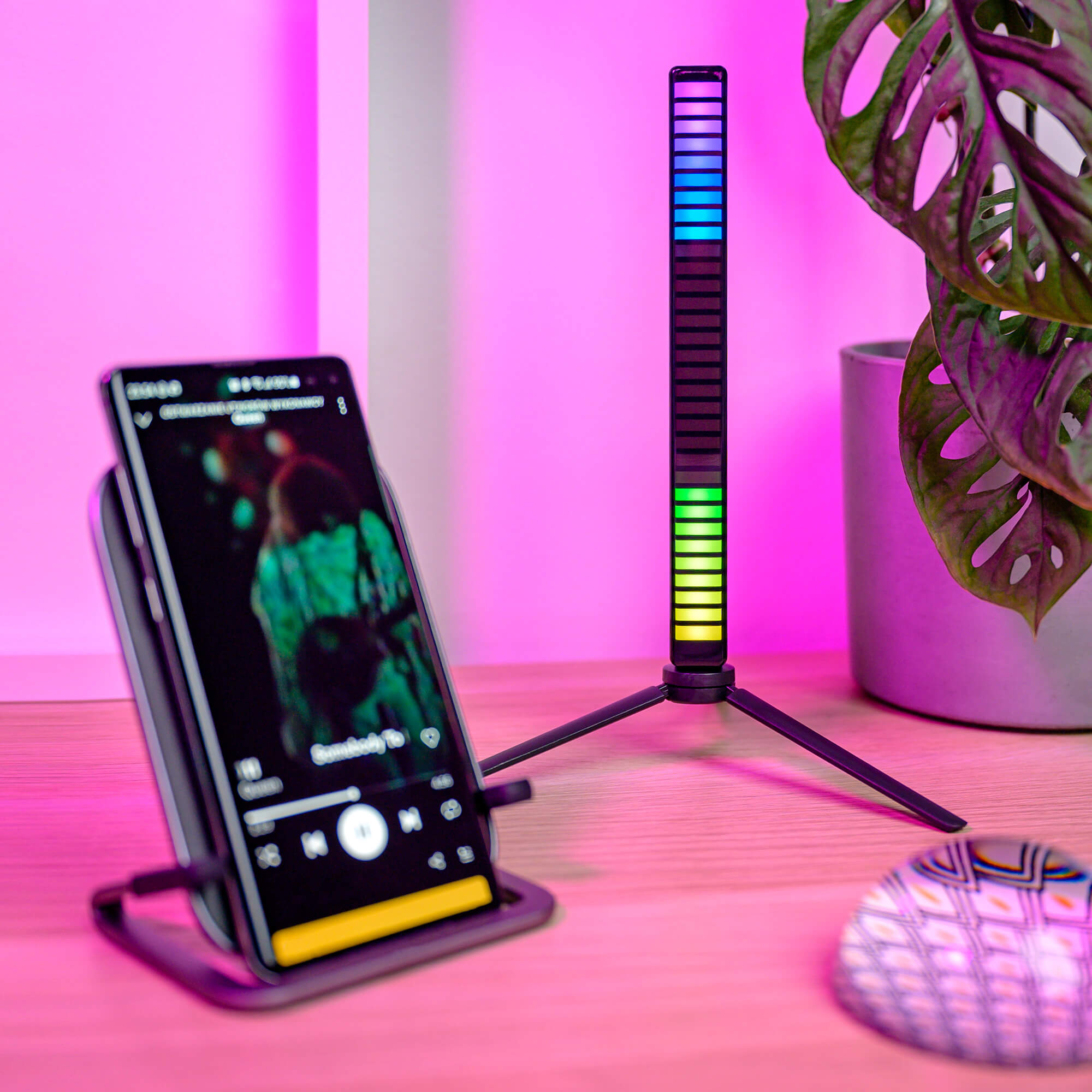 Specification
model: Redleaf 32LED 3d
color: black
charging: DC 5 V / 1 A
charging port: USB-C
processor: ARM (32-bit)
number of LEDs: 32
bandwidth: 100 – 16 kHz
number of operating modes: 9
number of color sets for each mode: 17
number of predefined colors: 12
control: physical buttons / mobile app
optical radiation characteristics (wavelength):

red light: 620 – 625 nm
green light: 625 nm
green light: 520 – 525 nm
blue light: 1300 – 1500 nm

optical radiation characteristics (brightness):

Red light: 450 – 550 nm
Green light: 1300 – 1500 nm

Light characteristics (brightness)
green light: 1300 – 1500 nm
Dimensions: 190 x 18 x 18 mm
weight: 60 g
Kit contents
RGB Redleaf 32LED 3d equalizer – black
USB-A / USB-C cable
RGB tripods
three-legged tripod with 1/4″
thread
equalizer stand
two-sided mounting tape