Description
Saramonic Blink500 ProX B3 Wireless Audio Transmission Kit (RXDi + TX)
The Saramonic Blink500 ProX B3 Wireless Audio Transmission Kit (RXDi + TX) is a great choice for vloggers, journalists, youtubers, tiktokers and web developers. In the box you'll find a receiver that connects to your iPad or iPhone with a Lightning connector, a transmitter, a unique charging case, a tie microphone and additional accessories. This is everything you need to ensure professional quality recordings from your Apple devices. The kit will provide a transmission range of 100 meters. The product stands out for its ultra-low latency and great signal-to-noise ratio. You'll also find a unique charging case in the kit, which will make it easy to store your devices, as well as conveniently refill the transmitter.
Main Product Features
wireless audio transmission kit with 1 receiver and 1 transmitter
compatible with Apple devices equipped with Lightning port
ideal for use with iPhones and iPads
excellent quality of recorded sound (signal-to-noise ratio – 84 dB, sampling – 48 kHz, frequency response – 20Hz – 20 KHz)
a great choice for youtubers, vloggers, tiktokers, web creators and journalists
lightweight and ergonomic charging case that allows you to refill the transmitter
receiver powered directly from iPhone / iPad
larger OLED display on the transmitter for even better recording control
enables you to record clear and crisp audio with barely audible background noise
compact and ultra-lightweight transmitter with built-in microphone and clip for attaching to clothing
also includes a tie microphone that can be connected to the transmitter via MIC / LINE IN
up to 100 meters range is a guarantee of even more convenient work
impressively low latency of 8 ms
possibility to record audio in STEREO and MONO mode
perfect adaptation to the needs of recording – 6 levels of signal amplification ("gain")
possibility to connect headphones to the receiver and monitor audio in real time
possibility to power the transmitter via USB-C port (e.g. from a power bank)
up to 10 hours of operation on a single charge
etui provides 2.5 full charges of the transmitter
For Apple equipment users
The Saramonic Blink500 ProX B3 Wireless Audio Transmitter Kit (RXDi + TX) was created specifically for users of equipment from Apple. The Lightning plug used in the receiver will easily connect to your iPhone or iPad, even if the device is in an armored case!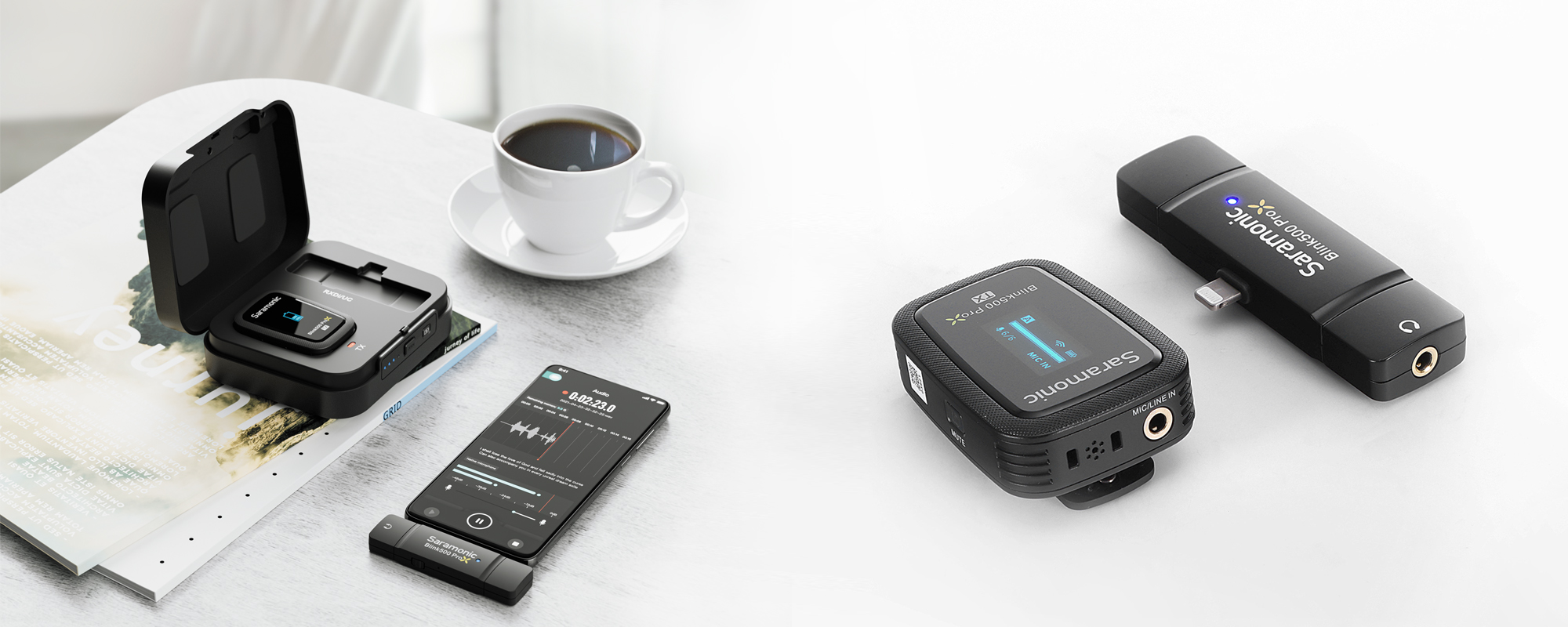 Professional sound quality
The transmitter you'll find in the Blink500 ProX B3 (RXDi + TX) kit features a built-in omnidirectional condenser microphone. The signal-to-noise ratio here is 84 dB, the sampling frequency is 48 KHz, and the frequency response is 20-20 KHz. Such parameters allow recording clear and crisp sound with almost inaudible background noise.
The video maker's essentials
The Saramonic Blink500 ProX B3 (RXDi + TX) is a wireless audio transmission kit consisting of 1 receiver, 1 transmitter, a case that acts as a charging station, and necessary accessories. The ultralight microports are perfect for shooting interviews, reports, vlogs, live broadcasts, webinars, remote lectures or filming weddings.
100 meter range
The signal range offered by the Saramonic Blink500 ProX B3 (RXDi + TX) wireless audio transmission kit is 100 meters. This allows you to move freely with the microport over a large area, and high-quality sound will be recorded without any interference.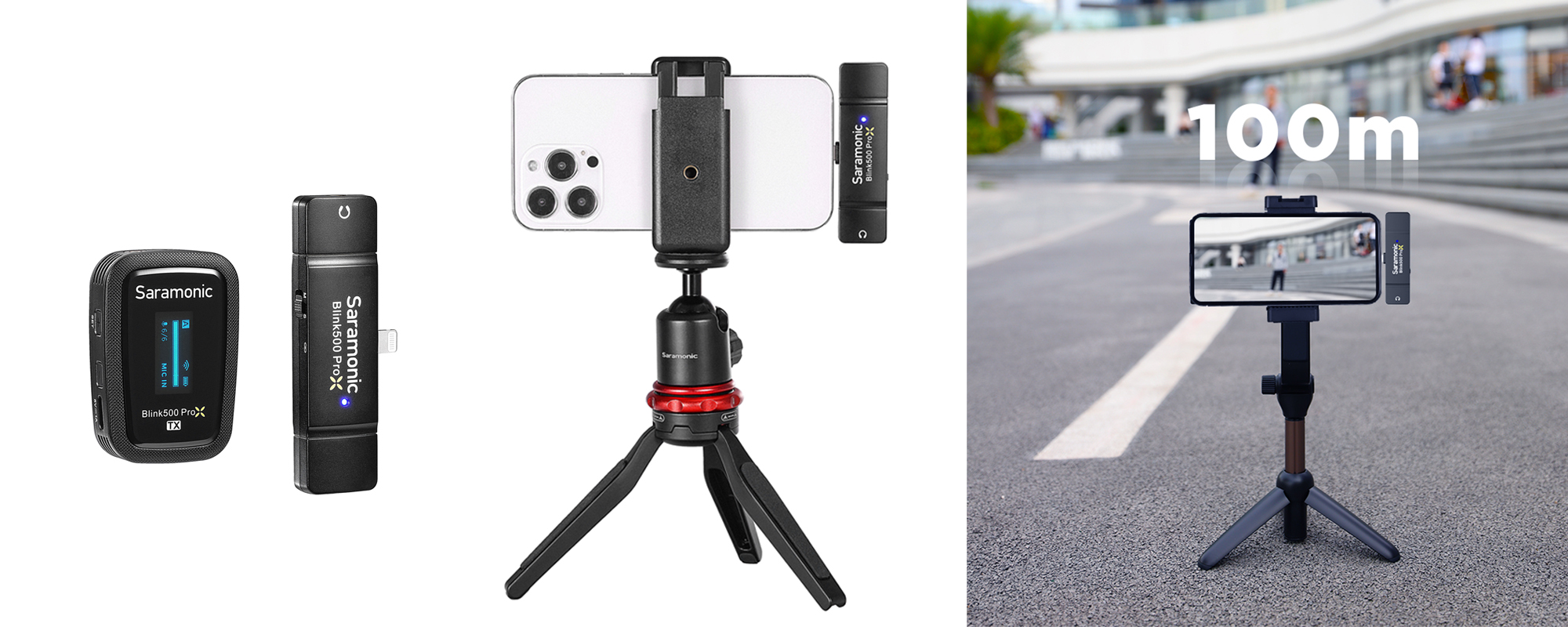 Additional tie microphone
In the Saramonic Blink500 ProX B3 (RXDi + TX) kit you will find a high-quality tie microphone. It will be an ideal choice for those who care about keeping the transmitter out of the frame. This solution will allow you to record sound even closer to the person speaking.
Lag-free sound
The Saramonic Blink500 ProX B3 (RXDi + TX) kit features an impressively low latency of just 8 ms. This is great news for those who want to use it for online broadcasting and be sure that no audio delays will occur during recordings!
10 hours of continuous operation
The fully charged transmitter you'll find in the Saramonic Blink500 ProX B3 (RXDi + TX) wireless audio transmission kit will provide 10 hours of uninterrupted audio work. You will successfully record several episodes of your YouTube show, complete a long interview or a full-day report in this time.
Charging case
Although the transmitter can be successfully charged via a USB-C port, you'll find something extra in the Saramonic Blink500 ProX B3 (RXDi + TX) kit. The special Blink500 ProX B3/5 BOX charging case will provide adequate protection for your devices, while allowing you to replenish the transmitter. A fully charged case guarantees 2.5 charges. The receiver is powered directly from an iPhone or iPad.
Backlit transmitter screen
The transmitter you'll find in the Saramonic Blink500 ProX B3 (RXDi + TX) wireless audio kit features a large backlit screen. Controlling the settings is thus even more convenient! On the display you will check such parameters as battery charge, signal gain level, range and connectivity status, among others.
Always-on-your-place
The Blink500 ProX TX transmitter's light weight will make you forget its presence more than once. You can easily clip it to your shirt, blouse or jacket, using a special clip. Using such a solution gives you the assurance that the microport will always remain in place.
Recording under control
The Blink500 ProX RXDi receiver is equipped with a 3.5mm mini jack socket, which will allow convenient connection of headphones. Monitoring recorded interviews, conversations and speeches will enable you to effectively catch crackles, noises or other unwanted sounds. It will also be a great way to eliminate mistakes or slips of the tongue. The transmitter, on the other hand, is equipped with "mute" buttons. With its help you will mute the recorded sound in a second.
Specification
model: Saramonic Blink500 ProX B3 (RXDi + TX)
the Blink500 ProX TX transmitter

display: OLED
digital transmission: 2.4 GHz
directional characteristic: omnidirectional
antenna: built-in (FPC)
range: up to 100 m
transmitter output power: < 10 mW
interference: ≤ 0.1%
bandwidth: 20 Hz – 20 KHz
reference audio input level: – 20 ~ -42 dBu (MIC input, 0 dB "gain")
signal-to-noise ratio: > 84 dB
Input: 3.5 mm MIC IN / LINE IN
Power supply:

built Li-ion rechargeable battery (3.7 V / 400 mAh)
charging / power supply: USB-C DC 5 V port
charging with Blink500 ProX B3/5 BOX charging case

operating time on a single charge: about 10 h
dimensions: 56 x 38 x 15.5 mm
weight: 29.5 g

Blink500 ProX RXDi receiver
reception range: up to 100 m
audio output: Lightning port (MFi certified)
monitoring: mini Jack 3.5 mm TRS / TRSS (headphone output)
power supply: from connected device
antenna: built-in
dimensions: 82 x 22 x 12 mm
weight: 16.5 g
Saramonic Blink500 ProX B3/5 BOX charging net

Power supply: USB-C
battery capacity: 2000 mAh
charging time: < 3 h
dimensions: 123 x 99.5 x 39 mm
weight: 204 g
Kit contents
1 x Blink500 ProX TX transmitter
1 x Blink500 ProX RXDi receiver
1 x Blink500 ProX B3/5 BOX charging case
1 x tie microphone (with wind shield and microphone clip)
1 x deadcat wind shield (for microphone built into transmitter)
1 x USB-A / USB-C cable
1 x accessory bag
1 x needle to help push the pairing button