Description
Saramonic SR-HC5 Desktop Microphone Arm
The Saramonic SR-HC5 microphone arm is the perfect solution for vloggers, streamers, podcasters and music producers who want optimal ergonomics for their workstation. The use of a robust "C-Clamp" clamp allows you to quickly and conveniently connect the accessory to your tabletop or desk. Made of high-quality aluminum alloy, the device will give you full control over the position of the microphone. 3 joints, sturdy clamps and integrated hooks for easy cable organization are all you need to create a professional and organized recording space. The ability to work with 3/8″ and 5/8″ threads, will give you even more versatility when it comes to microphone selection.
Main Product Features
ergonomic microphone arm for convenient work organization
lightweight and durable aluminum alloy construction
perfect choice for podcasters, music producers, vloggers and streamers
suitable for a recording studio or home broadcasting station
solid and secure mounting with desk clamp
3 joints for precise microphone positioning
solid clamps to lock the desired arm position
integrated hooks to allow cable routing along the arm
can be rotated 360 degrees
designed for use with microphones weighing up to 1000g
support for 3/8″ and 5/8″ threads ensures wide compatibility with various types of microphones
Professional recording stand
Do you create vlogs? Do you stream on platforms like Twitch or YouTube? Or do you host your own podcast? The Saramonic SR-HC5 arm is the device to organize your recording station, giving you full control over microphone positioning. The sturdy aluminum construction with three joints, guarantees stability and optimal comfort. The arm can also be rotated 360 degrees. The quick assembly will have you ready to record in seconds!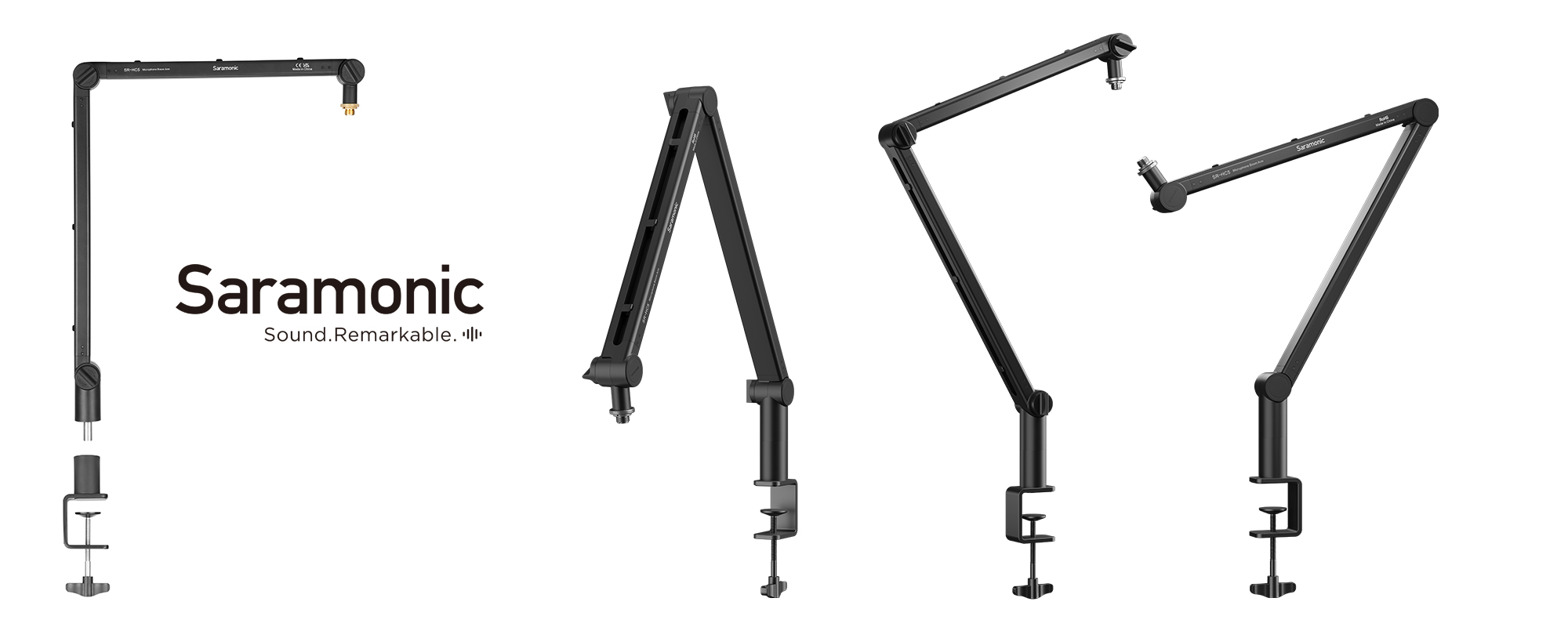 Always-on-your-desk
The Saramonic SR-HC5 desk microphone arm will work well wherever you want ergonomics, order and convenience. Mounted with a desktop "C-clamp", it will effectively connect the unit to the top of your desk. Thanks to it, the tripod will always stay in place! Another advantage is the strong clamps integrated into all three joints. If you care about perfect stability and maintaining the optimal position, this will be the right choice.
One arm, multiple microphones
The Saramonic SR-HC5 desk microphone arm is crowned with a solid metal thread. Its unique design means you can combine it with different types of microphones. It will be suitable for use with devices equipped with 3/8″ and 5/8″ female threads. With this solution, you don't need to buy additional adapters to ensure even more freedom to work with different types of microphones!
Convenient cable management
For the sake of tidiness in your studio, the manufacturer also made sure that the cable connecting the microphone to the sound recording device can be better arranged. The Saramonic SR-HC5 desk arm is equipped with special hooks. Thanks to them, the cable can be routed along the entire structure, allowing to maintain the optimal length of the cable and preventing it from tangling.
Compatibility
microphones weighing up to 1 kg
Specification
model: Saramonic SR-HC5
material: aluminum alloy
max width: 430 mm
max height: 663 mm
weight: 1364 g
Set contents
Saramonic SR-HC5 desk microphone arm