Description
The Saramonic SR-MV2000 USB-connected condenser microphone is a device that was created for podcasting, conferences, interviews, game streams or live broadcasts. It will prove itself wherever you need to be heard loud and clear, while maintaining the highest quality of recorded or transmitted sound. Put your best foot forward in Skype and Zoom meetings and forget about hum, crackle and noise. Make professional broadcasts at home and capture all your new song ideas without wasting time setting up equipment. Quickly and conveniently connect the microphone to your computer, tablet or smartphone with USB or USB-C port. An easy-to-read multicolored LED indicator shows you the operating mode, and you can configure the necessary settings using the ergonomic knobs with built-in buttons. The microphone also features an amplifier so you can connect headphones for real-time recording control. You can easily install it on the included desk stand or screw it to a professional tripod. Thanks to the convenient 360° angle adjustment of the microphone, you can perfectly adjust the device to your needs. The Saramonic SR-MTV500 microphone is all you need to prove yourself as a podcaster and create professional broadcasts on important topics you want to share with the world!
Main features of the Saramonic SR-MV2000 condenser microphone with USB connector for podcasting
cardioid microphone
professional recording quality
widely applicable
possibility to install on a professional tripod with 5/8″

thread

multi-coloured LED indicator for mode indication
Adjustable 360° microphone angle
built-in headphone amplifier
real-time monitoring of recordings
quick mute button
Learn the power of a cardioid microphone
The Saramonic SR-MV2000 condenser microphone with USB connector for podcasting guarantees professional recordings that you can quickly and conveniently save to your smartphone, tablet or computer. It is the ideal choice whether you are recording alone, or for interviews or broadcasts with a larger group. This unique cardioid microphone will allow you to record crystal clear sound coming straight to the device, while eliminating unwanted background noise.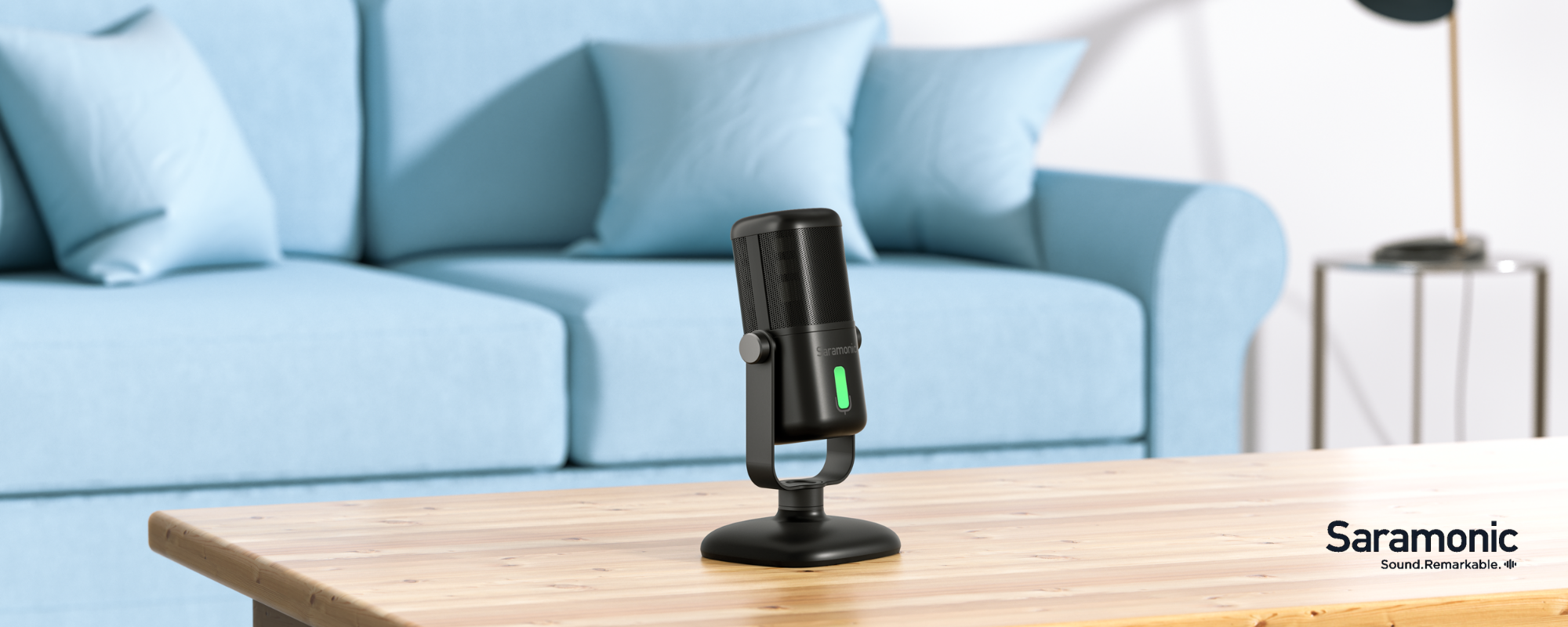 Convenient operation
When using the Saramonic SR-MV2000 microphone, you don't have to reach for a mixer to set the optimal listening volume or adjust the signal gain ("gain") to suit your needs. The housing features ergonomic knobs, with built-in buttons that allow you to conveniently set recording parameters. Thanks to the easy-to-read LED indicator, a glance is all it takes to see which settings the microphone is currently using.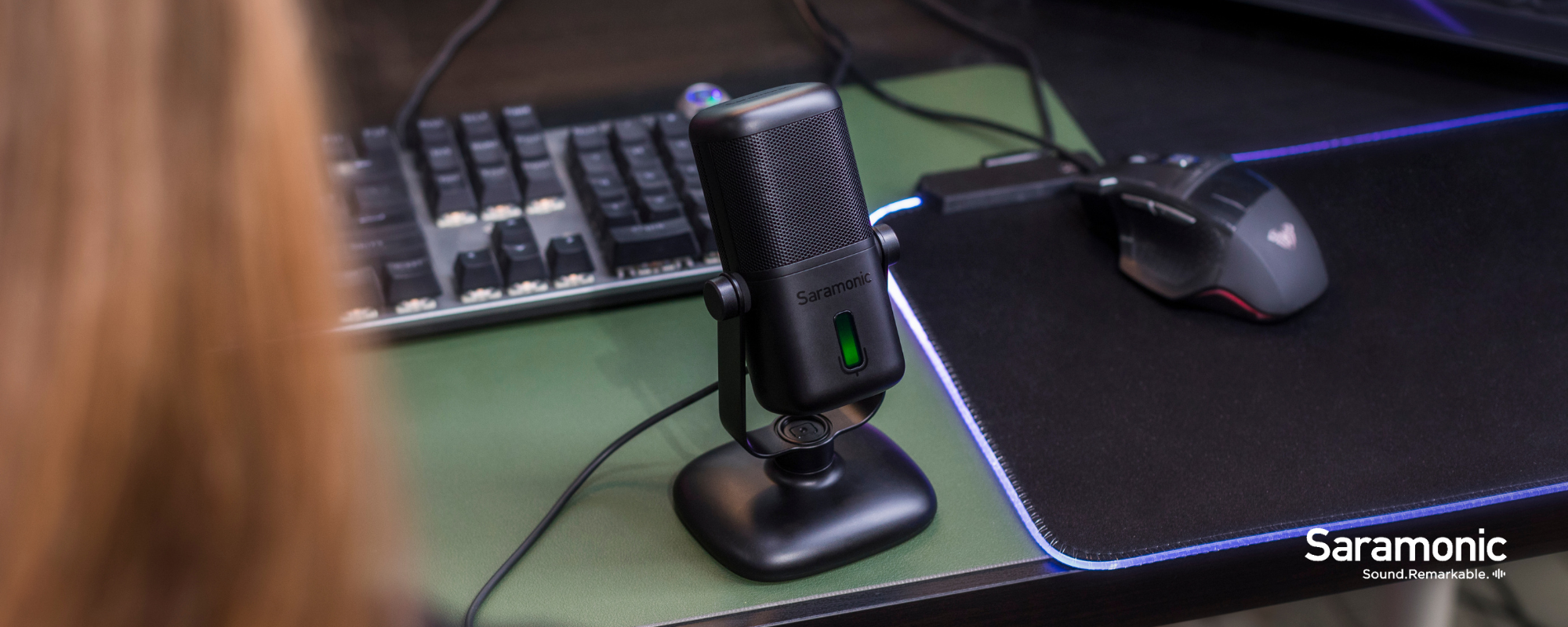 Exclusive design
If you watch game streams, vlogs, broadcasts made by youtubers or podcasts published on YouTube along with video footage, you have surely more than once drawn attention to designer microphones that fit into the composition of the frame. Professional, good-looking equipment is, in a way, the creator's business card! Whether the Saramonic SR-MV2000 condenser microphone appears in your shots on a magnetic stand or telescopic tripod, you can be sure that the matte black and modern design will give them a professional touch.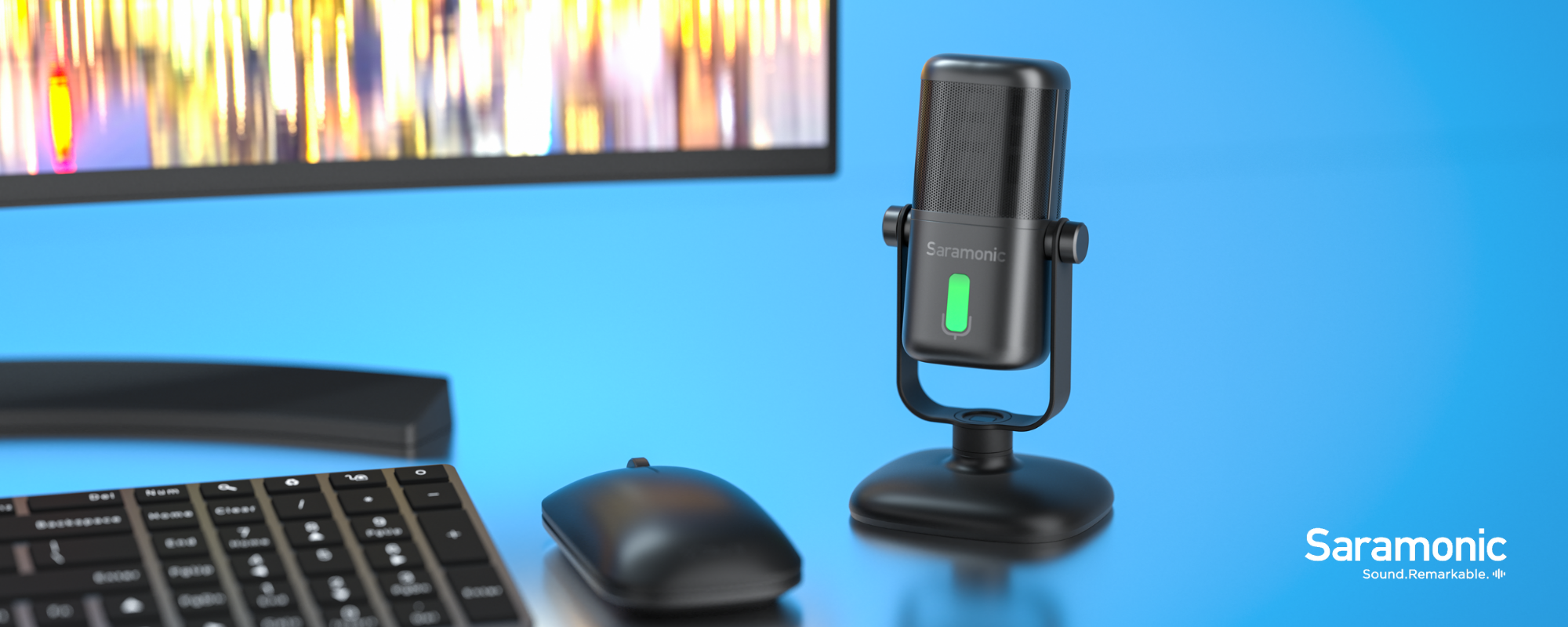 Control recordings in real-time
The Saramonic SR-MV2000 microphone features a 3.5mm mini jack socket that will allow you to conveniently connect headphones. Real-time monitoring of recorded speech or vocals will allow you to more easily catch errors, slips, mistakes and unwanted sounds. Give yourself full control over the recorded audio without having to invest in additional equipment. The Saramonic SR-MV2000 microphone and a pair of headphones are enough to catch noises that should not appear in the final recordings!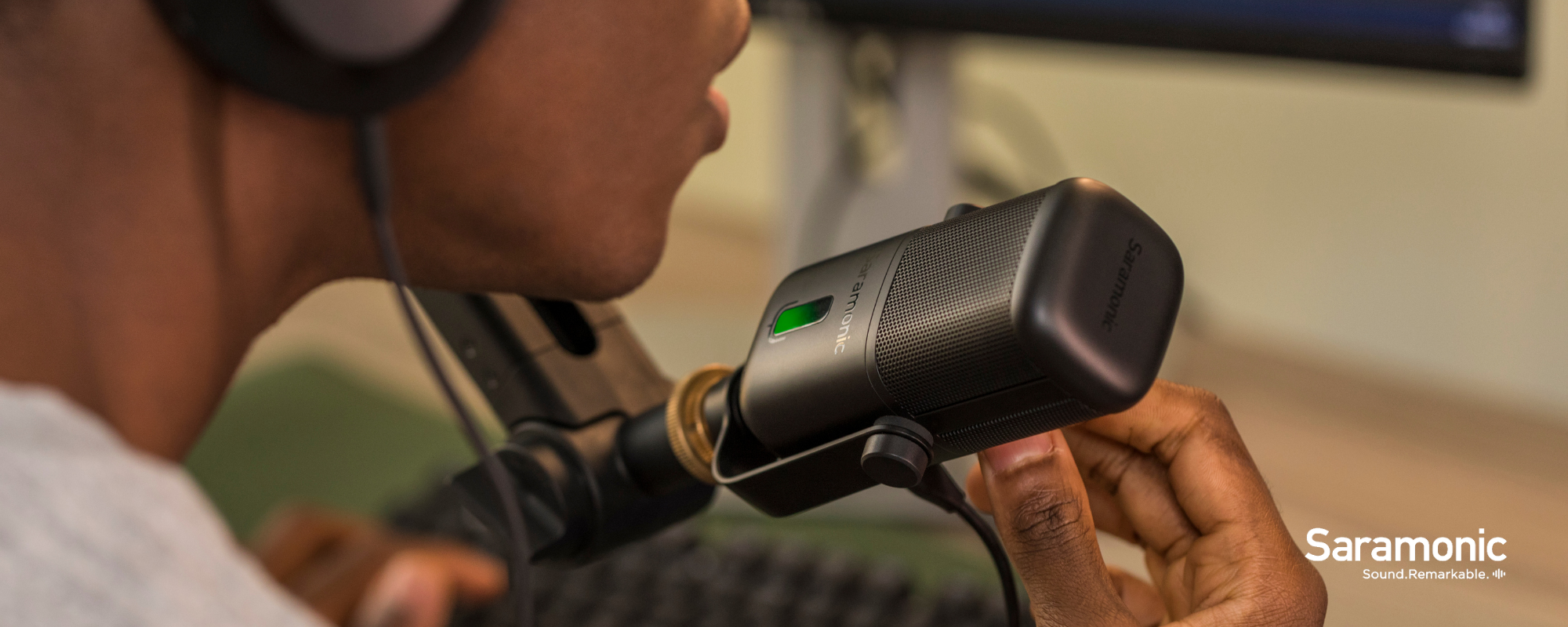 Professional listening with mix
Want to produce even more professional broadcasts, podcasts, streams and recording sessions? Take advantage of monitoring in "USB" mode and give yourself a true studio listening experience. With the "Play Back" feature, you can hear your recorded voice along with additional tracks such as music, sound effects, or audio from the game you're streaming. This allows you to hear what the final version of your material will sound like, so you can prepare it even better.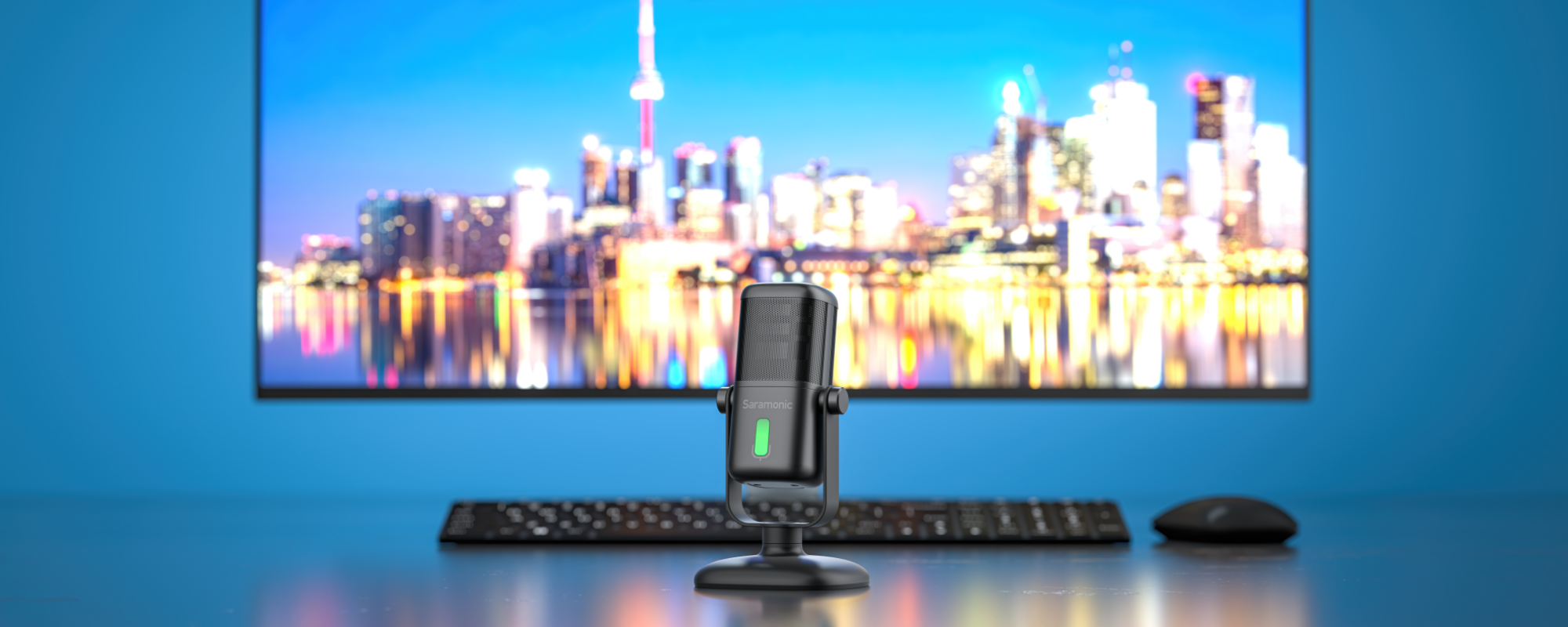 Turn your smartphone into a professional studio
Included with the Saramonic SR-MV200 condenser microphone is a USB-C / USB-C cable that will allow you to quickly and conveniently connect the device to a smartphone or tablet equipped with the appropriate port. This way, you don't have to worry about computer access when you're doing an interview, podcast or broadcast recording in the field. All you need is a mobile device with a USB-C port and an audio recording app to quickly and conveniently record your conversation, speech or ambient sounds anywhere.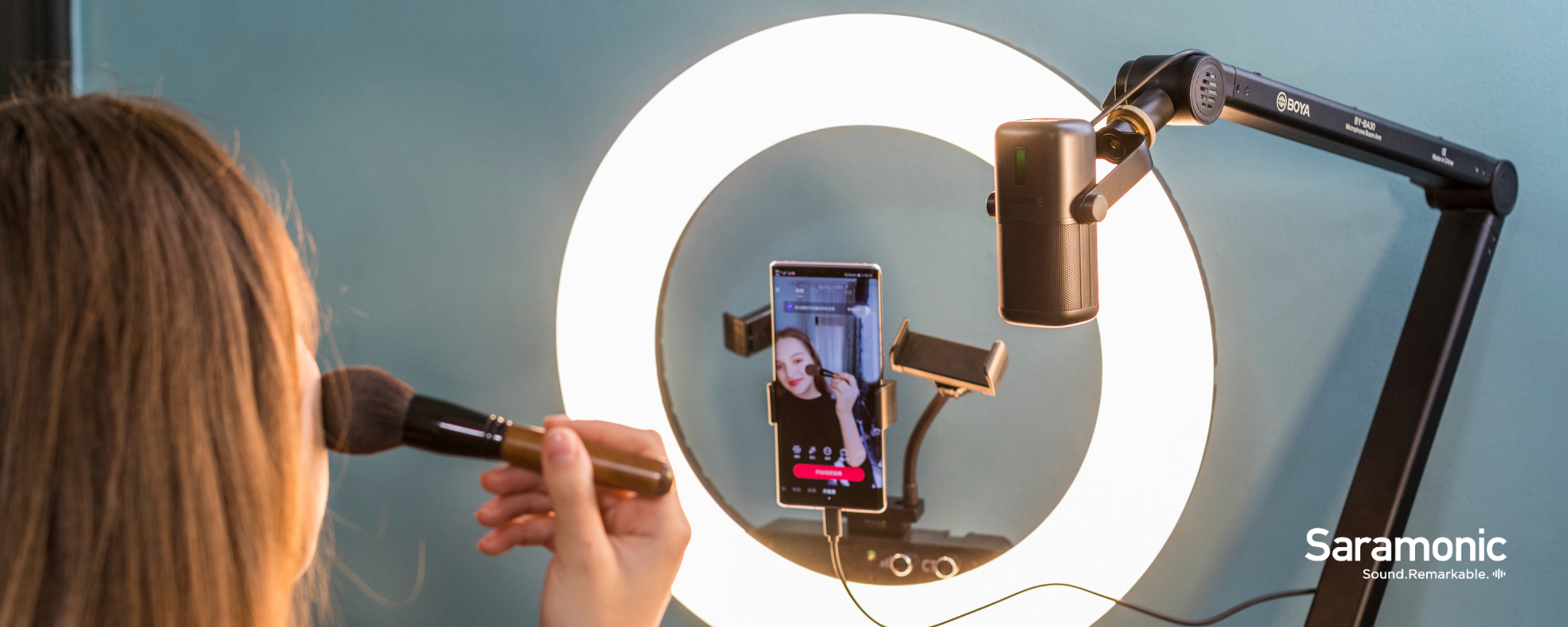 Magnetic stand
Thanks to the ergonomic design of the stand, the Saramonic SR-MV2000 microphone will always remain in place, ensuring comfortable recording, whether alone or during sessions with invited guests. The 360° angle adjustment allows you to optimally match the device to the conditions in which you are recording. Strong magnets will also ensure its stable and optimal positioning. And if your recordings require you to install the microphone on a tripod, the stand can be detached in a second, without wasting time on unscrewing it.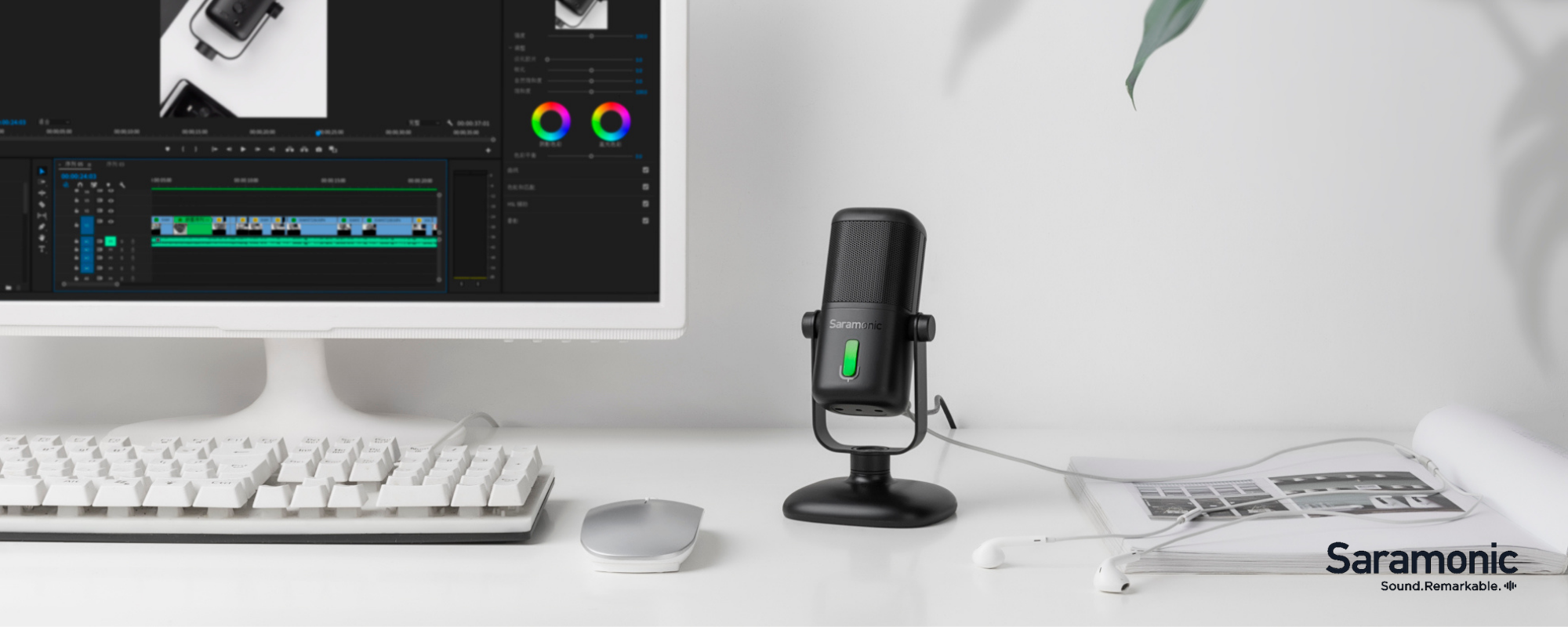 Plug it in and record
Out of the box, you just need a few seconds to plug the microphone into your smartphone, tablet or computer and start recording. With this simple plug-and-play solution, you don't need the help of professionals to ensure crystal-clear audio quality while videoconferencing, recording podcasts, making your own broadcasts or streaming online games.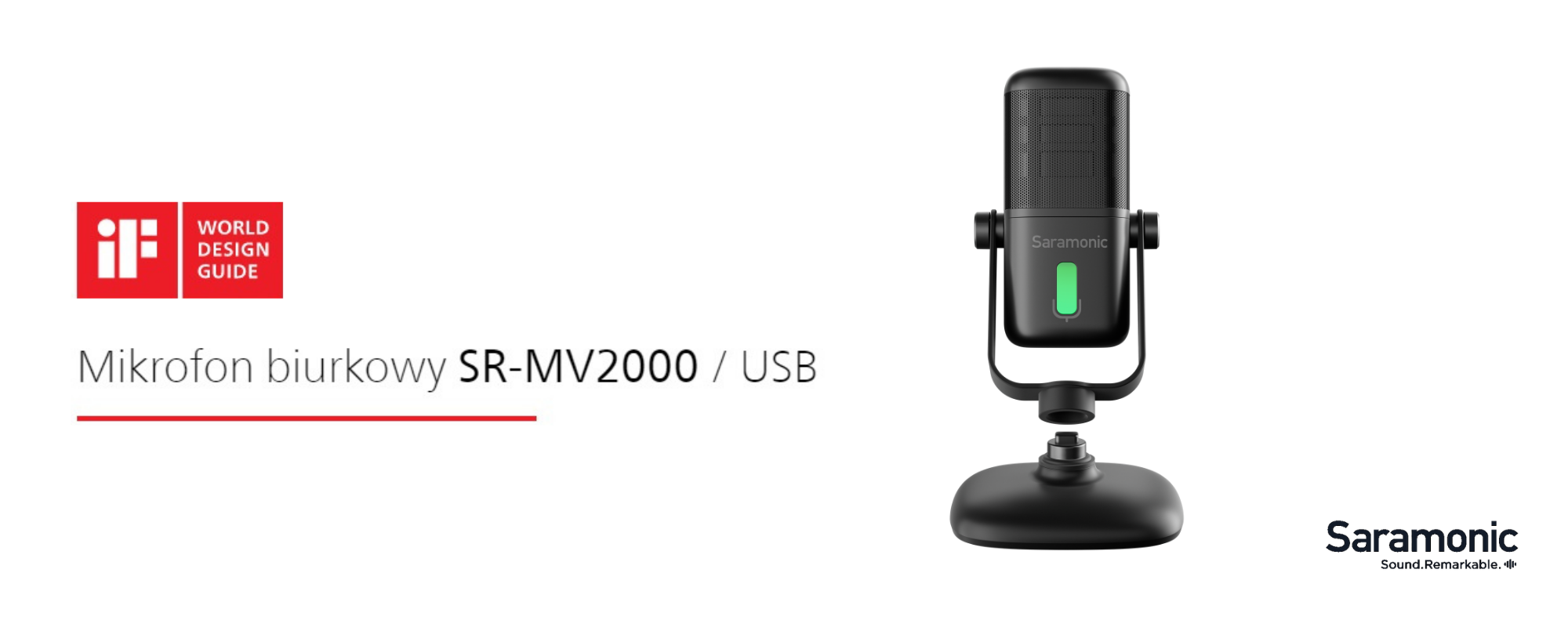 Convenient tripod mounting
The space you're recording in requires the use of telescoping tripods, making it easy to position your microphones for optimal performance? Or are you looking for a way to expand the capabilities of your home studio? The Saramonic SR-MV2000 microphone comes with a special adapter that will allow you to professionally mount the device on a 5/8″ thread. This allows your recording space to grow with you. When the magnetic stand proves insufficient, simply reach for a tripod, and the 360° adjustable angle will still ensure the ideal microphone position.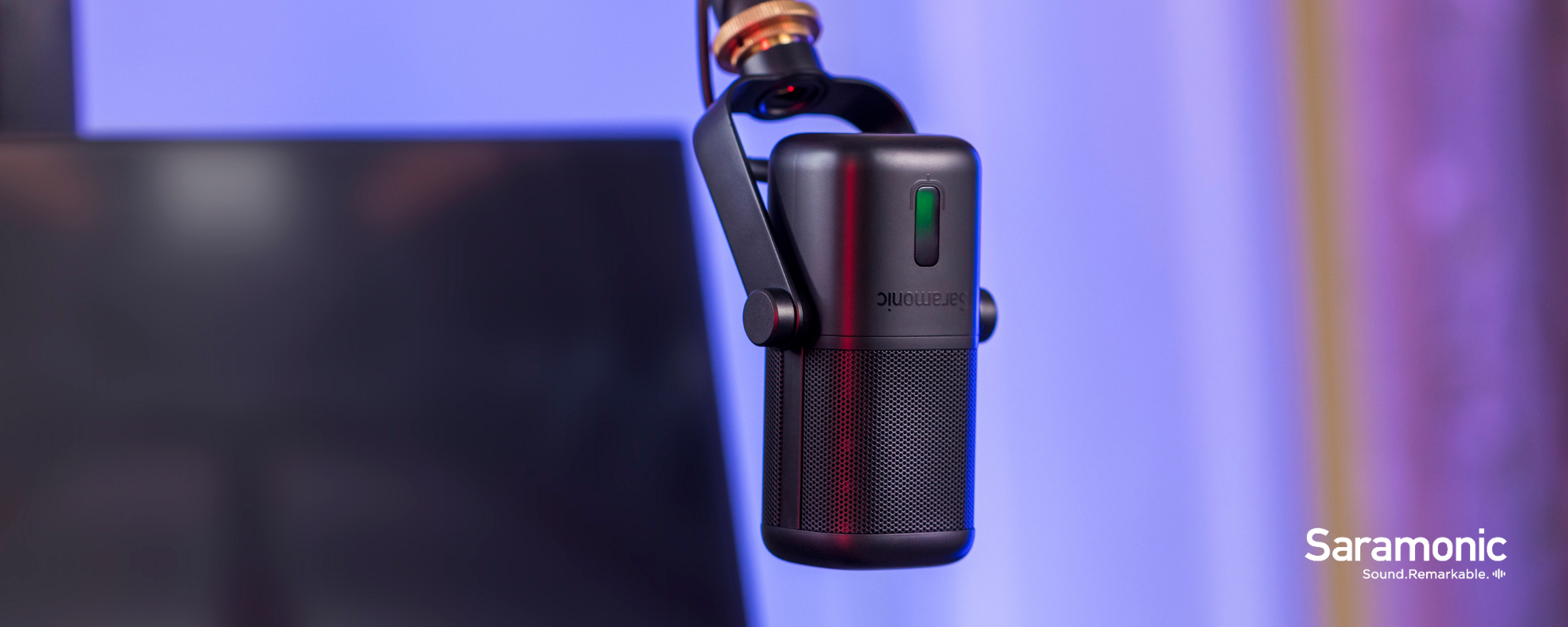 Mute the microphone with one button
Anyone who has forgotten to mute their microphone at least once during a video conference or stream knows that an innocent mistake can lead to a lot of awkwardness and misunderstandings. With the SR-MV2000, you always know when the unit is recording audio. The "gain" knob is also a button that will mute the microphone within a second. The LED indicator then lights up red, and you gain full control of what your callers or recipients hear.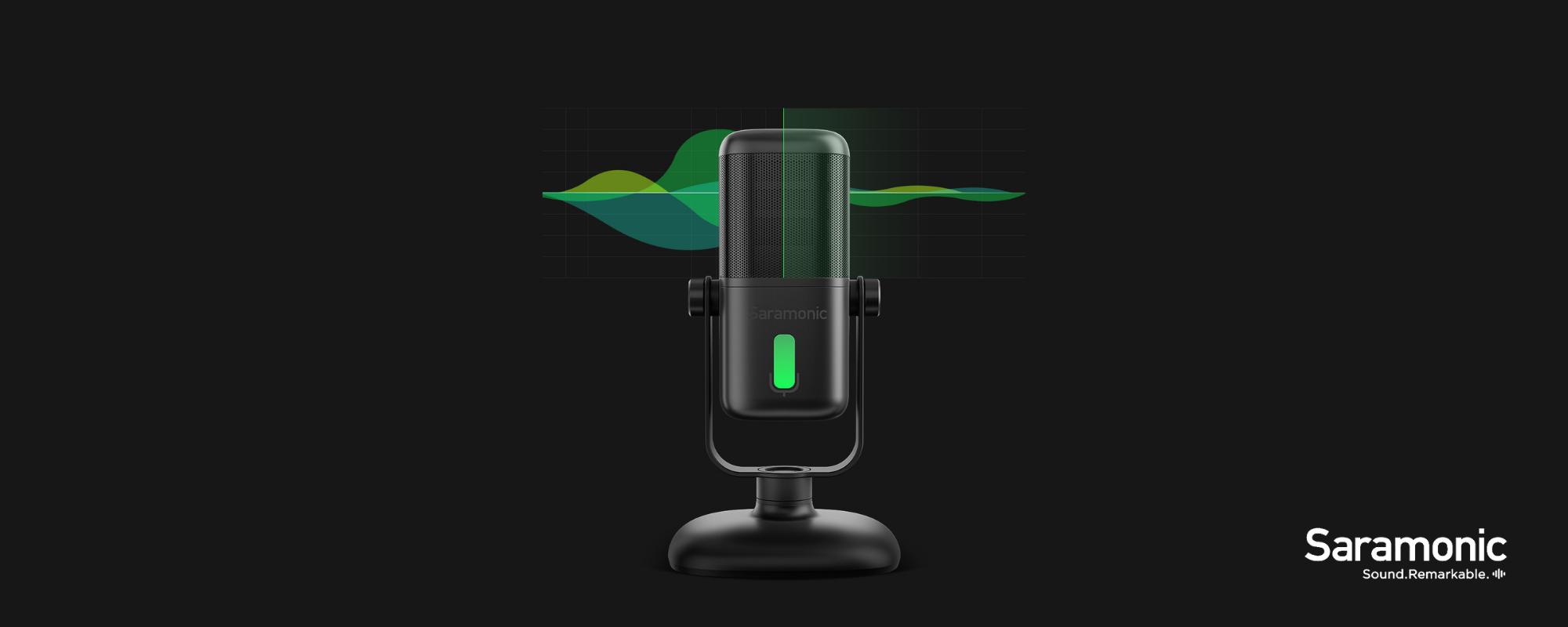 Specification
model: Saramonic SR-MV2000 condenser microphone with USB connector for podcasting
directional characteristic: cardioid
bandwidth: 20 – 20,000 Hz
sampling rate: 48 kHz
bit rate: 24 bit
sensitivity: 36 dB (0 dB = 1 V / Pa, 1 kHz 1 Pa)
signal to noise ratio: 80 dB
maximum sound pressure level: 120 dB SPL
signal gain level: -10.5 ~ 39 dB
current consumption: 5 V 60 mA
headphone amplifier:

power: 130 mW
impedance output: > 16 Ohms
Tharmonic content ratio (THD): 0.01%
bandwidth: 15 Hz – 20,000 Hz
signal to noise ratio: 100 dB
signal gain level: 0 ~ 33 dB

outputs:

headphone – mini Jack 3.5 mm

headphone – mini Jack 3.5 mm
USB-C
system requirements: Windows 7 or 10 / Mac OS 10.2 or higher
material: aluminum
dimensions: 100 x 50.4 x 44 mm
weight: 370 g
Kit contents
Saramonic SR-MV2000 condenser microphone with USB connector for podcasting
1 x USB-C / USB-A cable (2m)
1 x USB-C cable (2m)
1 x USB-C / USB-C cable (2m)
adapter to attach microphone to tripod (from 3/8″ to 5/8″)