Description
Saramonic SR-MV58 dynamic microphone with XLR connector
The Saramonic SR-MV58 is a professional dynamic microphone designed for recording vocals or speech. This model will be great for conferences, theatrical performances, concerts, interviews, stand-ups, religious gatherings and speeches. The cardioid directivity characteristic and wide audio response ensure broadcast quality recordings, as well as clear audibility of the voice during speeches in small and large rooms. The microphone picks up sound from the front while reducing background noise. The pop filter also minimizes the risk of distortion and crackling caused by explosive voices. The device requires no additional power supply. The kit does not lack a carrying case, a foam cover, a tripod mount and a 5-meter cable.
Main Product Features
high-quality dynamic vocal microphone
ideal for stage applications (including conferences, theatrical performances, concerts and speeches)
designed for speech and vocal recording
cardioid directional characteristic
professional voice recording quality
ergonomic shape for comfortable handholding
an included bracket that allows the microphone to be installed on a tripod
audio pickup in front of the microphone to reduce unwanted background noise
removable foam wind shield
integrated pop filter to minimize the risk of distortion and crackling
widespread audio response for broadcast quality recordings
no additional batteries or phantom power required
easy and intuitive operation
solid metal construction (zinc alloy housing)
included long XLR (female) / Jack 6.35 mm (male)
Genre-classic
When working on stage, it is worth betting on solutions that have proven themselves in the industry for years. The Saramonic SR-MV58 is a classic design made of sturdy zinc alloy that will be ideal for those who sing, perform at theaters and comedy clubs, give lectures, conferences or training sessions, or speak to crowds on large and small stages. After taking the microphone out of the box, you need only a few seconds to connect it to a mixer, audio interface or sound recorder. One switch and no power requirements! All you need is the included XLR cable (it's up to 5 meters long) and you're ready to go!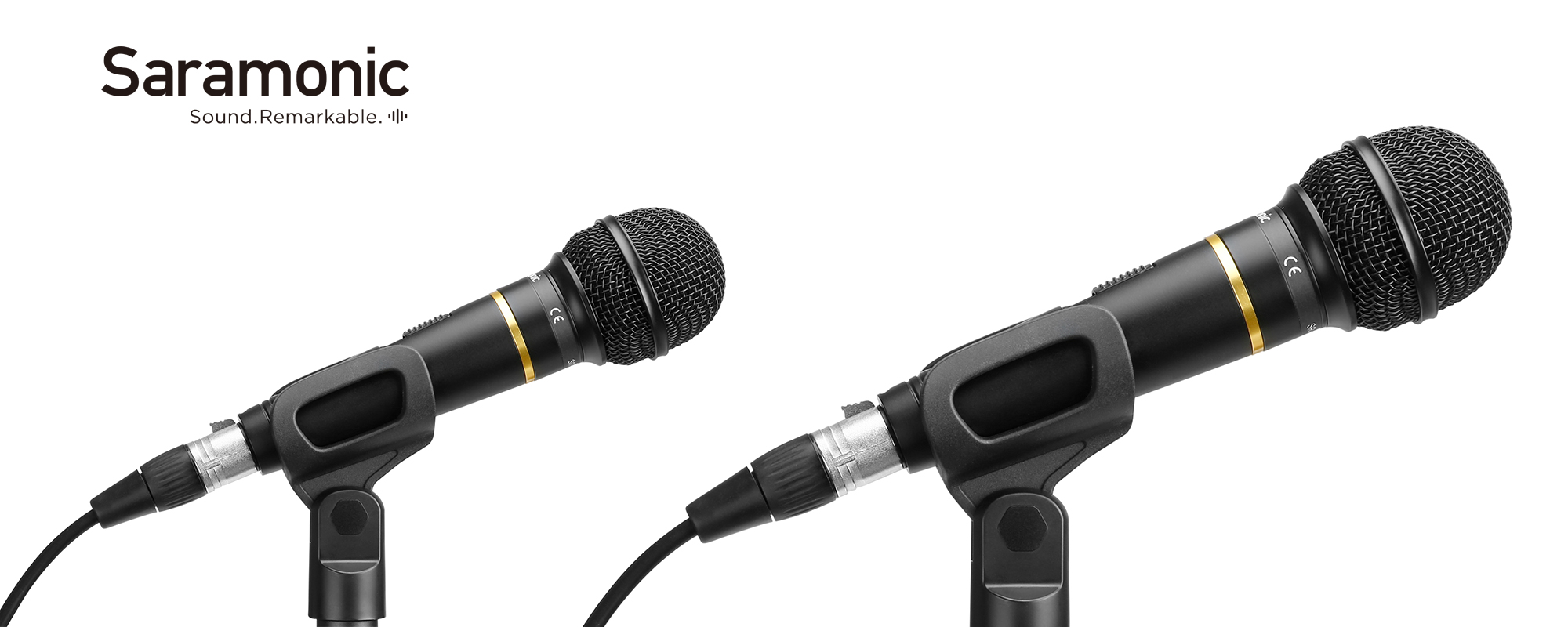 Wealthy sound
The wide frequency range support offered by the Saramonic SR-MV58 dynamic microphone will allow you to record an exceptionally balanced and rich sound in which your unique voice timbre can be heard perfectly. The integrated pop filter will further minimize the risk of distortion and crackle that explosive voices (i.e. all the "p", "b", "t" sounds that cause uncontrollable ejection of air) can cause – whether you're singing or speaking. It doesn't matter whether you are recording in a studio or standing on a huge stage in front of thousands of spectators. The characteristics of the Saramonic SR-MV58 microphone will make you heard loud and clear!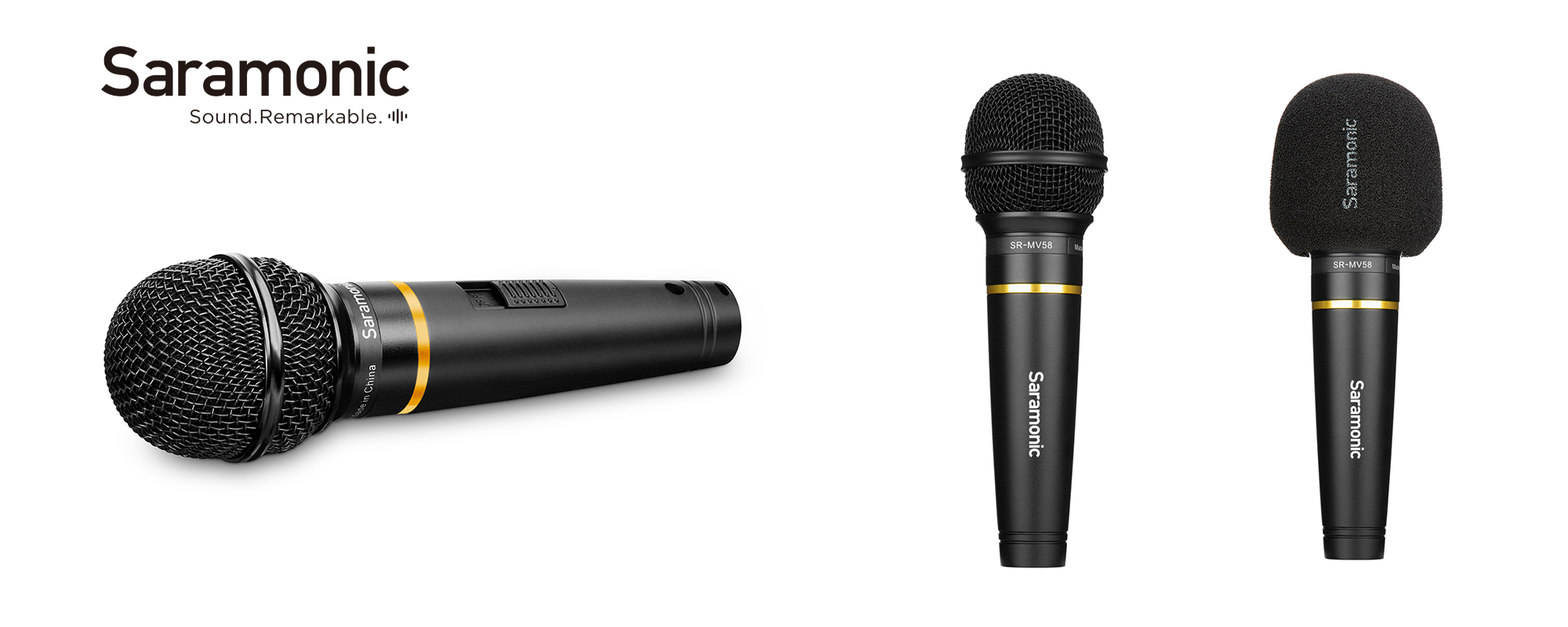 Additional accessories
The Saramonic SR-MV58 dynamic microphone with XLR connector will be easily installed on the mount you'll find in the set. It is the one that will allow you to precisely adjust the optimal angle of the device. The set is compatible with many types of tripods, booms or special articulated arms used in home studios. A special adapter will allow you to screw the mount onto both 5/8″ and 3/8″ threads. Also included is a foam wind shield and a practical zippered case for safe transportation.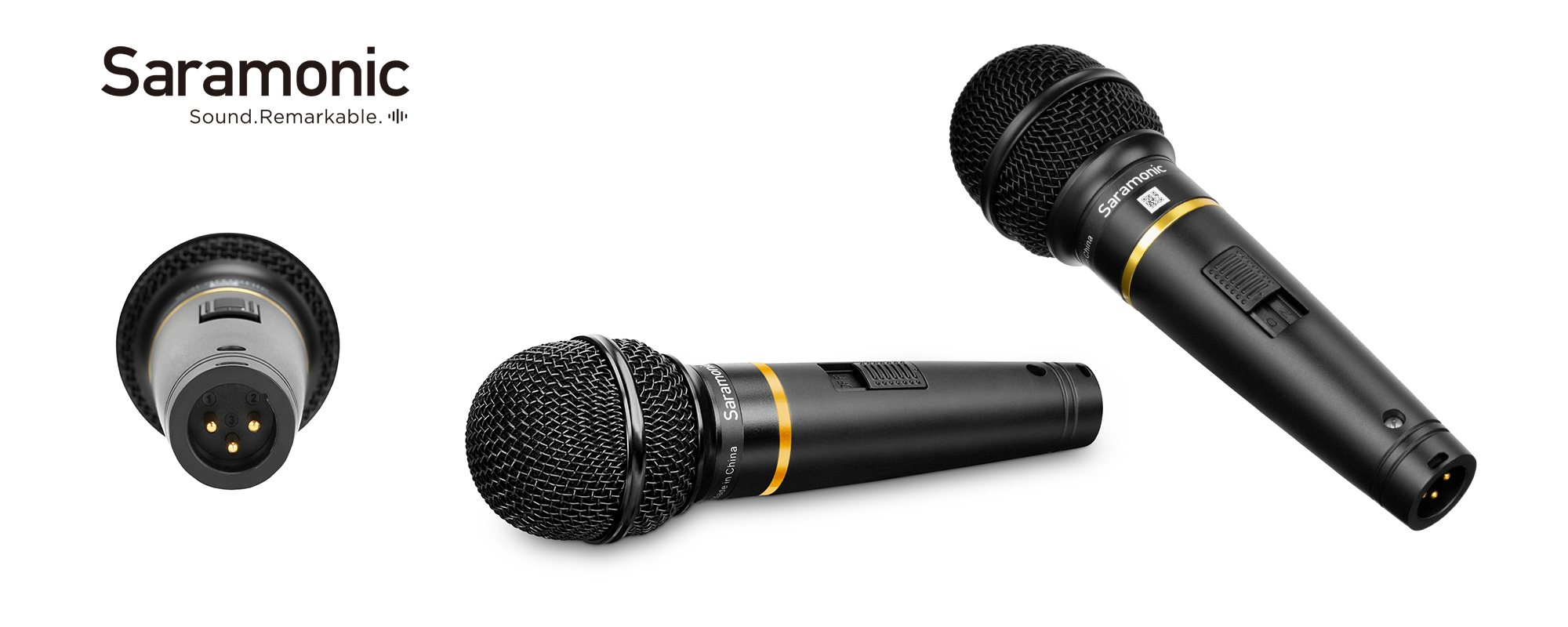 Specification
model: Saramonic SR-MV58
type: dynamic
directional characteristic: cardioid
frequency response: 35 – 15000 Hz
sensitivity: -51 ± 3 dB
impedance output: 600 ohm
output: XLR
dimensions: Ø52 x 175 mm
weight: 289 g
Kit contents
Saramonic SR-MV58 dynamic microphone with XLR connector
foam wind shield
XLR (female) / 6.35mm jack (male)
microphone holder with 5/8″ to 3/8 "thread adapter
zippered case