Description
Saramonic's UwMic9S is an improved version of the flagship UwMic9 wireless audio kit that has conquered the world of online streaming, conferences, YouTube productions, interviews and vlogs by professionals and novice creators alike in recent years. The new features expand your audio workflow and will enable you to create even better videos, broadcasts and podcasts! The RX9S receiver and the two TX9S transmitters you'll find in the box are equipped with high capacity built-in batteries that will provide up to 8 hours of continuous use. Also new are physical switches to mute recording from individual audio sources, additional audio inputs, and detachable antennas that you can position in any direction to ensure the highest quality transmission. Modern components have been enclosed in a solid and lightweight housing made of the highest quality aluminum alloys. Thanks to that, the microports not only look professional, but are also properly protected against bumps and falls. For recording demanding dialogues, the set also includes the professional Saramonic DK3A tie microphone for perfect sound quality. All equipment and accessories are enclosed in an armored carrying case for easy transport and storage. Let the sound in your videos, podcasts, and audios reach a whole new level! The Saramonic UwMic9S UwMic9S Kit2 (RX9S + TX9S + TX9S) gives you everything you need to make the comments about being hard of hearing disappear once and for all from your videos and vlogs on YouTube and other social networks!
Main Features of Saramonic UwMic9S Wireless Audio Kit2 (RX9S + TX9S + TX9S)
Kit with 1 receiver and 2 transmitters
an easy to read OLED display for quick check of recording parameters
professional quality of transmitted sound
low-frequency noise reduction
fast pairing via infrared ports
physical toggle switches to mute selected channel
removable swivel switch
removable 360° rotating antenna
Built-in rechargeable battery
Built-in battery that works up to 8 hours on a single charge
additional power source by using USB-C DC 5V port
possibility to split the signal into independent channels: left and right
line input
lightweight carrying case included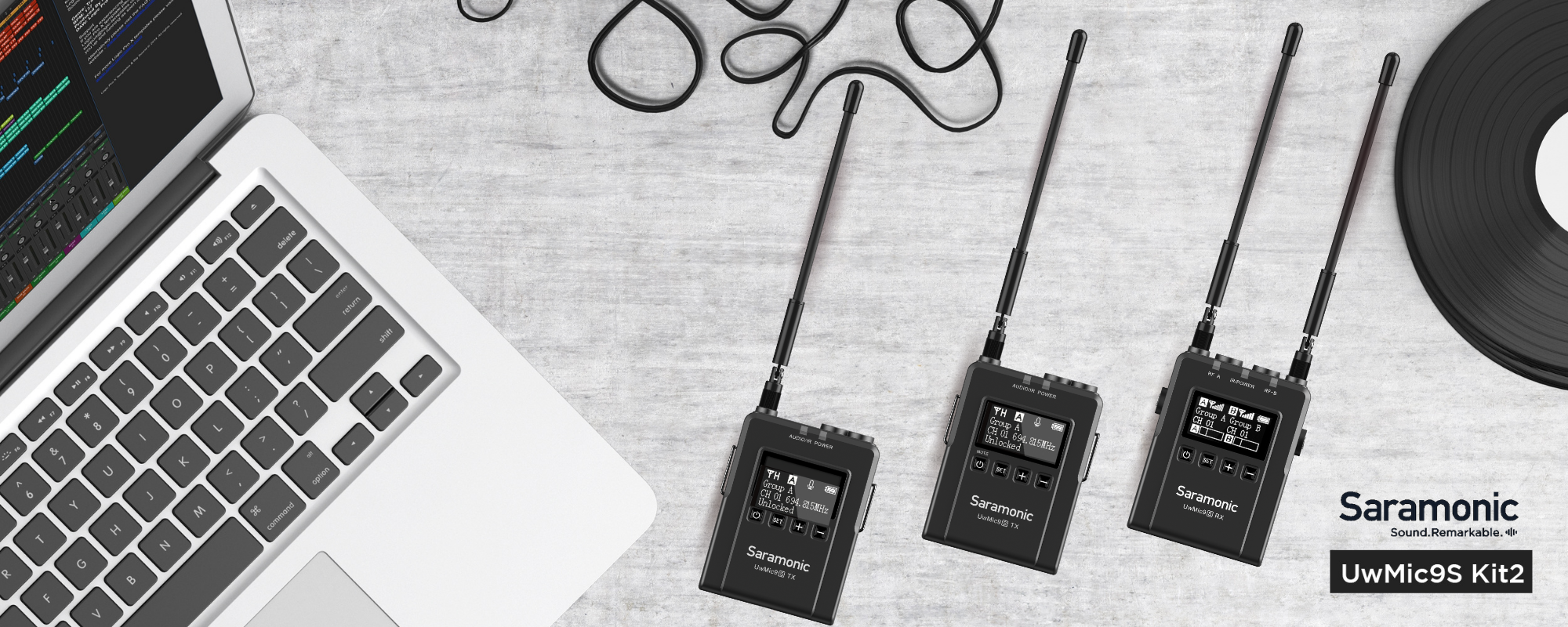 Reliable and lightweight
In the Saramonic UwMic9S Wireless Audio Kit2 you will find 2 professional transmitters and one receiver. This is ideal for all creatives who frequently record interviews or invite guests to their programs. The housings of the microports are made of durable aluminum alloy. The devices are therefore very lightweight and resistant to unexpected falls and bruises, which are inherent to work in a home studio, on a film set, in the theater, television or a community centre.
Additional sound source
When you choose the Saramonic UwMic9S Wireless Audio Transmission Kit2 (RX9S + TX9S + TX9S), you'll experience how professionals make multi-layered recordings using multiple audio tracks. The RX9S receivers feature an additional 3.5mm mini jack socket, where you can connect an extra microphone or other source. This makes it easy to add background music or additional sound effects to your recordings. There's also nothing stopping you from connecting another microphone to the "Mic / Line" jack to expand the number of guests invited to your show!
Even more recording options
Additional audio sources connected to the receiver are still not enough for you? By choosing the Saramonic UwMic9S Kit2 you can expand your mix with more audio tracks! Both TX9S transmitters feature an additional line input to connect a second microphone or music player. This allows your equipment to grow with your knowledge and new production skills, without having to invest in new equipment!
Recording audio on various devices
The UwMic9S RX9S receiver lets you record stereo audio with an external recorder or the camera you're filming with. You can also split the signal into two separate channels. This solution allows you to record audio on different devices, giving you the peace of mind that if one of them fails, a backup will always be ready to save your footage!
Forget about batteries!
The receiver and transmitters included in the UwMic9S Kit2 feature high-capacity batteries that provide up to 8 hours of uninterrupted audio transmission. No more buying rechargeable batteries on the way to the set! If your recordings get long and any of the microports let you know you need to replenish power with the LED indicator, simply connect the unit to a powerbank, computer or charger using the included USB-C cable. Yes, you can charge the RX9S receiver and TX9S transmitters as you go, and the whole process will only take 1 to 2 hours!
No noise!
The hustle and bustle of the street, the wind, or the neighbors who can't finish their renovations for months will never disturb your recordings again. All thanks to the special "low-cut" mode offered by the Saramonic UwMic9S Kit2 wireless audio transmission kit. Thanks to innovative technology, low frequencies can be cut, reducing the level of unwanted noise picked up by the microphone. The recorded voice will thus become clearer, and all moments when you or your interlocutors stop talking will not be disturbed by noise!
Instant Sync
Do you want express alignment of the receiver and transmitter wavelengths? Simply bring the devices together using the infrared (RF) ports or use the "Auto Scan" function. Whichever you choose, the transmitters and receiver will detect each other's presence and tune to the optimal frequencies. When you're recording vlogs, interviews, podcasts or documentaries, every second counts! With the Saramonic UwMic9S Wireless Audio Kit2 (RX9S + TX9S + TX9S), your interviewees will never be distracted by unexpected interruptions in their recordings!
New 360° detachable antennas
Both the receiver and transmitters included in the Saramonic UwMic9S Wireless Audio Kit2 feature innovative 360° antennas. You can unscrew them from the microports at any time, providing convenient transport and even greater comfort. Thanks to the unique heads, the antennas can be positioned at any angle. In case of any interference, you will quickly and conveniently change their positions, allowing your devices to precisely transmit and receive radio waves.
Freedom to work outside the home and studio
The microports included in the Saramonic UwMic9S Kit2 always use the best available wave frequencies. This ensures that the signal from other radio transmitters operating in the environment will never interfere with your recordings. What's more, the distance between the TX9S transmitters and the RX9S receiver in an open field can be up to 100 metres! Even at this distance, your audio will still be crystal clear and undistorted. Among the accessories included with the Saramonic DK3A tie microphone, you will also find a unique deadcat cover with a clamping band that ensures a stable fit on the microphone. It will reduce noise that can affect the quality of sound recorded in harsh weather conditions.
Get professional listening
On the casing of the RX9S receiver you will find a 3.5 mm mini jack socket, to which you can connect headphones. The ability to monitor recorded conversations, interviews and speeches is a proven way to catch cracks, noises and other unwanted sounds that are difficult to hear with the naked ear. Professional listening also helps to effectively eliminate slips of the tongue or mistakes. By monitoring your recordings with headphones, editing your videos or podcasts later will be much simpler, as unpleasant sound surprises will be eliminated right at the recording stage!
Full control over your audio sources
There are physical ON-OFF switches on the RX9S receiver housing. This allows you to activate or mute the sound from the selected source in one second. No need to enter the menu and search for the right functions on the screen, it's even more convenient to work on set! What's more, thanks to the colorful LEDs on the receiver, you can also quickly check whether any of the transmitters are turned off or muted!
Convenient installation
Saramonic UwMic9S Kit2 offers a range of accessories for efficient mounting of microports. A special adapter will allow you to mount the receiver on a tripod, camera or camcorder. The kit also does not lack a solid belt mount, which will facilitate the rapid switching of transmitters during the recording of interviews, or reporter sets. All 3.5 mm mini jack sockets are also equipped with safety locks, which will protect you against unexpected unplugging of cables from headphones, microphones or other devices connected to the wireless audio kit.
Sturdy protective case
In the set with the RX9S receiver and two TX9S transmitters you will find a special case equipped with a solid latching mechanism and a comfortable handle. Its interior hides perfectly shaped compartments, allowing you to safely transport the microports and additional accessories. In addition, the interior of the case is completely filled with flexible material, which will provide the highest level of protection for your equipment.
Specification
model: Saramonic UwMic9S Wireless Audio Transmission Kit2 (RX9S + TX9S + TX9S)
transmission type: UHF
modulation: GFSK
operating range: up to 100 m
input socket: 2 x mini Jack 3.5 mm (Mic / Line)
power requirements: built-in lithium-ion battery or USB-C DC 5V
battery capacity: 2000 mAh
battery life: approximately 8 hours
reference audio input level: -60 dBv (Mic input, 0 dB attenuation)
signal-to-noise ratio: > 75 dB
latency: 12 ms
sound distortion: < 0.2%
Material: aluminum alloy
weight: approx. 157 g
dimensions: 220 x 64 x 25 mm
RX9S receiver
Transmission type: UHF
modulation: GFSK
operating range: up to 100 m
input socket
output socket: 2x mini Jack 3.5 mm
input jack: 1 x mini Jack 3.5 mm (Mic / Line)
headphone jack: mini Jack 3.5 mm
headphone jack: mini Jack 3.5 mm
power requirements: built-in lithium-ion battery or USB-C DC 5V
battery capacity: 2000 mAh
battery life: approximately 8 hours
sensitivity: -95 dBm
signal-to-noise ratio: > 75 dB
latency: 12 ms
sound distortion: < 0.2%
Material: aluminum alloy
weight: approx. 193 g
Dimensions: 220 x 64 x 25 mm
Kit contents
1 x RX9S receiver
2 x TX9S transmitter
2 x Saramonic DK3A tie microphone
1 x Saramonic SR-C2004 splitter from mini Jack TRS 2x mini Jack TRS
1 x Saramonic audio cable SR-UM10-C35XLR – mini Jack / XLR
2 x USB-C to USB-A charging cable (120 cm)
1 x mini Jack 3.5 mm TRS cable / mini Jack 3.5 mm TRS cable
4 x antenna
3 x belt clip
1 x camera or tripod mount adapter
1 x carrying case SR-C8