Description
Saramonic Vlink2 HU reporter microphone
The Saramonic Vlink2 HU reporter microphone is part of the Vlink2 wireless audio transmission system. The unit is compatible with the Saramonic Vlink2 RX receiver. The lightweight and sturdy aluminum housing guarantees excellent durability and high user comfort. Thanks to digital audio transmission at 2.4 GHz (2404 – 2476 MHz), the microphone provides a communication range with the receiver of up to 50 meters. The technology used makes it possible to achieve stable connectivity and ultra-low latency. The device can be powered by the included rechargeable battery (1600 mAh) or 2 AA batteries. The Saramonic Vlink2 HU reporter microphone will be perfect for interviews, speeches, stage performances or live reports.
Main Product Features
reporter microphone for Vlink2 wireless audio system
will also work great as a stage microphone
compatible with Saramonic Vlink2 RX receiver
uses digital transmission technology at 2.4 GHz
offers up to 50 meters of range
powered by the included rechargeable battery or 2 AA batteries
Li-ion battery with 1600 mAh capacity
up to 22 hours of operation on a single battery charge
convenient charging via USB-C port
up to 20 hours of operation using 2 AA batteries
quick pairing button with receiver
intuitive and simple operation
Universal Vlink2 System
The Saramonic Vlink2 HU microphone is an excellent addition to the Vlink2 wireless audio transmission system. The device is perfect for the nature of work of journalists, youtubers, musicians, podcast creators and presenters. The maximum range of communication between the microphone and the receiver is as much as 50 meters in open space! Thus, both in the studio and in the field, you can count on reliable communication with ultra-low latency.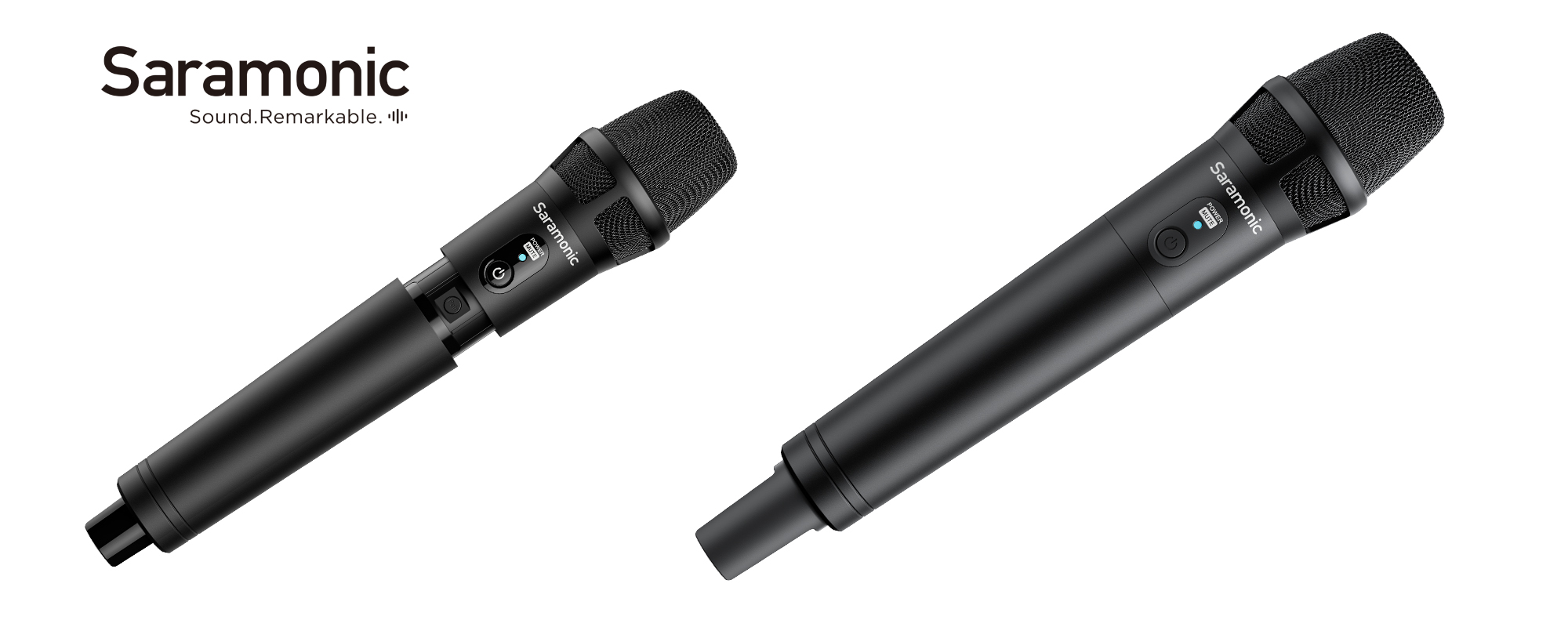 SARAMONIC VLINK2 RX RECEIVER IS NOT PART OF THE KIT.
Lightweight and durable
The Saramonic Vlink2 HU reporter microphone for the Vlink2 wireless audio system is made of high-quality materials that will allow you to enjoy your equipment for years to come. The aluminum housing is a guarantee of durability, while keeping the weight low. Thanks to its ergonomic design and lightweight housing (it weighs just 225 g!), this microphone is extremely comfortable to use, even during long recording sessions.
Great sound quality
The Vlink2 HU microphone features a high-quality capsule that provides a very good signal-to-noise ratio of 75 dB. The device will enable high-quality sound recording during video productions, trade shows, public speaking, presentations, concerts and lectures, among others. Proven technological solutions will ensure adequate volume levels and no interference when using the Saramonic Vlink2 audio system.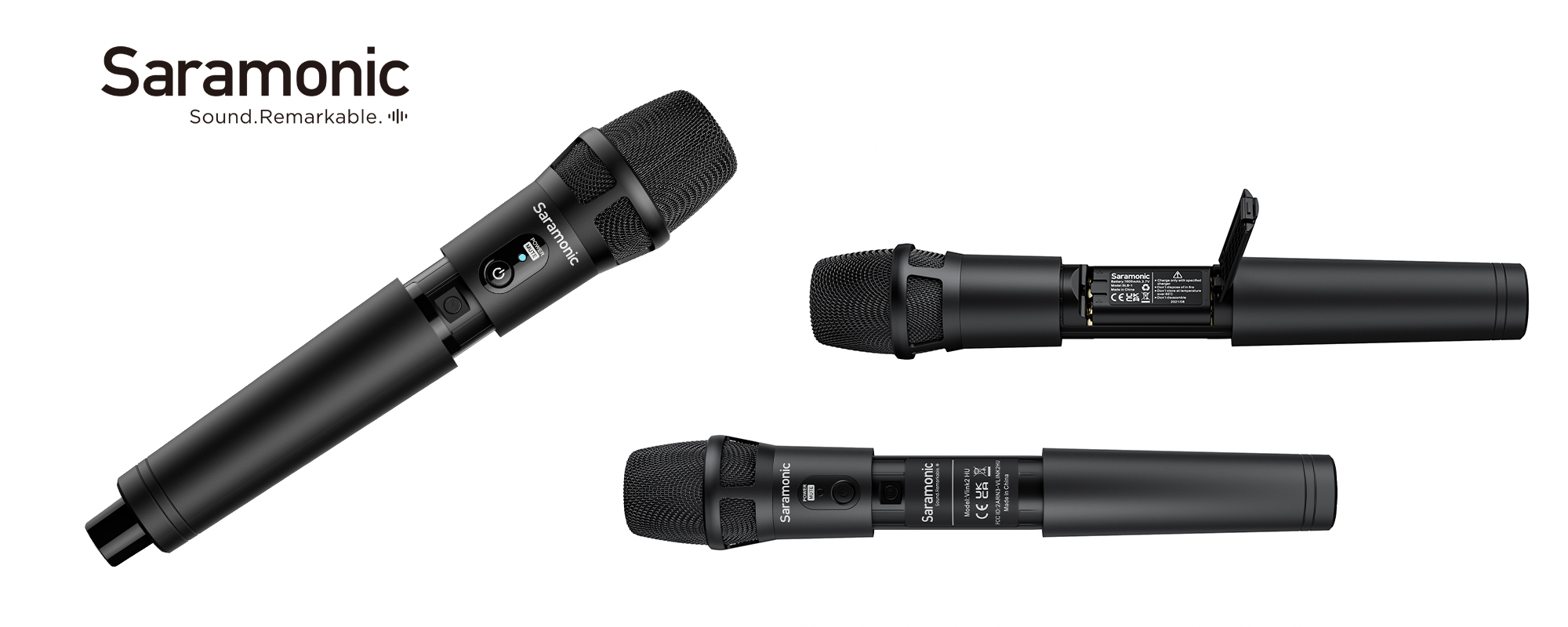 2 ways to power
You'll find a 1600 mAh rechargeable battery included, which you'll charge using a USB-C cable. Once the cell is placed inside the microphone, you can count on up to 22 hours of uninterrupted operation! However, that's not all. If you forget to take the cable with you or the cell unexpectedly discharges, you can reach for traditional "finger sticks". The microphone can be successfully powered by 2 AA batteries, which you can buy at almost any kiosk.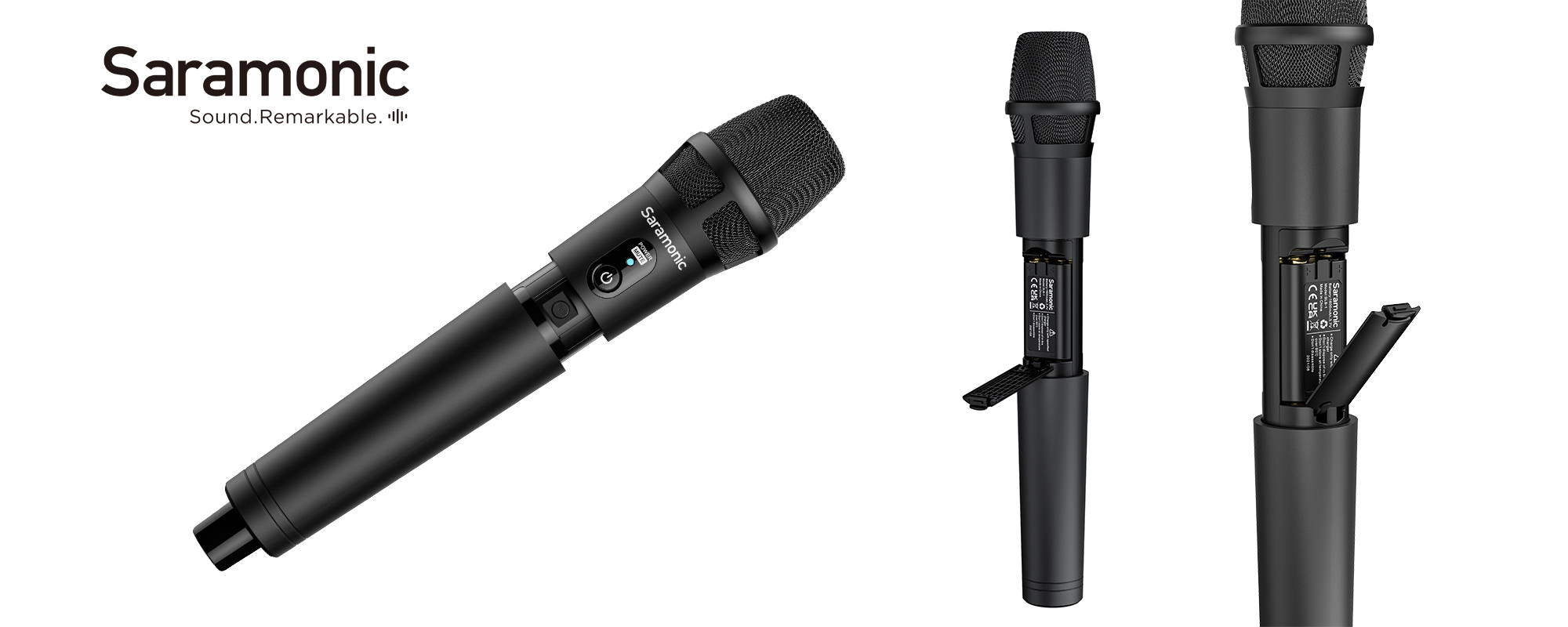 Digital transmission 2.4 GHz
The Saramonic Vlink2 HU microphone uses digital audio transmission technology (2.4 GHz frequency). It provides great transmission quality, no interference and low latency. The presented microphone model is an excellent choice for reporters and video makers working within the Vlin2 system, who would like to replace the traditional microphone with a device designed to be held in the hand.
Compatibility
Vlink2 RX receiver for Saramonic Vlink2 wireless audio system
Specification
model: Saramonic Vlink2 HU
material: aluminum
modulation type: GFSK
range: up to 50 m
range of supported frequencies: 2.4 GHz (2404 – 2476 MHz)
signal-to-noise ratio: 75 dB
sensitivity – 35 dB
frequency response: 35 Hz – 18 KHz
output power (RF): < 10 mW
Power supply:

Li-ion rechargeable battery (1600 mAh)
2 x AA battery / rechargeable battery
USB-C DC 5 V

Max. operating time on a single charge:

Li-ion battery (1600 mAh): 22 h
2 x AA battery / rechargeable battery: 20 h

Dimensions: 49.2 x 263.1 x 49.2 mm
weight: 225 g
Kit contents
Saramonic Vlink2 HU reporter microphone
Li-ion rechargeable battery
USB-A / USB-C cable