Description
The Saramonic Vmic5 is a super-cardioid condenser microphone offering high quality recorded sound. The ultra-lightweight housing will provide optimal comfort for DSLR cameras, camcorders and audio recorders. It can be conveniently installed on a threaded quick-release coupling or a cold shoe, and a specially designed shock absorption system will neutralize vibrations and shocks. The microphone allows you to reduce unwanted ambient noise, while offering a high-pass filter and +10 dB gain. The built-in 2000 mAh battery provides up to 150 hours of battery life, and an additional 3.5 mm mini jack output allows you to connect headphones to the device and enjoy high-quality, latency-free listening.
Main Product Features
Super-cardioid super-capacitive shotgun microphone
ideal for use with DSLR, mirrorless and video cameras
fast and convenient installation with a cold shoe
Super-cardioid microphone characteristic enables reduction of unwanted background noise
equipped with a high-pass filter for even greater clarity of the recorded speech
reduces low frequencies that may be generated by traffic or running air-conditioning in the room
a +10 dB boost to improve sound quality when working with SLR or mirrorless cameras
a specially designed cushioning system isolating vibrations and shocks
headphone input for comfortable audio monitoring
no latency and distracting echo in listening
built-in 2000 mAh battery for up to 150 hours of microphone use
fast charging via USB-C port
Emissive sound quality
Choose the Saramonic Vmic5 condenser microphone and conveniently connect it to devices equipped with a 3.5mm mini jack (TRS), including cameras, camcorders and external recorders. Get broadcast quality audio in your video productions! Thanks to its directional super-cardioid characteristic, you'll effectively reduce unwanted ambient sounds, capturing primarily what you hear in the foreground, but also picking up audio from the area behind the microphone.
Very versatile use
Ergonomic switches located on the rear of the housing allow you to quickly and conveniently activate additional microphone functions to improve the quality of your recordings. If necessary, we can use a higher input level (+10 dB), as well as activate a high-pass filter (150 Hz), which will effectively suppress unwanted frequencies interfering with sound recording.
Professional monitoring
Audio recording often requires the quality control that headphones provide. On the housing of the Saramonic Vmic5 condenser microphone, there is no shortage of a 3.5mm mini jack socket to which you can easily connect them. Monitoring is done in real time, so it is not accompanied by any delays and unpleasant echo.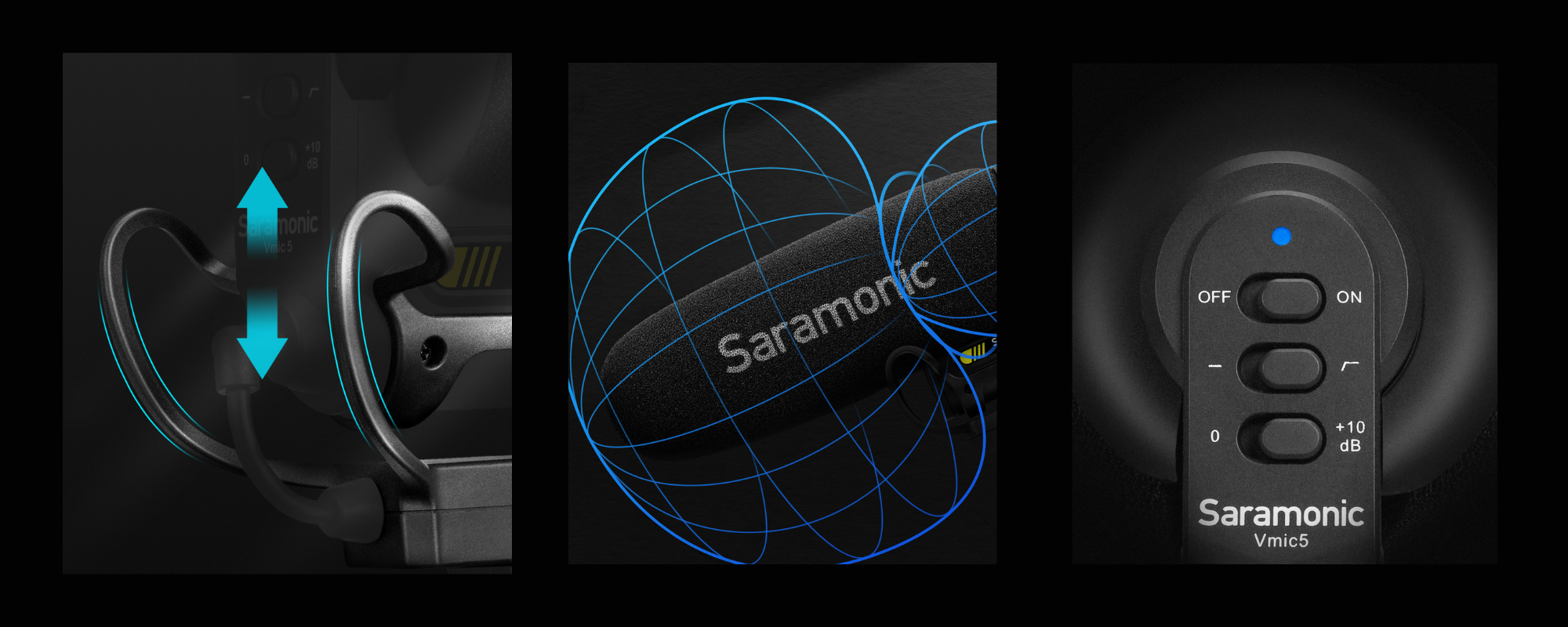 Unique shock reduction system
The Saramonic Vmic5 condenser microphone features the revolutionary "Robust Shock" shock reduction system. The ergonomic design of the unit's housing helps to isolate the capsule from unwanted movements, clicks or knocks that could interfere with sound quality during recording.
Long runtime on a single charge
Comfortable operation with the Saramonic Vmic5 microphone is ensured by the built-in 2000 mAh battery. Fully charged, it will provide up to 150 hours of continuous use. And if you happen to forget to replenish the power in the microphone, simply reach for the power bank and use the USB-C port, which is not missing on the housing of the device!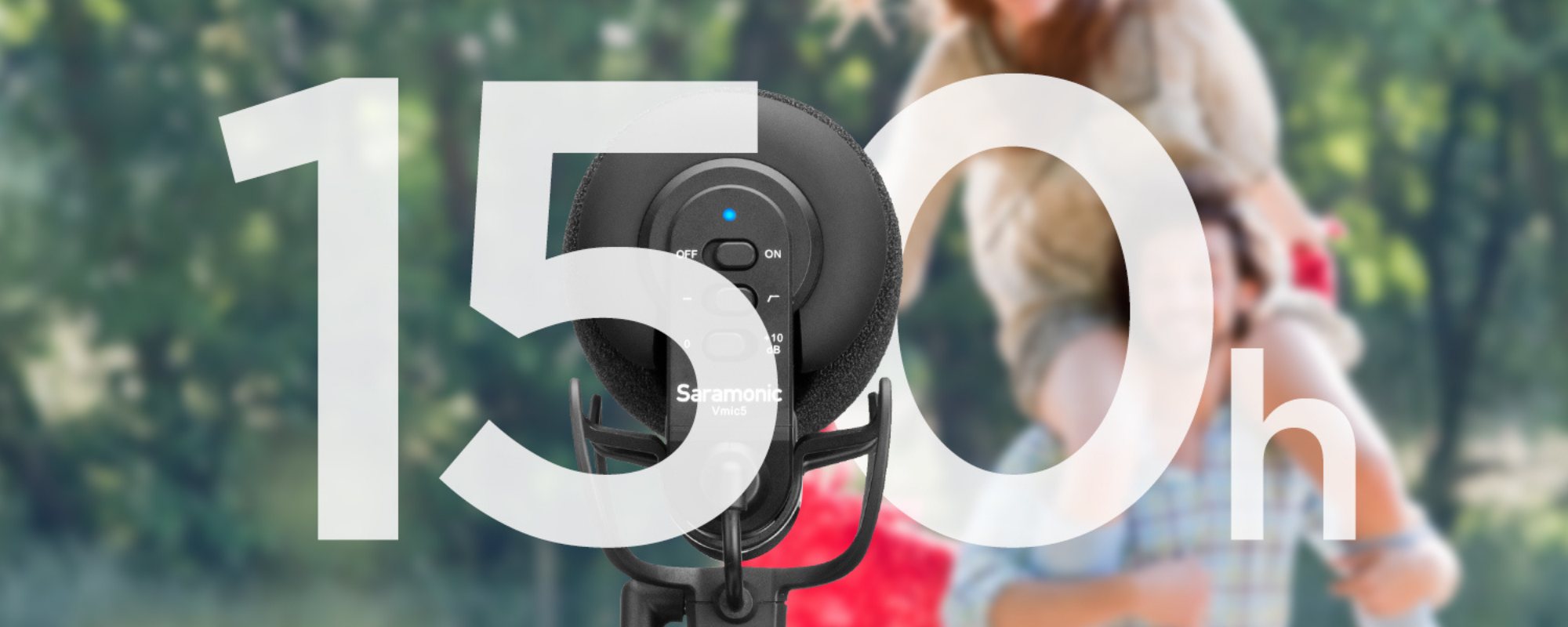 Specification
model: Saramonic Vmic5
type: capacitive
characteristic: super-cardioid
bandwidth: 20 – 20000 Hz
sampling frequency: 48 kHz
sensitivity: -26 ± 3 dB (0 dB = 1V / Pa, at 1KHz)
signal to noise ratio: 85 dB
impedance output: 200 Ω
volume control: 0 dB,+10 dB
high pass filter: 150 Hz
Maximum output level: 7.5 dBu (@ 1KHz, 1% THD to 1 kΩ)
output: 3.5 mm TRS (mini Jack)
SPL: 130 dBu
Battery: 3.7 V / 2000 mAh (built-in)
operating time on one charge: up to 150 h
dimensions: 185 x 109 x 66 mm
weight: 180 g
Kit contents
Saramonic Vmic5 condenser microphone
foam shield
deadcat cover
audio cable – 3.5 mm TRS / TRS
charging cable – USB-C / USB-A