Description
Saramonic WiTalk WT3S Wireless Headphone System
The Saramonic WiTalk WT3S is a revolutionary headphone system designed for professional production crews. It delivers full two-way real-time (full-duplex) communication and allows you to stay connected to your immediate surroundings with a single handset. A range of up to 400 meters ensures effective communication even over very large areas of terrain. Each headset is equipped with a replaceable 1,200 mAh rechargeable battery, ensuring long operating time without frequent charging. The intercoms also offer a USB-C port, allowing energy replenishment with a power bank. The kit is also completed with a sturdy carrying case for safe transportation and convenient storage of the equipment.
Main Product Features
intercom full-duplex (full-duplex) wireless communication system
headset in one-ear variant
an ideal choice when you want to stay in touch with your immediate surroundings
includes 3 headsets (1 x Master and 2 x Remote)
a great alternative to the outdated half-duplex system offered by popular walkie-talkies (among others)
wireless intercoms offering 2-way real-time communication (you talk as if you were on the phone)
hands-free intercom use increases teamwork efficiency
a great choice for those working on film sets
the microphone automatically mutes when you're not saying anything, reducing ambient sounds that reach the ears of other callers
Frequencies 1787 – 1928 MHz provide up to 400 meters of range between master and slave sets
the ability to adjust the audio volume on each headset
the role of the base station known from similar systems is performed by the Master headset
no separate base station saves space and gets the system ready faster
automatic pairing of intercoms with the push of a button
the headsets feature replaceable 1200 mAh batteries
up to 10 hours of uninterrupted operation of the Master set and up to 18 hours of Remote sets
each of the intercoms equipped with a USB-C port for charging with, among other things, a power bank
headsets equipped with microphone mute buttons (Mute)
soft sponge padding for hours of headphone comfort
each headset has a built-in microphone with adjustable microphone position
the ability to adjust the device to the size of your head
sound signals to indicate connection or disconnection of each intercom
included carrying case
Dozens of applications
Saramonic WiTalk WT3S is a revolutionary headset system designed for professional production crews that sets a new standard for communication. The set of devices was created specifically for on-set work on film, television, stage, photo shoots and recording sports coverage. The WiTalk WT3S set includes 3 headsets in a 1 ear variant. It allows wireless communication between 3 people.
Variant-on-one-ear
The Saramonic WiTalk WT3S wireless headphone system is a modified version of the WT3D model. The earpiece here sits on only one ear, allowing you to stay in constant contact with both your immediate surroundings and those who communicate with you remotely. This is an ideal choice for people who experience discomfort when wearing traditional headphones for hours. This solution also allows you to move more freely.
Two-way communication
The Saramonic WiTalk WT3S system is an ideal alternative to walkie-talkies that offer half-duplex communication, where individual callers must take turns speaking. Here, communication takes place in real time, just like over the phone. An additional advantage is the deactivation of microphones when no one is saying anything. This solution reduces the amount of noise and background sounds heard in the handset. With Saramonic WiTalk WT3S you will finally forget about interference, unintelligible words and broken sentences!
400 meter range
Working with wireless intercoms often involves communicating over large spaces. Unlike many competing products, the Saramonic WiTalk WT3S system supports a unique frequency range – 1787 – 1928 MHz. As a result, the distance between the Master and Remote headsets can reach up to 400 meters!
Multiple power ways
Each headset included in the Saramonic WiTalk WT3S system is equipped with a removable rechargeable battery. Such a solution gives you a huge advantage over devices that need to be plugged into the charger in its entirety. If spare batteries happen to be in use, no harm done. You can connect any intercom to a powerbank via a USB-C port.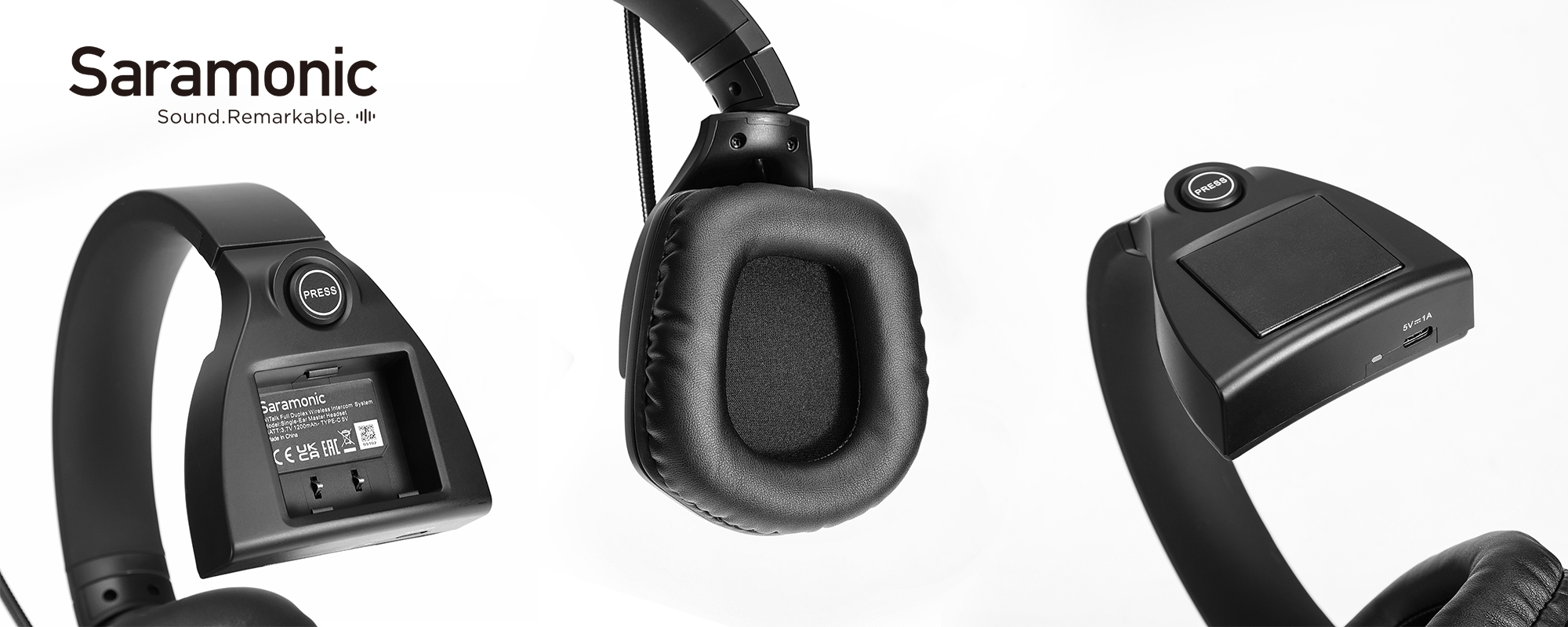 Intuitive operation
The intercom labeled Master acts as a base station, so you don't have to worry about having to set up additional devices. Simply launch the master headset and with the push of a button, automatically pair additional devices to it. All headsets allow you to adjust the volume. Each also allows you to quickly mute the microphone with the Mute button.
Long runtime
The replaceable 1,200 mAh batteries that power each headset will provide impressive runtime with the Saramonic WiTalk WT3S system. Using two devices (1 x Master + 1 x Slave), you can expect up to 10 hours of uninterrupted communication.
Wear-comfort
Thanks to the ergonomic design and the use of top-notch materials, not once will you forget that you have a headset on your head. The soft sponge pleasantly surrounds your ear for ultimate wearing comfort. The adjustable headband allows you to adjust the headset to the shape of your head. If necessary, you can also change the position of the microphone at any time. Its maximum tilt automatically deactivates it, just like the Mute button.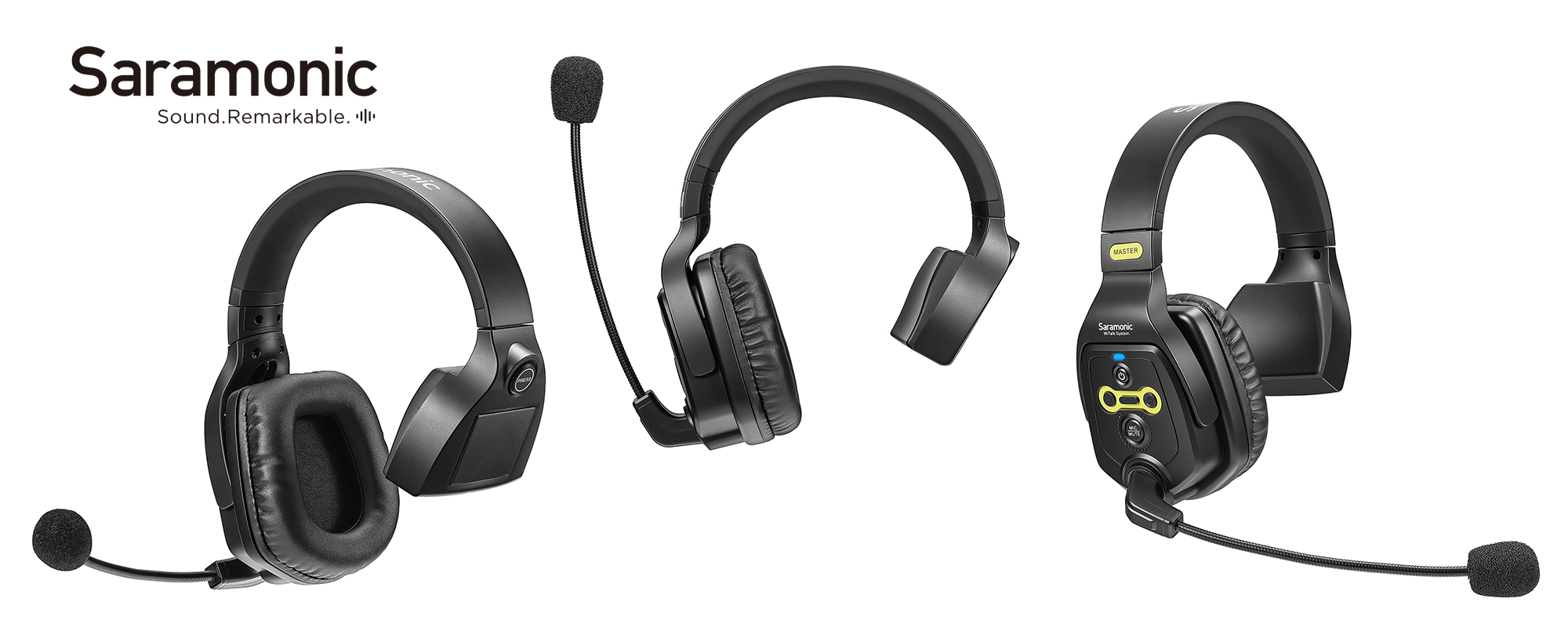 Safe transport
Included with the Saramonic WiTalk WT3S wireless headphone system you will find a special transport case. It has been completely filled with flexible plastic that will provide the highest level of protection for your equipment. Contoured compartments will ensure that each component included in the system is properly protected in transit.
Expand the capabilities of the kit
The Saramonic WiTalk WT3S system includes 3 headsets. However, you can expand it with more devices at any time. The master unit can be paired with up to 4 slave headsets. Such a solution will enable real-time communication for up to five people simultaneously.
Specification
model: Saramonic WiTalk WT3S
single-ear master headset (Single-Ear Master Headset)

transmission mode: FDX (full duplex)
modulation mode: GFSK
supported frequencies: 1787 – 1928 MHz
microphone type: condenser
range: up to 400 m
bandwidth: 300 Hz – 5 KHz
output power: <24 dBm
power consumption: < 0.5 W
signal-to-noise ratio (SNR): > 65 dB
crossing: < 1.0%
power supply: built-in Li-ion battery (3.7V, 1200 mAh) or USB-C DC (5V)
operating time on a single charge: 10 hours (working with 2 remote headsets) / 5 hours (working with 4 remote headsets)
dimensions: 175.1 x 203.1 x 85.8 mm
weight: 360 g

Single-Ear Remote Headset

transmission mode: FDX (full duplex)
modulation mode: GFSK
supported frequencies: 1787 – 1928 MHz
microphone type: condenser
range: up to 400 m
bandwidth: 300 Hz – 5 KHz
output power: <24 dBm
power consumption: < 0.5 W
signal-to-noise ratio (SNR): > 65 dB
crossing: < 1.0%
power supply: built-in Li-ion battery (3.7V, 1200 mAh) or USB-C DC (5V)
operating time on a single charge: up to 18 hours
dimensions: 175.1 x 203.1 x 85.8 mm
weight: 360 g
Kit contents
1 x master headset (Master)
2 x remote headset (Remote)
3 x USB-C / USB-A cable
3 x rechargeable battery
1 x carrying case