Description
The Saramonic WM2100 U2 kit was created to conveniently capture high-quality audio using smartphones or computers. It is ideal for creators posting videos or making broadcasts using platforms such as YouTube, TikTok, Instagram, Twitch or Snapchat. The SR-WM2100 RXU receiver available in this package is compatible with USB-C or USB-A equipped devices. The two SR-WM2100 TX transmitters will provide convenient audio recording with the included tie microphones or external audio sources. The wireless signal transmission range here reaches 70 meters. This will give you even more freedom to work while creating your videos, interviews and vlogs!
Main Product Features
wireless audio transmission kit with 2 transmitters and 1 receiver
compatible with smartphones and computers equipped with a USB-C or USB-A port (adapter included)
very suitable for: interviews, reports, game streams or live broadcasts
ideal for recordings made with smartphones, published on TikTok, Instagram, Facebook, Twitch or YouTube
Conveniently switch between MONO and STEREO audio
a 3.5mm listening output for real-time headphone monitoring
additional TRS line input (Mini Jack 3.5 mm) for connecting a second audio source (background music, instruments, etc.)
emission quality sound transmitted digitally (2.4 GHz)
"+/-" buttons for convenient signal level adjustment
Pairing mode to quickly synchronize transmitters with receiver
An omni-directional tie microphone is included with each receiver
collapsible antennas with an adjustable tilt angle within 180˚
LED indicators for low battery and microport sync status
transmitters powered by popular AA batteries
included fasteners for convenient attachment of transmitters to a belt
Ideal for working with smartphones and computers
The Saramonic WM2100 U2 Wireless Audio Transmission Kit was created specifically for people who work with smartphones or computers when making videos, reports, broadcasts or podcasts. The small receiver, which is designed to resemble a USB flash drive, can be easily plugged into a USB-C port. The kit also includes a special adapter that allows you to use the traditional USB-A port. Thanks to that you don't have to worry about synchronising the audio track recorded with an external sound recorder with the image recorded with a smartphone or laptop camera. With the Saramonic WM2100 U2 kit, work will be even easier and audio quality will take your recordings to a whole new level!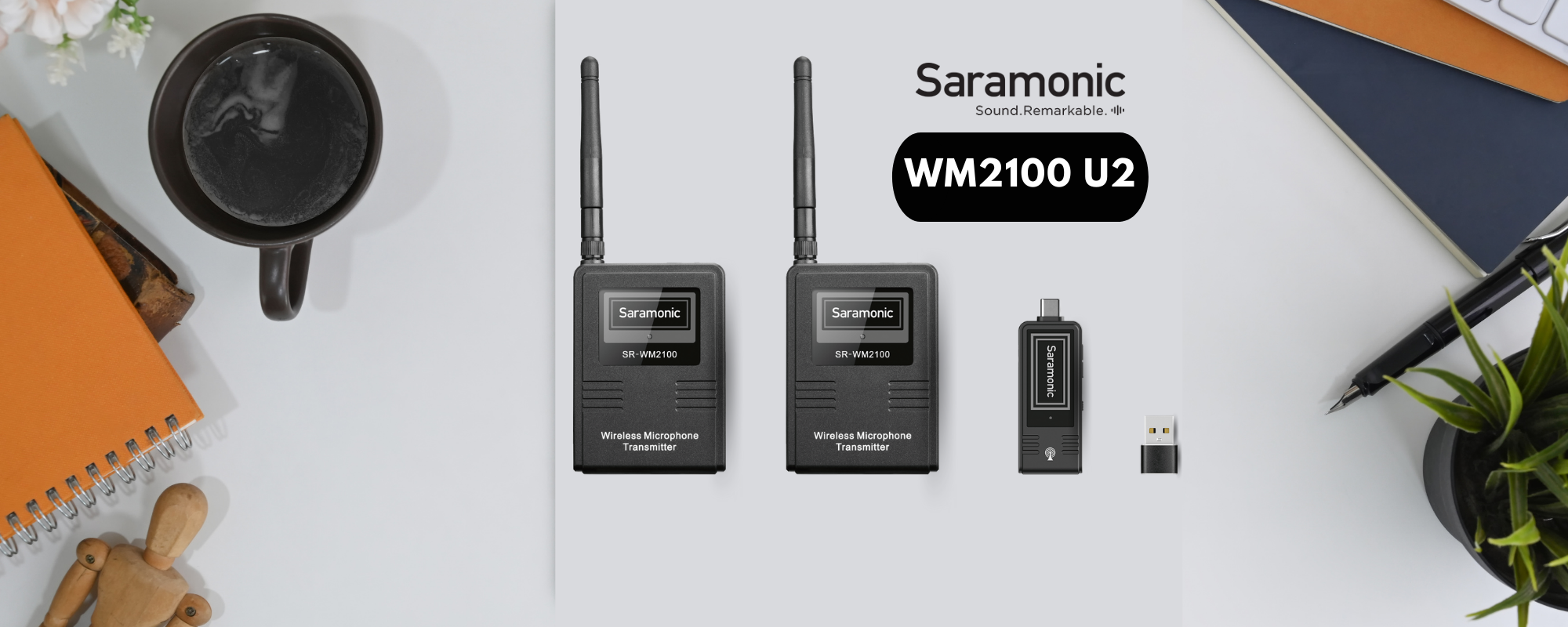 Very versatile application
The Saramonic WM2100 U2 is a miniature and lightweight kit for video creators who want to conveniently capture broadcast-quality audio using smartphones or computers. The package, which includes a receiver, 2 transmitters, tie microphones and additional accessories, is ideal for recording webinars, streams and live broadcasts, creating content for TikTok, Snapchat or Instagram, as well as making vlogs and other materials published on YouTube. You will use the set wherever you need to record sound from two independent sources (e.g. interview). Compact elements of the kit are ultra-lightweight, so you can easily take them on any trip!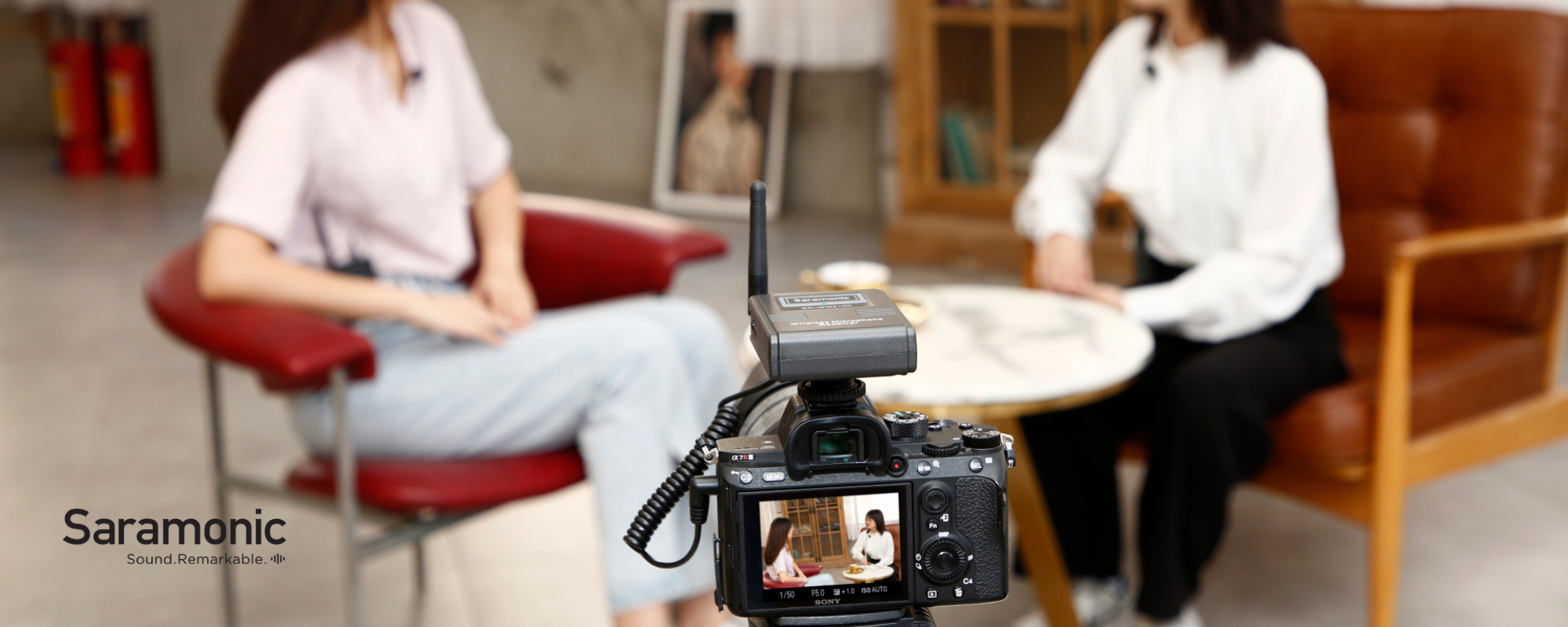 Additional audio source
Thinking of supplementing your recordings with more audio sources? Don't have time for post-production and mixing audio from editing software? By choosing the Saramonic WM2100 U2 Wireless Transmission Kit, you can take advantage of an additional audio source, thanks to the TRS (Mini Jack 3.5mm) line input found on the SR-WM2100 TX transmitters. This way, you can easily mix the voice collected by the tie microphone together with background music or audio instrumentation created specifically for your video content. Just plug in a player or other device! And there's nothing stopping you from plugging another microphone into the "Line Level Input" jack to expand the number of guests invited to your show!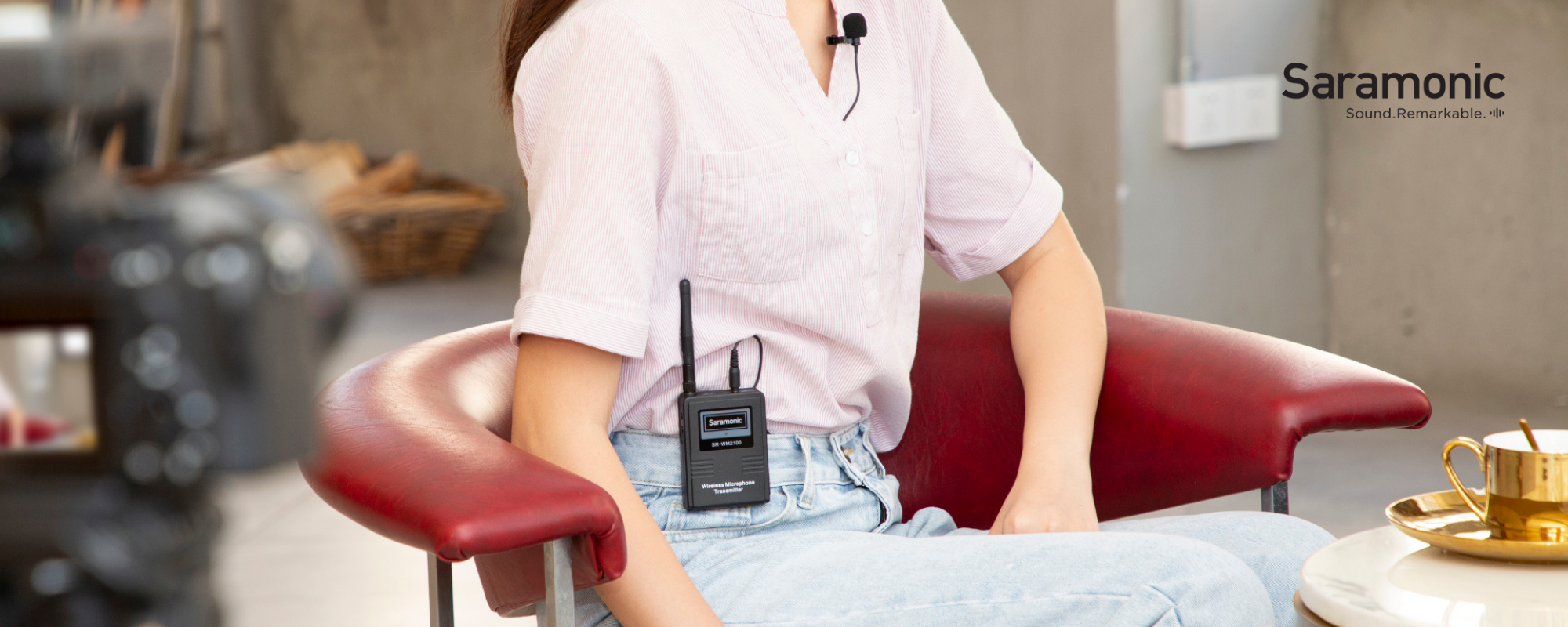 Professional listening always at hand
On the housing of the SR-WM2100 RXU receiver, you will find a 3.5mm mini jack socket for convenient connection of headphones. The ability to monitor recorded interviews, conversations and speeches will enable you to effectively catch crackles, noises or unwanted sounds that are often impossible to hear when working without monitoring. Listening is also the best way to eliminate mistakes or slip-ups. By monitoring your recordings with headphones, you have more control over the material you are making!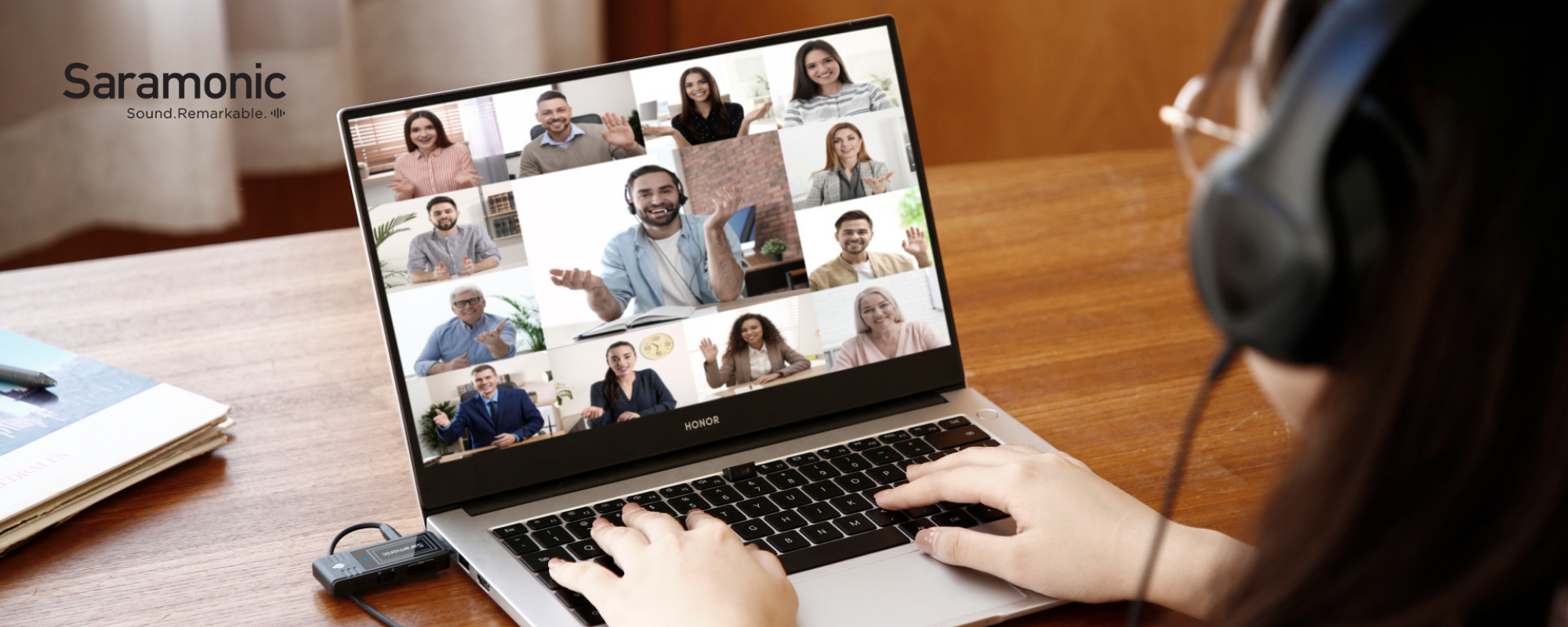 Fast sync
Want express alignment of transmitter and receiver wavelengths? It's easy with the Saramonic WM2100 U2. It comes with a pairing mode that lets you detect devices that are far apart. Whether you're recording TikTok videos, vlogs, interviews or podcasts, you can be sure that the time it takes to synchronise your devices will be just seconds. Your interlocutors will never be distracted by unexpected interruptions in their recordings, and you can move the transmitters up to 70 meters away from the receiver without the risk of the transmission being disrupted.
Full control of sound
Both the SR-WM2100 TX transmitters and the SR-WM2100 RXU receiver are equipped with "+/-" buttons. With these you can conveniently adjust the signal level to suit your needs. You will also find a special STEREO/MONO switch on the receiver. In one move, you can adjust the type of signal, depending on what sound recording system you need.
Convenient power supply
The SR-WM2100 RXU receiver is powered directly from a USB-C or USB-A port, so you don't have to worry about charging it. For the transmitters, they've relied on a proven solution. The SR-WM2100 TX microports are powered by common AA batteries, which you can buy at almost any kiosk, no matter what country you're in for audio work. In the interest of the environment and expense, you can also choose rechargeable batteries of the same shape. A power system proven over the years is a guarantee of peace of mind when shooting!
Specification
Model: Saramonic WM2100 U2 wireless audio kit
Saramonic WM2100 TX Transmitter
digital transmission: 2.4 GHz
modulation: GFSK
reach range: up to 1 GHz
range: up to 70 metres
RF output power: 10 mW
microphone characteristics: omnidirectional
bandwidth: 70 metres
bandwidth: 50 Hz – 18 kHz
signal-to-noise ratio: > 78 dB
Power supply: 2 AA batteries / rechargeable batteries
antenna: detachable
Audio inputs:

microphone TRS (Mini Jack 3.5 mm)
linear TRS (Mini Jack 3.5 mm)

Dimensions: 62.5 x 85.7 x 26.4 mm
weight: 68 g
Microphone:
maximum sound pressure level: 110 dB SPL
sensitivity: -30 dB
RXU SR-WM2100 Receiver
digital transmission: 2.4 GHz
GFSK modulation
range: up to 70 metres
audio output: USB-C connector
output signal level: -60 dBV
power supply: from the device to which the receiver will be connected (UBS-C port)
headphone output: mini Jack 3.5 mm
audio reception: mono / stereo
antenna: PiFA
Dimensions: 71.5 x 26 x 10 mm
weight: 13.5 g
Kit contents
2 x SR-WM2100 TX transmitter
1 x SR-WM2100 RXU receiver
1 x USB-C to USB-A adapter
2 x omni-directional tie microphone
2 x microphone clip
2 x antenna
2 x belt clip
2 x microphone foam shield
1 x needle to help push the pairing button