Description
This set of magnetic aluminum covers for the Revoring H&Y filter holder – 58-77 mm will further secure the innovative adapter and protect the filter you install in it. Their installation is fabulously easy! You can "glue" the front cap to the mount in a second, and screw the rear cap in one simple motion using the innovative Revoring mounting system. The filter's protection will be enhanced by the soft velvet lining used on the inside of the magnetic cap. Take care of your gear and experience the magic of revolutionary H&Y accessories that will allow you to create a reliable ecosystem for working with different lenses.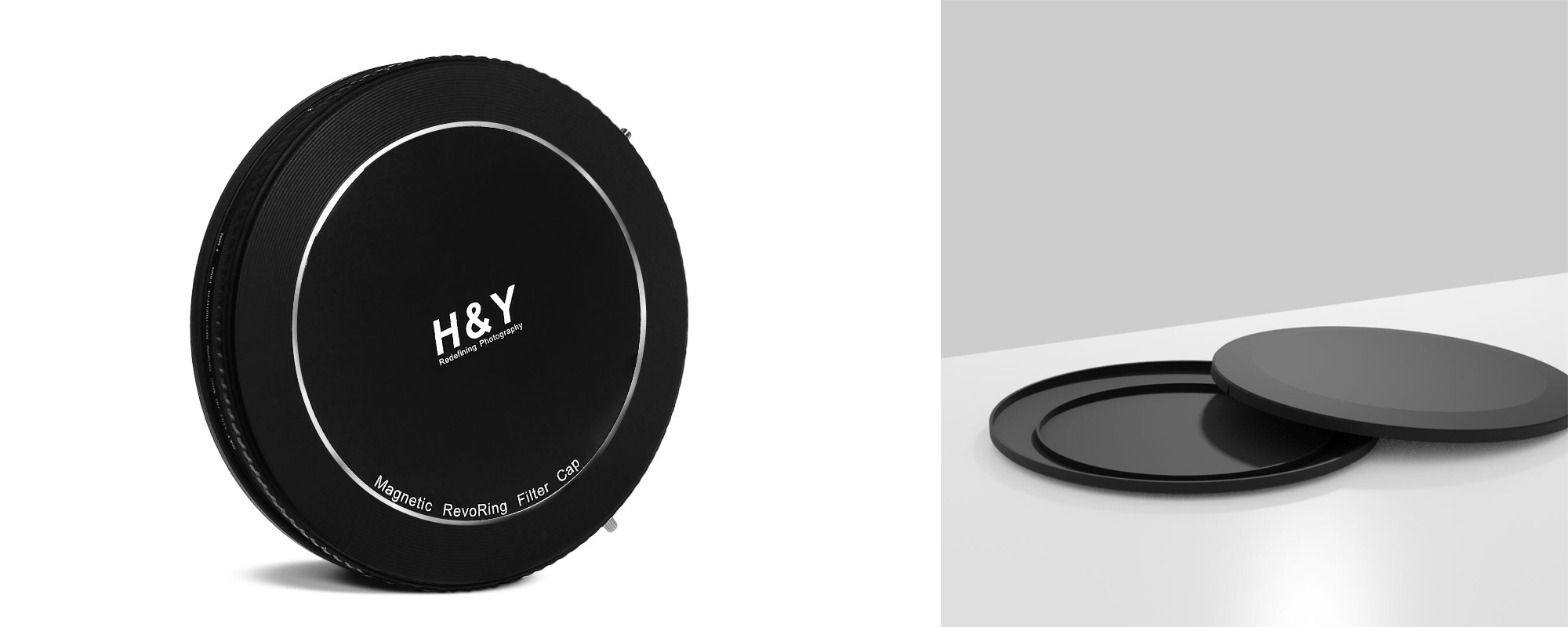 Main Product Features
decals for the front and back of the H&Y Revoring filter holder – 58-77 mm
ideal combination with various H&Y Revoring variants (also Black Mist 1/2, ND, VND, CPL)
compatible with a mount designed to work with lenses with a front thread diameter of 58-77 mm
effective filter protection against mechanical damage and harsh weather conditions
made of durable and lightweight aluminum
precise machine finish using CNC machining
soft velvet lining on the inside to protect the filter from scratches
black matte finish with anodized coating
Precision and quality craftsmanship
The magnetic covers for the Revoring H&Y filter holder – 58-77 mm have been refined down to the smallest detail. They are made of durable and lightweight aluminum, which has been precisely finished by machine. They are protected from the outside by anodic coating in matte black color. Additionally, the inner side of the lens caps was completed with soft velvet lining which will protect the filter from scratches even better.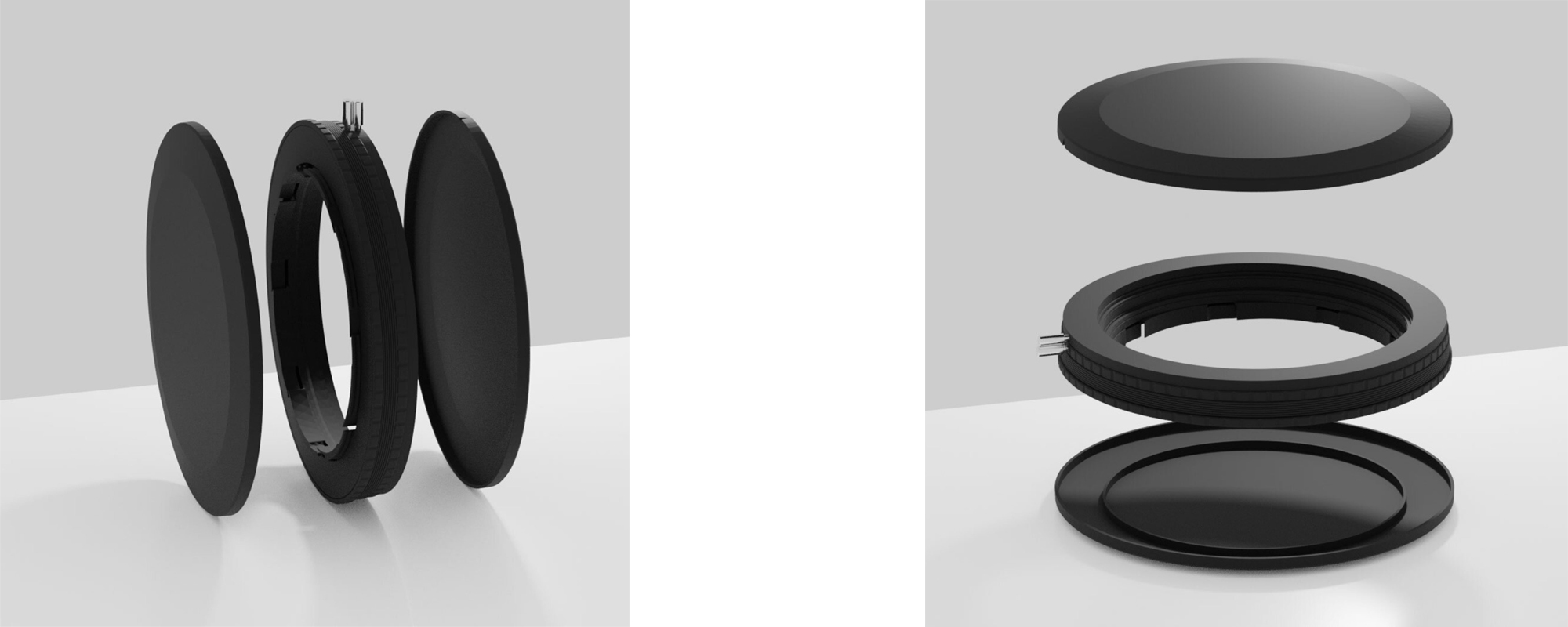 Great filter protection
Very often, when you "just for a moment" throw unprotected filters into your bag or pocket, new scratches appear on them. Minor damage can also occur when working in harsh weather conditions. However, there is a way to protect your filters in seconds. Just reach for the H&Y Revoring filter holder – 37-49 mm and two unique aluminum covers available in the presented set. One of them is equipped with a strong magnet and the other is compatible with an adaptive ring that adjusts to lenses of various diameters on a daily basis. Thanks to the precise design of the lens caps, installation will only take a few seconds! This technology will give you the confidence that your filter and lens will safely survive a sandstorm, backpacking trip or a powerful downpour.
H&Y REVORING FILTER HOLDER IS NOT PART OF THE SET AND MUST BE PURCHASED PERSONALLY.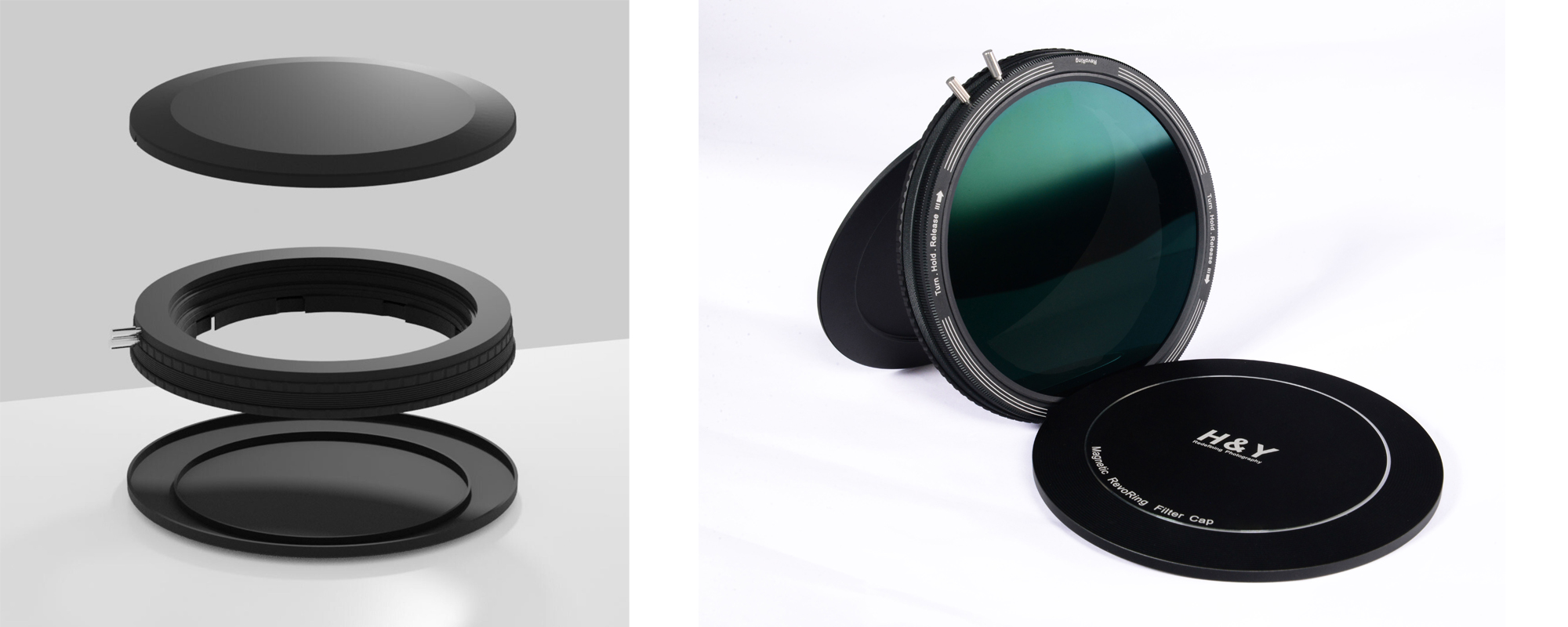 Meet the Revoring filter holder
Revoring is the most advanced reduction ring ever created. With its clever "variable blade" technology, any DSLR or mirrorless owner can easily install the same filter on different lenses without having to reach for additional adapters. Anyone encountering the unique mounting standard from H&Y for the first time will ask themselves one fundamental question, "Why hasn't anyone invented this before!".
Join the H&Y family
Want to make working with filters and the revolutionary adapter from H&Y even more convenient? Check out the other products in the Revoring family! A set with a built-in ND3-1000 gray filter and CPL polarizing filter will open up whole new possibilities for your photography. Attaching filters to your lenses has never been easier. And this is just the beginning of the revolution. H&Y products will make your work environment more ergonomic and your photography and video shooting even easier. Discover filters made of the toughest Corning Gorilla Glass III, the K-series magnetic mounting bracket, and innovative frames. Choose the unique H&Y ecosystem and experience what true camera convenience can be!
Compatibility
Revoring H&Y filter mount – 58-77mm
Specifications
model: set of magnetic aluminum covers for Revoring H&Y filter holder – 58-77 mm
color: matte black
materials: aluminium, anodic coating
dimensions: Ø 13,5 cm
Kit contents
decal for the front of the Revoring H&Y filter holder – 58-77 mm
decal for rear of Revoring H&Y filter holder – 58-77 mm