Description
The Sirui A100B is the world's first LED flash using an innovative auto-pump mechanism. The foldable, lightweight and ultra-mobile design can be installed in dozens of different locations using a tripod mount, metal rings or a magnet. Measuring 68.5 by 50 cm, the inflatable lamp provides unprecedented versatility and comfort that no traditional light panel used in the photo-video industry can give you. The high quality of light, two ways of power supply, 12 special effects, remote control via an app and splash resistance make the Sirui A100B an ideal choice for photographers and filmmakers – both amateurs developing their passion and professionals working on professional sets.
Main Product Features
Innovative inflatable LED lamp
a true revolution in the world of photo-video lighting
Built-in electric pump allows you to create a 68.5 by 50 cm LED panel in a matter of moments
Lightness and ultra-mobility not offered by any traditional LED panel of this size
automatic pumping mechanism hidden in a separate zippered compartment
ideal for almost any conditions – tight spaces, portraits, product photography, vlogs, field recordings, live broadcasts, reports, b-rolls
high CRI (96) and TLCI (98) values ensure excellent light quality
enables a light output of 1900 lux from a distance of 1 meter
adjustable color temperature from 2800 to 8500 K
lighter lamp allows convenient mounting in any position (ideal choice when you want to illuminate the scene from above)
Built-in magnets allow quick mounting on metal surfaces
mounting arm equipped with a ball head allows you to precisely direct the light
4 metal rings allow convenient mounting with string or zip ties
Built-in diffuser allows you to get soft and properly diffused light
2 ways to power the lamp – from an outlet or using a V-Mount battery (must be purchased separately)
12 preset special effects (including TV, lightning storm, candle, campfire)
quiet operation that does not generate unnecessary noise on the set
included a robust controller enclosed in a solid case
the backlit screen and ergonomic dial provide fast and convenient operation
remote control capability via the SIRUI Light mobile app
mounting arm equipped with clamp mount (compatible with lighting tripods)
mounting arm can also function as a hand grip
lamp made of durable splash-resistant material
equipped with a special valve for quick release of air
in the set you will also find: a "crab clamp" holder, and a padded carrying bag
Revolutionary design
The Sirui A100B flash will let you forget the limitations that come with working with traditional LED lighting on film and photography sets. Thanks to its ultra-lightweight design, its mounting will be possible in almost any position. The built-in pump will automatically fill the device with air in a matter of moments, creating a 68.5 by 50 cm LED panel. This is ideal for working in tight spaces, or wherever you want to move the lamp from place to place quickly.
Multiple mounting options
The Sirui A100B LED light offers several different mounting options for tremendous versatility in operation. The mounting arm, equipped with a clamp mount, allows the unit to be quickly and conveniently installed on popular lighting tripods. The accessory can also function as a handgrip, making it even easier to carry the lamp and precisely direct the light. The built-in magnets allow quick and convenient installation on metal surfaces, and the metal rings will work great with a variety of cords, strings and zip ties.
High quality light
The Sirui A100B LED lamp provides a light output of 1,900 lux from a distance of 1 meter. The built-in diffuser will allow you to achieve natural shadows without harsh edges in your photos and videos. With high TLCI (98) and CRI (96) values, you will achieve vivid and natural colors.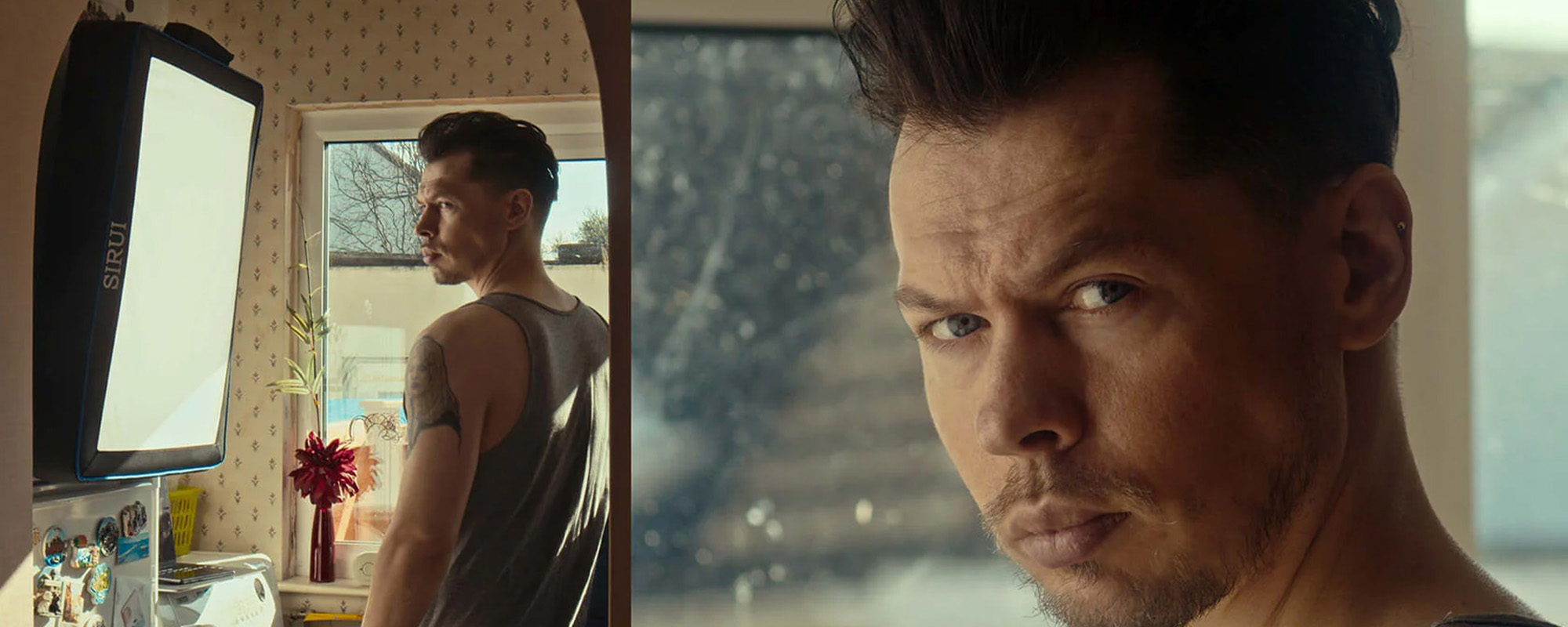 Color temperature adjustment
The Sirui A100B LED lamp allows you to adjust the color temperature (from 2800 K to 8500 K). Such a wide range of control will ensure that the light is precisely adjusted to the conditions found on a film or photography set. It doesn't matter whether you're working in a room lit by incandescent bulbs or filming outdoors. The ergonomic dial will allow you to quickly and conveniently set the optimal color temperature.

Two power ways
The Sirui A100B LED light offers two ways to power it – from a traditional electrical outlet or via a V-Mount battery (to be purchased separately). This allows the inflatable panel to be used in a variety of conditions, both in the studio and in the field, where access to electricity is often limited. By using the V-Mount battery pack and becoming independent of a traditional power supply, you will gain even more freedom of operation.
Spectacular special effects
The Sirui A100B LED flash offers 12 predefined special effects to spice up your film productions with varying flash sequences and color temperature changes. These include simulating a thunderstorm, a broken light bulb, a TV, an explosion, a bonfire or fireworks! The Sirui A100B inflatable light will let you see how the magic of cinema works, without having to invest in expensive pyrotechnic effects!
Mobile app
Thanks to Bluetooth support, the Sirui A100B flash can be controlled from a mobile app. You download it from the Google Play store and App Store at no extra charge. Remote control with your smartphone will give you even more freedom of work and the ability to precisely control the light, even when the lamp is several meters away from you.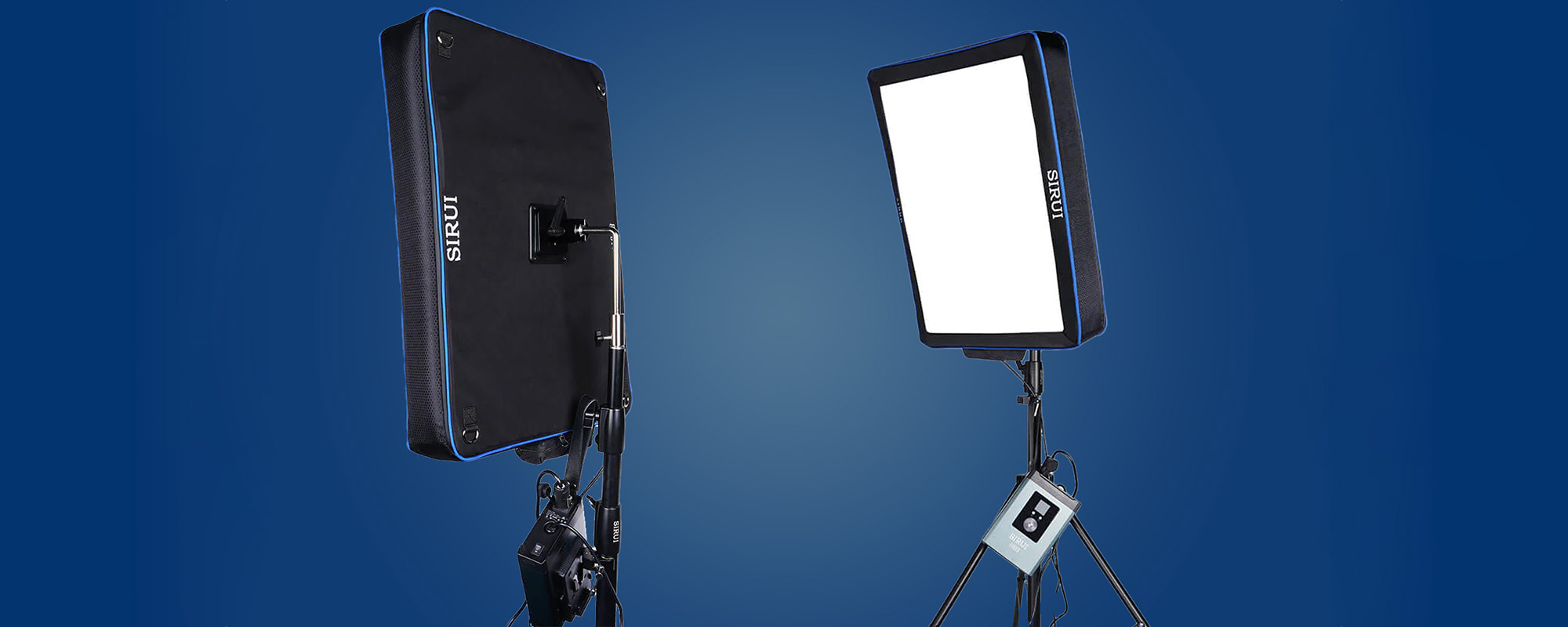 Compact dimensions
The Sirui A100B LED flashlight weighs just 1,613 grams. Thanks to its unique air-filled design, you can fold it down to a compact size, which is perfect for transporting it to a film or photography set. The device will be an ideal choice for filmmakers who travel frequently and want to reduce the volume of their luggage.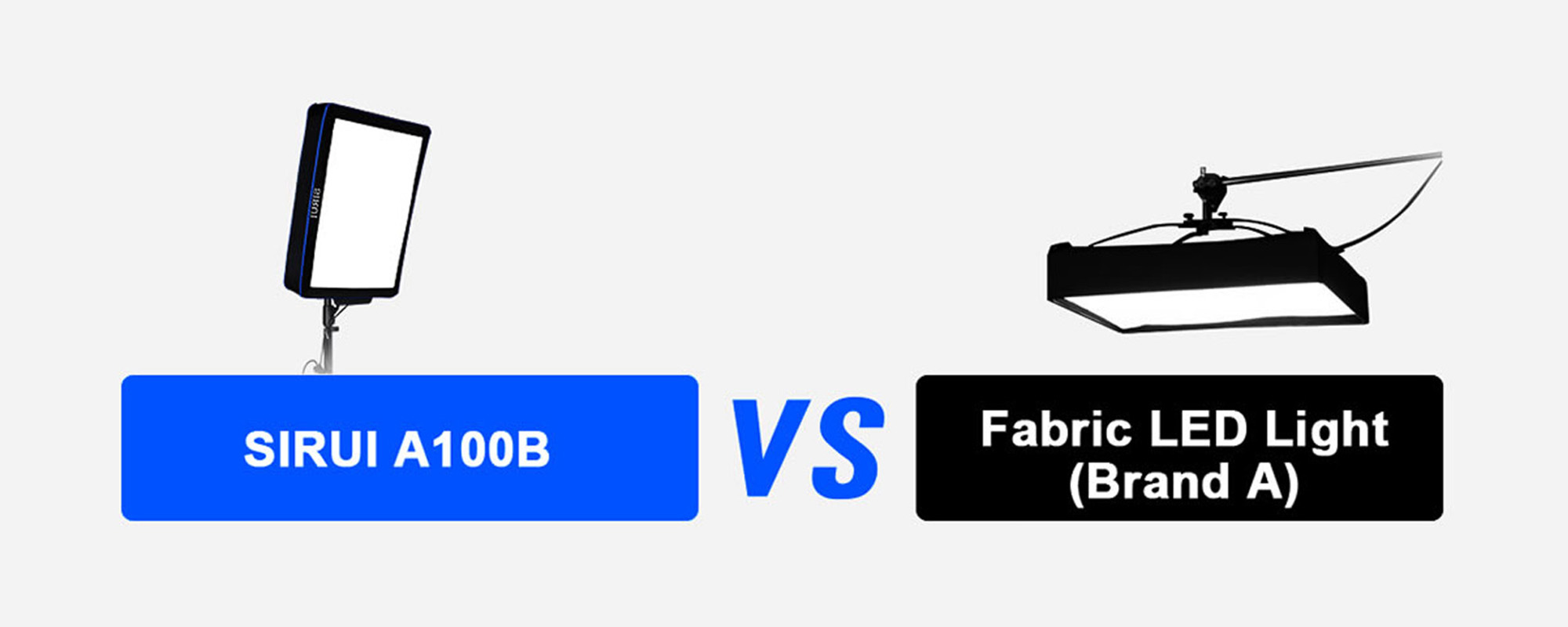 Specification
model: Sirui A100B
light color temperature: 2800 – 8500 K
CRI coefficient: 96
TLCI coefficient: 98
power: 100 W max
light intensity: 1900 lux (from a distance of 1 m)
number of predefined special effects: 12
Controls:

controller
mobile application

Power supply:

network AC (cable included)

V-Mount battery pack (sold separately)
maximum range of Bluetooth remote control: 15m
allowed operating temperature: -10°C – 45°C
dimensions: 685 x 500 x 100 mm
Weight:

lamp: 1613 g
controller: 1497 g
Set contents
Sirui A100B LED lamp – WB (2800 K – 8500K)
controller
power cable
mounting arm
crab clamp mount
transport bag