Description
The Zeapon Micro 2 Plus is an innovative slider that has won the hearts of filmmakers and photographers around the world. Its lightweight aerospace aluminium alloy construction, multitude of applications and precision operation are what set it apart from its competitors. The slider has a maximum load capacity of 8 kilograms and an extension length of 56 cm. Take advantage of the extendable legs or install it on a tripod or head – horizontally, at an angle or vertically. The automatic cleaning of the rail during movement will ensure that your shots are perfectly smooth for years to come. Huge upgrade options (including a drive module and automatic heads) will make the Zeapon brand a permanent fixture in your essentials, allowing you to continually develop your film and photography skills.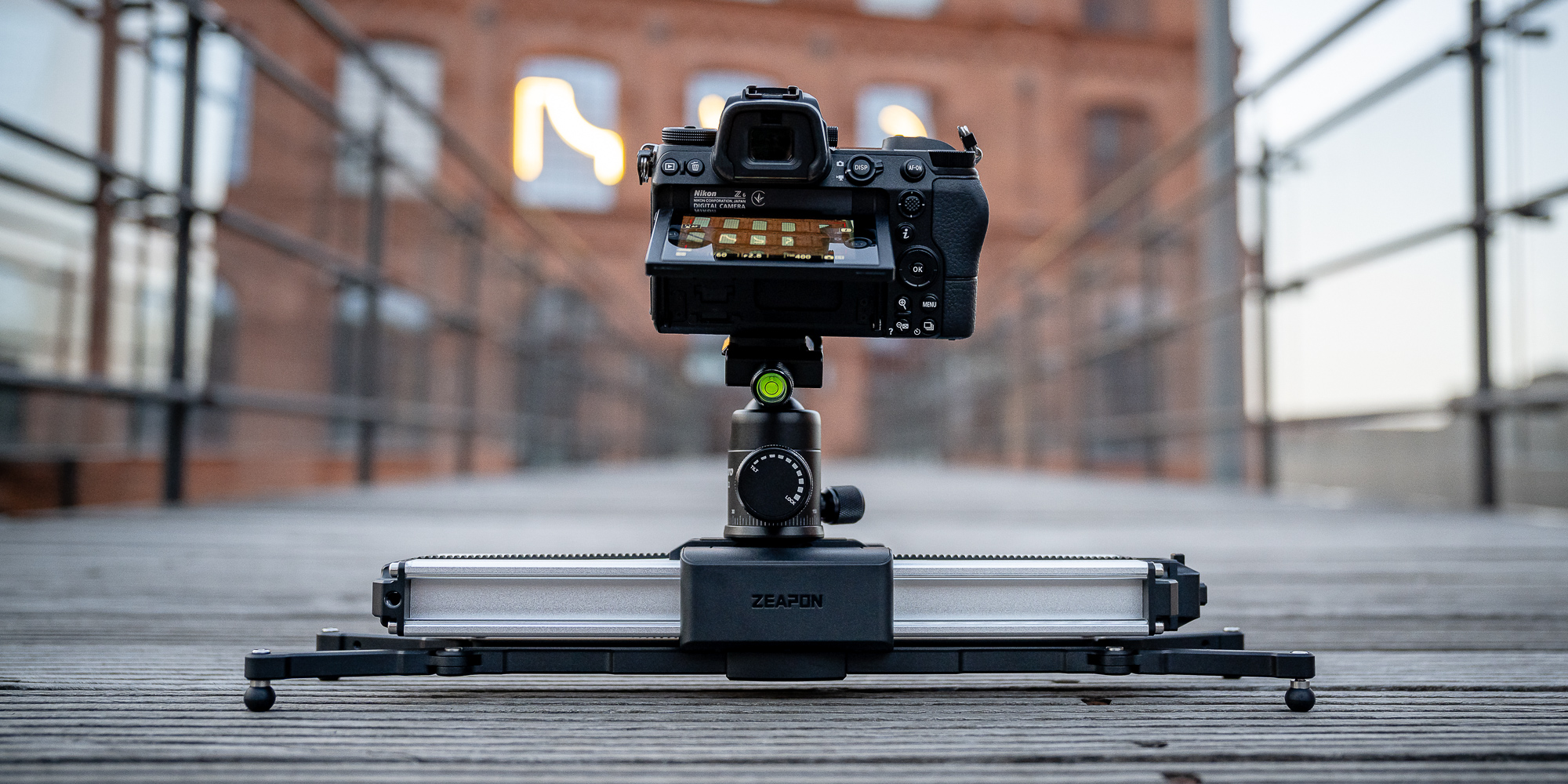 Main product features
innovative and versatile slider
extendable with an electronic drive module and many other components
magnetic belt mounting system allowing the drive module to be connected in 30 seconds
ultralight construction made of durable aircraft aluminium alloy
maximum load capacity of up to 8 kg
possible to work horizontally, vertically or at an angle
convenient installation on film and photographic tripods
very short set-up time for camera or camcorder
incorporated fold-out feet protected with non-slip material
possibility of exact levelling of the device thanks to adjustable length of the feet
innovative rail allowing to gain several additional centimetres of reach in relation to the length of the device
movement of the camera from the edge to the ground
camera movement from edge to edge of the slider providing an overrun of up to 54 cm
footrests equipped with a footrest
feet equipped with mounting holes allowing the slider to be installed on casters
slide locking system to effectively immobilise the slide in a second
included thread adapter from 1/4″ to 3/8″, carrying case, spare drive belt and allen wrench
Even better videos
Parallel driving, invasions, departures, close-ups, distances – any of these will add variety to your shots with movement that will make the videos you create even more interesting. The adjustable feet allow you to perfectly level the unit when working on the floor or desk. You can also reach for a tripod with a head and position the slider at any angle, wherever it will be difficult to find a flat surface.
Ultralight construction
The Slider Zeapon Micro 2 Plus weighs just 1.3 kg. This is thanks to the aerospace aluminium alloy, which provides not only lightness but also great strength. The unit will successfully perform in the studio and in the field, whether you set it up on folding legs or connect it to a tripod. Thanks to the innovative rail design, the range of movement is longer than the device itself. A camera take-off made with this slider can be as long as 56 cm!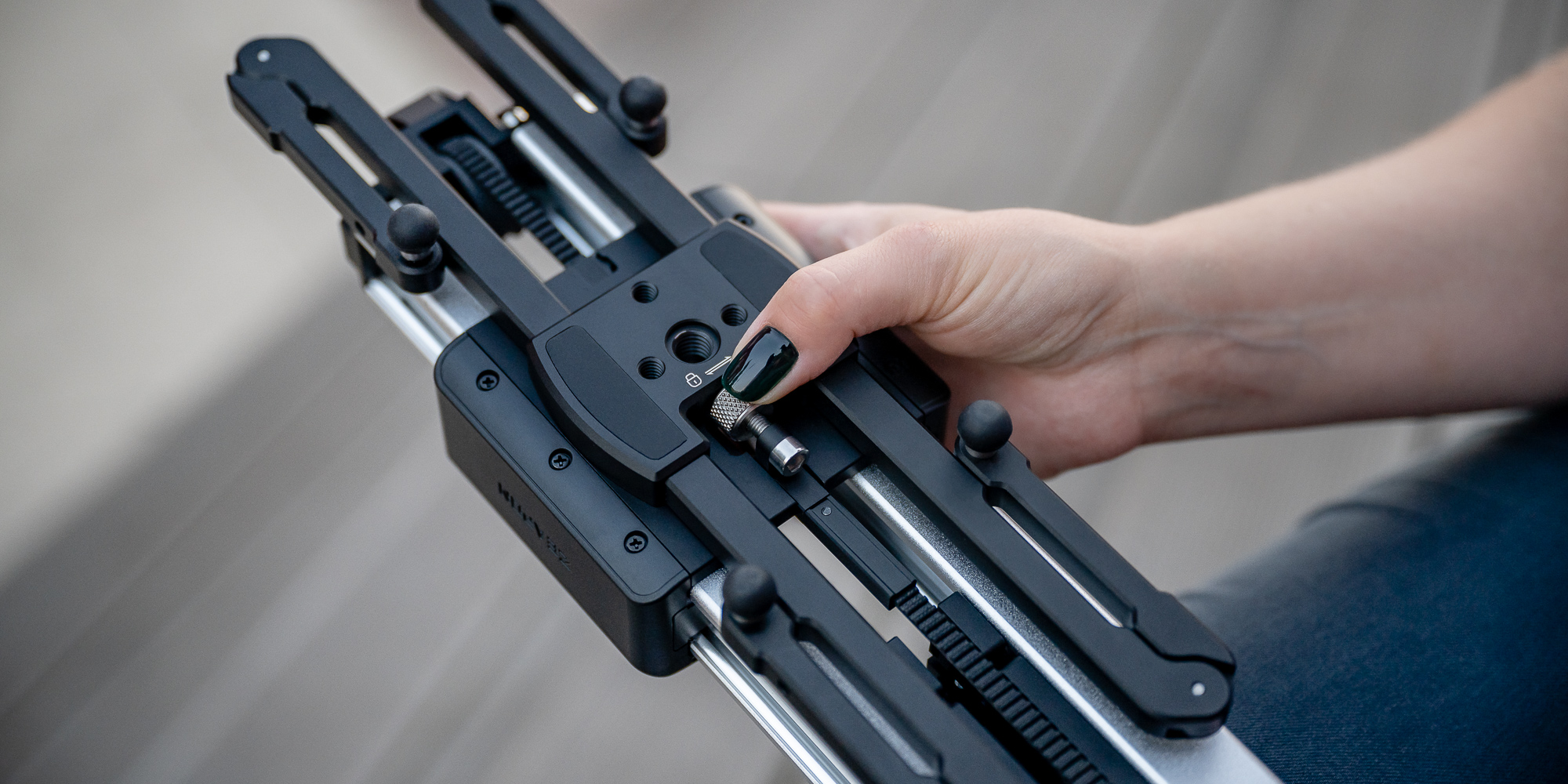 Precision and smooth-motion
When you choose the Zeapon Micro 2 Plus slider you are assured that your shots will be ultra-smooth. No bumps, vibrations, jams or jumps. The adjustable feet will allow you to perfectly level the unit when you decide to work without a tripod, further helping you to get perfect movement in your footage. The self-cleaning rail during use will ensure that dust particles don't thwart your filming plans, and every repeat shot will be just as good!
Fast installation
The Zeapon Micro 2 Plus Slider is distinguished by its outstanding ergonomics. The device features an innovative slide locking system. A special button allows you to immobilise it in a second, giving you the confidence that the slider rail will not move even a centimetre during transport. Preparing the equipment for shooting is a matter of seconds. The special magnetic belt attachment will allow you to connect the device to the separately available drive module in no time.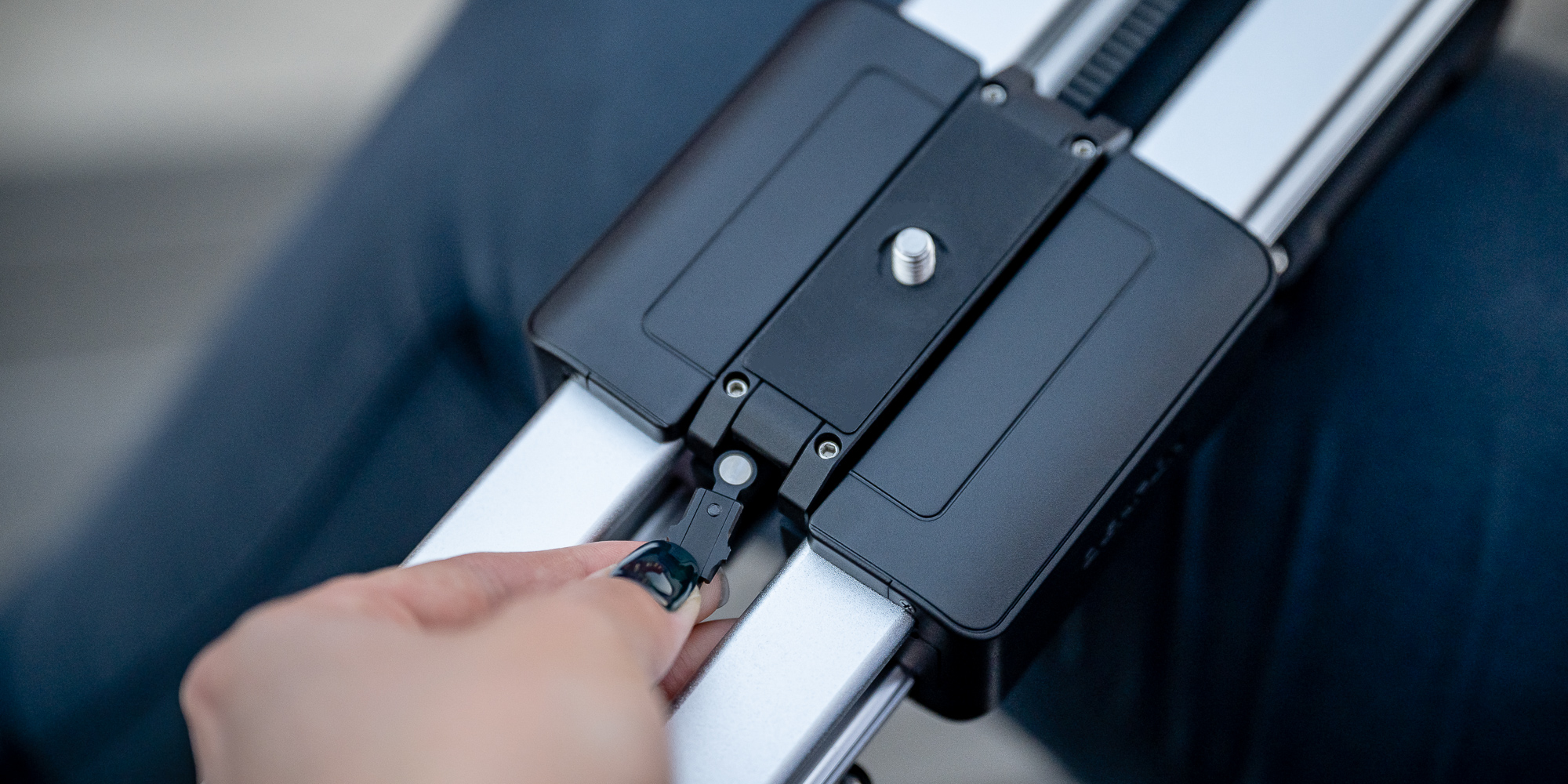 Ready for more
To set the device in motion, you can take advantage of the difference in levels and hand your shot over to gravity. Precise passage will also be ensured by guiding the camera with your hand or with the help of the head mount you install underneath it. However, this is just a foretaste of the amazing possibilities the Zeapon Micro 2 Plus offers. Reach for the NP-F battery-powered drive module and experience the magic of programming slider movements using the multi-function buttons or the versatile Zeapon Lab app
The drive module is not a content of this kit and must be purchased separately or in a kit with the Zeapon Micro 2 Plus slider.
Ocean of possibilities
The Slider Micro 2 Plus and the electronic drive module are devices that provide a great introduction to the world of Zeapon products. However, this kit can become much more powerful and versatile. Panoramas, 360º stills and movies, shots straight out of Inception, programmable movements in different planes and even more refined timelapses are all possible with the next devices that can join your instrumentarium. Explore the modular Zeapon product family, develop your skills and create even better videos and photos!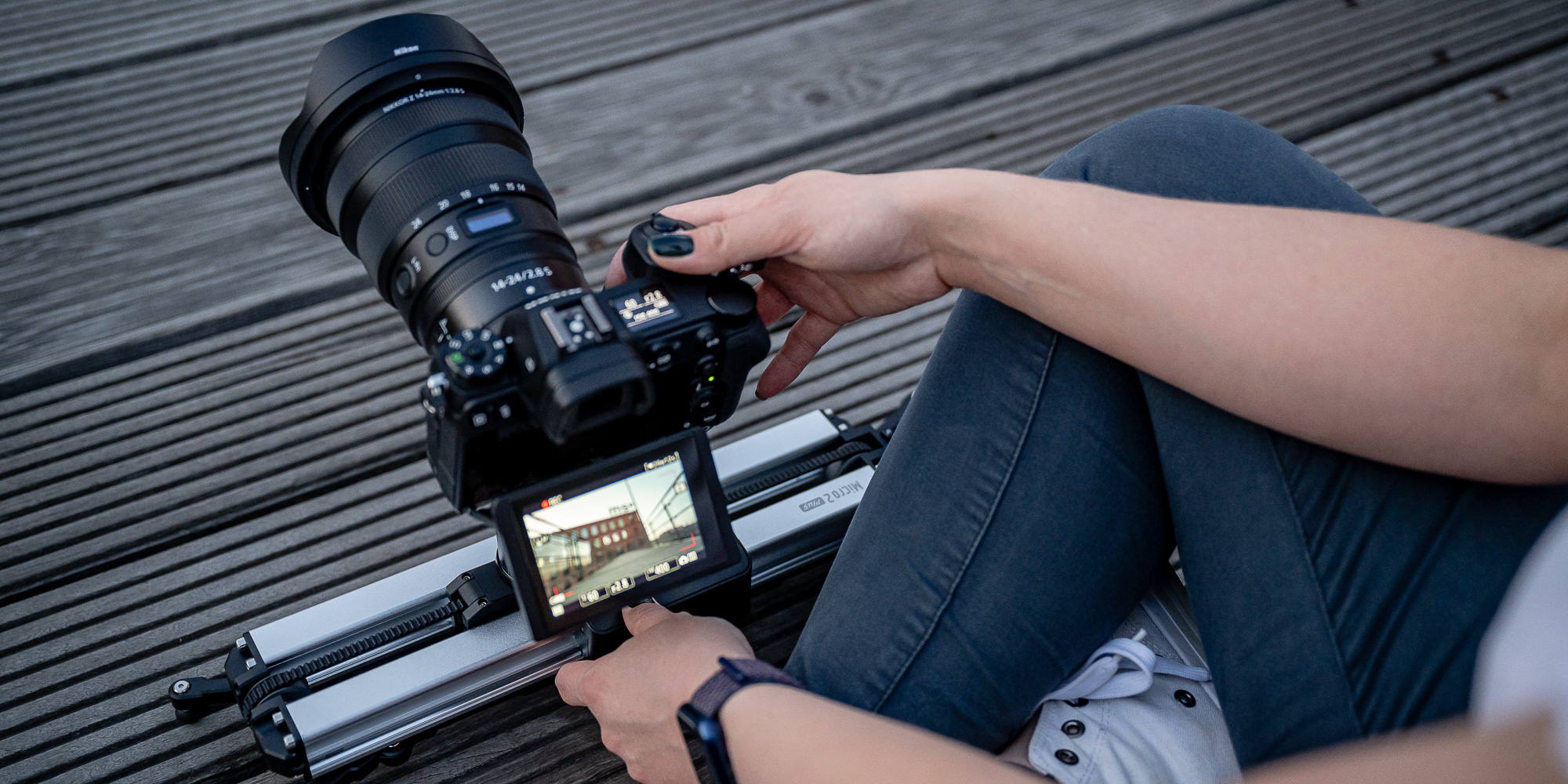 Compatibility
accessories to extend the capabilities of the slider, which can be purchased separately: drive module for the Zeapon Micro 2 Plus slider, Zeapon Revolver Quick Release mount, Zeapon Pons Motorized Pan Head, Zeapon Pons PT Motorized Pan Head
Specification
Model: Zeapon Micro 2 Plus
Material: aircraft aluminium alloy / ABS plastic
Max load capacity:

in any position – 4.5 kg
when used on a flat surface in a horizontal position – 8 kg

Length:

34.7 – without drive module
43 cm – with drive module (to be purchased separately)

Range:

56 cm (without drive module)
51 cm (with drive module)
54 cm (with drive module)

Weight: 1.3 kg
Dimensions: 347 x 70 x 95 mm
Kit contents
slider Zeapon Micro 2 Plus
spare drive belt
allen wrench
thread adapter from 1/4″ to 3/8″
case