Description
The Aputure Light Box 30 x 120 is a versatile strip softbox using the popular Bowens mounting system. The Speed Ring adaptor will allow you to quickly and conveniently install it on hundreds of flash and video units, including such acclaimed models as the Aputure LS 120, LS 300, LS 600, LS 1200 and the Amaran COB 60, 100 and 200. The Aputure Light Box will effectively soften the light you use for portraits, video or product photography. The set does not lack 3 diffusers, providing additional dispersion and grids. The latter allows you to direct and narrow the light beam to 45º, allowing you to control the lighting even better. Aputure Light Box 30 x 120 is the best way to make your flash even more versatile!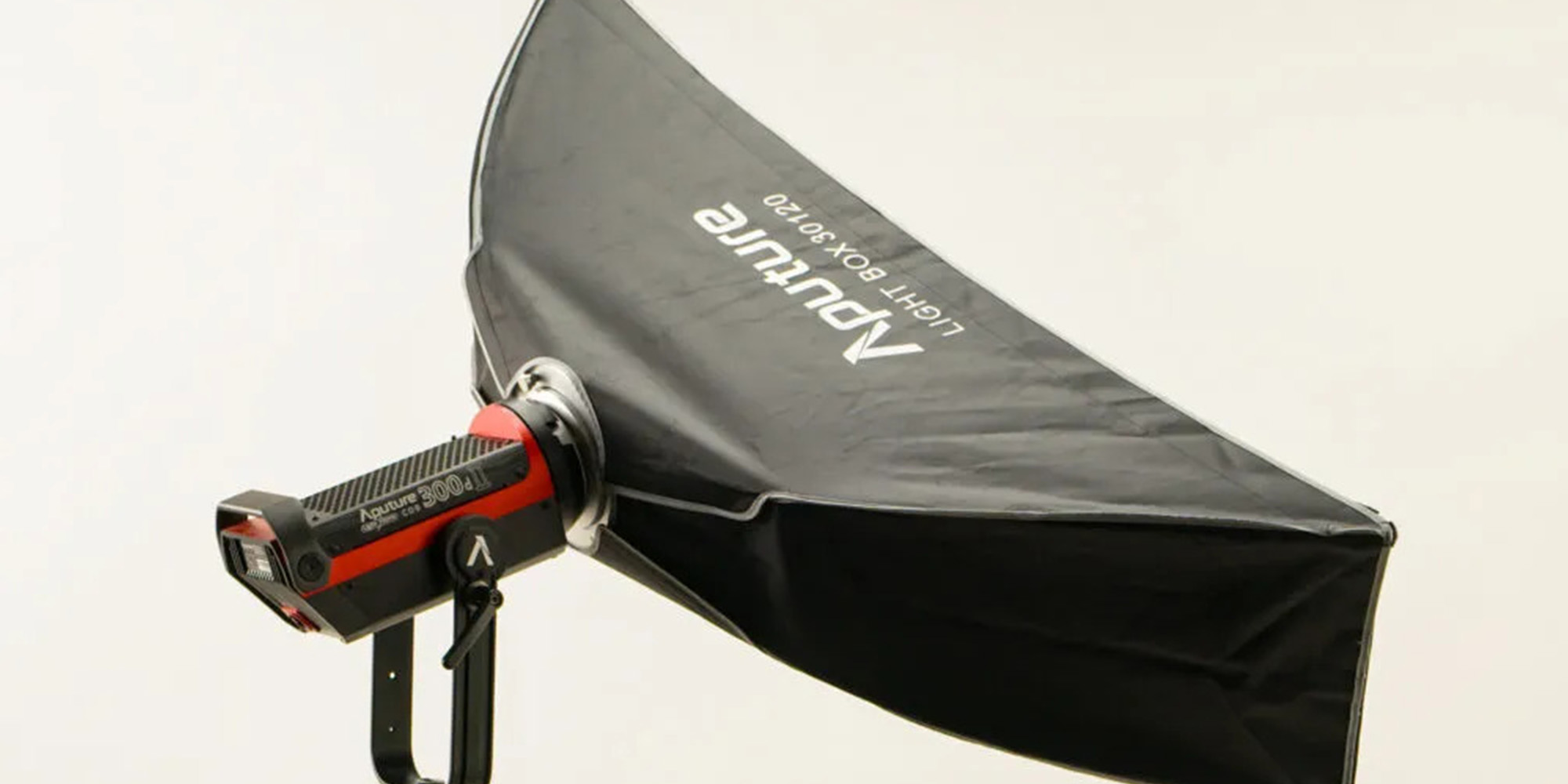 Main Product Features
rectangular strip softbox with dimensions of 30 x 120 cm and depth of 40 cm
using the best materials provides soft, high-quality light
slim design allows for contour light
quick and convenient installation using the universal Bowens system
can be installed vertically, horizontally or any other position (360º)
simple and robust construction based on 4 flexible poles
3 diffusers included for additional light diffusion
included grid allowing to narrow the light beam to 45º
Universal mounting standard
The professional Bowens mount standard ensures wide compatibility of the Aputure Light Box 30 x 120 with various models of continuous and flash lamps. The accessory will work perfectly with Aputure flashes such as Light Storm LS 120, LS 300 and LS 600, LS 1200, as well as Amaran COB 60, 100 or 200. Bowens mount is a guarantee of versatility and reliability on film and photo sets.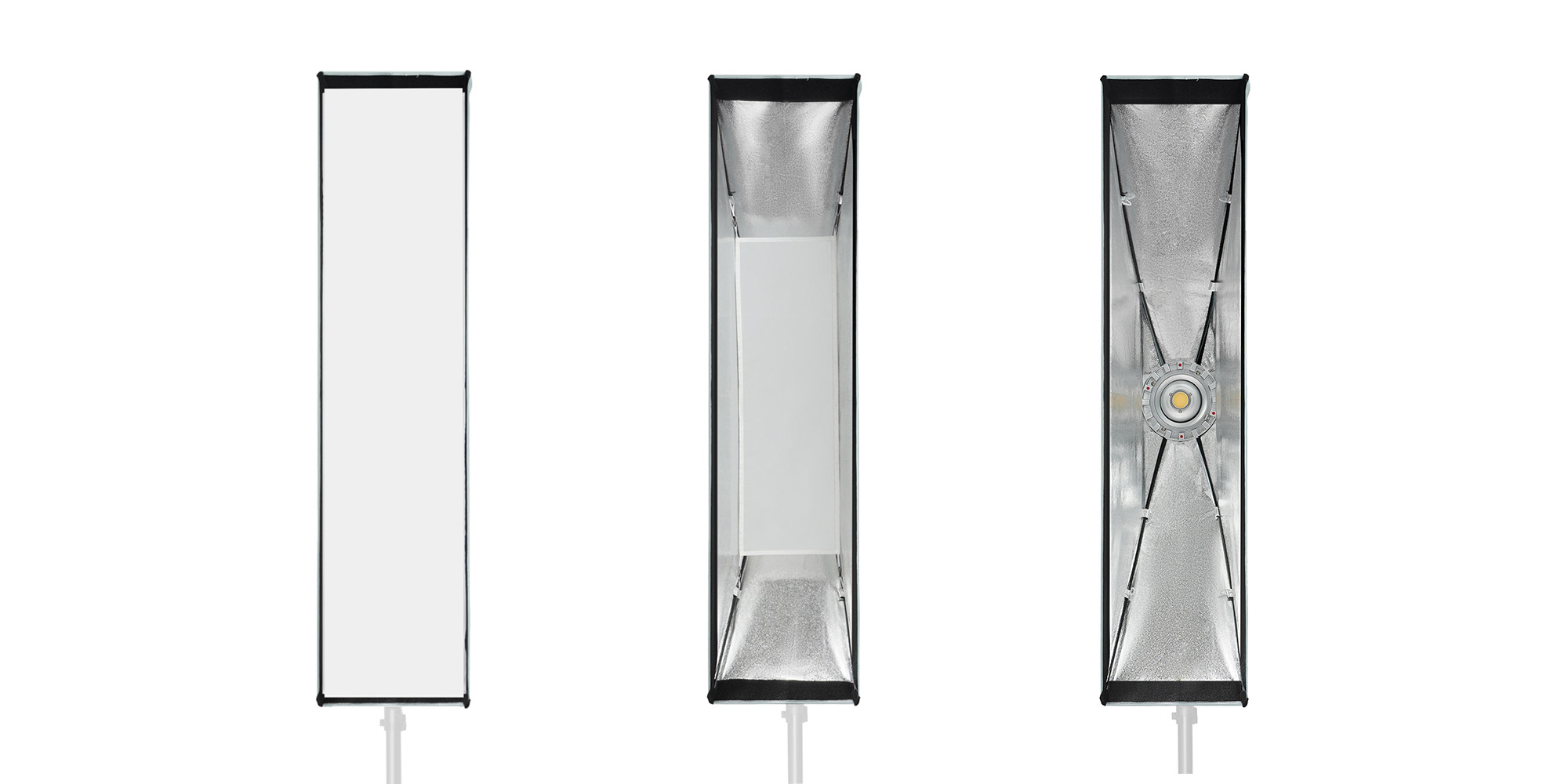 Ideally diffused light
In the set with a 30 x 120 cm rectangular softbox you will find three high-quality diffusion fabrics (two replaceable external diffusers with powers of -1.5 EV and -2.5 EV and one internal diffuser). Thanks to them you will effectively soften the light emitted by the flash, while dispersing harsh shadows. You can combine them or use them separately, depending on your needs. With such tools the control of light parameters will be even more effective and precise.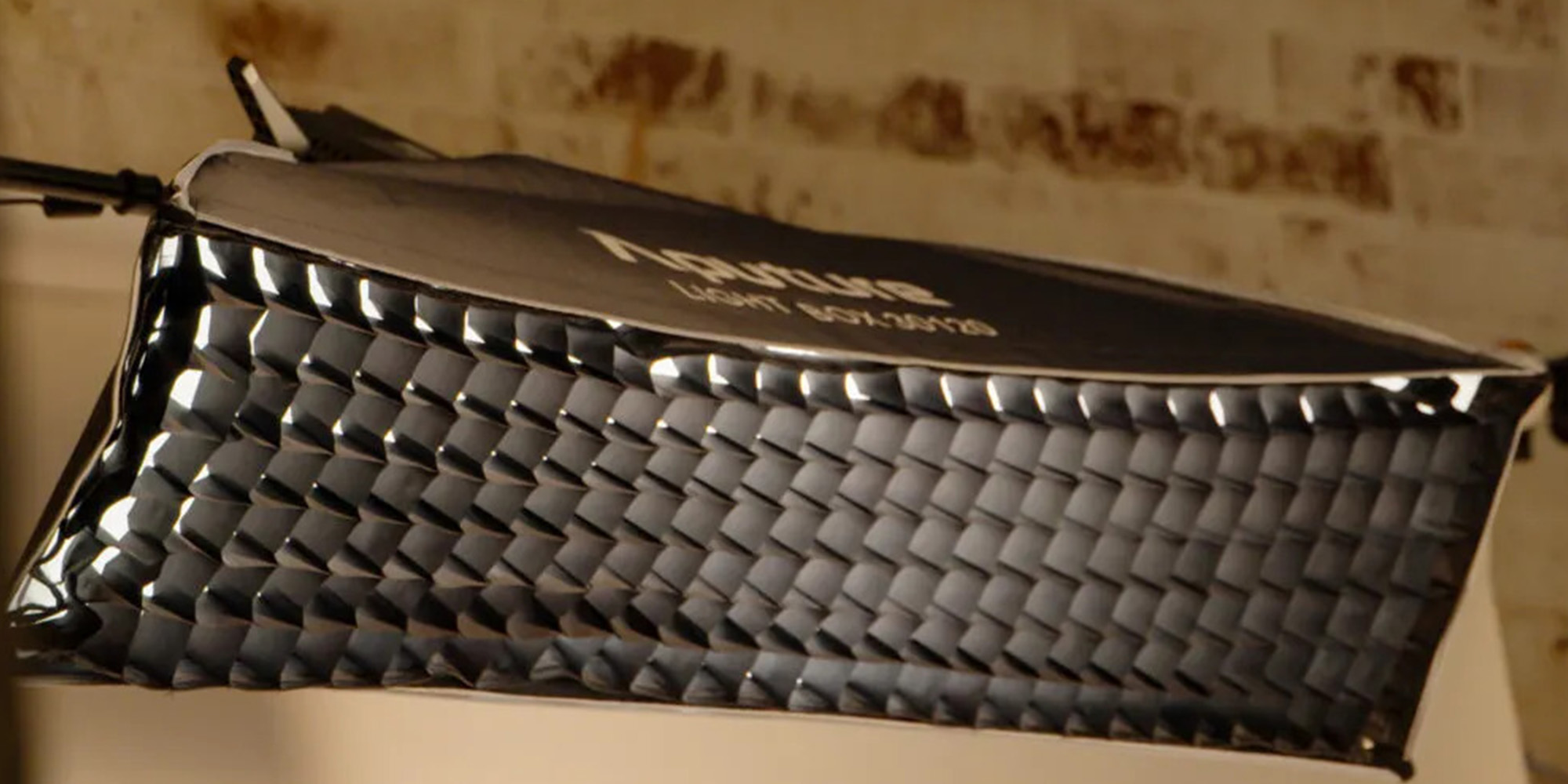 Precise light control
The light coming out from inside the Aputure Light Box 30 x 120 softbox installed on the lamp you are working with will be extremely soft and optimally diffused. Do you want a slightly different effect? The included "honeycomb" (45° grid) comes in handy. Using it in film or photography, you can add contrast and direct the light accordingly.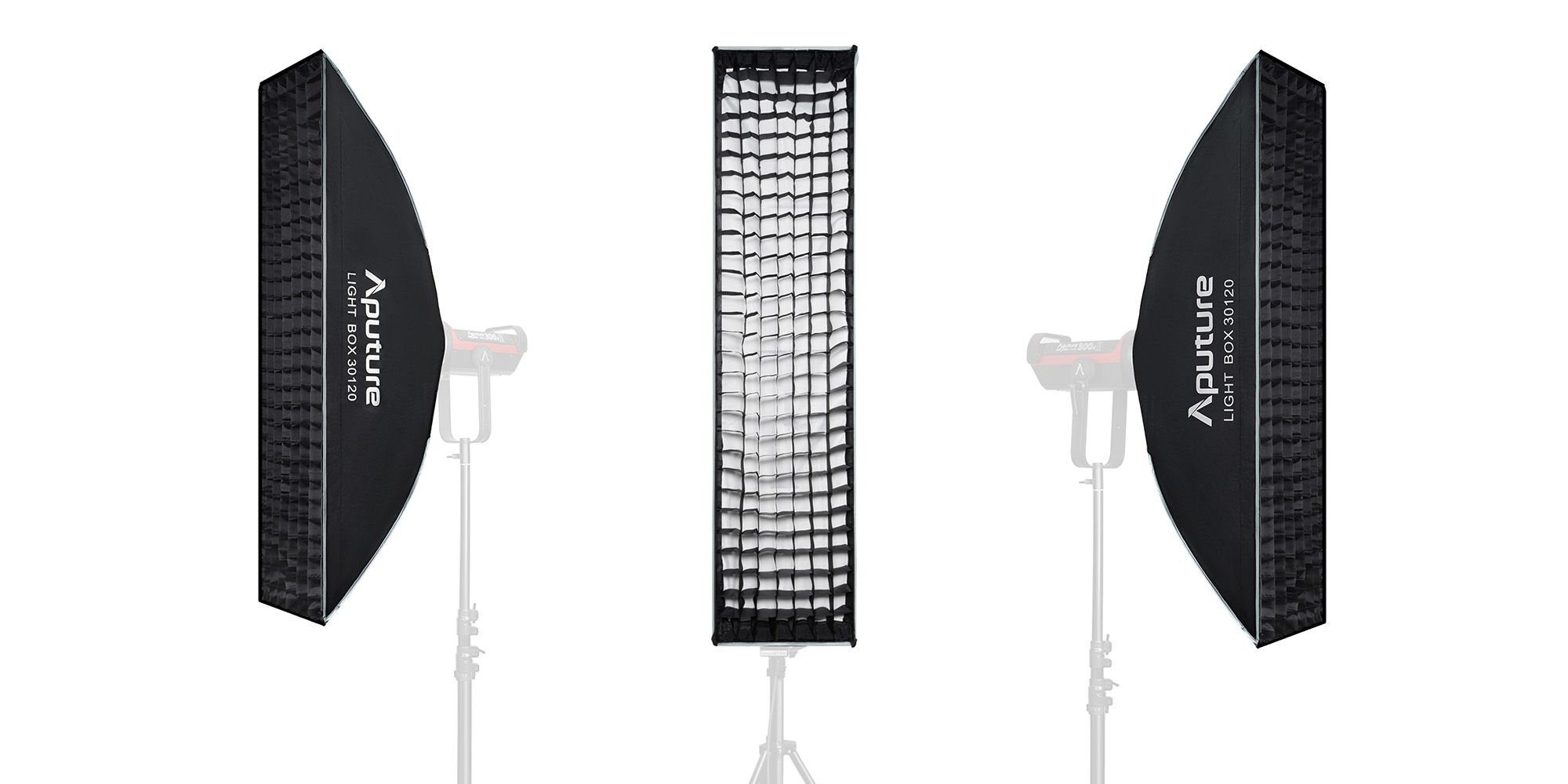 Bet on quality!
The Aputure Light Box 30 x 120 softbox is made of the highest quality materials, which guarantee reliability and long use. The well-thought-out design ensures optimum heat dissipation and provides the required rigidity, allowing you to work not only in the studio, but also outdoors, where the accessory will successfully withstand stronger gusts of wind. Softbox and accessories can be successfully packed into a special carrying bag included in the set.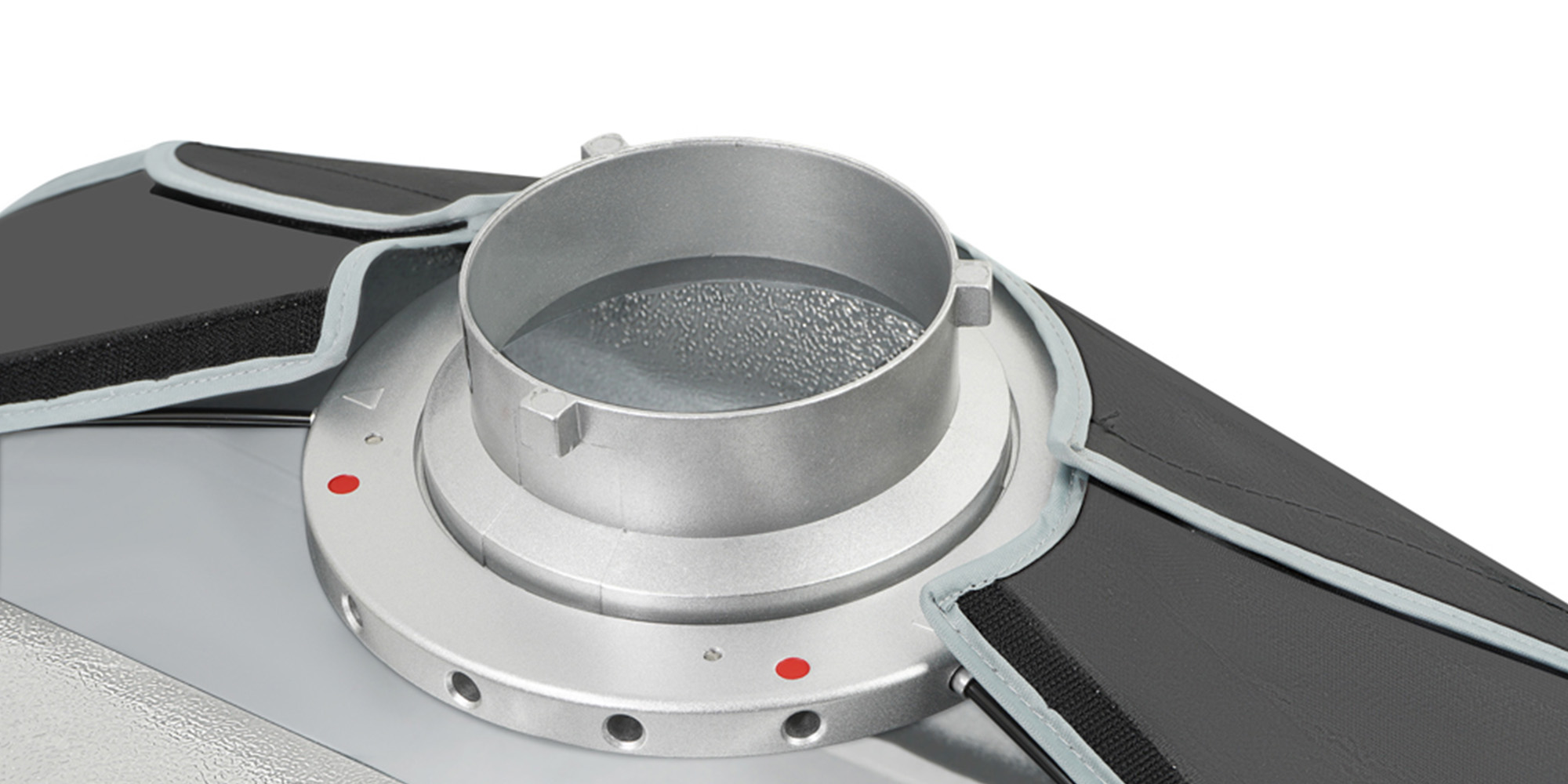 Specification
Model: Aputure Light Box 30 x 120
adapter mount: Bowens
3 diffusers and 45º grid included
dimensions:

softbox unfolded: 120 x 30 x 40 cm
softbox folded: 67.8 x 10 x 3 cm

weight: 1.08 kg
Kit contents
Aputure Light Box 30 x 120
external diffuser – 1.5 EV
external diffuser – 2.5 EV
internal diffuser
grid (honeycomb)
carrying bag