Description
The Desview T12 Teleprompter is a device that will save you hundreds of hours spent endlessly repeating shots for vlogs, webminars or other videos that require voiceovers. It offers a professional-grade mount that you conveniently install on a tripod and then connect to a tablet or smartphone with a maximum diagonal of 11″. The text you read will be reflected on the high quality mirror made of 26-layer glass separating the light beam. The comfort of work will be enhanced by the included Bluetooth remote control and a free app (iOS/Android), which will allow you to control the displayed scenario.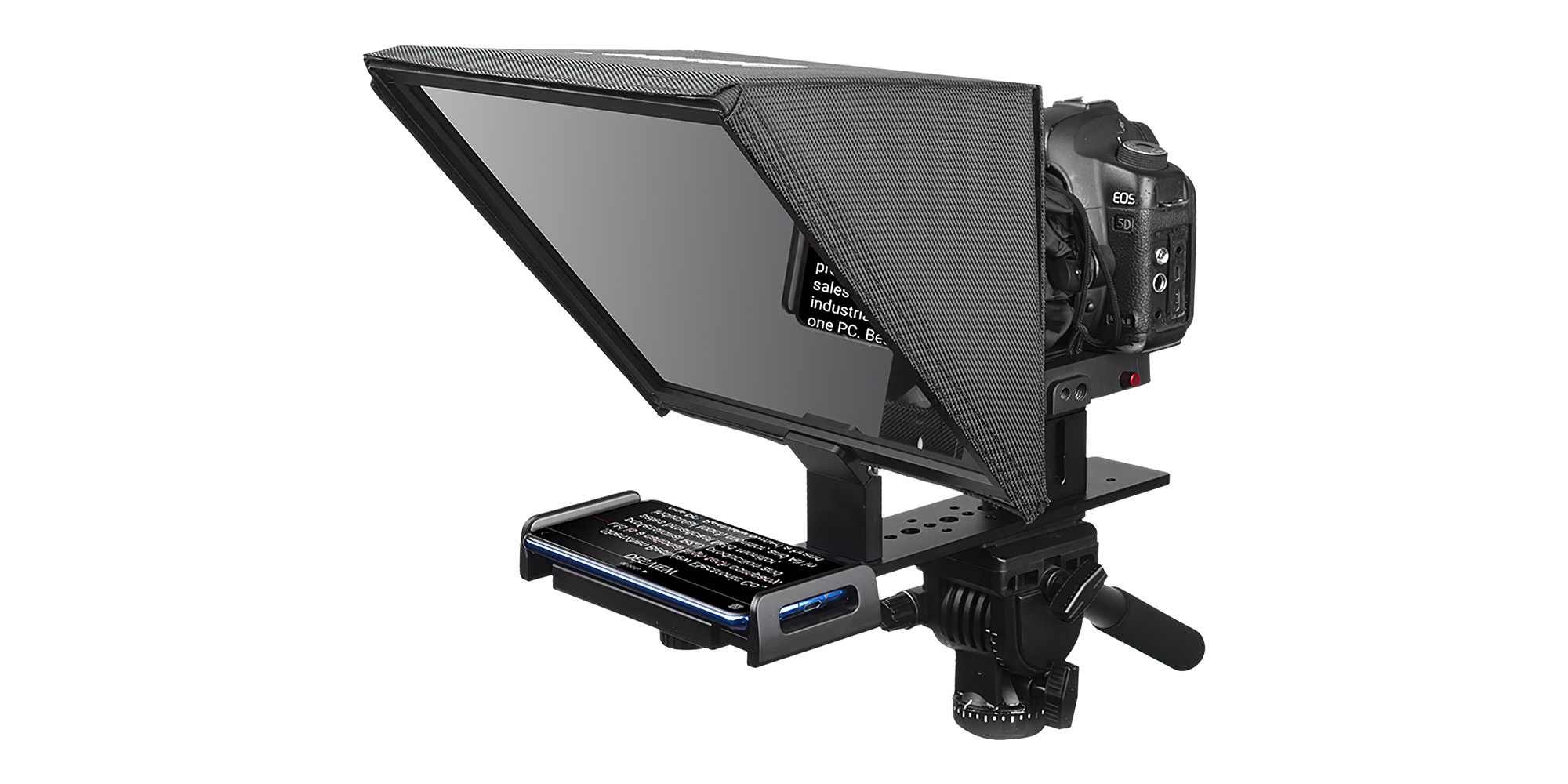 Main Product Features
professional teleprompter that allows you to read text while looking straight into the lens of your camera or camcorder
allows you to record video footage quickly and efficiently, without having to learn lines and scripts by heart
valuable help in recording vlogs, interviews, streams or other videos published on YouTub, TikTok or Instagram
ability to read text from smartphones or tablets up to 11 inches
equipped with a hinge for easy packing and unfolding of the device
compatible with lenses with a maximum diameter of 97 mm
clear image transfer with a large screen size
clear image transferred from mobile device screen to mirror
26-layer beam splitting glass (70/30) with 7H hardness
97% light transmission
no shadows or vignetting in shots
free mobile app for saving displayed scenarios and notes, available on Google Play and App Store
remote control (scroll / rewind / accelerate / decelerate / stop) of displayed text from Bluetooth remote control
ability to record vertically and horizontally with DSLR and mirrorless cameras
could record horizontally with camcorders
professional and professional
professional carrying case included
compatible with lenses from 24mm (when filming horizontally) and up to 35mm (when filming vertically)
Record successful footage on the first try!
Do you know that feeling when you record the same part of the vlog for the hundredth time because some part of the script keeps falling out of your head? Or maybe viewers pay attention to the fact that on your videos you run with your eyes in the direction of the pulls attached in different places of the studio? The Desview T12 teleprompter will help solve all these problems. Save time and record your speeches as you would on professional television without stammering. Look straight into the camera and be confident that you will never forget your lines again.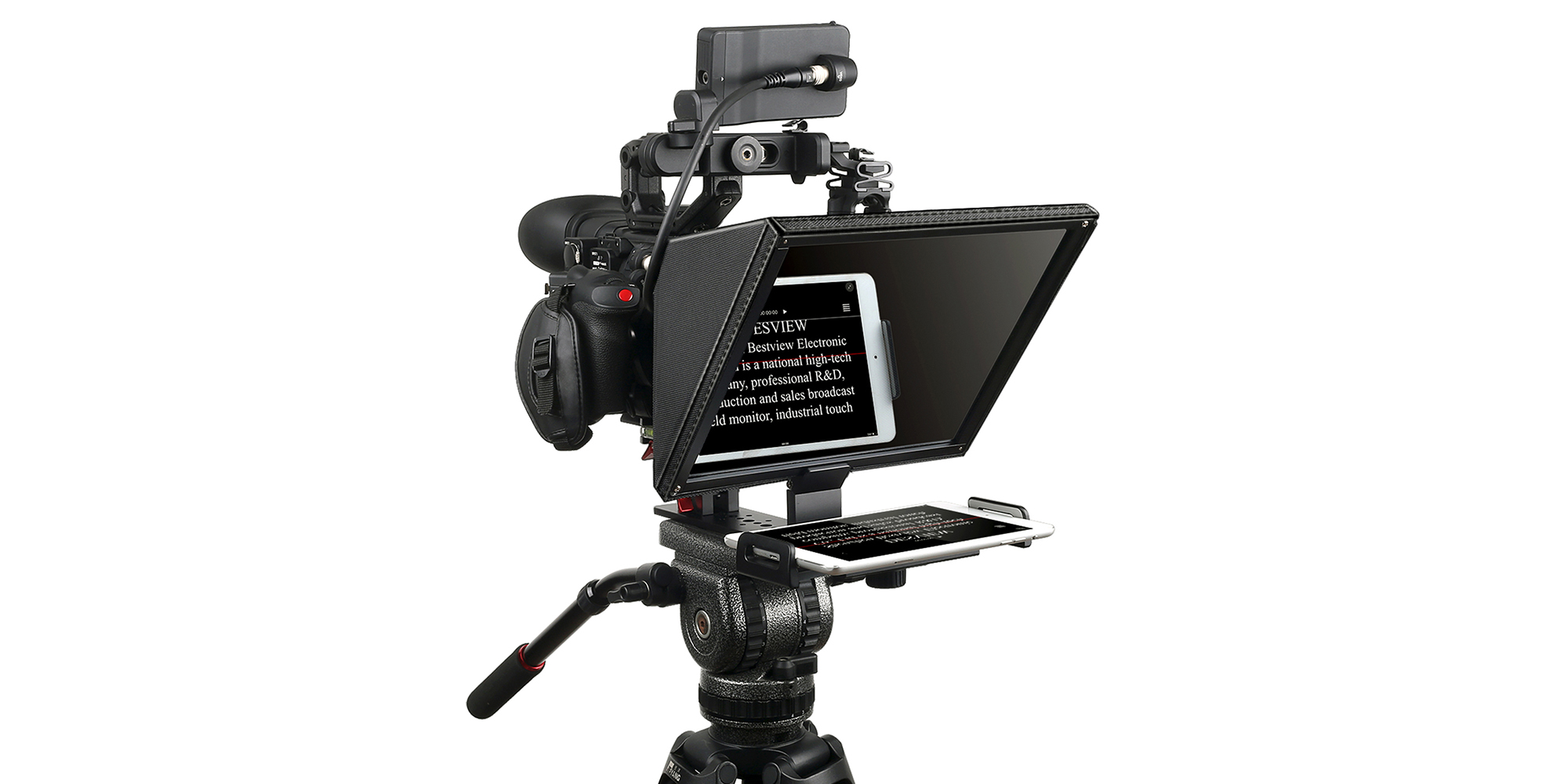 High image quality
The Desview T12 teleprompter uses a high quality 26-layer beam splitting glass (70/30) with a high level of hardness and damage resistance (H7). It provides a high transmittance of an impressive 97%. Thanks to these parameters, there is no double reflection effect and the text read from the teleprompter is clear and looks almost the same as on a smartphone screen.
Wide Viewing Angle
It would seem that the encapsulation of the front of the lens can affect the recorded image, especially when it comes to wide-angle lenses. Nothing could be further from the truth! The Desview T12 teleprompter works with camera and camcorder lenses with focal lengths from 24mm. No shadows, unwanted vignetting, or unwanted objects entering the frame will surprise you during your recordings. Working with a teleprompter will make it impossible to see in any shot that a special mirror is attached to your lens, as well as a tablet or smartphone! If you are not betrayed by the robotic tone of voice, certainly no one will realize that you are using a prompter!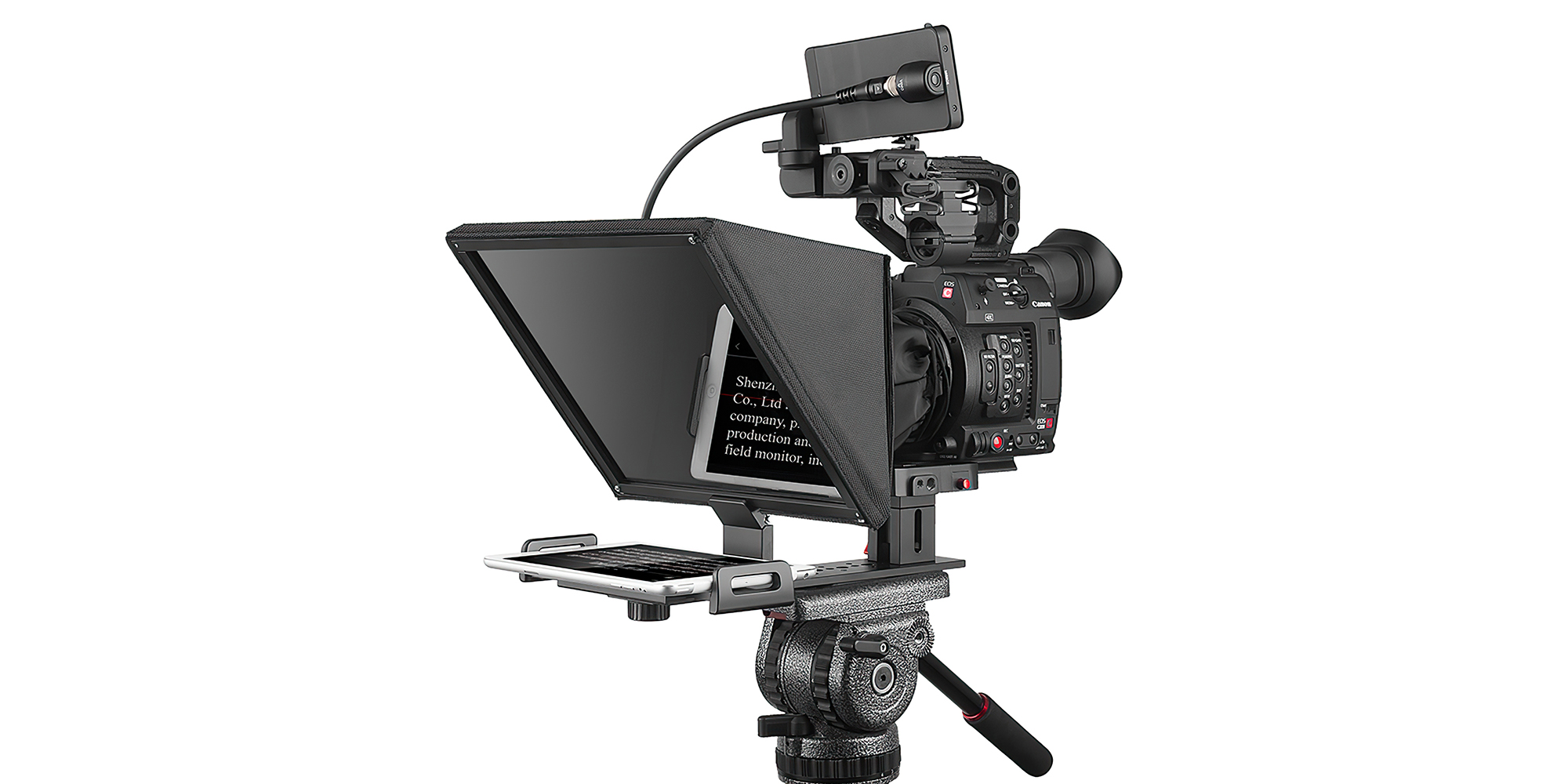 Professional camera or camcorder mounting
The T12 is one of the most versatile teleprompters in the Desview family. Included with the unit, you'll find professional mounting accessories to make the unit ready for cameras, DSLRs or mirrorless cameras in minutes. The accessories include a quick-mount plate and an L-bracket plate for quick mounting of the camera in a horizontal or vertical position. The manufacturer also took care of a high-quality sunshield that will tightly protect the lens from unwanted rays.
Free mobile application
The application that allows you to manage the text you will be reading from the teleprompter can be downloaded free of charge from the Google Play store (Android) or App Store (iOS). With its help you can adjust parameters such as scrolling speed, background color or letter size. The application allows you to save many different documents with prepared text, with an unlimited number of words. This way you can plan several episodes of your program and record them in one sequence, without having to swap scenarios. While you are working with the application, a thin horizontal line will also be displayed on the screen. It will make reading from the teleprompter look natural and your eyes will always be directed to the central part of the lens.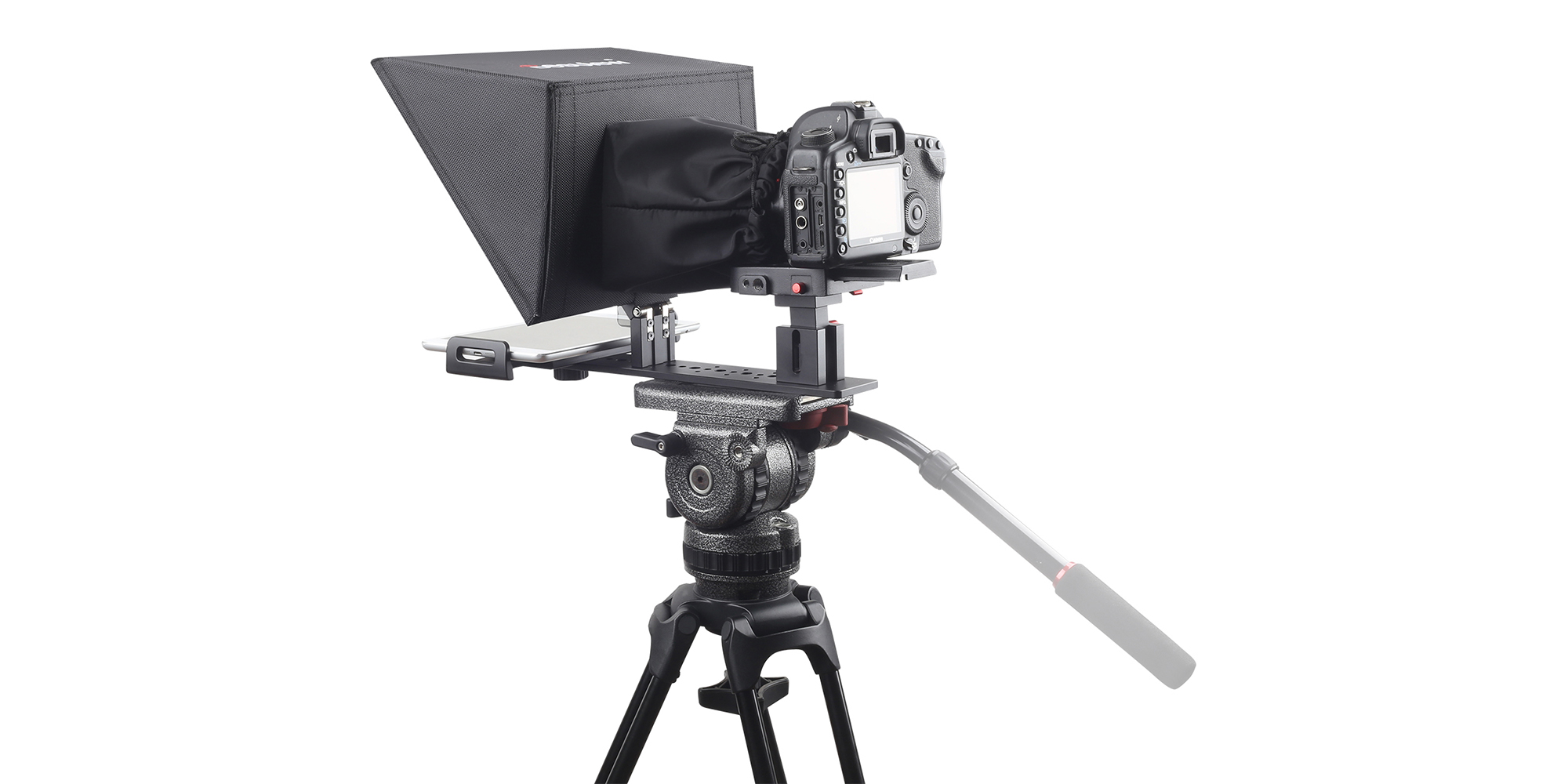 Full control over the text you read
Of course, you can set your laptop next to your camera or camcorder and use an app that works like a teleprompter, but this solution raises a number of problems. Apart from the fact that your eyes will never be directly facing the central part of the lens, you have no control over the scrolling text. By reaching for the Desview T12, you gain complete freedom to work. All thanks to the included remote control. Simply pair it via Bluetooth with the app and pause the text, slow it down or speed it up at any time. The ergonomic shape makes the remote control fit perfectly in your hand, and the buttons and joystick you need the most will position themselves under the right fingers!
Professional transport case
Despite the exceptional ergonomics of the whole set, the possibility of folding the handle with the mirror and the sunshade, the telepromter is such a delicate device that transport in a backpack with other film accessories is not advisable, due to the risk of damage. That is why the manufacturer took care of a special case with foam filling, which allows to ensure the highest comfort of storage. Each element of the set has its own perfectly matched compartment. This ensures that the Desview T12 teleprompter will always be safe during transport.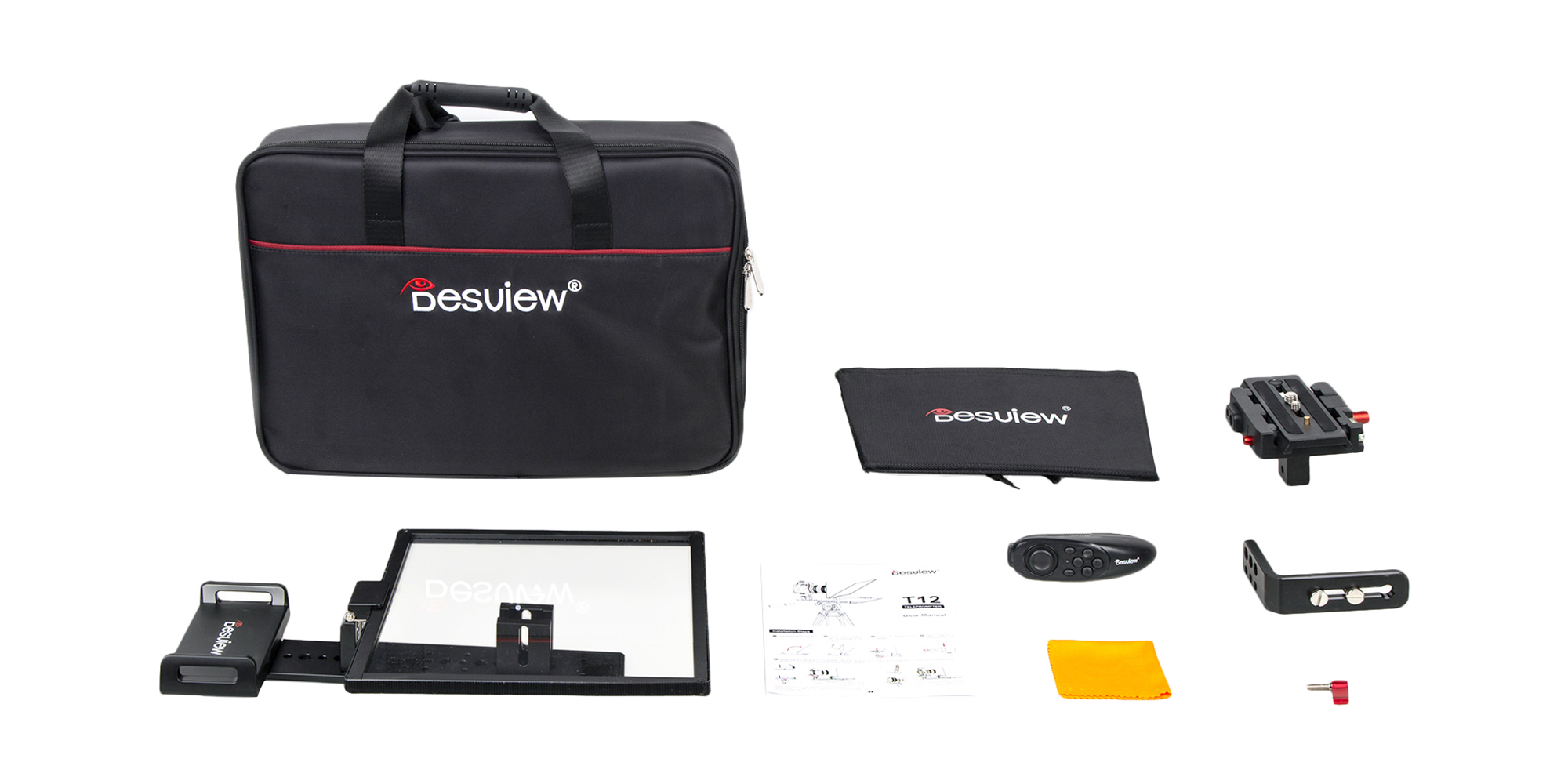 Specification
model: Desview T12
Material: plastic, meta, optical glass
focal length of compatible lenses:

horizontal filming: min. 24mm (full frame)
filming vertically: min. 35 mm (on full frame)
Filming horizontally: min.

span of smartphone or tablet holder: 12.0 – 25.5 cm
mirror: 26-layer beam splitting glass
light transmittance: 97%
mirror joint tilt range: 130º
glass hardness level: 7H
mobile app support: Android / iOS
remote power supply: 2x AAA batteries
mirror dimensions: 21.5 x 24 cm
teleprompter dimensions: 30 x 26.5 x 31.5 cm
Transport case dimensions: 41 x 31 x 9 cm
weight of teleprompter: 1.54 kg
Set weight: 2.57 kg
Compatibility
filming devices:

digital cameras (SLR and mirrorless)
film cameras
smartphones and tablets (when using an additional mount, which is not included in the kit)

devices that allow installation of the Bestview text display app:

tablets and smartphones up to 11″ (iOS/Android)
Kit contents
mirror holder with mirror installed on articulated joint
mirror holder with quick release plate
camera or camera mount with quick release plate
L-bcket for camera or camcorder
L-bracket plate allowing camera to be installed vertically or horizontally
shield
sunshield
Bluetooth remote control
carrying case
clamping screw
screwdriver
microfiber cloth