Description
The Desview T2 Teleprompter will save you hours spent endlessly repeating shots for vlogs, TikTocks, interviews, webinars, online lectures or videos posted on YouTube. Simply install your smartphone or tablet up to 8 inches, download the free app and enjoy the ability to display notes, dialogue points or entire scripts right at the height of your smartphone camera or camcorder lens. No more sounds of thought, eyes running off to the side, or shots that go to "bloopers" later. The Desview T2 Teleprompter will make your speeches look even more professional, and with the included Bluetooth remote, you'll gain full control over the speed of your text.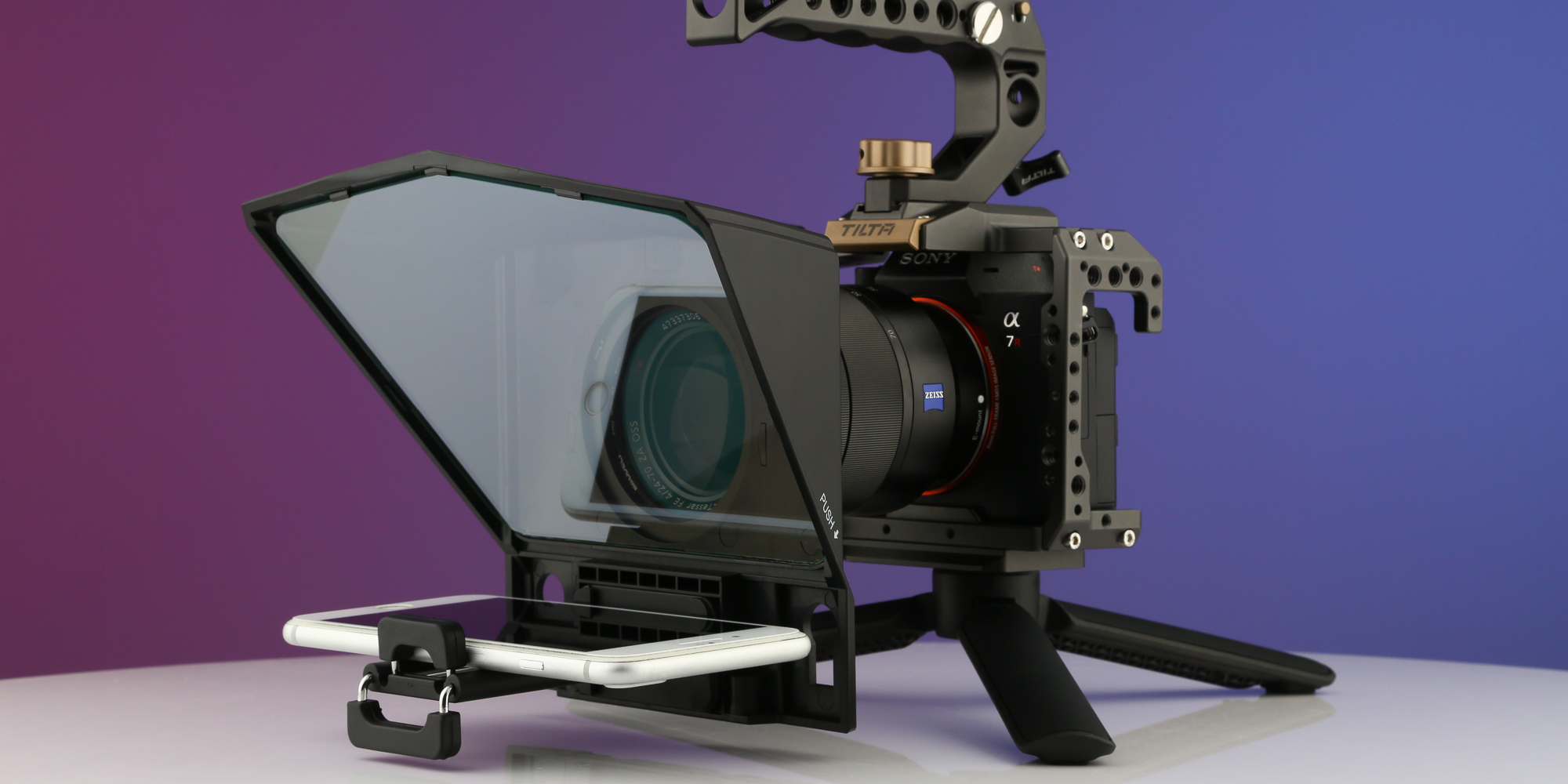 Most important product features
support for recording vlogs, interviews, streams or other videos published on YouTubes, TikTok or Instagram
ability to read text from smartphones or tablets up to 8 inches
support for DSLRs, mirrorless cameras, camcorders and smartphones (mounts and adapters included)
compatible with lenses with diameters: 49, 52, 55, 58, 62, 67, 72, 77 and 82 mm
clear image transferred from mobile device screen to mirror
beam-splitting glass with up to 97% transmittance
remote management (accelerate/decelerate/stop) of the displayed text from the Bluetooth remote control
free mobile device screen display
free mobile application for saving displayed scenarios and notes, available on Google Play and App Store
How it works<//h2>
The Desview T2 teleprompter uses a high-quality beam splitting glass that provides a high 97% transmittance. It ensures that the screen of your smartphone is reflected on the mirror exactly where the lens of your camera or smartphone is, and yet, this is not visible in the footage. There is no double reflection effect, and text read from the teleprompter is clear and looks almost the same as if you were reading it straight from your smartphone screen!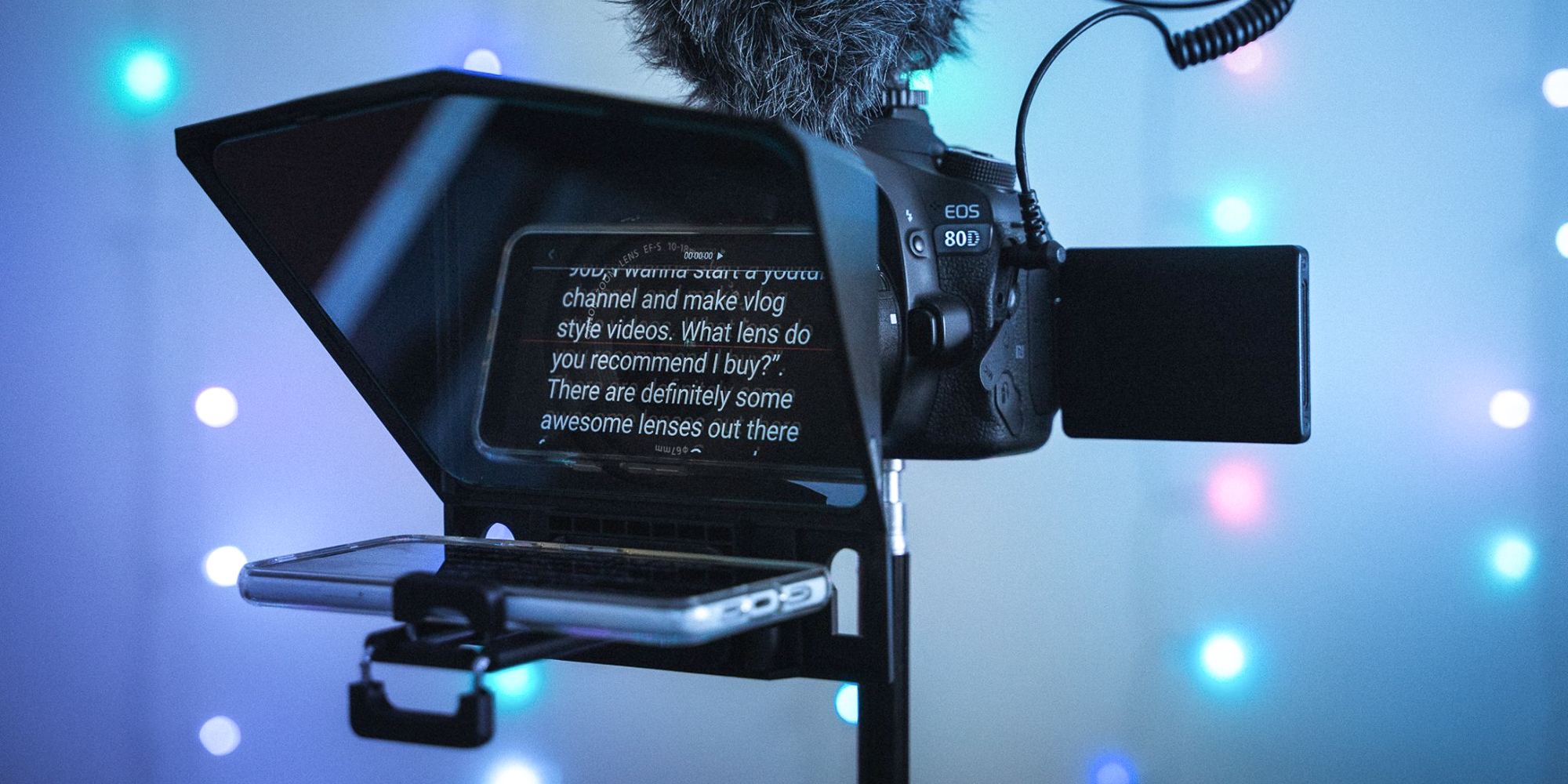 Forget about repeating shots!
Do you know that feeling when you record the same part of a movie for the hundredth time because some part of the script keeps falling out of your memory? Or maybe viewers notice that on your videos you keep running your eyes towards a computer screen open somewhere next to you as a workbook? The Desview T2 teleprompter will help solve all of these problems. Save time and record your speeches without a stutter, just like on professional television. Look straight into the camera and make sure you never forget what you were supposed to say!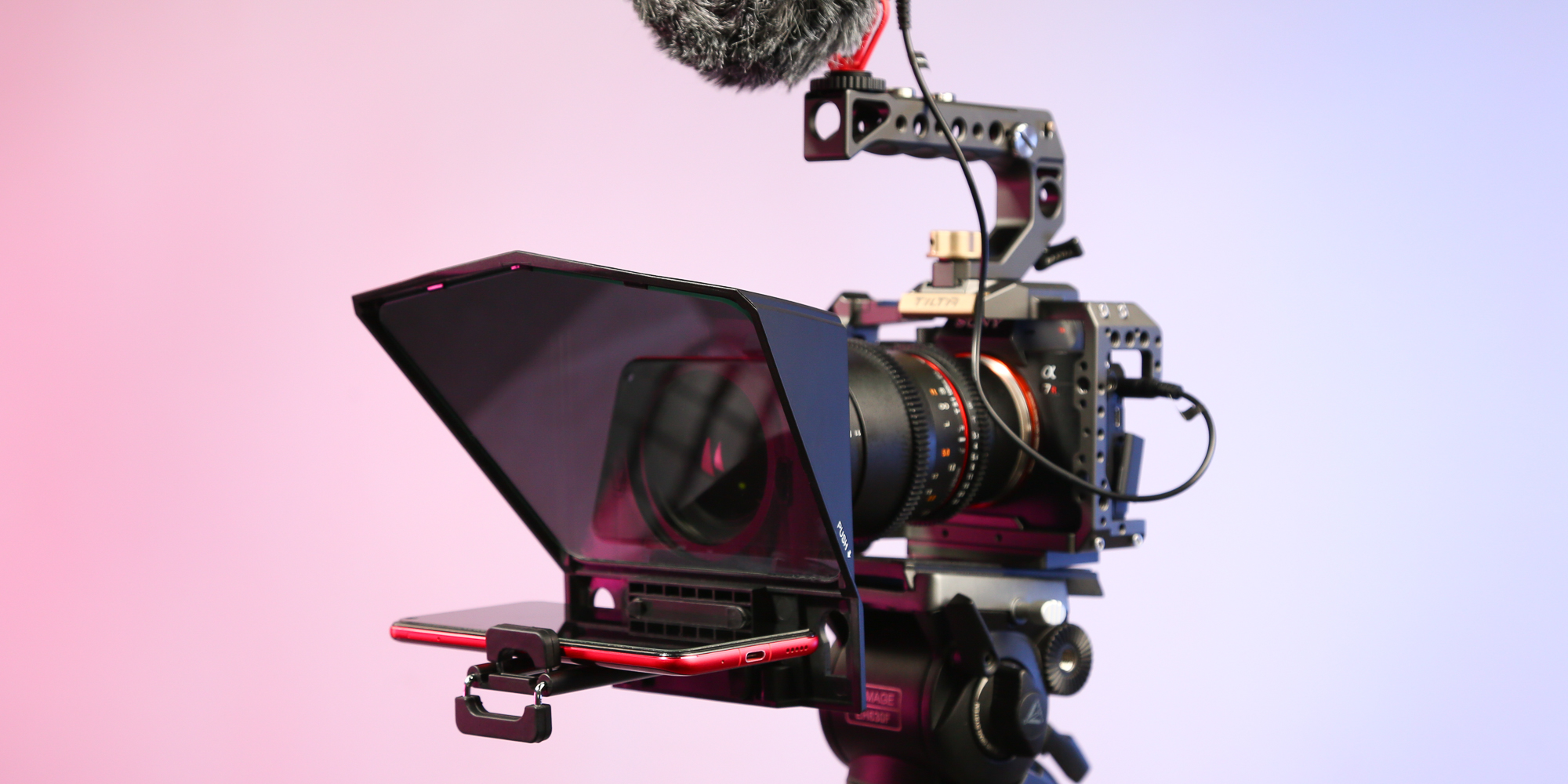 Remote-controller
Of course, you can set your laptop next to the camera and use an app that works like a teleprompter, but this solution raises a number of problems. Aside from the fact that your eyes will never be directly facing the center of the lens, you have no control over the scrolling text. By reaching for the Desview T2, you gain complete freedom of action. All thanks to the included Bluetooth remote control. Simply pair it with the app and speed up, slow down or stop the text at any time. The remote sits perfectly in your hand, and the buttons and joystick that you need most are placed right under your fingers!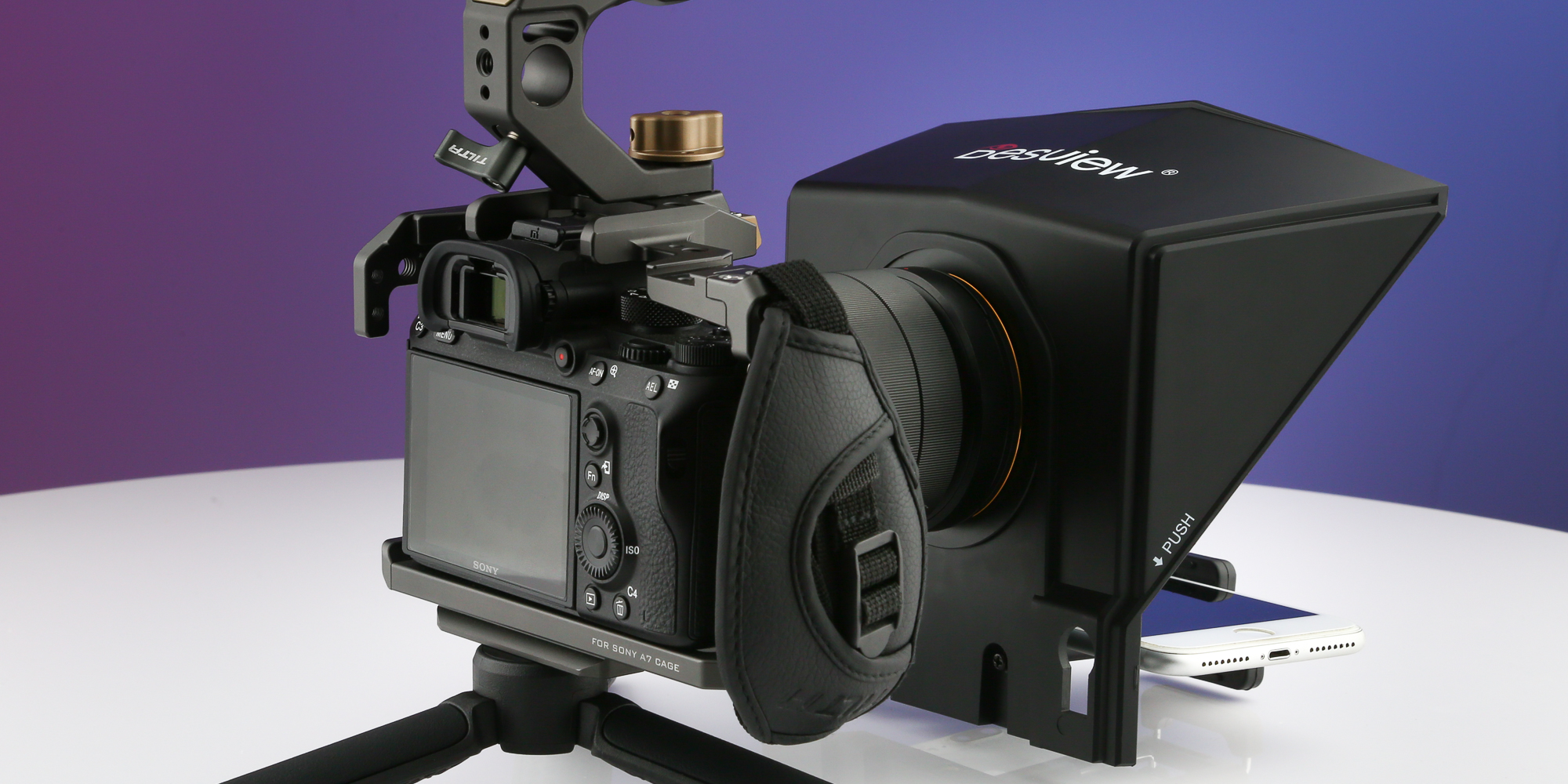 Support for different lenses
It would seem that encasing the front of the lens could affect the recorded image. Nothing could be further from the truth! You just need to choose a lens with the right focal length. In the case of the Desview T2 teleprompter, it should be greater than 40mm when displaying text on a smartphone and greater than 50mm if you are using a tablet. Choosing the right glass will ensure that there is no vignetting effect or any darkened areas in your shots!
Free app (iOS/Android)
You can download the app to manage the text you will be reading from the Desview T2 teleprompter for free from Google Play or the App Store. With its help you can adjust parameters such as scrolling speed, letter size or background color. The app allows you to save multiple documents with prepared text, with an unlimited number of words. This allows you to plan several episodes of your program and record them continuously, without having to swap scripts. You will also see a thin horizontal line on the screen while working with the application. It will make reading from the teleprompter look natural, and your eyes will always be directed to the central part of the lens.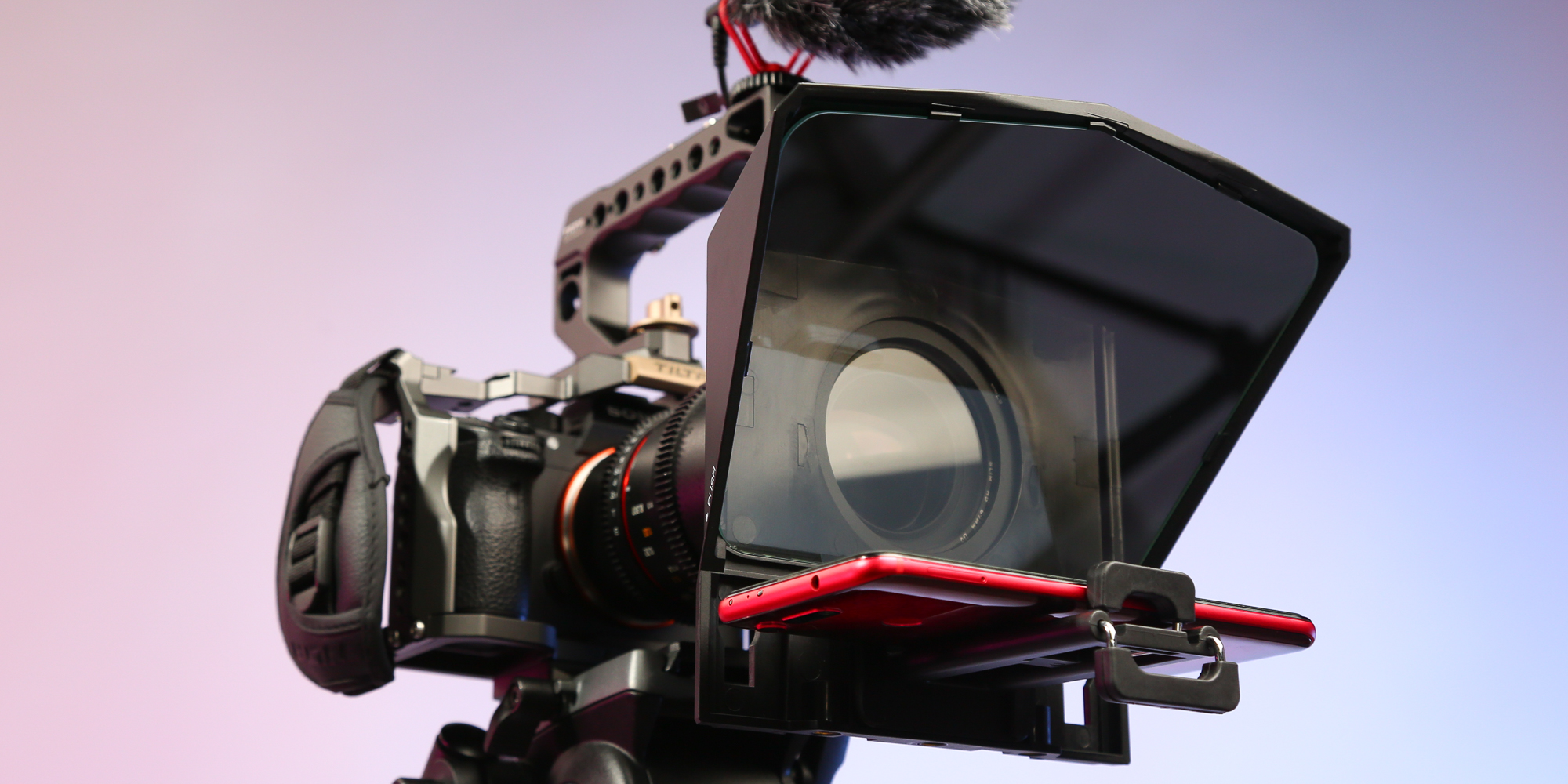 Compatible with your equipment
Included with the Desview T2 teleprompter you will find accessories that will allow you to conveniently record videos with various devices. A special holder will allow you to conveniently record video with a smartphone attached to the left or right side of the teleprompter. The manufacturer also took care of special foam blackout rings that will allow you to adjust the aperture to many models of mobile devices. If you use different lenses connected to a mirrorless camera, DSLR or camcorder, just choose the right reduction ring. There are as many as 9 included, so almost any glass will be compatible with your teleprompter.
Specification
teleprompter

model: Desview T2 teleprompter
material: 26-layer beam splitting glass, lightweight plastic
mobile app support: Android / iOS
maximum span of smartphone or tablet holder (text source): 142 mm
maximum grip span for smartphone (filming device): 79 mm
Teleprompter dimensions: 21.3 x 9.5 x 17.1 cm
weight: 340 g

pilot:

power supply: 2 x AAA batteries
dimensions: 11.6 x 3.6 x 4.2 cm
weight of remote control: 40 g
Compatibility
filming devices:

digital cameras or camcorders equipped with lens diameters of 49, 52, 55, 58, 62, 67, 72, 77 and 82 mm
smartphones
devices capable of installing the Bestview text display application:
smartphones or tablets up to 8″ (iOS/Android)
Kit contents
teleprompter Desview T2 with cover
a smartphone or tablet holder
Bluetooth remote control
set of reduction rings (49, 52, 55, 58, 62, 67, 72, 77, 82 mm)
set of foam rings
Mounting kit (screws + screwdriver)
microfiber cloth