Description
The Desview T3 Teleprompter is a unique device that will save you hundreds of hours spent endlessly repeating shots for vlogs, TikTocks, interviews or other videos you post online. Simply install it on your smartphone or tablet up to 11 inches, download the free app, and enjoy the ability to display dialogue, notes, or entire scripts right at the lens height of your camera, camcorder, or smartphone. No more eyes running off to the side, no more sounds of thought, and no more shots that go to "bloopers" later. The included Bluetooth remote will allow you to control the projected text remotely, and 3 "cold feet" allow you to mount additional accessories.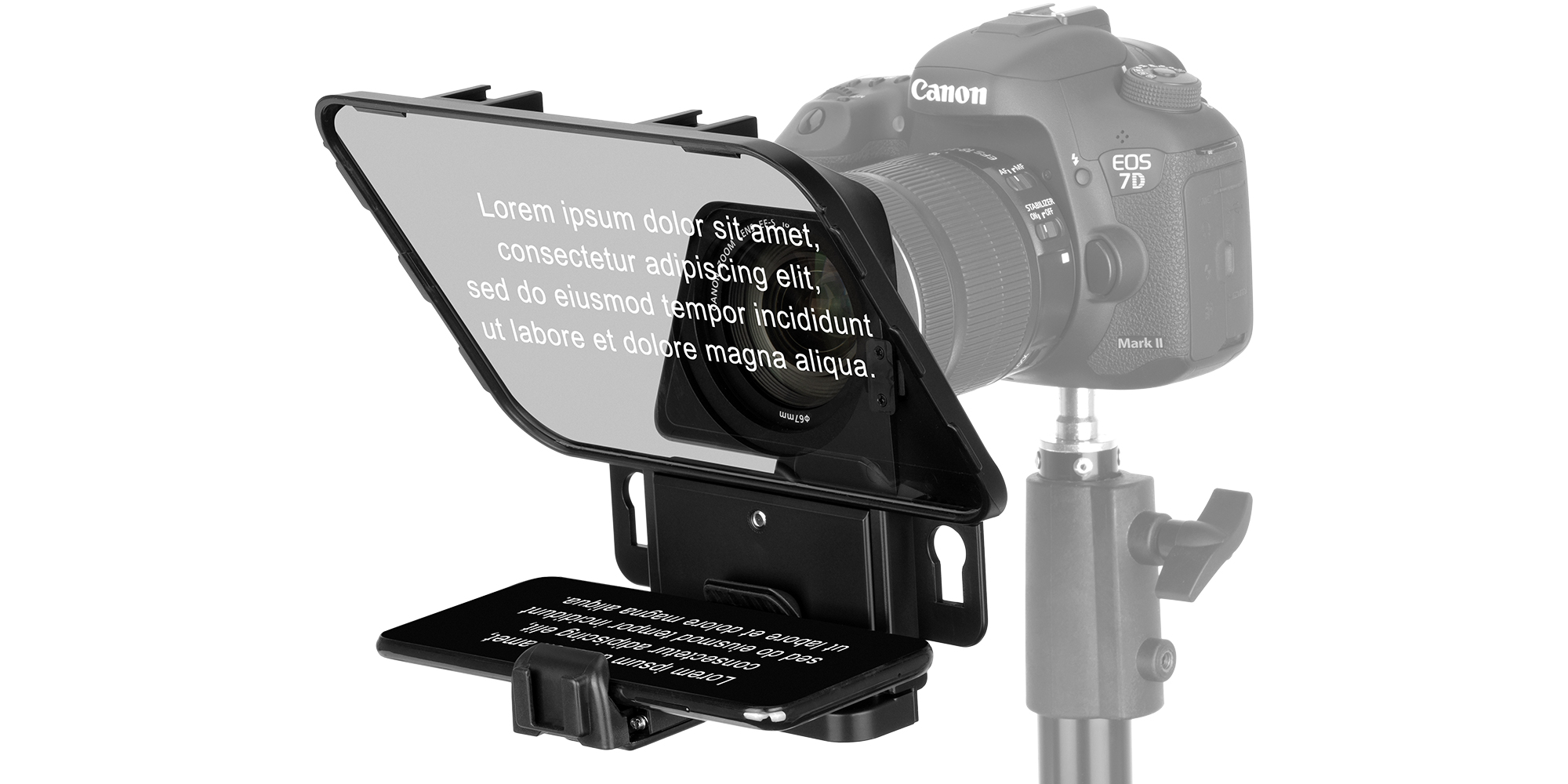 Most important product features
an invaluable aid in recording vlogs, interviews, streams or other videos published on YouTubes, TikTok or Instagram
ability to read text from smartphones or tablets up to 11 inches
ability to mount additional accessories on the prompter
support for SLR cameras, mirrorless cameras, camcorders and smartphones (special holder included)
compatible with lenses with diameters: 49, 52, 55, 58, 62, 67, 72, 77 and 82 mm
clear image transferred from mobile device screen to mirror
26-layer beam splitting glass (70/30)
Light transmittance of 97%
remote management (accelerate/decelerate/stop) of displayed text with Bluetooth remote control
free mobile application for saving displayed scenarios and notes, available on Google Play and App Store
No more repeating shots!
Do you know that feeling when you record the same part of a vlog for the hundredth time because some part of the script keeps falling out of your head? Or maybe viewers notice that on your videos you run with your eyes towards the pull-downs attached in different places in the room or studio? The Desview T3 teleprompter will help solve all of these problems. Save time and record your speeches without stammering just like on professional TV. Look straight into the camera and be confident that you will never forget your lines again.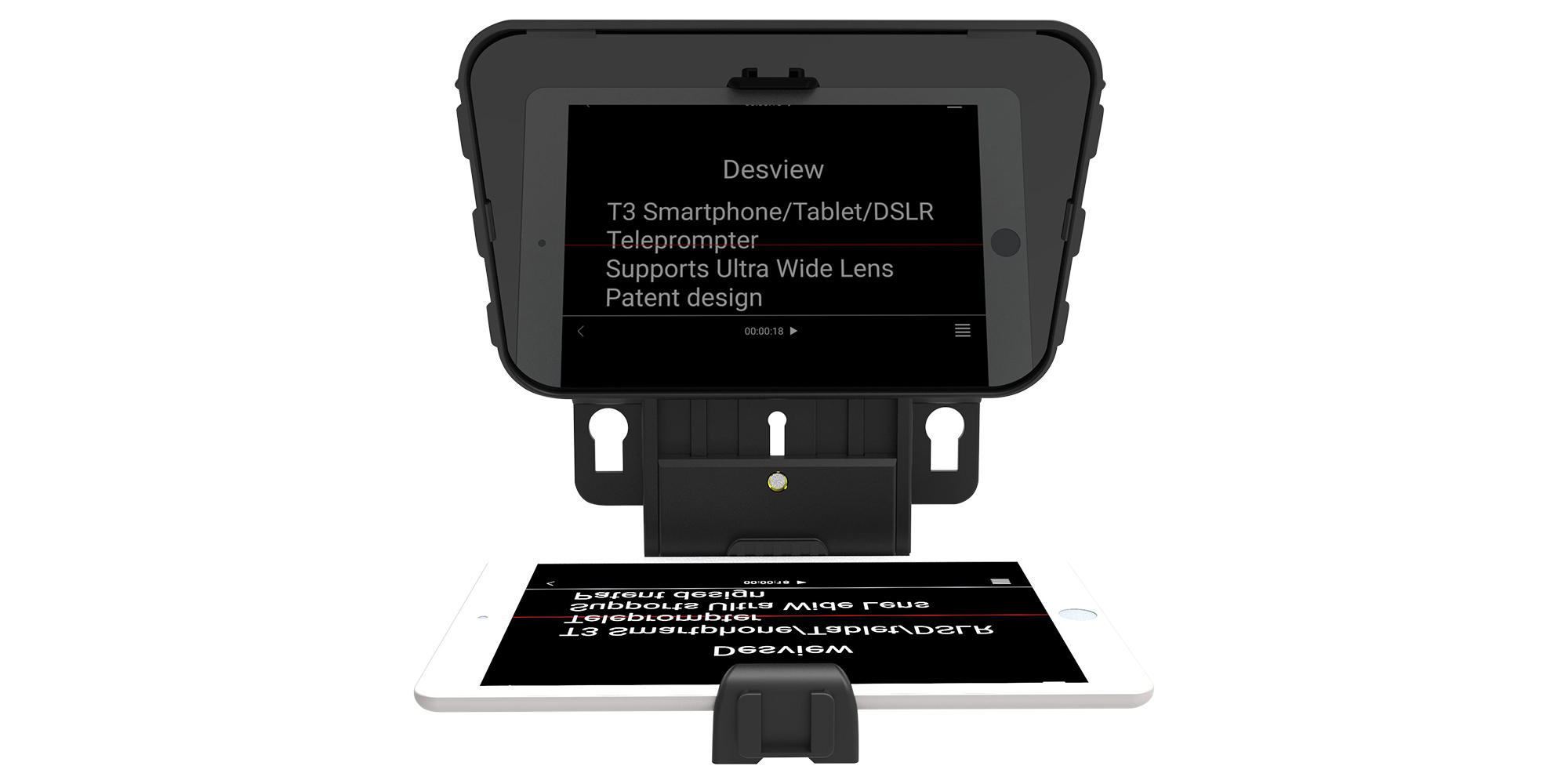 Mounting additional accessories
Every video creator knows that regularly investing in new equipment is an integral part of this job or hobby. We want the quality of videos and recorded sound to get better and better. That's why additional lights or microphones appear in our home studios. With the Desview T3 teleprompter, you don't have to worry about connecting them to a built-in camera or smartphone. You'll find two cold shoe mounts on the body of the device. You'll find one more such slot on the front of the smartphone or tablet mount. "Cold feet" will provide you with comfort and convenience of working with additional lights or microphones. In the lower part of the teleprompter there are also 3 threaded mounting holes, allowing you to quickly mount the device on a tripod.
High image quality
The Desview T3 teleprompter uses a high quality 26-layer (70/30) beam splitting glass. It provides a high transmission rate of 97%. Thanks to these parameters, there is no double reflection effect and the text read from the teleprompter is clear and looks almost the same as if you were reading it straight from your smartphone screen.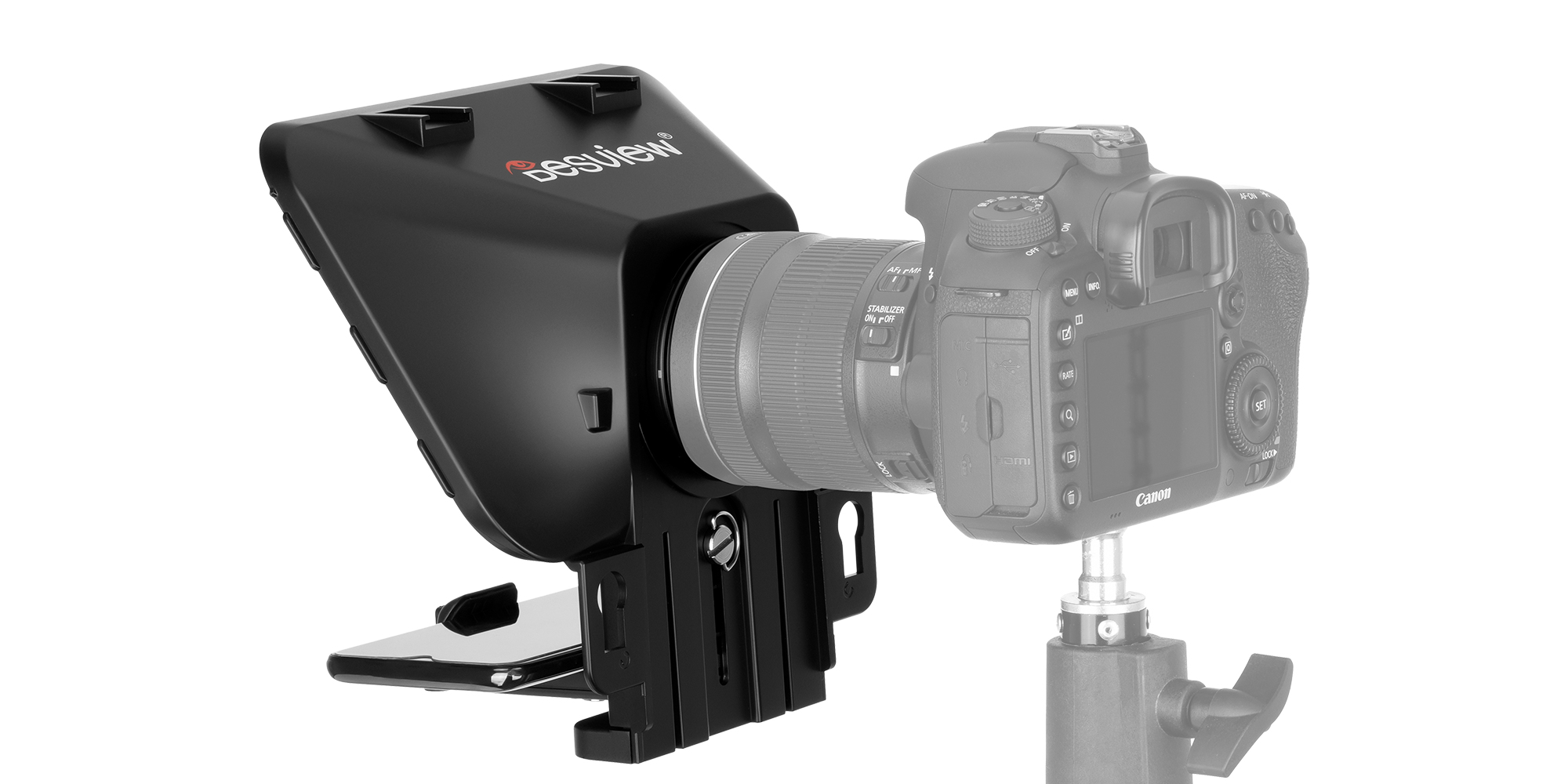 Wide viewing angle
It would seem that encasing the front of the lens may affect the recorded image, especially when it comes to wide angle lenses. Nothing could be further from the truth! The Desview T3 teleprompter can be easily mounted on a full frame 12mm lens (or 24mm on the Micro 4/3 standard). No shadows, no vignetting, and no unwanted objects in your shots! Capture wide shots with complete discretion. You won't be able to see in any shot that there is a special mirror attached to your lens and a tablet or smartphone! If you are not betrayed by the robotic tone of voice, you can be sure that no one will realize that you are using a prompter!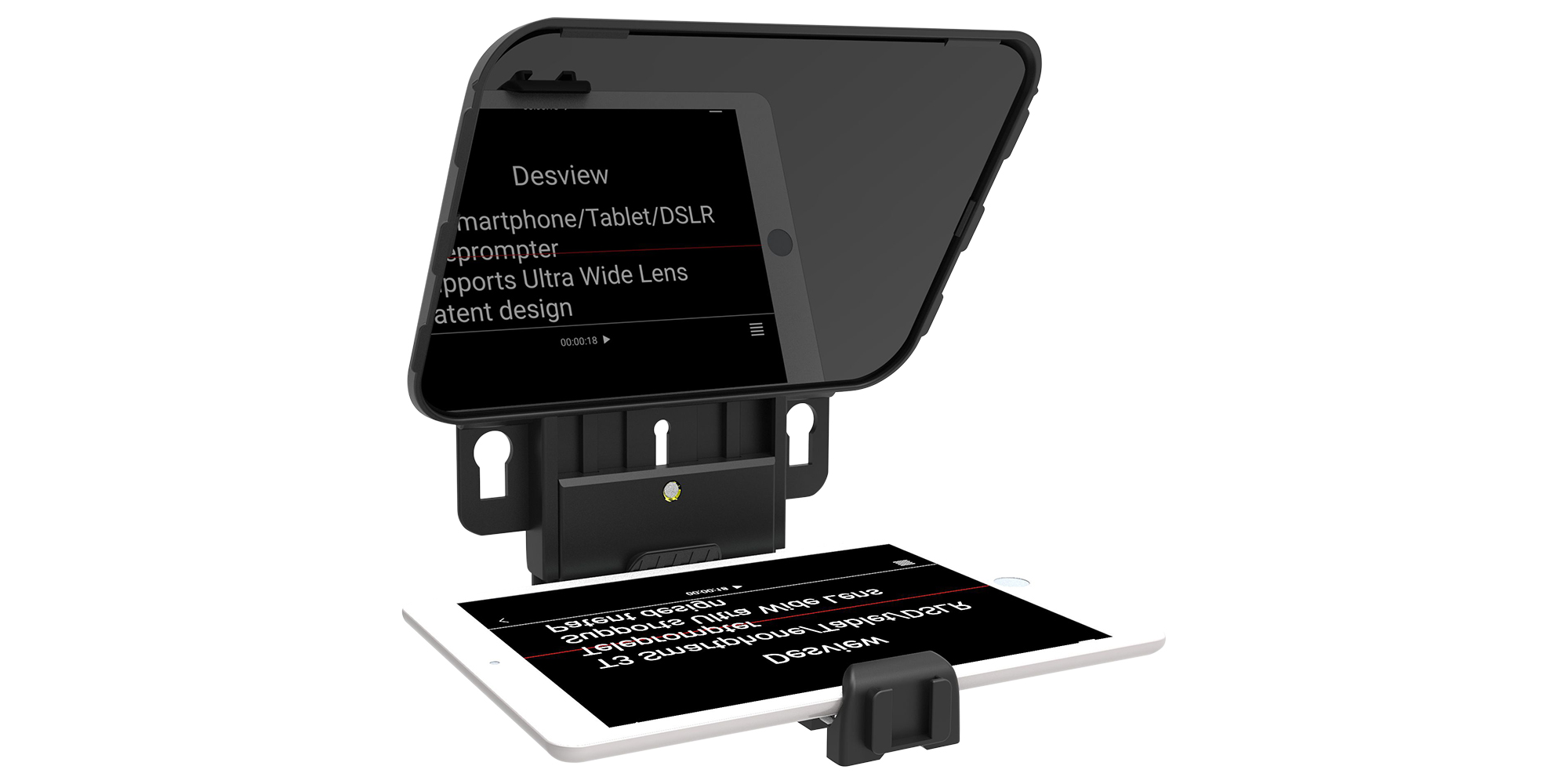 Full control over the text you read
Of course, you can set your laptop next to your camera or camcorder and use an app that works like a teleprompter, but this solution raises a number of problems. Aside from the fact that your eyes will never be directly facing the central part of the lens, you have no control over the scrolling text. By reaching for the Desview T3, you gain complete freedom to work. All thanks to the included Bluetooth remote control. Simply pair it with the app and pause the text, slow it down or speed it up at any time. The ergonomic shape makes the remote control fit perfectly in your hand, and the buttons and joystick you need will position themselves under the right fingers!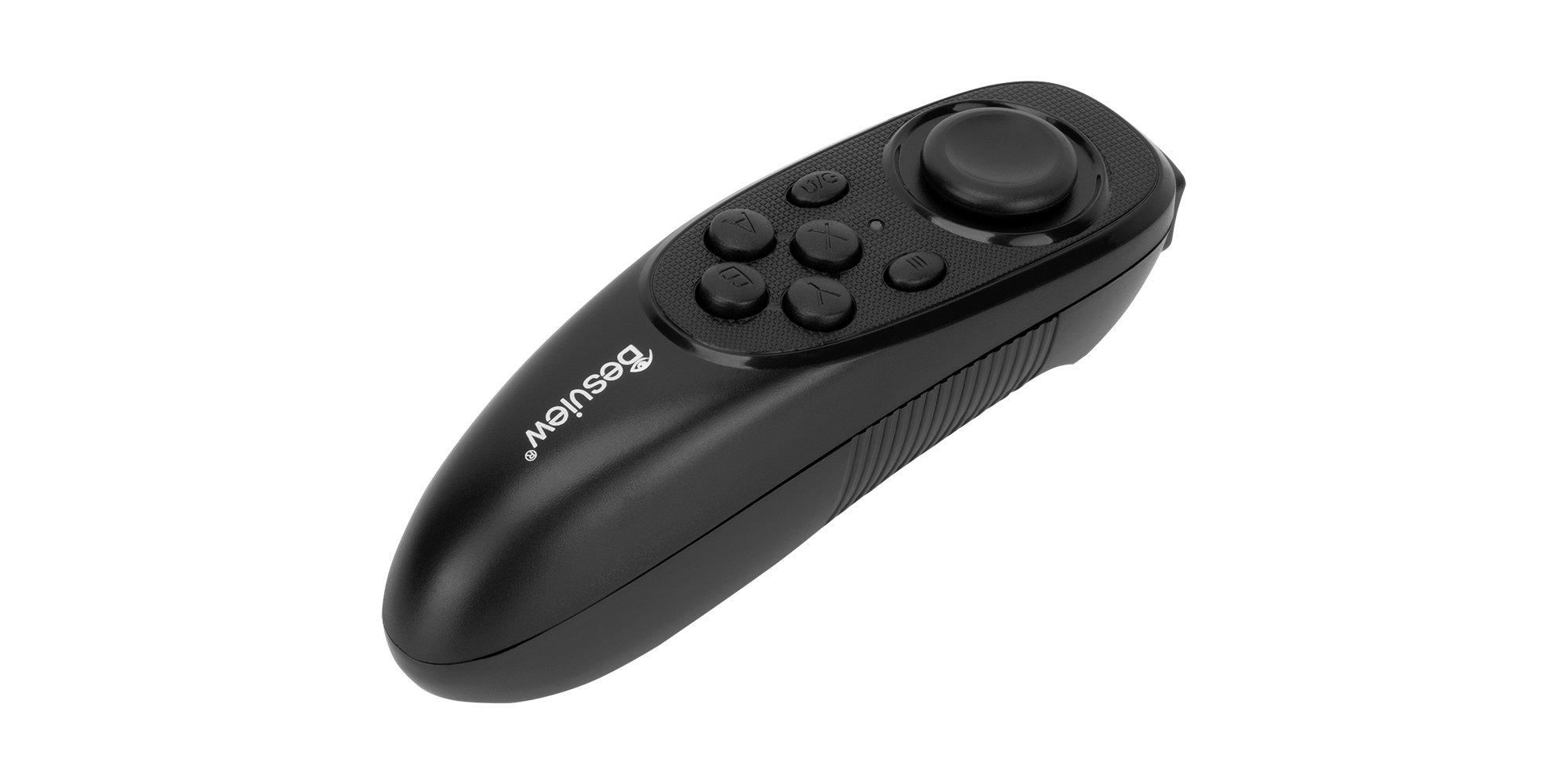 Free mobile application
You can download the application, which allows you to manage the text you will be reading from the Desview T3 teleprompter, free of charge from the Google Play store (Android) or App Store (iOS). With its help you can adjust parameters such as scrolling speed, background color or letter size. The app allows you to save many different documents with prepared text, with an unlimited number of words. This allows you to plan several episodes of your program and record them continuously, without having to swap scenarios. You will also see a thin horizontal line on the screen while working with the application. It will make reading from the teleprompter look natural, and your eyes will always be directed to the central part of the lens.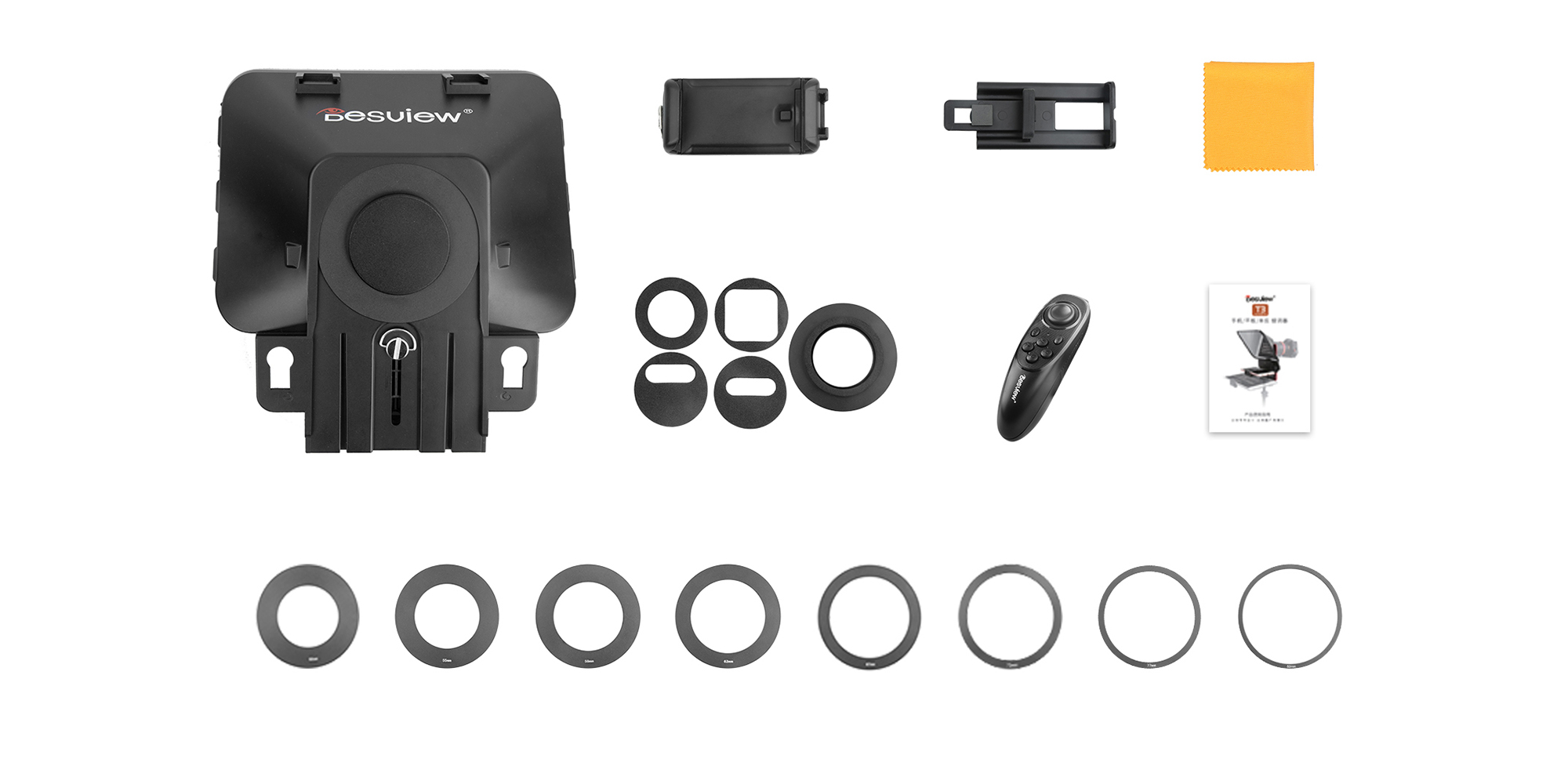 Compatible with your equipment
Included with the Desview T3 teleprompter you will find accessories that will allow you to conveniently record videos with various devices. A special holder will allow you to conveniently record video with a smartphone attached to the left or right side of the teleprompter. The manufacturer also took care of special foam blackout rings that will allow you to adjust the aperture to many models of mobile devices. If you use different lenses connected to a mirrorless camera, DSLR or camcorder, just choose the right reduction ring. There are as many as 9 included, so almost any glass will be compatible with your teleprompter.
Specification
teleprompter

model: Desview T3 teleprompter
material: 26-layer beam splitting glass, lightweight plastic
mobile app support: Android / iOS
maximum span of smartphone or tablet holder: 19 cm
mirror dimensions: 18.6 x 14.5 cm
Teleprompter dimensions: 20 x 10.5 x 20.3 cm
weight: 440 g

pilot:

power supply: 2 x AAA battery
dimensions: 11.6 x 3.6 x 4.2 mm
remote weight: 40 g