Description
The Fotopro SY-610 + MH-8S + SJ-86 tripod is the ideal choice for web developers, online participants and instructors, and live broadcasters. You'll find an adjustable mount for smartphones between 56 and 86mm wide, with a 1/4″ female mounting thread to which you can connect an additional accessory such as a microphone or small LED lamp. The ball head allows for precise framing, while the extendable central column allows for height adjustment. Sports cameras and camcorders with 1/4″ female thread can also be easily mounted on the tripod. The whole structure will easily fit into any bag or backpack, allowing you to create a workstation wherever you take your recordings!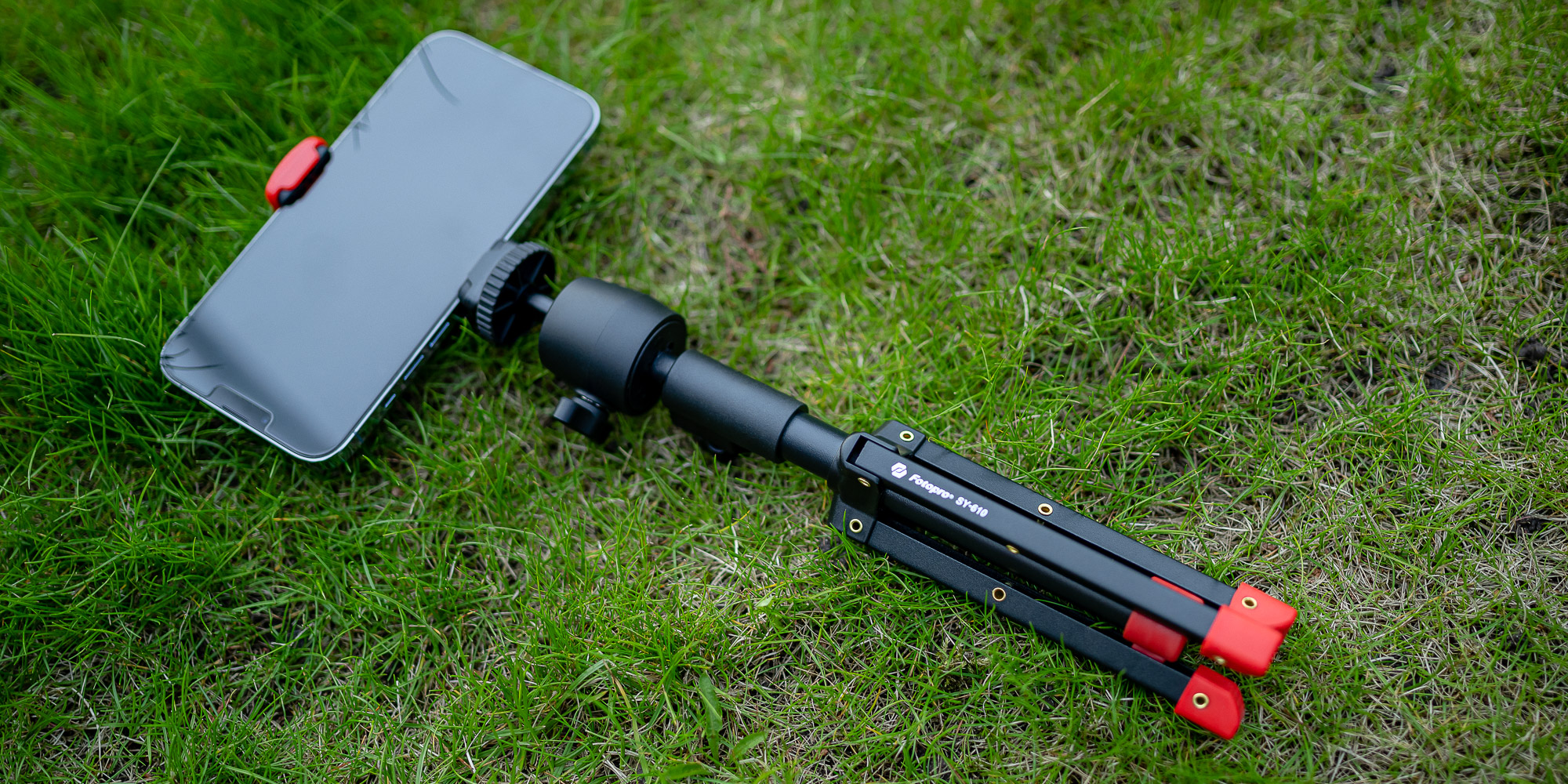 Main product features
a versatile tripod that is great for streaming, vlog recording and remote lessons
the perfect way to get blur-free selfie shots and stable shots in vlogs
a great choice for creators posting on YouTube, TikTok, Instagram, Snapchat or Twitch
extendable central column for convenient tripod height adjustment or use as a "selfie stick"
maximum working height of 42.1cm
solid locks allow you to fine-tune leg spacing, centre column length and ball position
ball head allows you to position the smartphone holder both vertically and horizontally
compatible with cameras and sports cameras equipped with 1/4″

thread

grip allowing installation of smartphones from 56 to 86mm wide
additional 1/4″ thread located on the handle, allowing to complete the set with a microphone or a small LED lamp
step adjustment of the holder's width allows to precisely adjust it to the size of your smartphone
a lock located in the holder allows for easy release of the clamp with two fingers
anti-skid feet for greater stability
Multitude of applications
Hand-held video recording is not an easy task. To improve the quality of your recordings, it's worth reaching for a tripod which will not only ensure the stability of your shots, but also make it easier to set up frames and work with smartphones and additional accessories, such as microphones or small LED lights. The Fotopro SY-610 + MH-8S + SJ-86 kit is everything an online creator, someone working from home or a student on a remote teaching assignment could need!
Record vertically and horizontally
You can install a camera or sports camera on the tripod, and the included mount will also let you reach for a smartphone between 56 and 86mm wide. Are you recording on YouTube? Or maybe your favourite social media platform is TikTok? The MH-8S ball head will allow you to position your smartphone both vertically and horizontally to match the standards of various apps and services. A further advantage of the Fotopro SY-610 tripod is its extendable central column. Thanks to it, you can turn the device into a selfie stick in just a moment!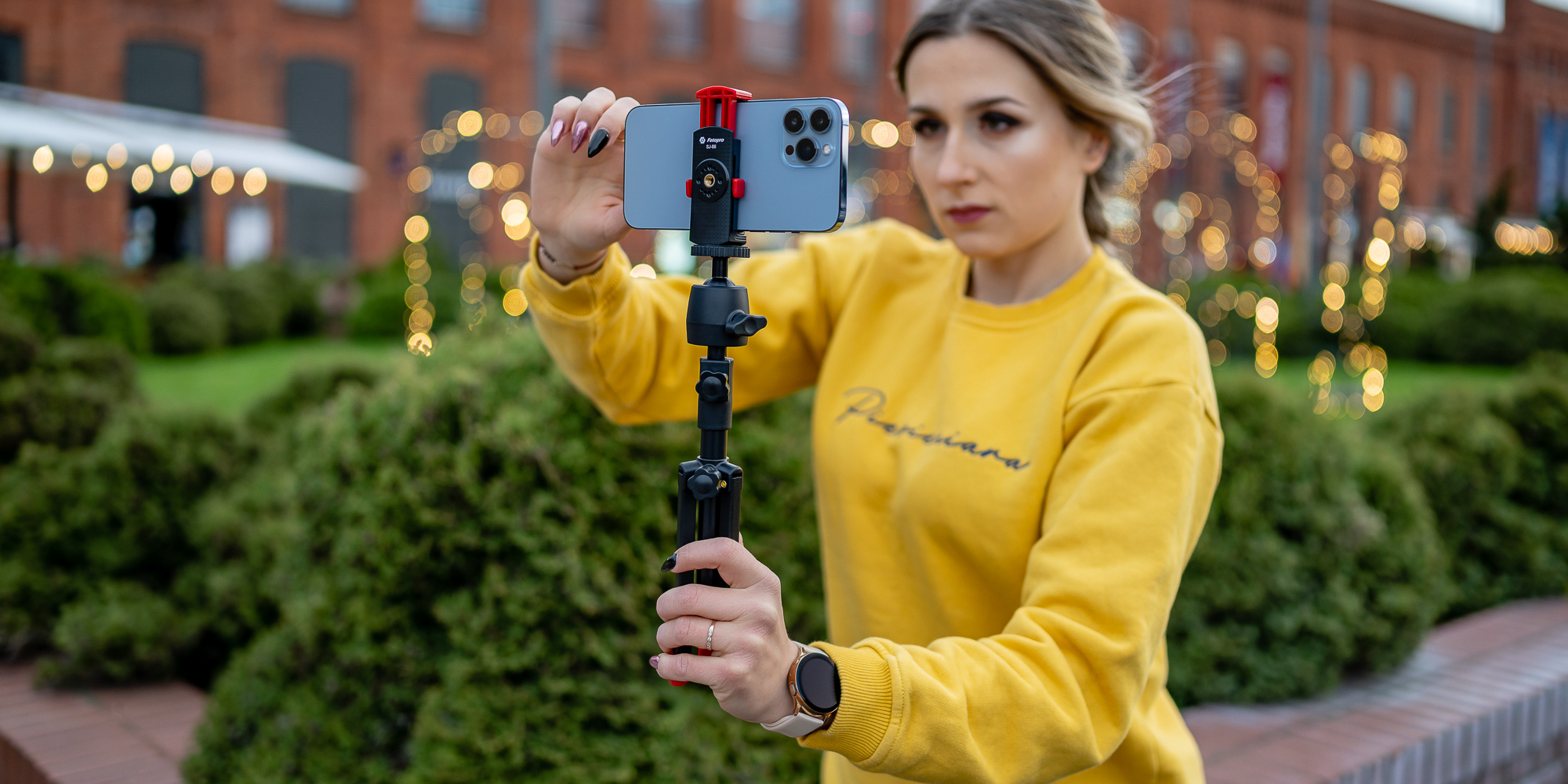 Extended workstation
You don't have to waste time moving and setting up the individual components of your film and photography workstation. A smartphone holder with an additional mounting point in the form of a 1/4″ female thread is all you need to conveniently adjust the frames to your needs, make use of an additional accessory and optimally utilise the space around you, which is often very limited. Reach for an extra microphone or LED light and create even better videos!
High quality construction
The material of the Fotopro tripod SY-610 + MH-8S + SJ-86 provides durability and ultra-lightness. When transporting it in your bag or backpack, you will not feel its weight at all. The device together with the head weighs only 293 grams, but it can handle small compact cameras, sports cameras and smartphones, devices which are most often used while creating vlogs, doing webinars or recording live broadcasts.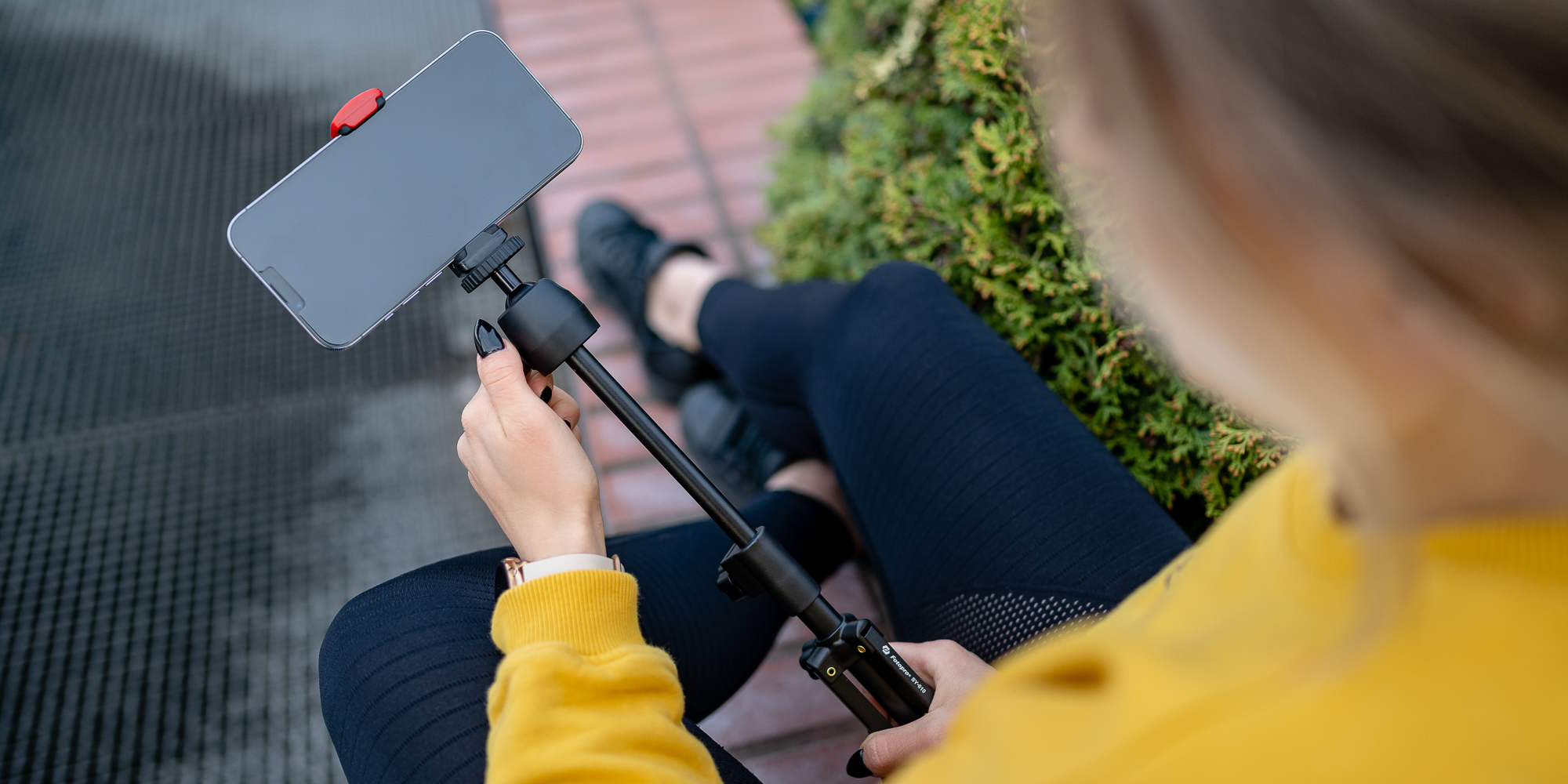 Join the #photoprop family
A good tripod is a guarantee of stable shots and comfortable work on video footage. Share the content you create with us using Fotopro gear by tagging us on Facebook and Instagram Join our family and record even better vlogs!
Specification
Model: Fotopro SY-610 + MH-8S + SJ-86
Max. working height: 421 mm
Dimensions: 256 x 50 x 40 mm
Weight: 270 g

Smartphone holder

Adjustable width of holder: from 56 to 86 mm
Dimensions: 71.5 x 39.5 x 23.5 mm
Weight: 23g

Kit contents

Fotopro SY-610 tripod
MH-8S ball head
Smartphone holder SJ-86