Description
The Fotopro Vlogger Mini (SY-390 + P-1HX) tripod is the ideal choice for web creators who record vlogs or host live broadcasts. This sturdy aluminium design will also work well for webinars, video conferences and remote lessons. The 2 leg sections with efficient locking system allow you to adjust the tripod to suit your needs, whether you're setting it up on a desk or using it outdoors. The non-slip feet provide optimum stability on a variety of surfaces. It's only 19cm long when folded, so it doesn't take up much space in your bag or backpack. It is compatible with cameras, sports cameras or smartphone holders equipped with a 1/4″ female thread.
Main product features
a compact tripod that's great for streaming, vlog recording and remote lessons
durable construction made of lightweight, high-quality aluminium
a good choice for creators posting on TikTok, Instagram, YouTube, Snapchat or Twitch
maximum working height of 202mm
guarantee stable shots when recording video and taking photos
2 leg sections for a more customised tripod working height
reliable and easy-to-use locking system for tripod leg sections and angle
solid leg locks allow legs to be placed in 2 different positions
ball head allowing camera to be positioned both vertically and horizontally
ergonomic lock allowing the ball of the head to be accurately positioned
a ring allowing the camera to be quickly and conveniently screwed into the 1/4″
thread
anti-skid feet for greater stability
included mounting adapter – cold shoe / 1/4″ male thread
Fast and convenient unfolding
The tripod has a 2-step mechanism for tilting the legs, which consist of 2 sections. Thanks to them, you will prepare your frames quickly and conveniently. The handy folding design providing a working height of 89mm to 202mm is ideal for desks, shelves and cabinets, as well as when recording in the field.
Lightweight and robust
The aluminium of the Fotopro Vlogger Mini tripod ensures durability and ultra-lightness. When transporting it in your bag or backpack, you won't feel its weight at all. The device weighs only 250 g, but it can successfully handle small compact cameras and smartphones installed in 1/4″ threaded mounts.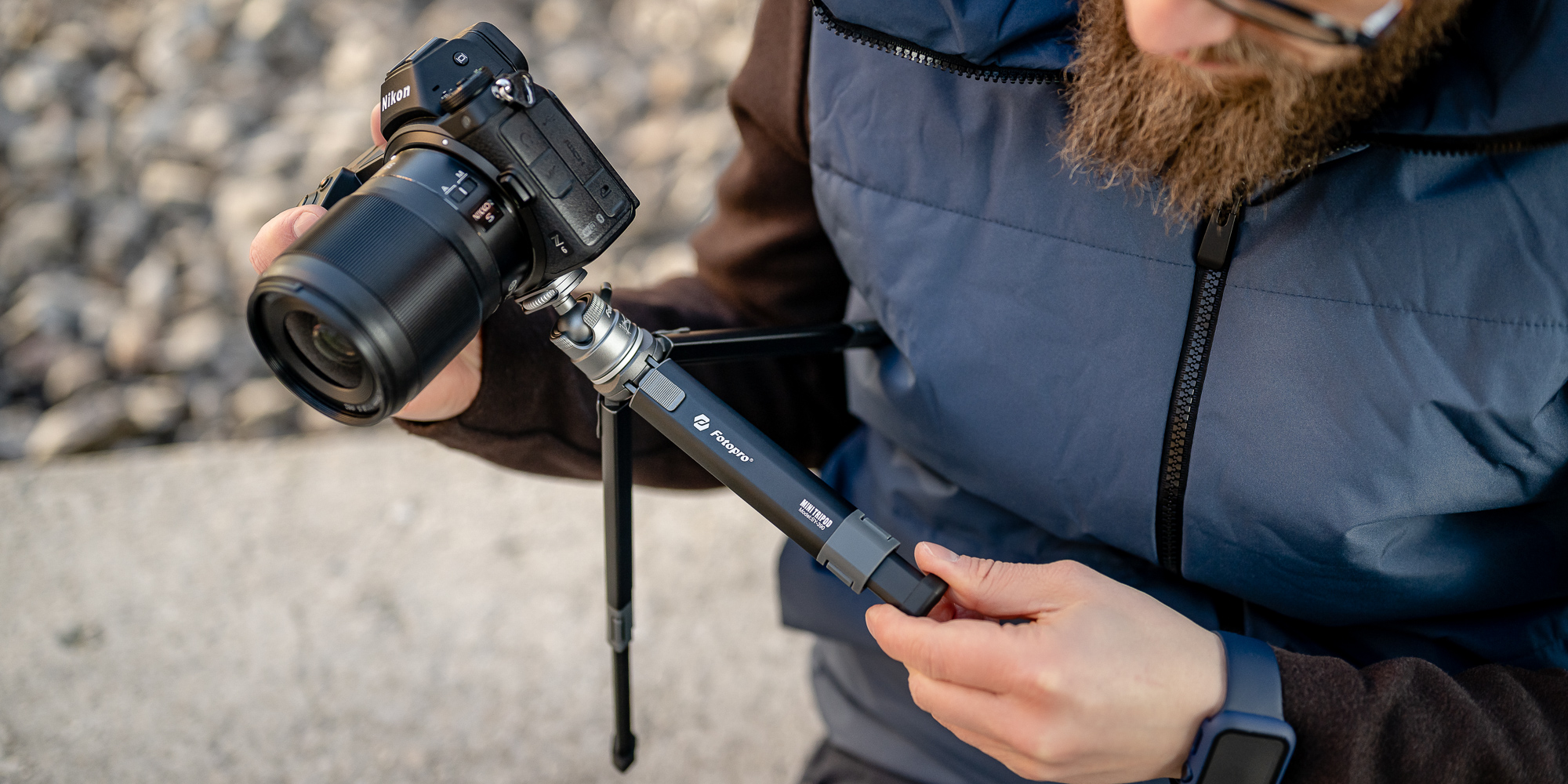 Vlogs, streams and remote lessons
Recording vlogs and live broadcasts "by hand" is not an easy art. In the interest of stable shots, it's worth reaching for a small tripod, which will make you forget once and for all about camera support structures quickly built from books and notebooks. Working with the Fotopro Vlogger Mini model will allow you to fully focus on remote lessons, conferences, streams or vlogs created!
Always at your place
The Fotopro Vlogger Mini kit is a lightweight SY-390 tripod and a P-1HX ball head. You can easily connect these elements together using the 1/4″ thread. The head is equipped with a solid ball lock. Thanks to it, you can precisely adjust the position of the camera, being sure that it will not change even by a millimetre during recording! The producer also took care of an ergonomic knob which will allow you to quickly and conveniently screw your camera or smartphone holder into the 1/4″ male thread located at the top of the head. Another advantage of the tripod are rubber pads on the legs which protect the whole structure against accidental movement, while working on smooth surfaces.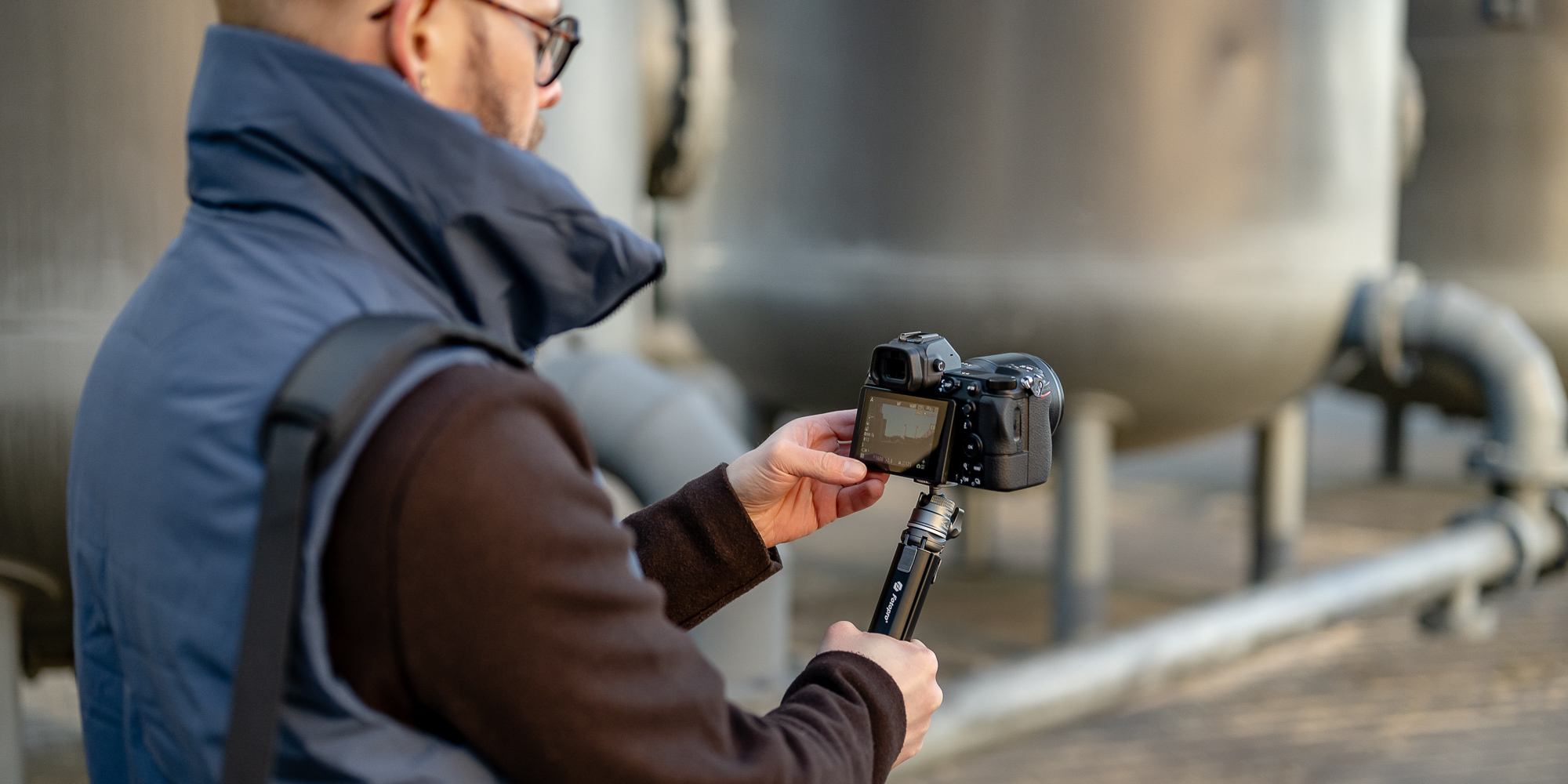 Join the #fotopropolska family
A good tripod is a guarantee of stable shots and comfortable work on videos. Share the content you create with us using Fotopro equipment by tagging us on Facebook and Instagram Join our family and record even better vlogs!
Specification
Model: Fotopro Vlogger Mini (SY-390 + P-1HX) – grey
Material: aluminium
Number of leg sections: 2
Minimum working height: 89 mm
Maximum working height: 202 mm
Height in transport position: 190 mm
Lifting capacity: 2 kg
Weight: 250 g
Kit contents
Fotopro Vlogger Mini SY-390 tripod
kit Fotopro P-1HX ball head
ball head
attachment adapter – cold shoe / 1/4 "male thread