Description
The Fotopro F-64 I-Speedy with T5 ball head is a multi-purpose tripod that will be ready for use within seconds of removing it from the included bag. It's all thanks to the revolutionary semi-automatic leg extension system. Simply twist the ring, extend the desired tripod sections, release the lock and…done! With a working height of 14 to 174cm, this tripod will be the ideal tool for DSLRs, mirrorless cameras and camcorders weighing up to 15kg. In the set you will also find a professional ball head equipped with a double locking system, 3 spirit levels, swivel base, 360° scale and Arca-Swiss quick release plate.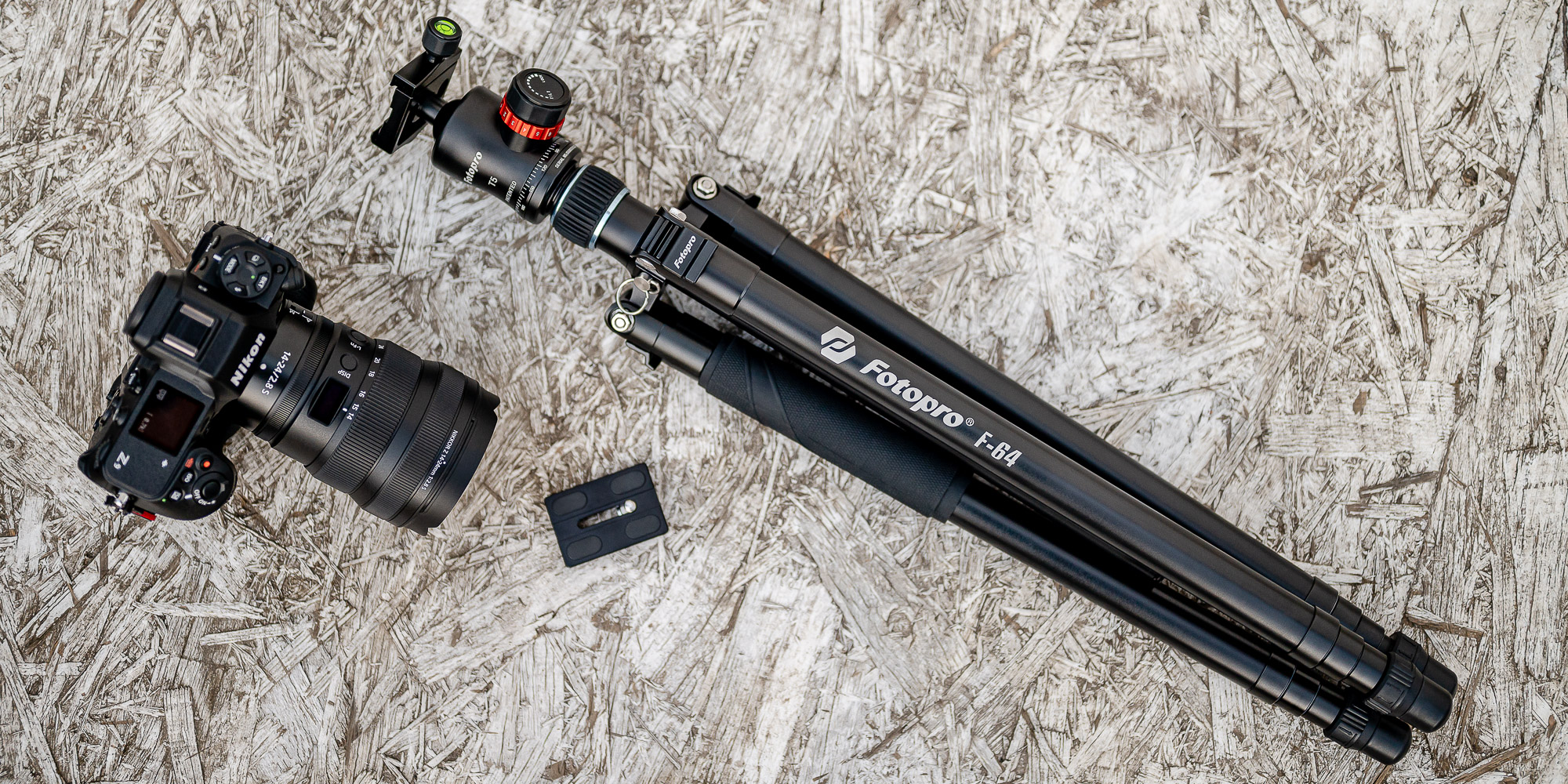 Main product features
a versatile tripod with ball head for photographers, travellers and video makers
revolutionary I-Speedy system – semi-automatic unfolding of 4 leg sections, at lightning speed
ideal for DSLRs, mirrorless cameras and camcorders weighing up to 15kg
14 cm minimum and up to 174 cm maximum working height
360° scale for precision when shooting panoramas
tri-stage leg tilt system
removable 1 centre column module for closer-to-ground shooting or filming
rubber lining on one of the tripod legs for a secure grip
mounting thread that extends from the centre column to allow installation of a tripod weight hook
wrist strap at centre column
rubber feet for good grip on the ground
3 spirit levels built into the ball head
head equipped with independent pan and tilt control knobs
double ball lock system to prevent any movement once locked
Arca-Swiss quick release mounting plate
Double-sided screw system to prevent any movement when locked
two-sided tripod top screw allowing installation of heads with 3/8″ and 1/4″
revolving hook allowing to load the tripod
professional case, set of keys and additional set of rubber feet included
Revolutionary iSpeedy unfolding system
You'll be hard pressed to find a tripod on the market that unfolds faster than the Fotopro F-64, thanks to the revolutionary I-Speedy system. On each of the tripod's legs is a ring with an automatic lock. You twist it. Move the leg sections into the desired position. Release the ring and you're done – each leg section is locked! If you're looking for a quick workstation setup and instant tripod height adjustment to suit your needs, the Fotopro F-64 I-Speedy tripod with T5 ball head will be the perfect choice!
One tripod, dozens of uses
Fotopro F-64 I-Speedy with T5 ball head is an ideal solution for people who want a universal design that will work both in the studio and outdoors. Its working height can range from 14cm to 164cm. The tripod is equipped with a 3-stage leg tilt mechanism. This allows you to position the tripod almost to the ground, which is ideal for macro photography. You don't have to worry about the length of the central column. It consists of two elements which can be disconnected for optimal working comfort.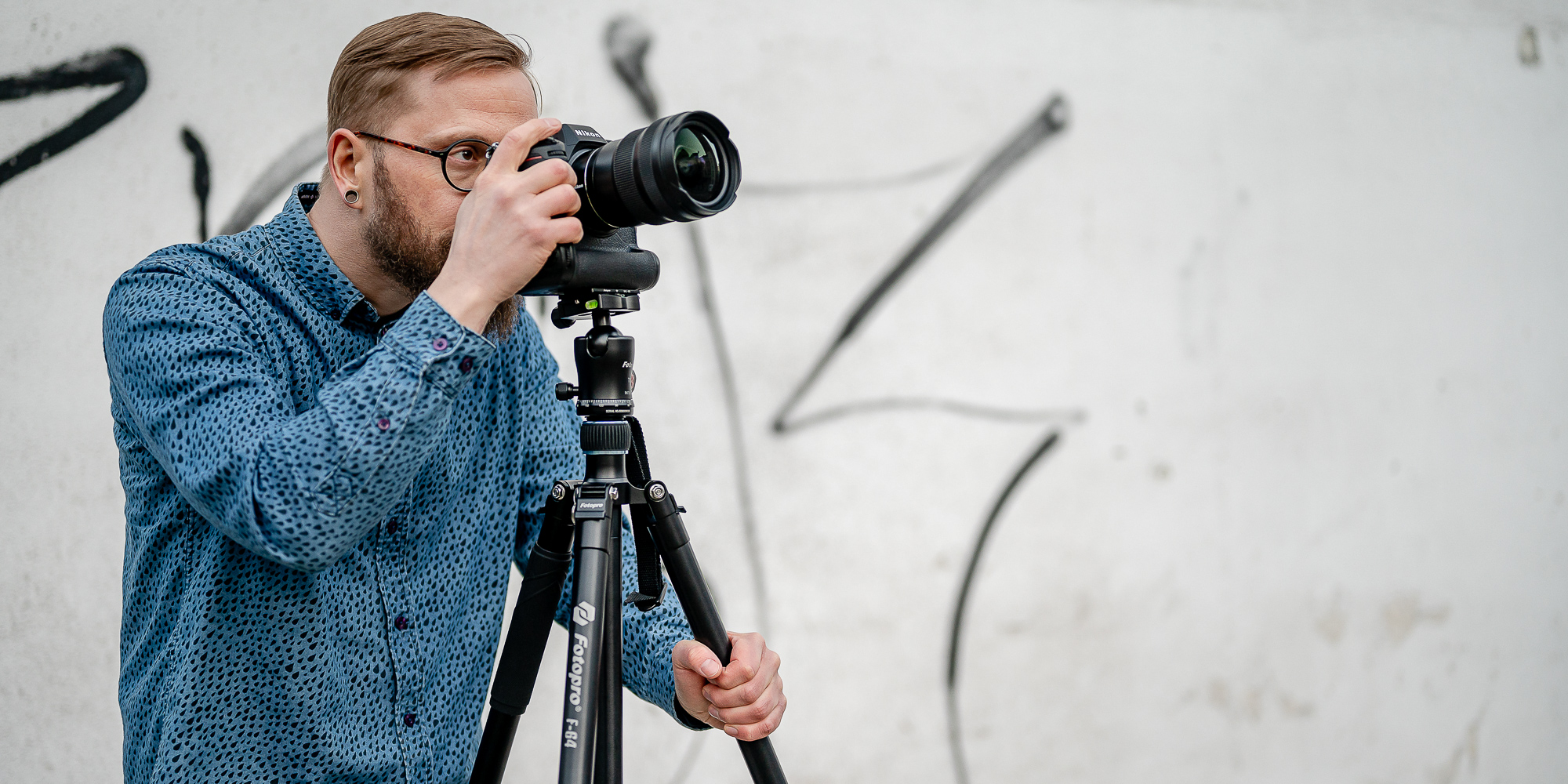 Developed to the smallest detail
The Fotopro brand is famous for its attention to improvements that further enhance the ergonomics of its products. They have not been missing here either. One of the 3 legs of the tripod has been finished with a pleasant to the touch silicone grip ensuring comfortable work during cold or very hot days, when the whole construction takes over the ambient temperature. You will also find a weight hook in the set, which you can screw into the pull-out thread located in the lower part of the central column. A wrist strap with an adjustable welt has been installed under the head. The manufacturer has not forgotten about an additional set of non-slip feet and a set of keys.
Professional ball head
Fotopro T5 ball head, which you will find in the set, will enable precise setting of the camera in the chosen position. A double ball locking system ensures that the installed device weighing up to 15 kilograms will not move even by a millimetre. Three spirit levels make it easy to level the camera and get the perfect shot in any field conditions. The head is also equipped with a knob to lock the movement of the rotating base. There's also a 360° scale to ensure accuracy when shooting panoramas. The head movement on the rotating base is extremely smooth, which will be appreciated not only by photographers, but also video makers.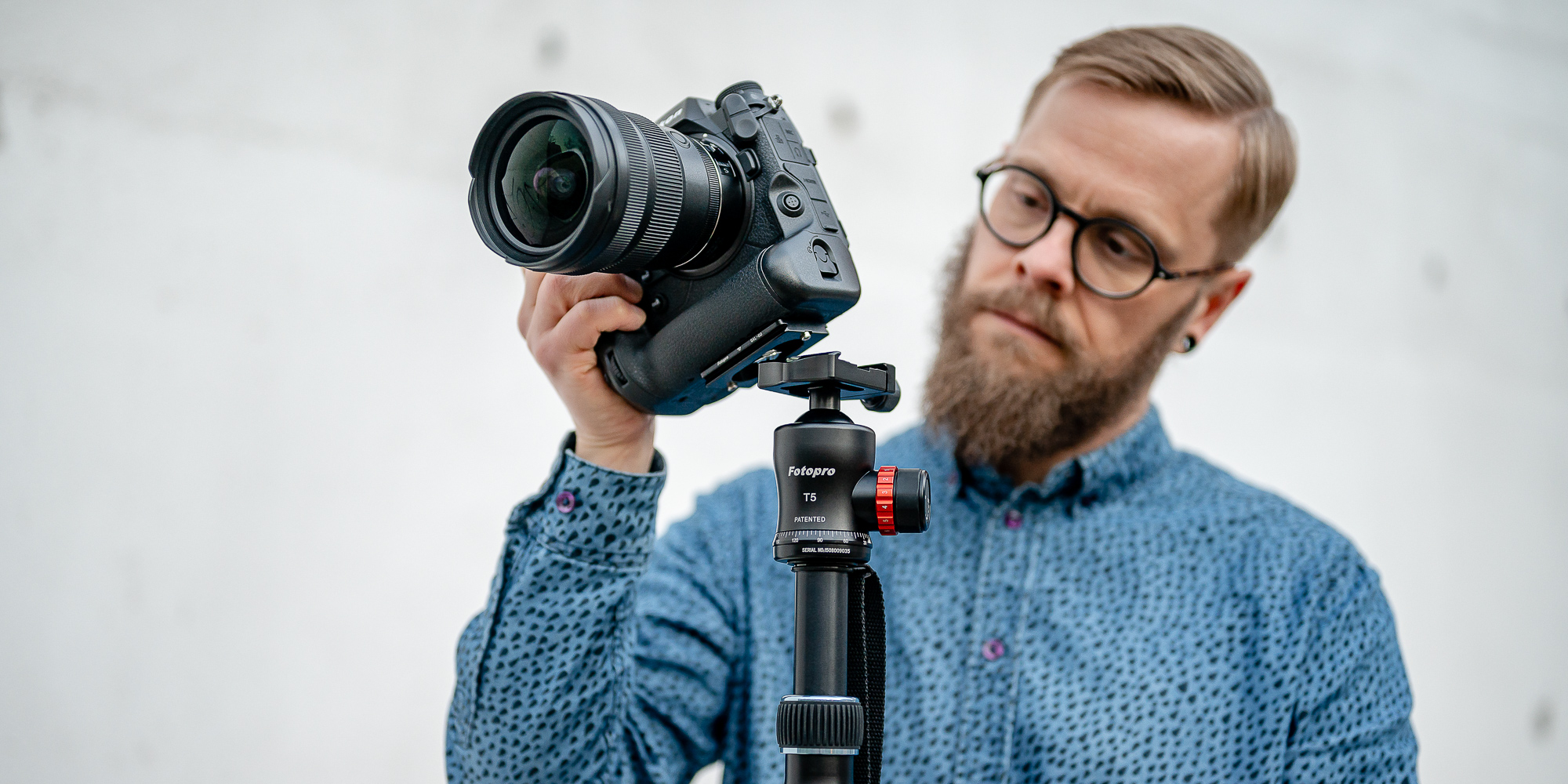 Standard Arca-Swiss
Together with the head you receive a quick-mount plate, on which there is a rubber lining that increases adhesion to the camera. The Fotopro quick release plate has an additional safety feature, which will protect your valuable equipment from falling, should the lock be insufficiently tightened. The T5 head is compatible with quick release plates made in the world-renowned Arca-Swiss standard.
Solid carrying case included
The versatility of the Fotopro F-64 I-Speedy makes it the perfect tripod to add to your photography gear. That's why you'll also find a robust zip-up case in the set. The tripod will be safe in it, and you can comfortably carry it over your shoulder during long hikes.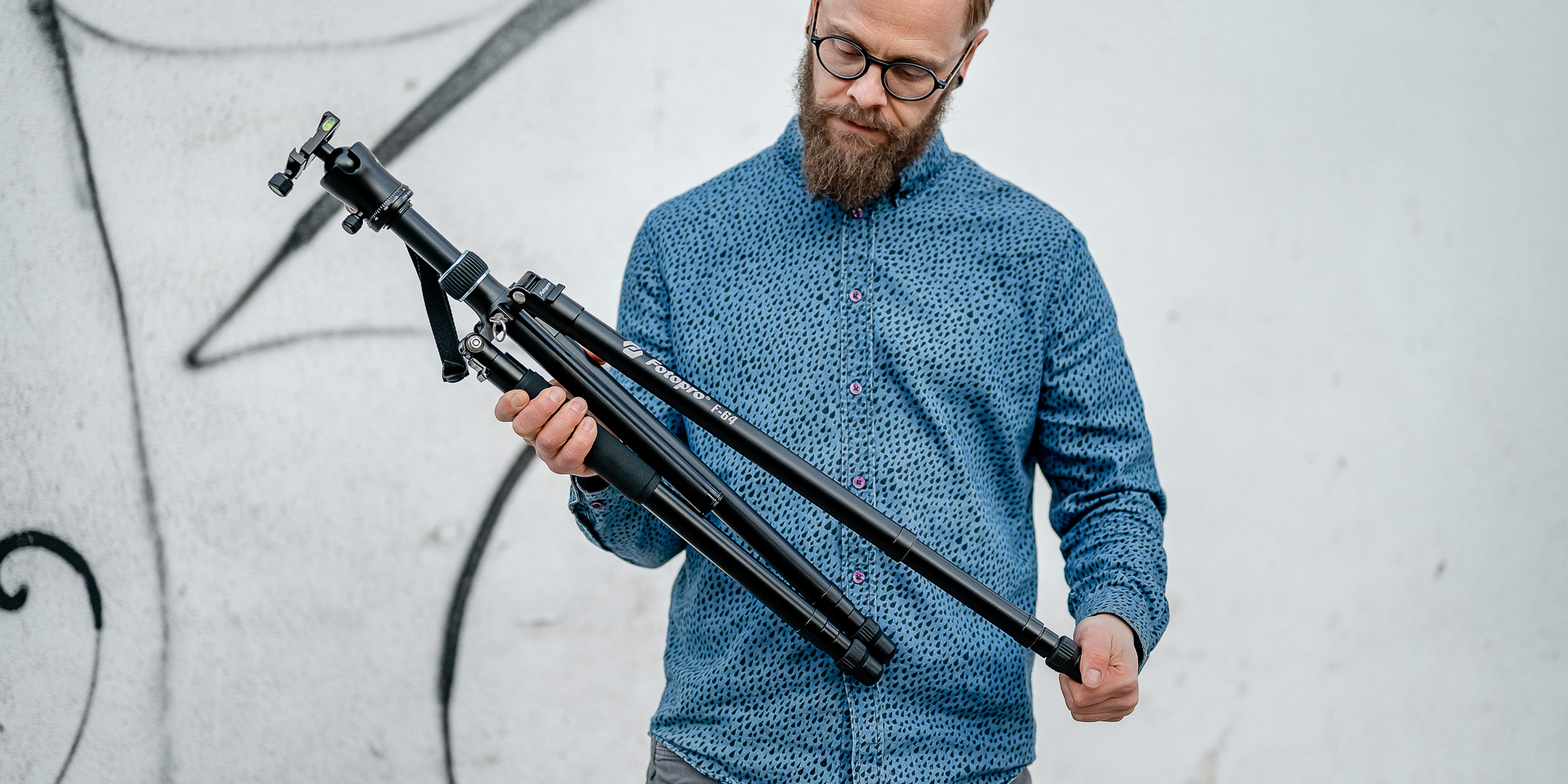 Join the #fotopro family
When setting out on an amazing journey full of unique frames and shots, don't forget to bring a good tripod with you. Share your great photos and videos with us by tagging us on Facebook and Instagram See you on the trail!
Specification
Stand:

Model: Fotopro F-64 I-Speedy
Colour: black
Material: aluminium and magnesium alloys
Minimum working height
Minimum working height: 140 mm
maximum working height: 140 mm
Maximum working height: 1640 mm
maximum working height: 1640 mm
Number of leg sections: 4
Height in transport position: 500 mm
Maximum tripod load: 15 kg
Leg diameter: 28 mm
Weight: 1.67 kg

Head:

Model: Fotopro T5
Ball diameter: 38 mm
Base width: 52 mm
Height: 100 mm
Maximum load: 25 kg
Weight: 0.43 kg
Kit contents
Photopro F-64 I-Speedy tripod with T5 ball head
replacement set of rubber leg pads
hook for weighting the tripod
hook to weight the tripod
bag for tripod
set of keys