Description
Veikk VK1060 Pro is a unique graphics tablet that will take you to the highest level of convenience and comfort with programs like Photoshop, Illustrator, Lightroom, Krita, Gimp, Medibang Paint Pro, Procreate and many more. Unleash your artistic potential and see how much you can achieve with digital painting, sketching, drawing and writing tools. Dive into the magical world of computer graphics and replace your mouse with this elegant pen that is pressure sensitive, tilt sensitive, offers two programmable buttons and doesn't need to be charged! See how convenient it can be to create technical drawings and color images, retouch photos or write handwritten notes directly on your computer screen or smartphone. Use the programmable function keys and revolutionary speed dials to make your work even more convenient. Unleash your creative energy and enjoy the joy of creation with the Veikk VK1060 Pro professional graphics tablet.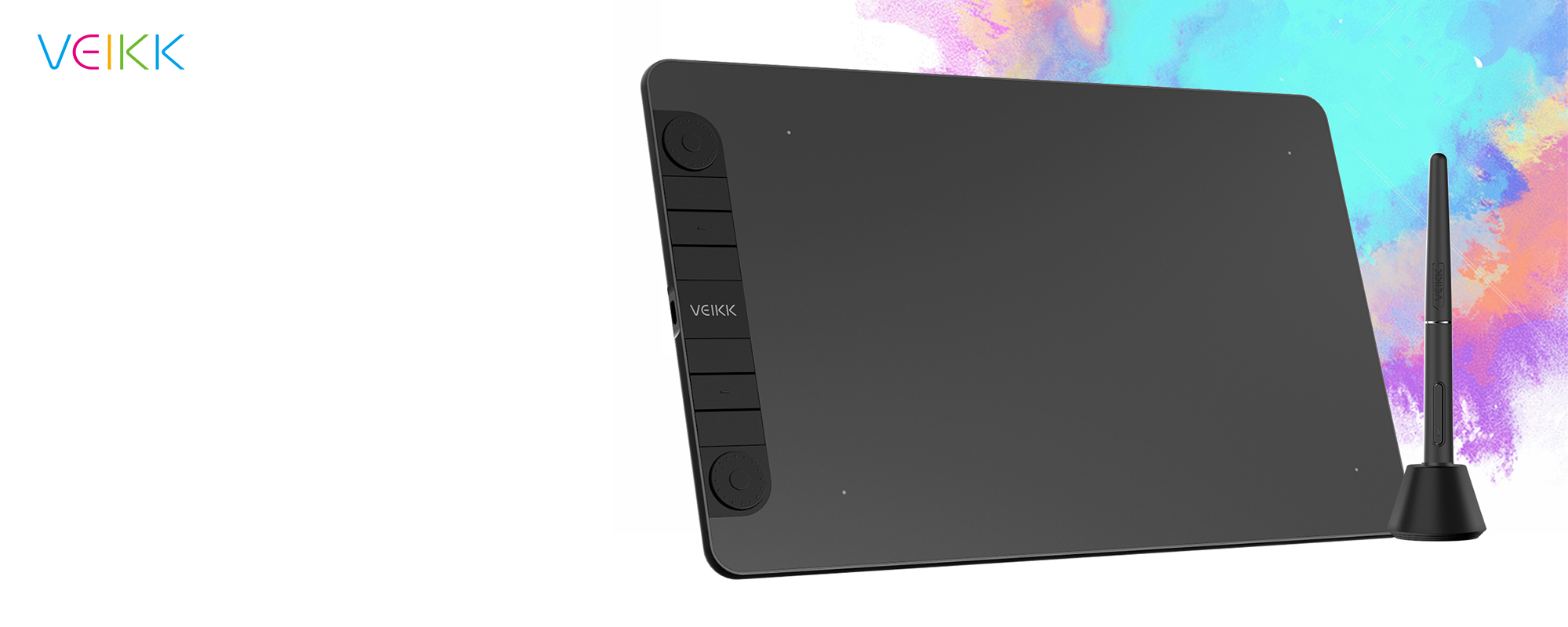 Main features of Veikk VK1060 Pro graphics tablet
large working area of 10 x 6 inches (25.4 x 15.2 cm)
5080 lpi resolution, 250 pps sampling and 8192 levels of pressure sensitivity
6 fully programmable buttons
2 speed dials with 2 additional buttons
Precise and battery-free pen with 2 function keys
Powered by battery and battery
powered by the USB port of the device to which the tablet will be connected
compatible not only with computers (Windows / Mac OS), but also with smartphones and tablets (Android)
support for popular graphics programs (Photoshop, Krita, Gimp, Medibang Paint Pro, Procreate and many others)
like a real paper-sheet!
The Veikk VK1060 Pro graphics tablet offers a large, active workspace of 10 x 6 inches with 5080 lpi resolution. Its matte surface resembles an electronic version of a painting canvas or a sheet of paper. The device transfers all the movements of a special pen to the computer screen. The sampling rate of 250 points per second ensures smooth, lag-free work. It is an ideal solution for people who draw, paint, design or process photos in editing programs. A graphics tablet will also come in handy when you need a digitized version of your signature or a handwriting sample.
New, even better pen
Bundled with the Veikk VK1060 Pro graphics tablet, you'll get the latest version of the ergonomic pen that fits comfortably in your hand and lets you manage virtual pencils, brushes or pens with precision. The stylus does not require a cable or battery so when planning your work, you do not have to worry about the device running out of power. The device senses 8192 pressure levels and also supports tilt detection up to 60 degrees. This allows you to make very accurate sketches and drawings while taking into account the characteristics of the virtual writing and painting tools, which perfectly reproduce how the hand is positioned. There are also two programmable buttons on the cover of the pen. One of them is equipped with a special tab for intuitive and comfortable work. Switching between pens, brushes, pencils or erasers has never been easier!
Excellent work ergonomics
Are you right or left handed? It doesn't matter, because the Veikk VK1060 Pro gives you complete freedom of choice, no matter which way you position it on your desk. The included 1.5m cable, which allows you to power the tablet from a regular USB port, will allow for a comfortable connection. You can configure the device any way you like so that it is comfortable to use regardless of which hand you use for writing or drawing. And thanks to the lightweight and ergonomic design of the new Veikk pen, you won't experience hand fatigue, even after hours of working on your digital masterpieces.
Assign any function to buttons
The Veikk VK1060 Pro features 8 programmable buttons. You can assign the most frequently used shortcuts and functions in your favorite graphic programs. You don't have to click the icon in your virtual toolbox every time. Once you have programmed the appropriate shortcuts, you simply change the function using the buttons located next to the tablet workspace! An additional 2 buttons are located on the wireless pen. This gives you tremendous customization options to make your daily work in graphics, editing and editing programs faster and easier.
Magic dials
The Veikk VK1060 Pro graphics tablet features two programmable dials that redefine what it means to be comfortable with graphics programs. With Quick Dial technology, zooming in and out or changing brush thickness is just a finger swipe away. Simply assign specific tools to the buttons in the center of the circular controllers, then manage your selection by spinning the wheel left or right. The gentle clicks and tabs found on the dials will make it even more convenient for you to use the tools in programs like Adobe Photoshop, Lightroom, Illustrator or Krita.
Personalization and multiplatform
At www.veikk.com you will find all the necessary drivers and tools to quickly and conveniently pair the Veikk VK1060 Pro tablet with the devices of your choice (including Mac OS). If you're running Windows, you can install a special application to personalize tasks for individual knobs and buttons and adjust pen sensitivity. The tool also allows you to assign sets of different settings to individual computer programs (e.g. Adobe Photoshop, Illustrator, Krita, Gimp and many more). The Veikk VK1060 Pro is one of the few professional graphics tablets on the market that offers connectivity to OTG-enabled Android devices. All you need is a USB-C or micro USB input – appropriate adapters are included!
Professional tool kit
Veikk made sure that the box with the VK1060 Pro graphics tablet includes all the necessary accessories for comfortable work – anywhere and on a wide variety of devices. The special stylus stand helps to better prepare the graphic designer's station by providing quick access to spare pen nibs and a convenient way to replace them. It also comes with a designer pouch to protect the stylus. It is also multiplatform. Thanks to special adapters, your work does not have to be limited only to your computer. Yes, the Veikk VK1060 Pro is easily connected to your smartphone or tablet!
Specification
Model: Veikk VK1060 Pro
Active work area: 25.4 x 15.2 cm (10 x 6″)
resolution: 5080 LPI
Pressure sensitivity levels: 8192
sampling rate: 250 pps
interface: USB-C
reading height: 10 mm
buttons on tablet:

6 programmable buttons
2 speed dials with buttons
touchpad

Veikk pen:

pressure-sensitive
wireless
battery-free
2 programmable buttons
Pitch detection up to 60°
Tilt sensitivity

Dimensions: 340 x 213 x 9 mm
weight: 569 g
Compatibility
Windows 10 / 8 / 7 (32 / 64 bit)
Mac OS 10.12 or later
Kit contents
Veikk VK1060 Pro graphics tablet
Veikk battery-free pen
fabric pen case
replacement pen nibs
removal tool for cartridges
Pen stand (holds 8 replacement nibs, comes with integrated tool for nib replacement)
USB-C cable (USB-C cable)
USB-C (male) / USB-A (male)
cable
USB-A (female) to USB-C (male)
adapter
USB-A (female) to micro USB (male)adapter