Description
The Redleaf IP Home Cam 100 WiFi camera is a proven way to monitor your home, selected rooms, offices, warehouses, restaurants or any other space you want to keep an eye on 24 hours a day. With the special YCC365 PLUS app created for iOS or Android smartphone users, you can observe a specific location from anywhere on Earth. Thanks to the high image resolution and support for night mode, which enables infrared recording, you can be sure that the recorded video will always be clear and very detailed; regardless of the time and lighting conditions. The camera is ideal wherever you care about the safety of loved ones and protection of property. Its watchful eye will catch any suspicious sound or movement and immediately trigger an audio alarm or send a notification directly to your smartphone. If necessary, you can also remotely control its movements and observe live every inch of the monitored space. The device supports Micro SD TF cards with a capacity of up to 128 GB. Such space will provide you with archiving of up to 32 days of recorded video. The camera also includes a speaker and microphone. This way you can not only control the selected space, but also conveniently communicate with your family or employees. Take care of your mental comfort and ensure the safety of your loved ones. Choose the Redleaf IP Home Cam 100 WiFi home surveillance camera and keep an eye on the places that are important to you wherever you have access to the internet – whether from your smartphone or a web browser!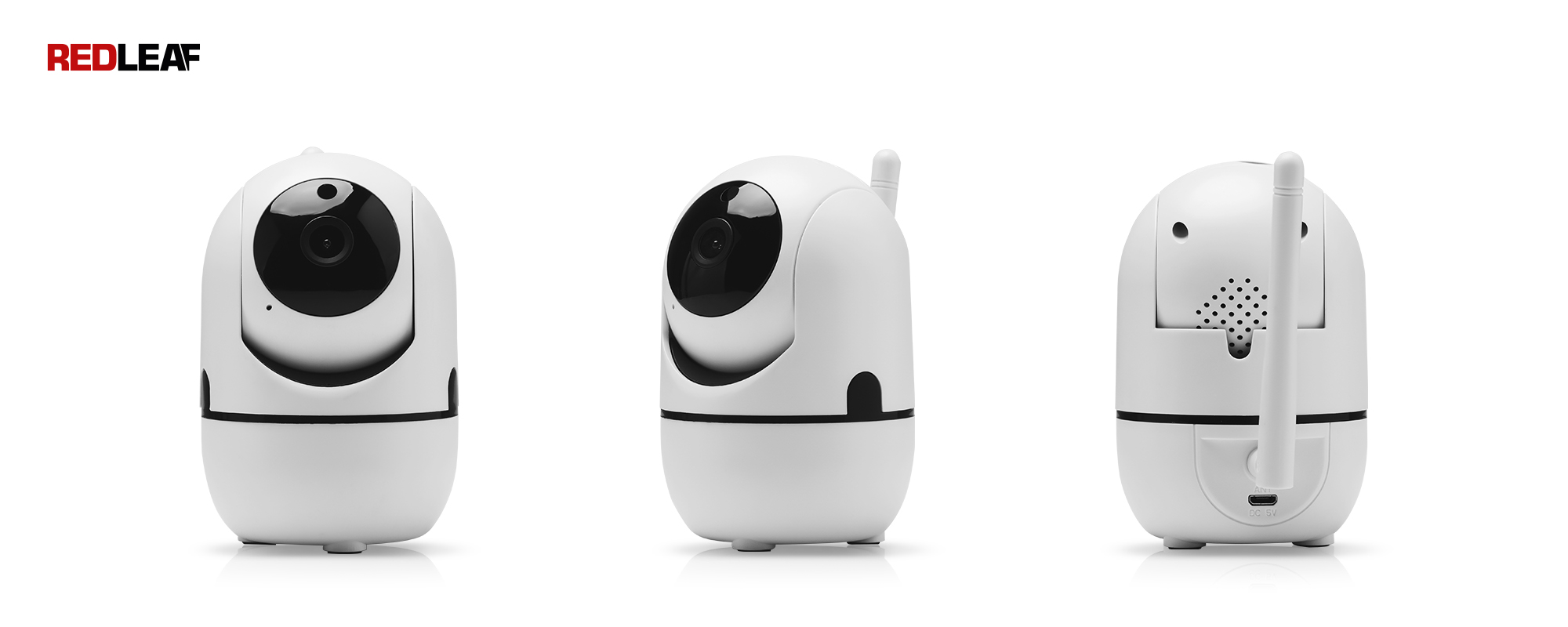 Main Product Features
Full HD resolution
two-way audio communication
remote control of the camera vertically and horizontally (PTZ) from a smartphone
direct control of the camera from a smartphone
real-time viewing on mobile devices
recording and reading from a smartphone
Recording and reading video from within the app
Night mode for night vision
nocturnal mode for high quality infrared image recording
recording on mobile devices
recording and reading from the app
Micro SD card support up to 128 GB
automatic video detection
automatic motion detection with smartphone notification function
acoustic alarm system
acoustic alarm system
automatic motion tracking mode
350° rotatable head for blind spot-free image capture
quick and easy configuration
a single, two-dimensional camera head
quick and easy setup
support for iOS and Android
Excellent image quality
If you've ever had to identify on film uninvited guests who have trespassed on your home or business premises, you surely know that image quality is one of the most important parameters to pay attention to when choosing a surveillance camera. Full HD resolution offered by Redleaf IP Home Cam 100 is a guarantee of clear video footage, in which you can easily recognize key details. The high image quality will allow you to conveniently supervise places such as offices, stores, warehouses or restaurants. Thanks to the Full HD resolution, your videos recorded at home will also become a great reminder of the first steps of your child or the habits of your pets left unattended.
Remote access from anywhere
For convenient access to recorded video footage or real-time camera viewing, simply install the YCC365 PLUS app on your iOS or Android smartphone. Thanks to QR code technology, pairing the devices will only take a few seconds! After connecting the camera with your smartphone, you can quickly and effectively position the camera in the desired direction, view the recorded video, conveniently talk to people in the monitored room, and configure the camera settings according to your needs. But connectivity with the application is not all! After creating an individual account, the view will also be possible from any web browser on your computer!
Keep an eye on everything
The Redleaf IP Home Cam 100 is designed in such a way that there is no place for "blind spots" in the monitored space. All thanks to a wide-angle lens and a large range of movement of the rotating head, moving 350° horizontally and 110° vertically. At any time you can reach for your smartphone with the installed application for remote control and viewing and in real time analyze every inch of the house, office or warehouse where the device is located.
Perfect night visibility
When you choose the Redleaf IP Home Cam 100, you ensure that you have excellent visibility not only during the day, but also at night. All thanks to 10 infrared LEDs, which guarantee high quality images recorded in the dark, from up to 10 meters away! Whether you are monitoring your child's bedroom or checking if anything suspicious is going on at your company's headquarters after working hours, you can be sure that even in the dark you will not miss a single detail!
Fast and Easy Setup
Nowadays, you no longer have to worry about installing and configuring your surveillance system requiring expert support. The Redleaf IP Home Cam 100 will connect to your home network wirelessly, and the whole process will only take a few minutes. Once connected to the YCC365 PLUS app, you will configure all the necessary settings from your smartphone.
Sensitive to every movement
The Redleaf IP Home Cam 100 has a built-in motion detection mode. The device will automatically send you an alert whenever something suspicious happens in the room. Additionally, with the "auto tracking" feature, the camera can independently follow the movement identified in the footage. This way you can be sure that an intruder who has entered your premises will not be able to hide, and his every step will be captured on the recording in Full HD resolution.
Convenient video recording on memory cards
If live viewing is not enough for you, you can insert a memory card of up to 128 GB in the Redleaf IP Home Cam 100, thus gaining the ability to record video footage that you can play back at any time by indicating the specific day, hour, minute and second of recording. Such a huge data space allows you to archive videos recorded up to 32 days back!
Two-way voice communication
The Redleaf IP Home Cam 100 is not only about watching the places that are important to you, but also about two-way voice communication, which is provided by a high-quality speaker and microphone. They allow you to talk in real time to your children who are left alone at home or give directions to employees who are in another part of the company. Thanks to the use of high quality components and modern technologies, you can be sure that you will be heard loud and clear.
Hourly protection and security
The device is equipped with an alarm system that reacts not only to movement, but also to sound. If there is unusual or unwanted activity in the monitored area, a sound signal will be activated to deter intruders. If you want discretion, you can take advantage of notifications that will be sent to your smartphone as soon as motion or sound is identified within your office, home, store, restaurant or warehouse.
Modern Design
The neutral black and white finish of the Redleaf IP Home Cam 100 makes the device fit perfectly into any interior. Compact size will help maintain discretion, and the modern streamlined shape will make the small module successfully find its place on bedside tables, shelves or cabinets located in the living room.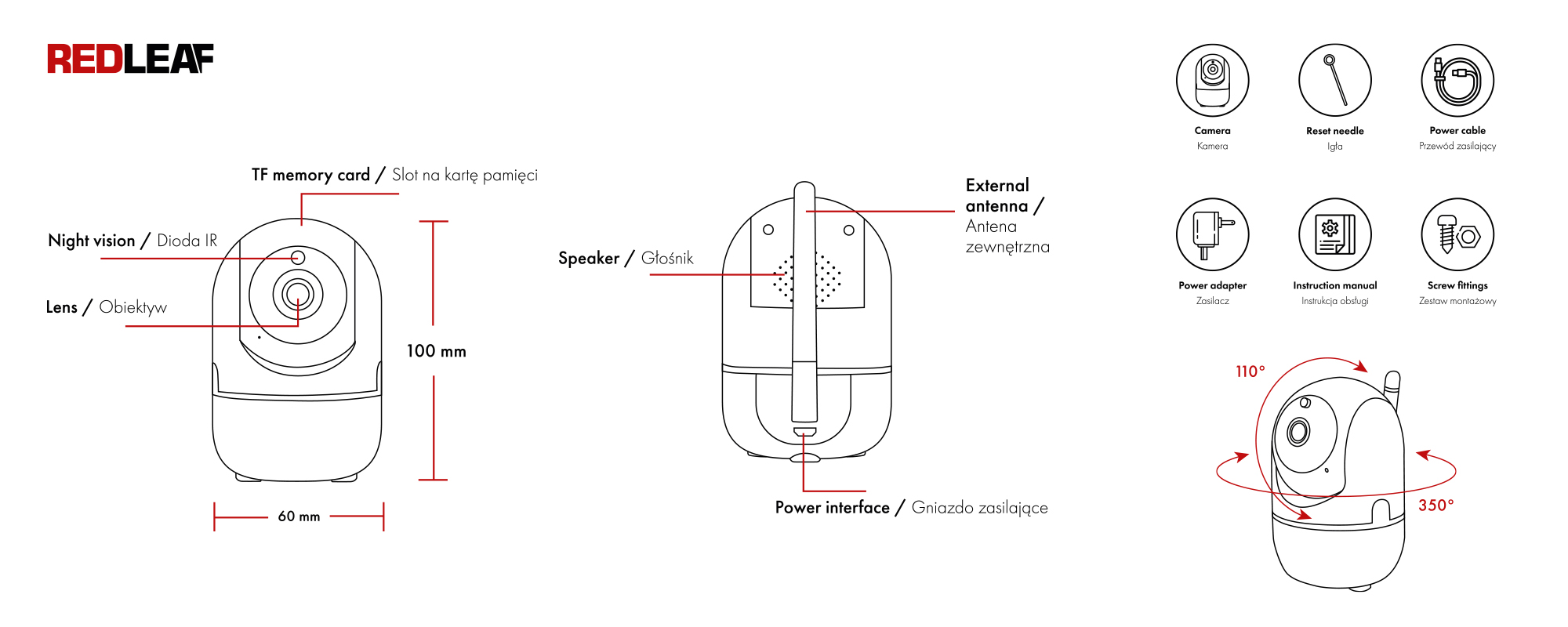 Keep an eye on your loved ones
WiFi camera for home monitoring Redleaf IP Home Cam 100 will successfully prove itself wherever your loved ones need special care. With high quality images, motion detection, two-way voice communication and filming in the dark, you can successfully use it in the bedroom of a newborn baby or while caring for the elderly. The device will also be perfect for all owners of dogs and cats who want to have more control over pets left at home unattended.
Easy and convenient installation
When you choose the Redleaf IP Home Cam 100, you also get a special mounting kit. This way you don't have to worry about buying studs and screws on your own. And if you don't want to install the camera on the wall or ceiling, just set it on a table, shelf or cabinet. Soft plastic-covered feet will provide stability, and the streamlined shape of the device will find its way into any room.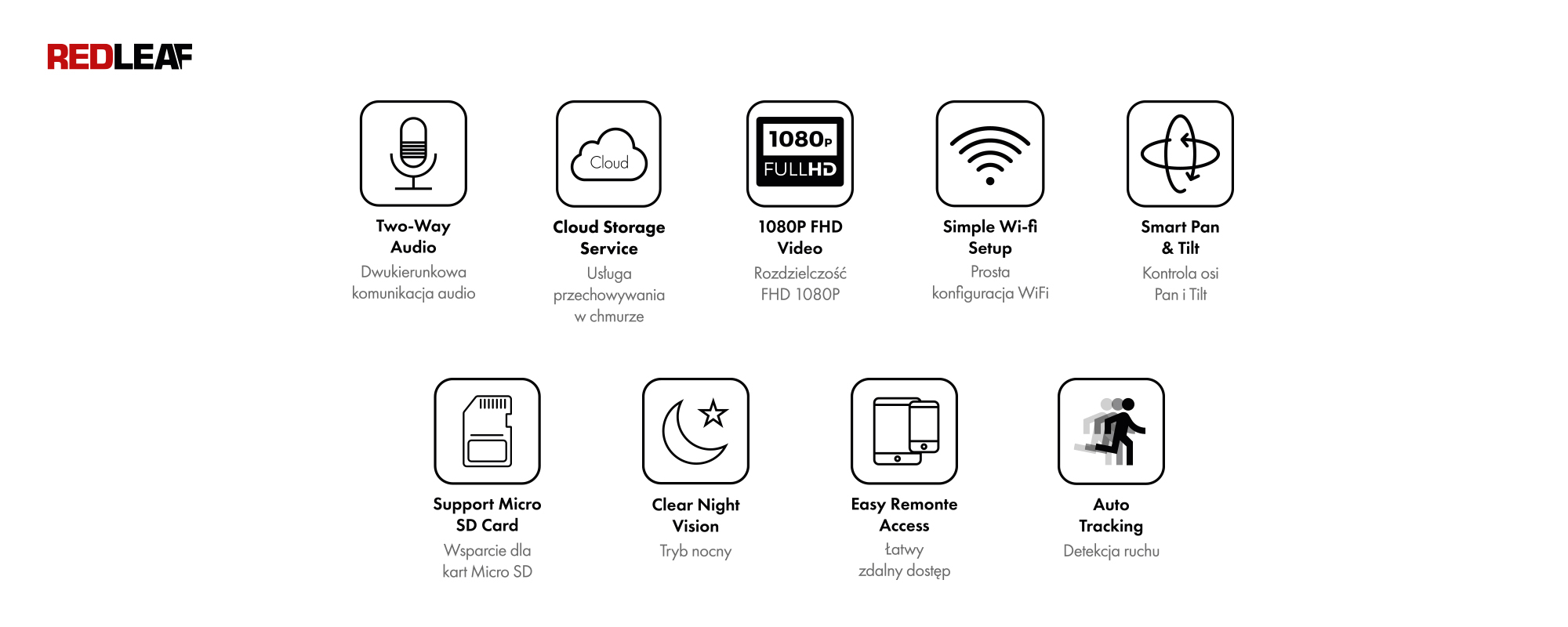 Specification
Model: Redleaf IP Home Cam 100
camera:

resolution: 1920 x 1080 px

head motion:

horizontal range: 350°
vertical range: 110°

Night vision:
audio

microphone
built-in speaker

communications

two-way audio communication
push notifications sent to a smartphone when motion is detected
movement detection
micro USB connection

other

Support for Micro SD TF card: up to 128 GB
Support for Micro SD TF card: up to 128 GB
Dimensions: 100 x 60 mm
Dimensions: 100 x 60 mm
Compatibility
Free YCC365 PLUS app available for mobile devices (Android, iOS)
Kit contents
Redleaf IP Home Cam 100 WiFi home monitoring camera
power cable
power supply
mounting kit
needle for easy camera reset