Description
WiFi surveillance camera Redleaf IP Cam 1002 will prove useful wherever you want not only excellent image quality and remote access from a smartphone, but also good lighting of the monitored area after dark. The device is equipped with a set of LEDs located around the lens, as well as two side LED lamps with a total power of 2000 lumens, which provide visibility at a range of 20 meters. The camera has been equipped with microphone and speaker allowing two-way audio communication. The manufacturer has also taken care of the alarm system, which will send an appropriate notification to the smartphone or trigger a loud beep. Due to resistance to harsh weather conditions (IP66), the device can be installed not only indoors but also outdoors.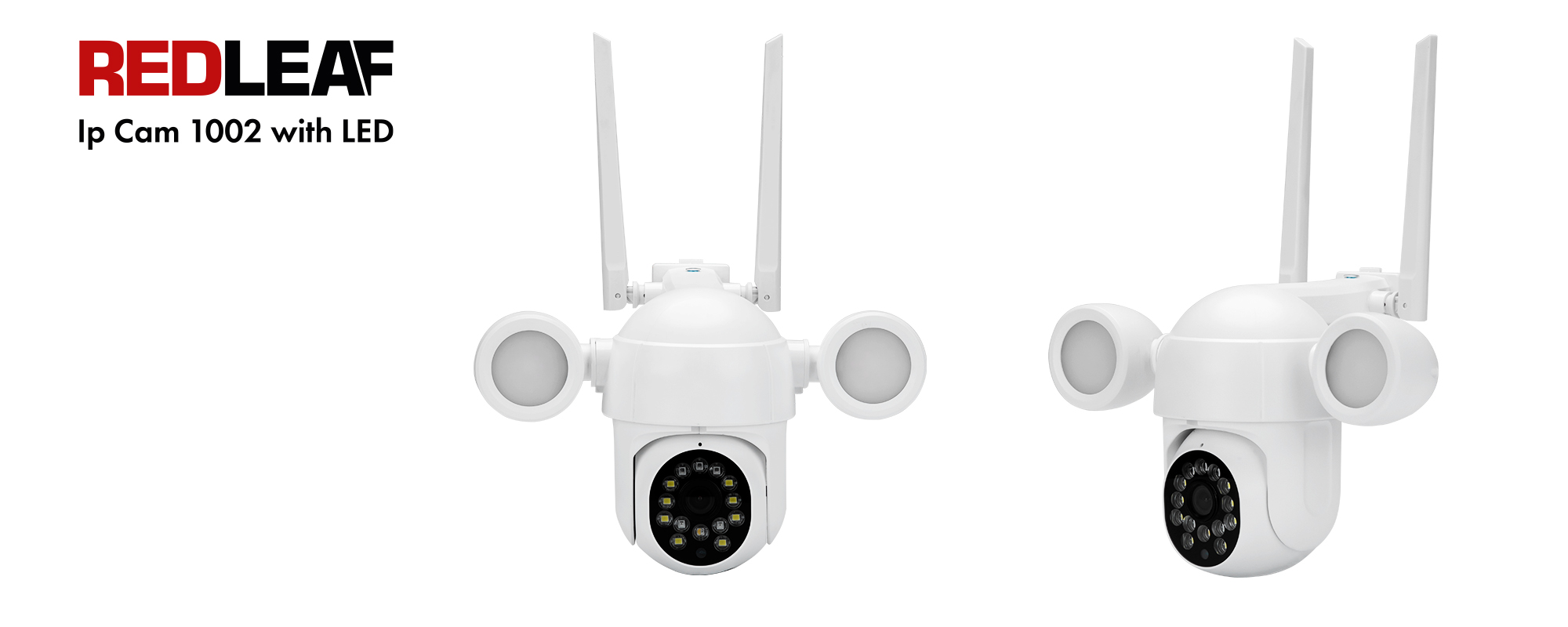 Main Product Features
WiFi camera for indoor and outdoor surveillance
Full HD (1920 x 1080 px) resolution
Total resistance to dust, rain, and snow (IP66)
Two side LED lights with 2000 lumens, providing visibility at a range of 20 meters
6 infrared LEDs + 8 white light LEDs (arranged around the lens)
3 night modes (infrared, color image and Smart Night Vision responding to motion)
Pivoting head with 355° (Pan) and 90° (Tilt)
the ability to control camera movements from a smartphone
loud audible alarm activated by motion detector
Recording option on Micro SD cards
Directional video recording
two-way audio communication (built-in microphone and speaker)
capture and readout of video from the smartphone
Recording and reading of video from within the application
Motion detection
motion detection with the possibility of tracking an object changing its position
information about identified movement sent as a notification to smartphone
easy WiFi configuration from the mobile application
wide compatibility (Android, iOS, Windows)
easy WiFi configuration from the mobile application
Great quality video recording
Image quality is one of the most important parameters of a good surveillance camera. Full HD resolution offered by the Redleaf IP Cam 1002 ensures detailed viewing, regardless of the time of day. High image quality will provide comfortable surveillance of places such as houses, warehouses, offices, stores or building plots. The mobile application allows you to additionally zoom in on a selected area of the frame, without having to use additional editing tools. Thanks to that, you will have an even better look at the important details or people that have been captured in the video footage.
A well-lit property
When you choose the Redleaf IP Cam 1002, you not only get a versatile surveillance tool, but also a robust light source that automatically activates after dark to provide optimal illumination of the selected area. The device is equipped with two LED lamps, which you can set at an angle that suits you. They provide light with a power of 2000 lumens. Thanks to this, your property can always be bright, and you do not have to remember to start the lamps every day!
Color-image-recorded-after-dark
When you choose the Redleaf IP Cam 1002, you ensure that you have excellent visibility not only during the day, but also at night. The infrared LEDs ensure high quality images recorded in the dark. What is important, the device allows you to capture not only the characteristic black and white frames recorded with IR technology. White diodes surrounding the lens allow to illuminate the scene and record video in color. The camera also offers a special Smart Night Vision mode that automatically starts recording color video when motion is detected.
Motion Detection
With the Redleaf IP Cam 1002, you can take real action whenever the device identifies motion in the monitored area. All thanks to an alarm system that you can customize according to your needs. The camera can send you a discreet notification to your smartphone or trigger a loud alarm signal. An additional convenience is the function of tracking moving objects. Thanks to it, identifying an intruder and watching his actions will be even easier!
There's 24/7 monitoring
The Redleaf IP Cam 1002 WiFi camera gives you convenient access to real-time video footage recorded from within the app. You can reach for your smartphone at any time and check what is happening in the monitored area. In addition, the app allows you to create work schedules that activate the LEDs surrounding the lens at specific times. In the same way, you can also schedule when to activate alarms (triggered by motion sensors), whether in the form of discreet notifications to your smartphone or a loud beep.
Recording video on memory card
A notification system and real-time viewing are not all that the Redleaf IP Cam 1002 with LED light offers when it comes to surveillance. You can also install a memory card in the device, thus gaining access to footage recorded in previous hours, days, or even weeks! All you have to do then is point to a specific point in time, and every event recorded in the monitored area that was captured on the small Micro SD TF media will become available as a video file.
Directional Voice Communication
The built-in microphone means that while monitoring a selected room or area, you can also hear all the sounds that occur in that location. However, that's still not all! Thanks to the mobile app and the speaker, which the camera is equipped with, you can talk to people who are near the device. In this way, you can effectively give directions to your employees, surprise your family with an unexpected greeting or, if necessary, scare away unauthorized people who have appeared on your premises.
Resistant to dust, rain and snow
The Redleaf IP Cam 1002 WiFi Surveillance Camera with LED Light meets the IP66 waterproof standard, so you can worry-free install it anywhere it might be exposed to harsh weather conditions. Regardless of the weather, the device will always be ready for action. It is designed in such a way that rain, snow and dust do not affect its operation!
Remote Camera Control
An app designed to capture video from the camera will also allow for remote motion control. The touch controller will allow you to move the head within the Tilt (90°) and Pan (355°) axes, in real time. This way you will not miss any corner of the monitored area. From the application you can also configure certain actions, so that in a few seconds the camera automatically moves to the desired position. The smartphone will also allow you to remotely trigger an alarm or activate the LEDs around the lens.
Quick setup process
It only takes a few minutes to connect the camera to your network and configure its settings to suit your needs. Simply download the Yoosee mobile app (Android/iOS) and use it to scan the QR code located on the housing of the device. The platform will guide you through the setup process step by step, and an intuitive menu will make it easy to activate selected functions. If necessary, the camera can also be connected to a router using an Ethernet cable, which can be found next to the power cable. Support for NVR and CMS technologies allows you to pair the devices with PC surveillance software.
Convenient installation right out of the box
Included with the Redleaf IP Cam 1002, you'll find a mounting kit that includes the necessary screws, screwdriver, and other accessories to install the device on the wall. This way, right after unpacking the box, you can start installing it. Ergonomic hanger attached to the wall will allow you to remove the camera in a convenient way if necessary, and its soft finish will protect its surface from abrasion or scratches.
Specification
model: Redleaf IP Cam 1002
input: AC 100-240 V
output: DC 12 V / 2 A
application: indoor and outdoor
camera:

sensor: GS2263 2MP
type of sensor: CMOS
resolution: 1920 x 1080 px
video compression standard: H.265
minimum illumination: 0.01 lux
lens focal length: 4 mm
lens viewing angle: 89°
exposure control: automatic

head movement:

horizontal range: 355°
vertical range: 90°

Night vision:

visibility: up to 20 metres
infrared light diodes: 6
white light diodes: 8 (+ 34 diodes in side lamps)
IRCUT.
IRCUT: intelligent infrared switch

audio:

microphone
built-in speaker

network:

supported protocols: TCP/IP, UDP, P2P, DNS, DHCP, RTSP, ONVIF
two-way audio communication
RJ45 connector

other:

push notifications sent to a smartphone when motion is detected
Support for Micro SD TF cards
Motion detection
motion detection
audio alert
object tracking

operating temperature: – 20°C – 60°C
Protected against moisture and dust: IP66
Dimensions: 205 x 130 x 135 mm
weight: 394 g
Compatibility
free Yoosee app available for mobile devices (Android, iOS)
computer monitoring software (NVR, CMS)
ONVIF docking applications (operating on the same LAN)
Kit contents
Redleaf IP Cam 1002 WiFi surveillance camera with LED light
mounting kit
cable cover
network adapter