Description
The Saramonic Blink900 B2 Wireless Audio Transmission Kit (RX + TX + TX) was developed for audio recording, using devices such as cameras, camcorders, smartphones, tablets, recorders or computers. The handy microports included in it will also prove useful during stage performances when the receiver is connected to a mixer. The devices will be appreciated by web creators, youtubers and people conducting webinars. The small microports with built-in LCD screens will ensure an impressive transmission range of up to 200 m. Depending on your needs, you can use the microphones built into the transmitters or the included Saramonic DK3G tie microphones. You can easily charge the devices using the protective case that also serves as a 3-channel charger.
Main Product Features
wireless audio kit with 1 receiver and 2 transmitters
compact size and ultra-lightweight
compatible with devices equipped with mini Jack 3.5mm (TRS and TRRS), Lightning and USB-C sockets
a "plug & play" receiver ideal for audio recording with audio recorders, smartphones and tablets (Windows, macOS, Android, iOS), computers and audio interfaces
ideal for web developers, journalists or online lecturers
Specially designed protective case for charging 2 transmitters and 1 receiver simultaneously
Auto Gain mode
Auto Gain mode
low pass filter with 3 operating modes (160, 120 and 80 Hz)
2 compact transmitters with built-in microphones and clips for attaching to clothing
2-channel receiver with 3.5 mm mini-jack audio output
Capable of connecting a microphone to the transmitter
possibility to connect headphones to the receiver and monitor the sound in real time
microports equipped with LCD screens providing a bright and clear picture
automatic screen brightness adjustment mode (from 1 to 10)
included 2 high quality tie microphones (Saramonic DK3G)
6 hours of continuous operation of 2 transmitters and 1 receiver on a single charge
possibility to choose between STEREO / MONO in receiver settings
up to 200 metres range
high quality transmission and sound
One set, dozens of applications
The Saramonic Blink900 B2 is a modern and versatile wireless audio transmission kit consisting of a receiver, 2 transmitters, a case that functions as a charging station and a range of useful accessories. Compact microports enclosed in housings equipped with colour LCD screens are perfect for interviews, reports, vlogs, live broadcasts, webinars, remote lectures or filming weddings. With its light weight, ergonomic design and simple operation, the Blink900 B2 will be an ideal choice for both professionals and novice filmmakers.
Ideal for video makers
Microports included in the set are equipped with clear, colour LCD displays. They allow you to conveniently monitor transmission parameters. The transmitters also offer "mute" buttons, which mute the recorded sound with one click. All these facilities are ideally suited to the work of vloggers and video makers, who gain convenient access to audio settings. The signal range reaches up to 200 metres! Thanks to this, the recorded people can move freely with the microports over a large area, and high quality sound will be recorded without any interference.
Audio recorders, smartphones, tablets and computers
The Saramonic Blink900 B2 wireless audio kit is all you need to comfortably record high-quality audio with dozens of different devices. Android smartphones, iPhones, iPads, computers (macOS and Windows), audio recorders, cameras, camcorders, audio interfaces and mixers – the choice is truly enormous! Importantly, you don't need to buy any additional adapters. You will find cables in the kit which will ensure proper connectivity with your devices.
6 hours of continuous operation
A fully charged set consisting of 1 receiver and 2 transmitters will give you 6 hours of uninterrupted operation. This allows you to record several episodes of your YouTube show, a long interview or a day-long trip report in one day without any rush. The innovative charging system is also worth mentioning. A special case not only protects the microports, but also allows you to replenish their power in a convenient way. A fully charged case guarantees as much as 3 full charges for the receiver and transmitters!
Customised recordings
When recording audio with the Saramonic Blink900 B2 kit, you can switch independently between stereo and mono modes. If necessary, you can quickly and conveniently split tracks into separate channels. This will give you more control over material recorded with two different microphones, at the post-production stage! A great convenience is also the flexible signal gain adjustment from 0 to 6. Thanks to the "Auto Gain" function, the signal can be optimised automatically.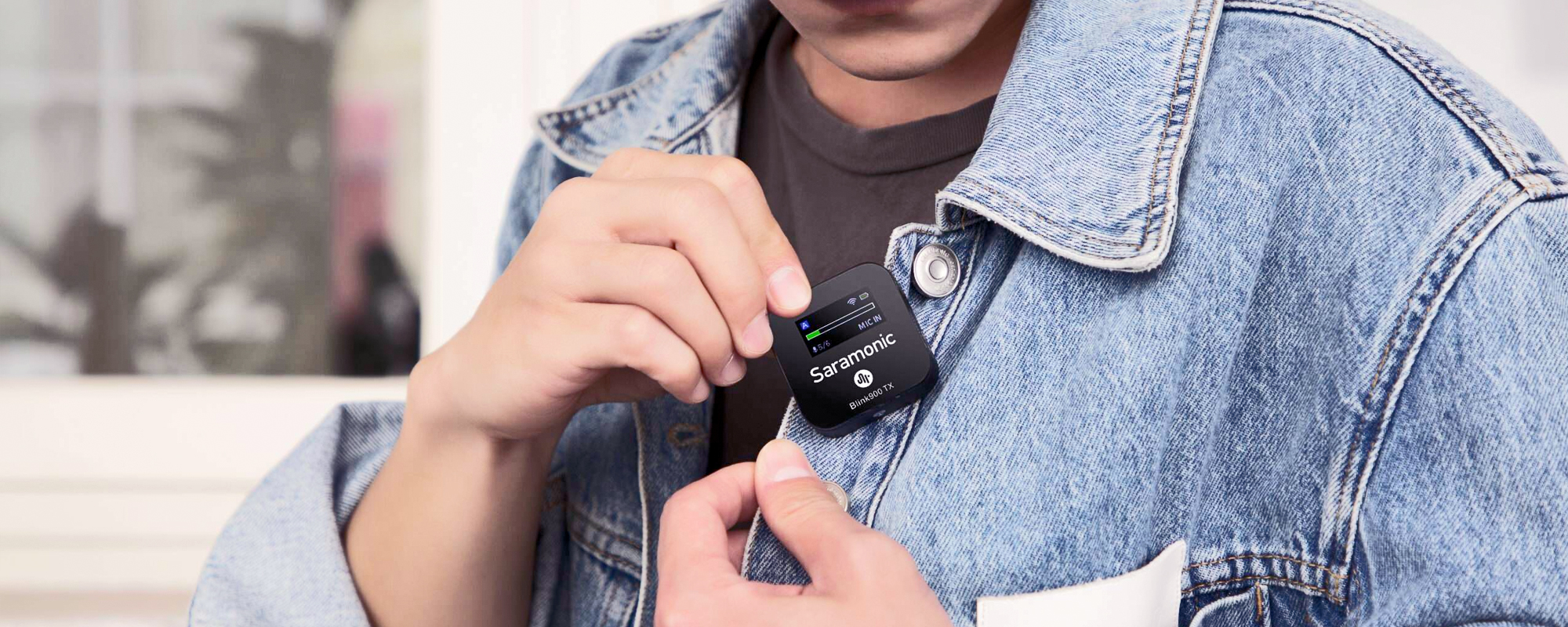 Professional monitoring
The receiver is equipped with a 3.5mm mini jack socket, which will allow convenient connection of headphones. Monitoring of recorded interviews, conversations and speeches will enable effective catching of crackles, noises or unwanted sounds, which often cannot be heard during work without listening. It will also be a great way to eliminate mistakes or slip-ups. By monitoring your recordings with headphones you have more control over the material you are making!
Tie microphones included
The transmitters included in the Saramonic Blink900 B2 kit have built-in omnidirectional microphones. The ergonomic clip allows you to attach them to your clothing, so you'll be ready to record in seconds! But that's not all. You'll also find the high quality Saramonic DK3G tie microphones included. This will be the perfect choice for those who want to keep the transmitters out of sight in the frame. This solution will allow you to record sound as close as possible to the people speaking.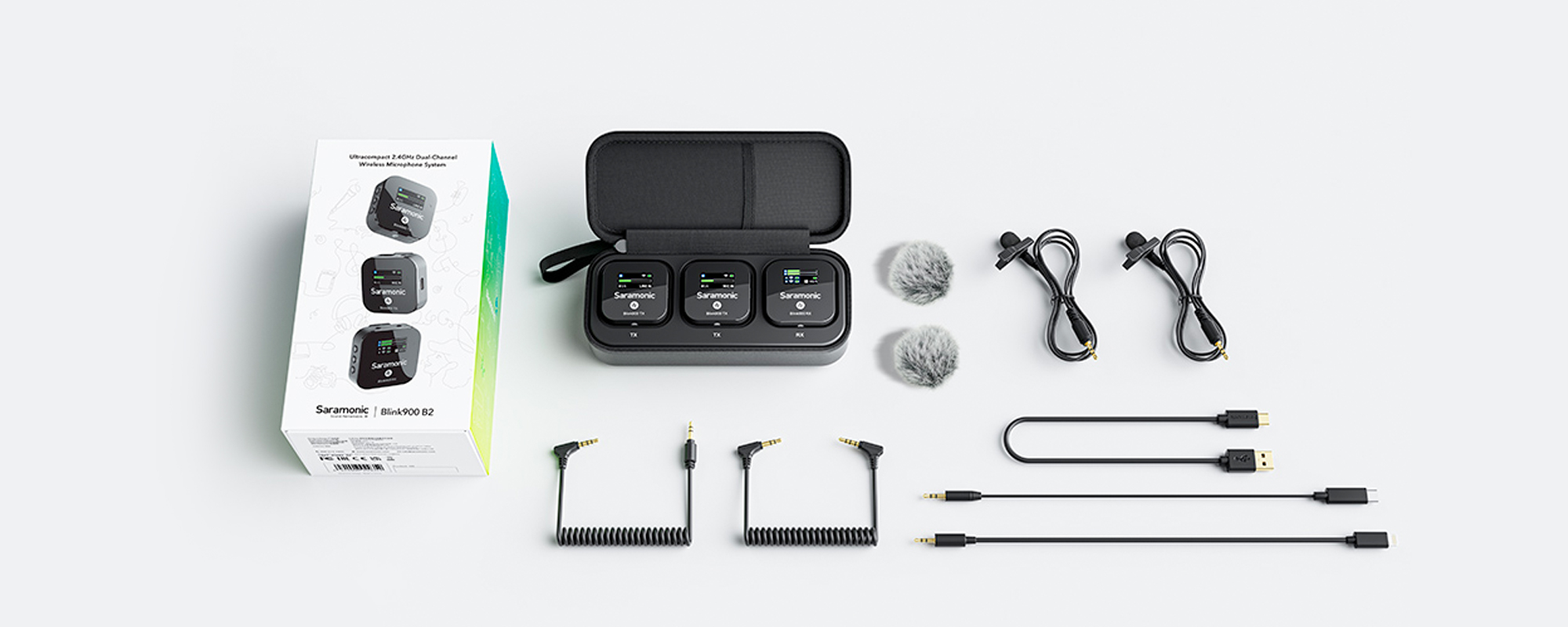 Specification
model: Saramonic Blink900 B2 (RX + TX + TX)
colour: black
Saramonic Blink900 RX receiver

digital transmission: 2.4 GHz
range: up to 2.5 GHz
Range: up to 200 metres
bandwidth: 20Hz – 20 KHz
maximum sound pressure level: 100 dB SPL (1 kHz @ 1 m) dBu
signal-to-noise ratio (SNR): > 80 dB
sampling rate: 48 kHz
bit rate: 24 bit
cross-talk: ≤ 0,1 %
crossfading: ≤ 0,1 %
audio outputs: headphones (3.5 mm mini Jack), 3.5 mm (TRS)
power supply: built-in rechargeable battery (450 mAh)
operating time on one charge: 6 h (operation with two transmitters)
antenna: PiFA
dimensions: 46 x 46 x 16.4 mm
weight: 35.3 g

Saramonic Blink900 TX transmitter

microphone: built-in (4 mm capsule)
directional characteristic: directional
directional characteristic: omnidirectional
digital transmission: 2.4 GHz
range: up to 2.5 GHz
range: up to 200 metres
bandwidth: 20Hz – 20 KHz
maximum sound pressure level: 100 dB SPL (1 kHz @ 1 m) dBu
signal-to-noise ratio (SNR): > 80 dB
sampling rate: 48 kHz
bit rate: 24 bit
cross-talk: ≤ 0.1 %
crossfading: ≤ 0.1 %
audio output: mini Jack 3.5 mm (TRS microphone/linear)
Power supply: power supply
Power supply: built-in rechargeable battery (400 mAh)
operating time on a single charge: 6 h
antenna: PiFA
dimensions: 43.5 x 43.5 x 16.4 mm
weight: 33.6 g

Saramonic Blink900 B2 charging kit BOX

Power supply: USB-C (5 V / 1.5 A)
Battery capacity
battery capacity: 4500 mAh
charging time: < 4 h
dimensions: 186 x 87.2 x 51 mm
weight: 278 g
Kit contents
1 x Blink900 RX receiver
2 x Blink900 TX transmitter
1 x Blink900 B2 BOX charging case
2 x Saramonic DK3G tie microphone
2 x Blink900 TX charging case
2 x deadcat wind shield (for the microphone built into the transmitter)
2 x Saramonic DK3G tie microphone
2 x deadcat wind shield (for tie microphones)
2 x microphone clip
1 x USB-A / USB-C cable
1 x 3.5 mm TRS / TRS cable
1 x 3.5 mm TRS / TRRS cable
1 x 3.5 mm TRS / USB-C cable
1 x 3.5 mm TRS / Lightning cable