Description
Yongnuo LUX160 LED flash is a powerful source of continuous light, which is ideal for filming and shooting sets. With the additional power supply of V-Mount batteries you can use it not only in the studio but also outdoors. Advanced LED COB technology allows to obtain a steady stream of light at the level of nearly 25,000 lumens. LUX160 offers stepless power adjustment, color temperature 5600 K and a wide beam angle of 110º. There are also 12 theme modes. In combination with the included softbox and grid, it gives great opportunities to create the atmosphere of countless shots and frames. The flash can be controlled remotely both with a detachable remote control, as well as through a smartphone app.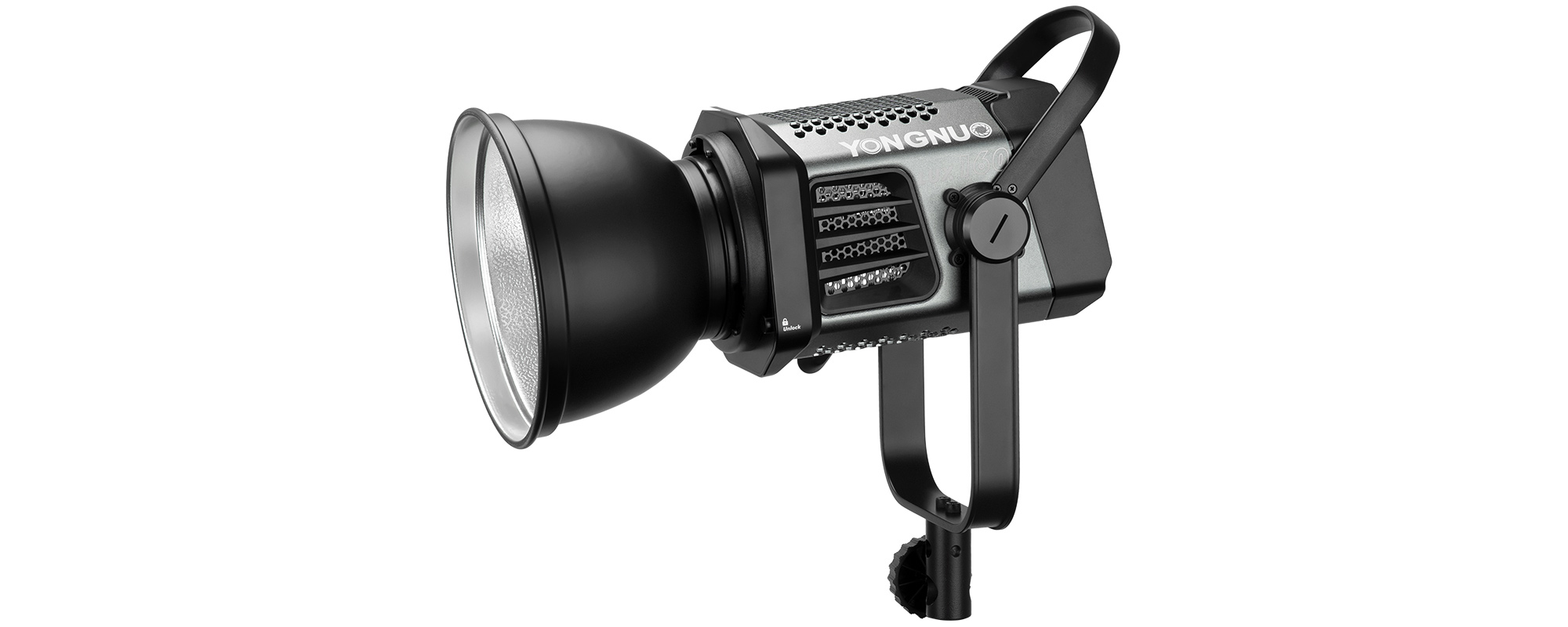 Main Product Features
LED COB technology enabling a luminous flux of 24480 lm
12 built-in lighting effects (thematic modes) extending the creative use of the lamp
maximum light intensity of 35100 lux
adjustable color temperature 5600K
Bowens system adapter for connection of popular light modifiers
removable control module
removable lamp control unit which functions as a remote control
support for Yongnuo mobile app (iOS/Android) for remote lamp control
the ability to power the flash with V-Lock / V-Mount batteries
operate in a lighting kit on one of 256 channels
3 cooling modes (silent, standard and efficient)
bag with strap for easy carrying
bag with shoulder strap included
Universal source of powerful light
Are you looking for a powerful lamp for your photo set? Or maybe you care about versatile possibilities and convenient adjustment of color temperature and light intensity? The Yongnuo LUX160 LED flash is perfect for a film set, home studio, photo shoots or outdoor recording. The applied LED COB technology allows to achieve a constant power of almost 25 thousand LM. The lamp is characterised by high CRI of 96+. This ensures faithful rendering of colors and depth of tones. Importantly, the lamp consumes much less energy than devices with traditional SMD LEDs. This will be especially important if you are working with a V-Lock / V-Mount type battery and want to enjoy powerful light on a film or shooting set for as long as possible.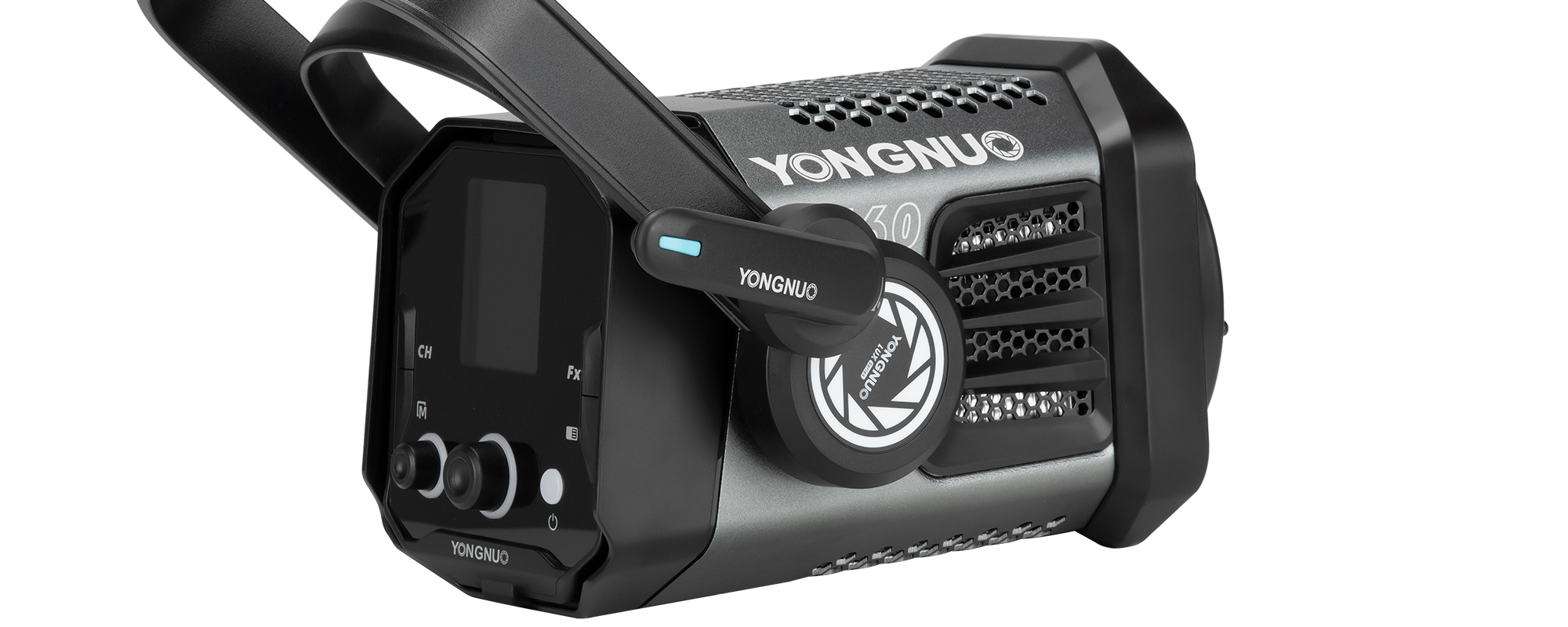 Adjustable color temperature
Do you want your lamp's light to perfectly reflect the atmosphere of a certain time of day, help create a warm or slightly cooler atmosphere and be perfectly matched to the scenery? With the Yongnuo LUX160 you can do it with the help of convenient knobs offering stepless or stepped adjustment (in 10% increments). The light color temperature range here is between 3200 K and 5600 K. Thanks to this, emotions, moods and atmosphere of the created scenes will become even more natural and real.
Sunset, explosion and fireworks
Looking for a way to spice up your movies with unique special effects? The Yongnuo LUX160 LED lamp offers up to 12 themed modes that will simulate a thunderstorm, explosion, fireworks, broken bulb or strobe, among others. You'll find all the effects under names such as Paparazzi, Fireworks, Simulated lightning, SOS, The bad light bulb, Film screen reflection, Sunrise or Strobe and launch them from the mobile app or the controller placed on the lamp (when detached from the lamp it also acts as a remote control). Take advantage of the special modes and see for yourself how the magic of Hollywood works!
Remote control
The lamp control unit installed on the housing can be removed at any time and used as a remote control. Thanks to radio communication, you can control the light from a distance of up to 50 meters. In addition to ergonomic buttons, the controller offers a clear and colorful LCD display allowing for quick and convenient adjustment of lamp settings. The device also supports Bluetooth technology. With it, you can also control the flash from the official YONGNUO app, which you can download for free from Google Play (Android) or App Store (iOS).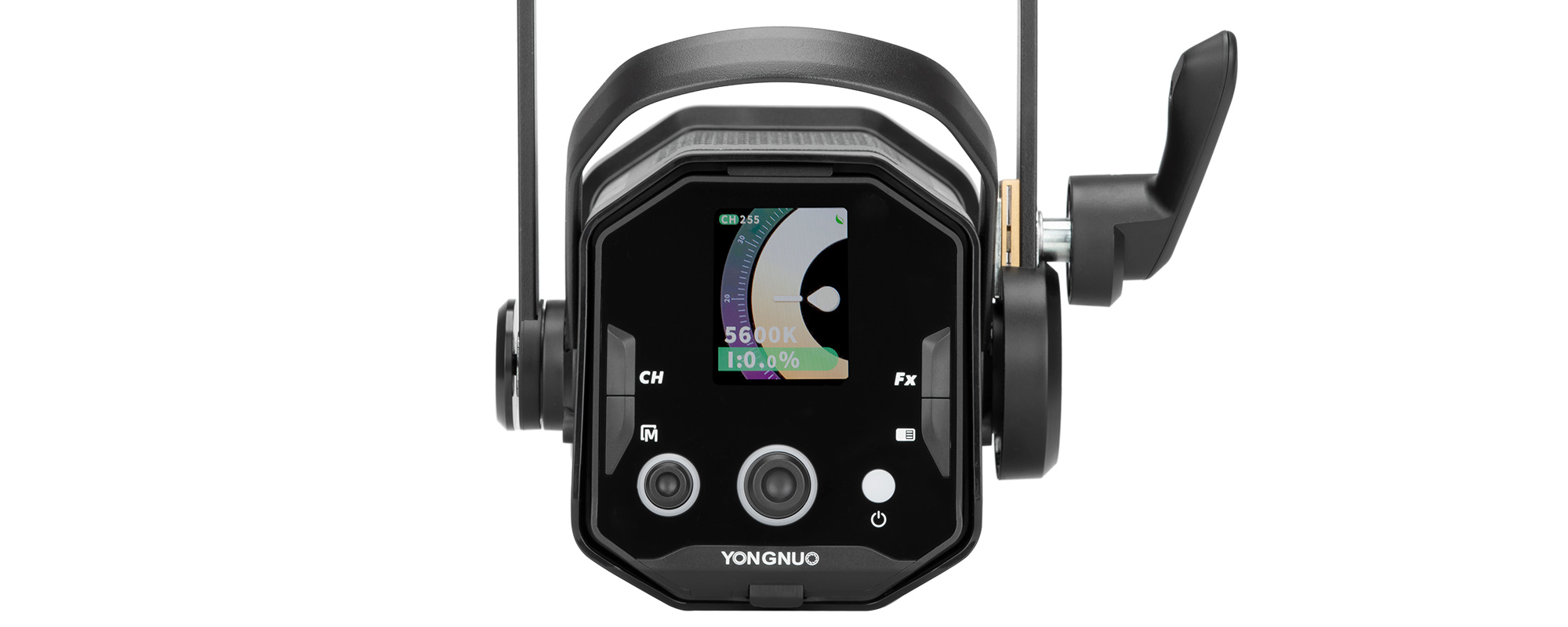 Two power ways
If you work at home or in a studio, you can easily connect the lamp to a wall outlet using the included 24 V / 7.5 A power adapter. However, nothing stands in the way of taking the lamp to the field and reach with light inaccessible places. In the set you will find D-TAP cable for convenient connection of the lamp with the V-Lock / V-Mount battery (it must be purchased separately), which will be placed in a special bag for easy organization on the set.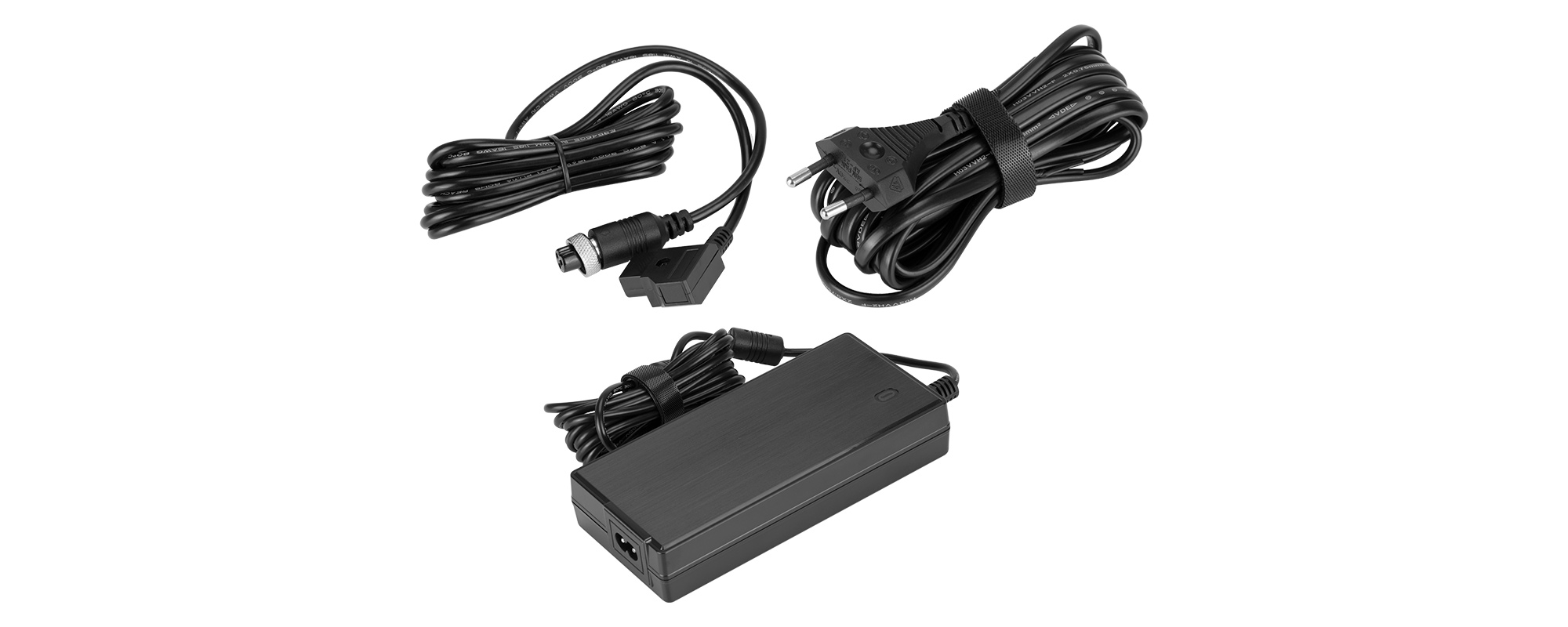 Additional accessories included
In the set with the lamp you will find special modifiers that will allow you to better control the light stream and create a unique atmosphere in your frames and shots. The ergonomic hexagonal parabolic softbox will allow you to soften and diffuse the light, add contrast and precisely illuminate selected parts of the frame. The set also includes a honeycomb grid, which will allow to obtain more artistic lighting. The last modifier is a matte black diffuser (bowl), which is covered from the inside with a silver reflective layer. It will allow you to direct the light even better. All the accessories you will take with you to the set in a robust bag with a shoulder strap, which will protect your equipment and ensure comfortable transport.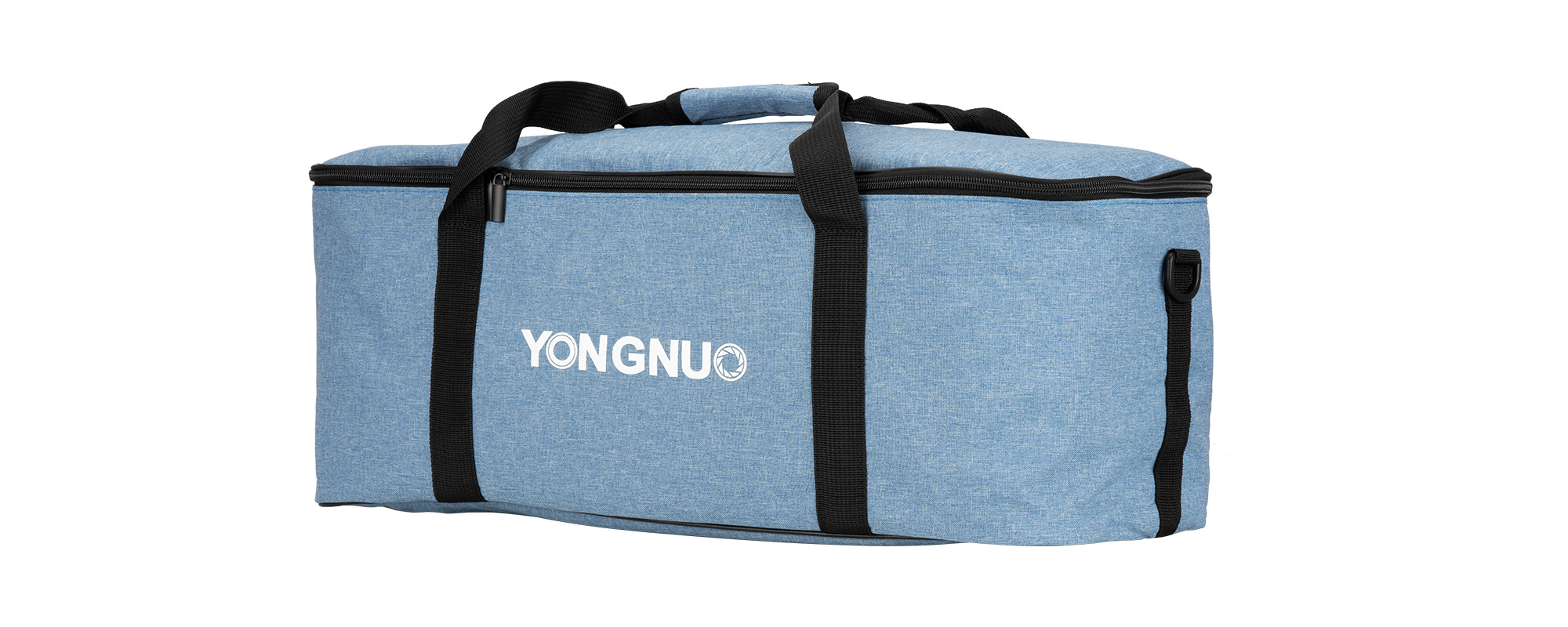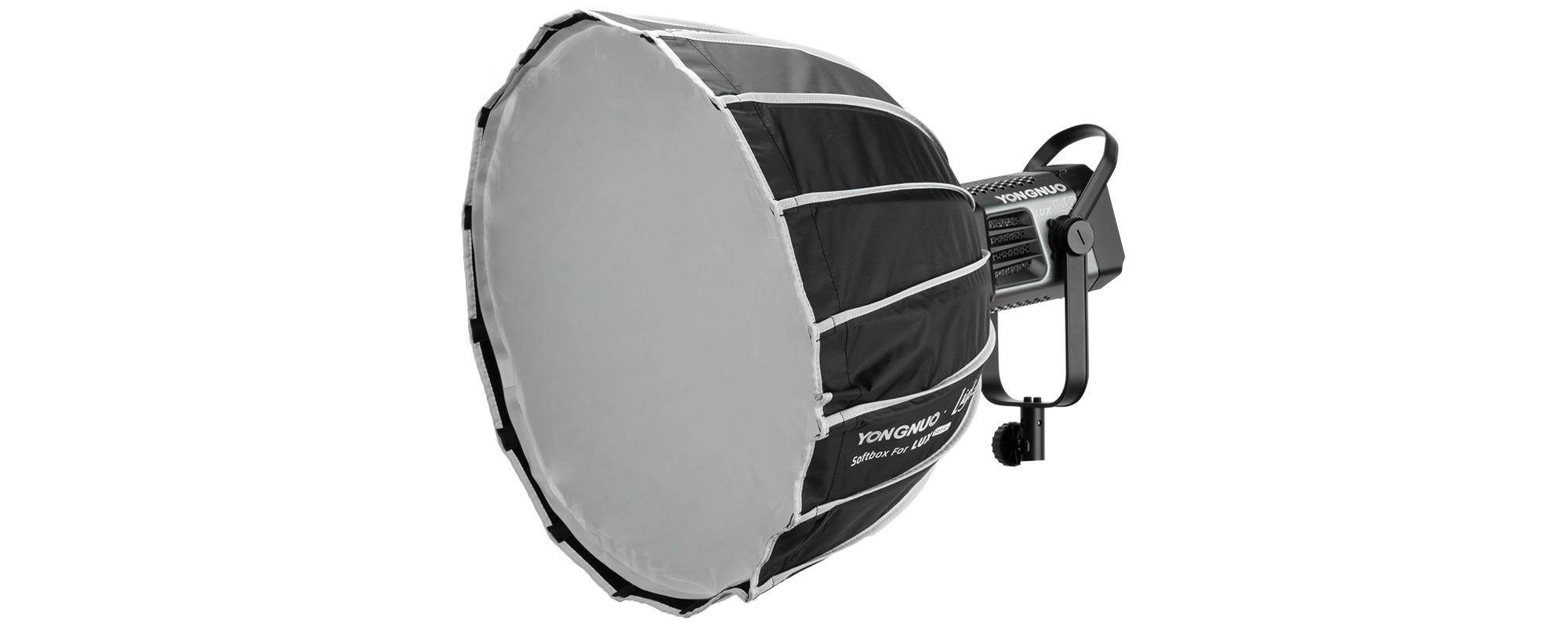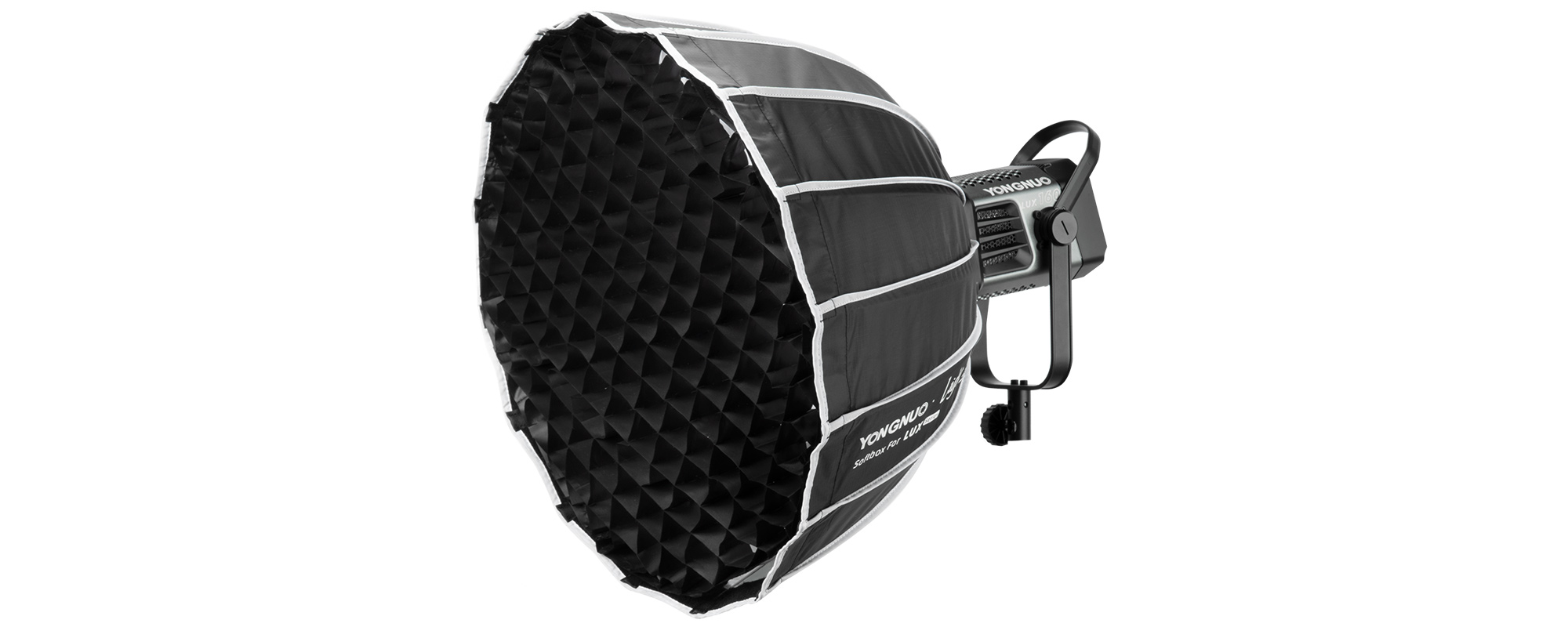 Bowens mounting system
Thanks to the universal Bowens mounting system, which is extremely popular among filmmakers and photographers, you can easily combine the Yongnuo LUX160 LED flash with other light modifiers such as gates, streams, canopies or softboxes. With these, you'll be able to further customize the nature of the lighting for your shots and frames.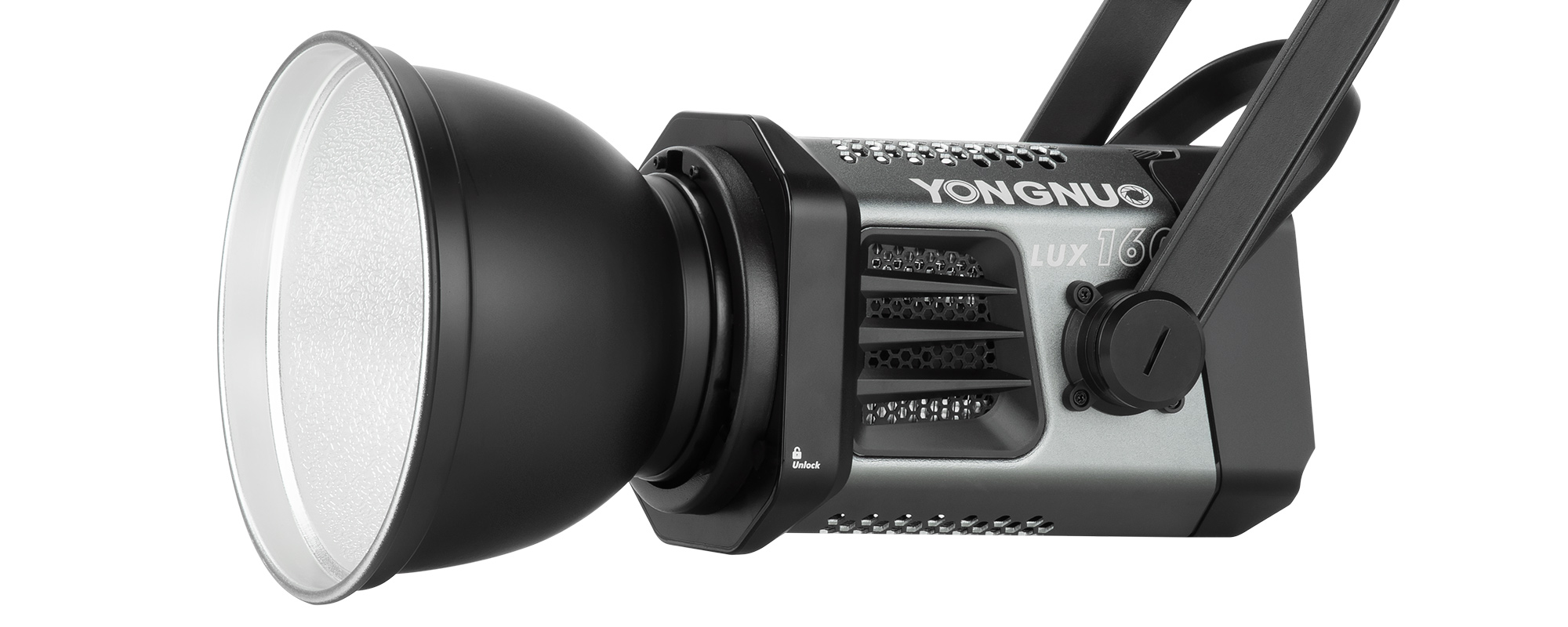 Effective cooling
Thanks to an active cooling system, the lamp can operate at top speed on set for many long hours. The fan, working in 3 different modes (quiet, standard and efficient) will take care of maintaining the right temperature, and the heat will be properly dissipated, thanks to the use of components made of pure copper. The device can successfully operate on one of 256 wireless communication channels, becoming a part of a much larger lighting set. Whether you're using the Yongnuo ecosystem or multiple lights from different manufacturers, you can be sure that the LUX160's fan operation will be kept at optimal levels.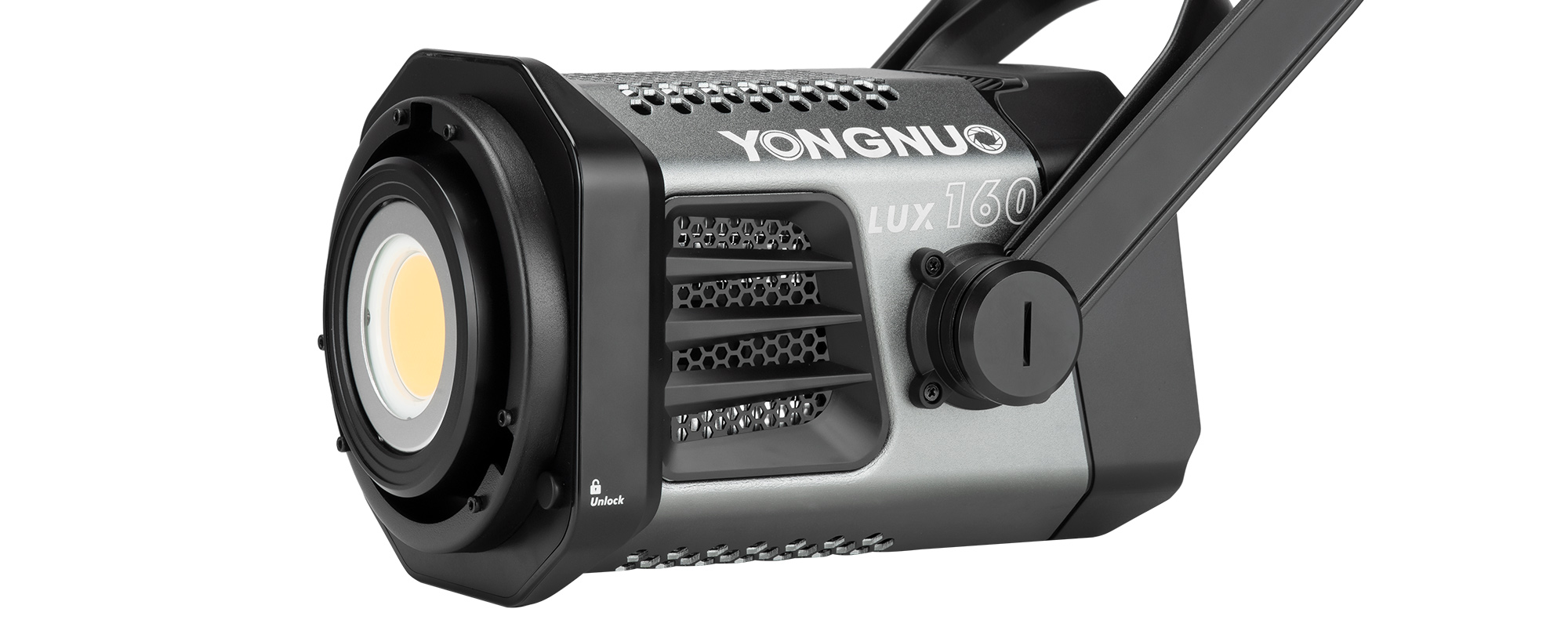 Specification
model: Yongnuo LUX160
LED technology used: COB diodes
type of mount: Bowens
Ray of emitted light CRI ≥ 96
light temperature: 5600 K
power: 180 W
luminous flux: 24480 lm
light intensity:

35100 lx at 1 m distance
6830 lx at 2 m distance

Lighting angle: 110°
power supply:

grid: DC 24 V / 7.5 A
V-Lock / V-Mount battery: 26 V / 7 A ; 14.8 V / 6 A

Range of remote control: up to 50 m
range of remote control from smartphone: up to 50 m
number of channels: 256
operation modes:
theme modes: 12
estimated lifetime: 50,000 hours
Lamp dimensions: 59 x 24 x 25 cm
softbox dimensions: 60 x 60 x 37.5 cm
weight of set: approx. 5310 g
Kit contents
Yongnuo LUX160 lamp
lamp diffuser
softbox with a diameter of 60 cm
function remote control
docking remote control on lamp housing
grid (honeycomb)
V-Lock / V-Mount battery case
bag with shoulder strap
power supply
D-Tap cable