Description
Yongnuo YN300 IV is a technologically advanced LED lamp, offering precise light temperature adjustment from 3200 – 5600 K and emitting countless colors from the RGB color space. In addition to standard modes, the YN300 IV features a variety of special effects, such as lightning, sunrise and police car lights. The flash can be operated wirelessly from the included remote control or a dedicated smartphone app.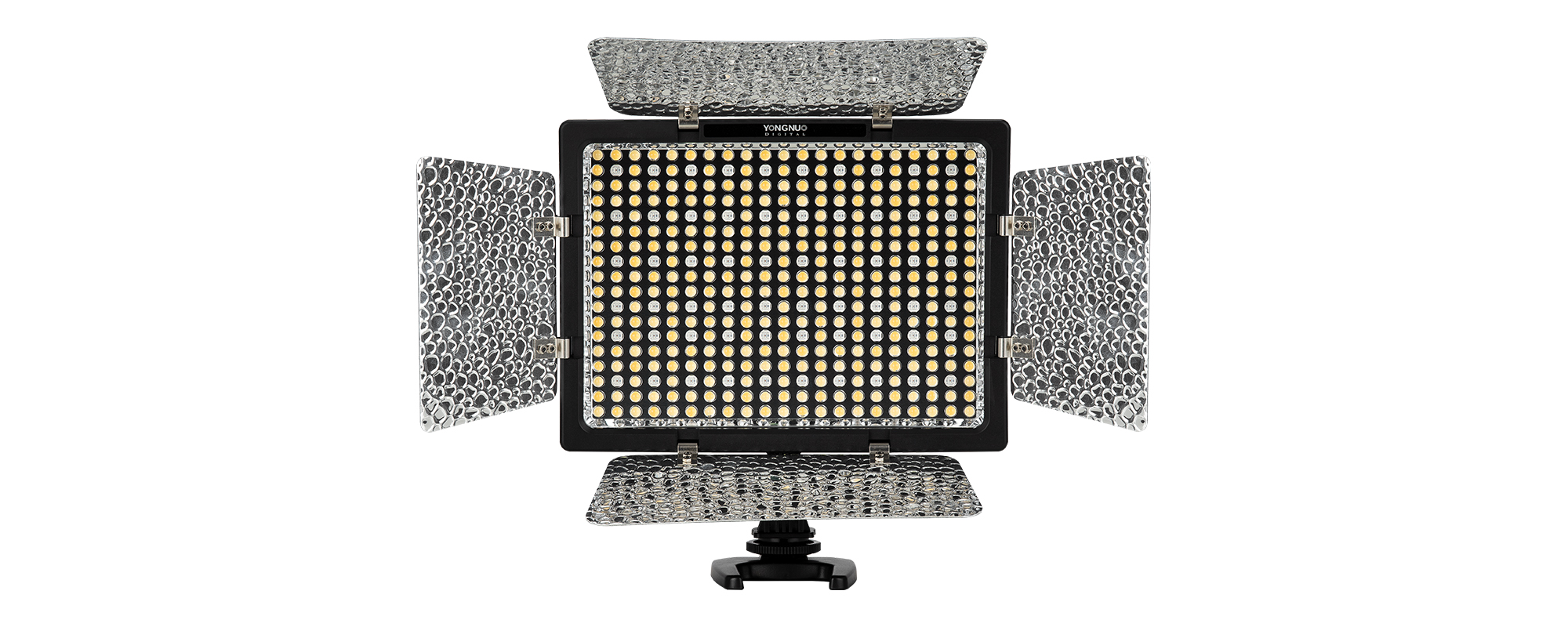 Excellent lighting quality
Yongnuo YN300 IV panel is equipped with 316 LEDs with high color rendering index (CRI of 96+) and 60 SMD RGB LEDs, generating a huge palette of beautiful and saturated colors. When filming a scene illuminated with YN300 IV lamps we do not observe the "flickering effect", which is a common problem of cheaper LED lighting.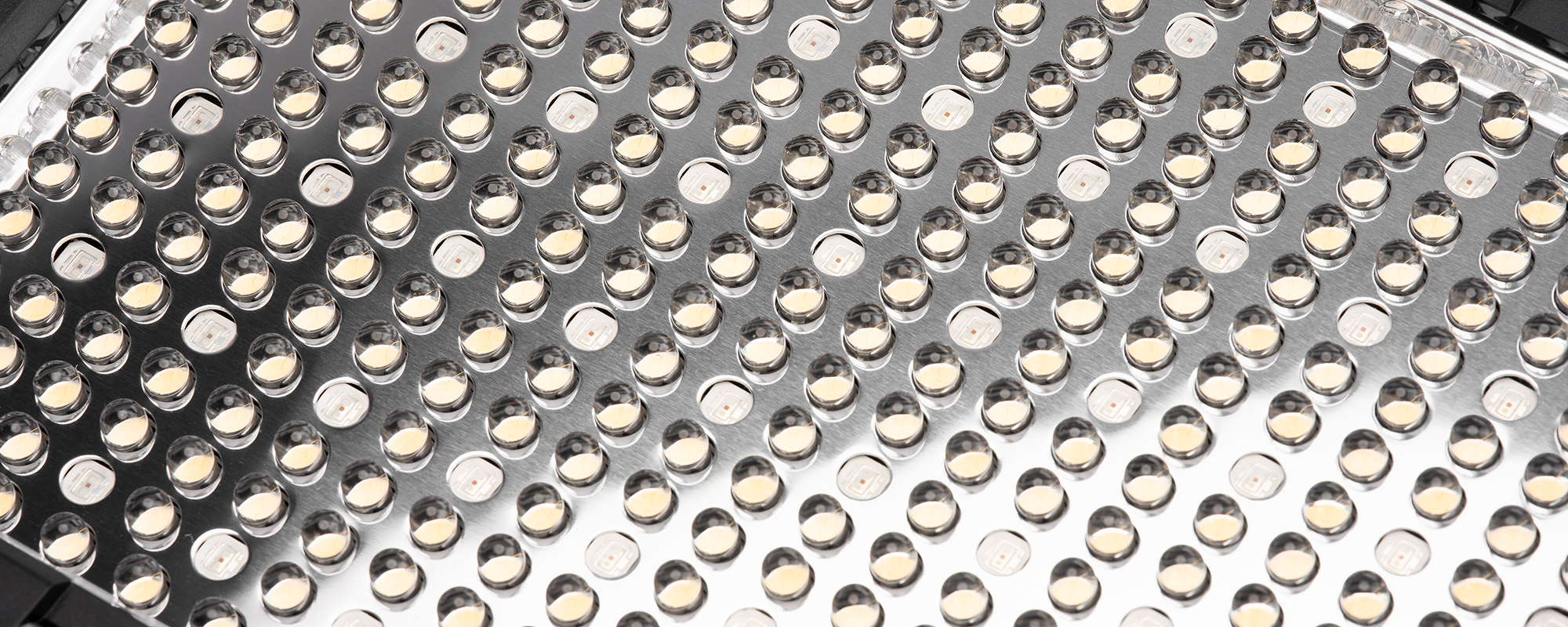 Wireless Control
The YN300 IV is equipped with a radio signal receiver and can be controlled wirelessly using the included remote control or a smartphone with an app from Yongnuo installed. It is possible to connect multiple lights and assign them to 8 groups. The range of wireless control is 15 meters. Power and color of the emitted light can be continuously adjusted in 1 or 10 degree increments.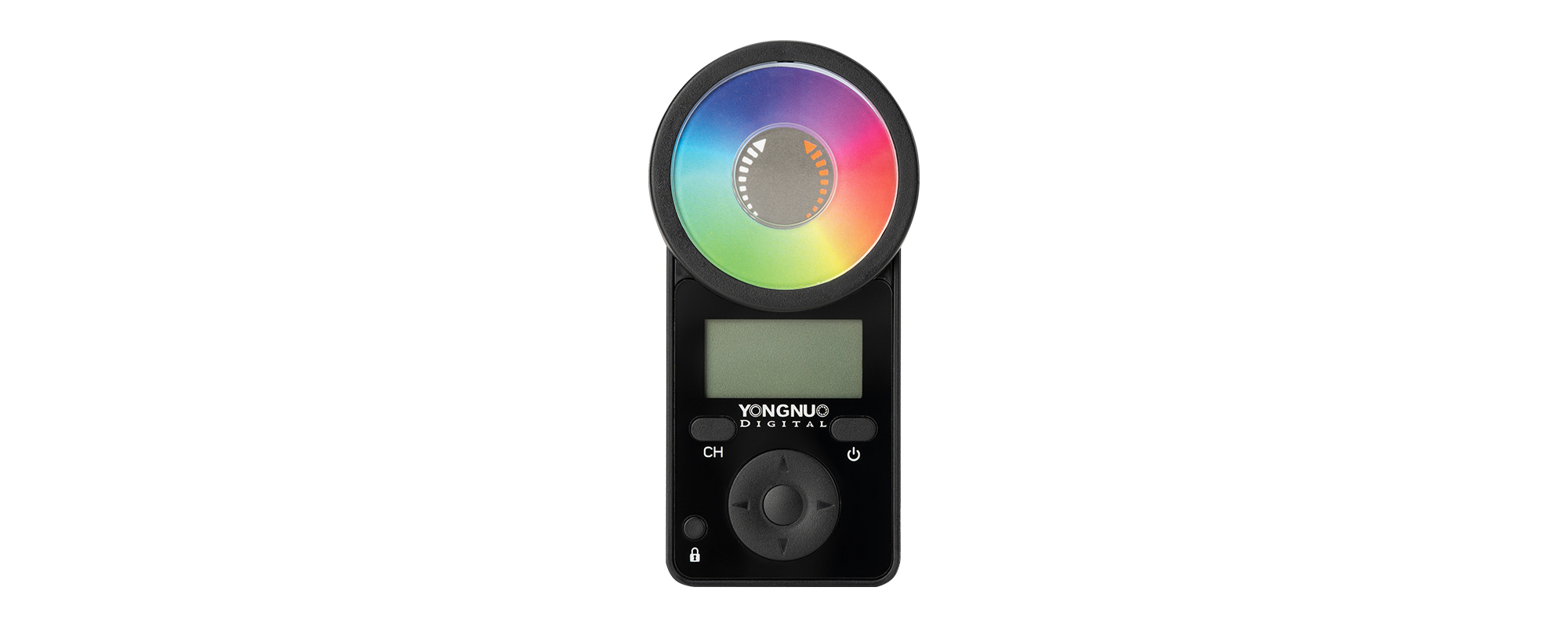 The application can be downloaded from the manufacturer's official website
Special effects
The lamp offers a number of predefined special modes. It enables simulation of more than 30 advanced lighting effects known from everyday life, such as: lightning flashes, atmospheric candlelight, sunrise, fireworks or flashing lights of a police car. With the dedicated smartphone app you can modify existing effects or program your own and combine them into sequences.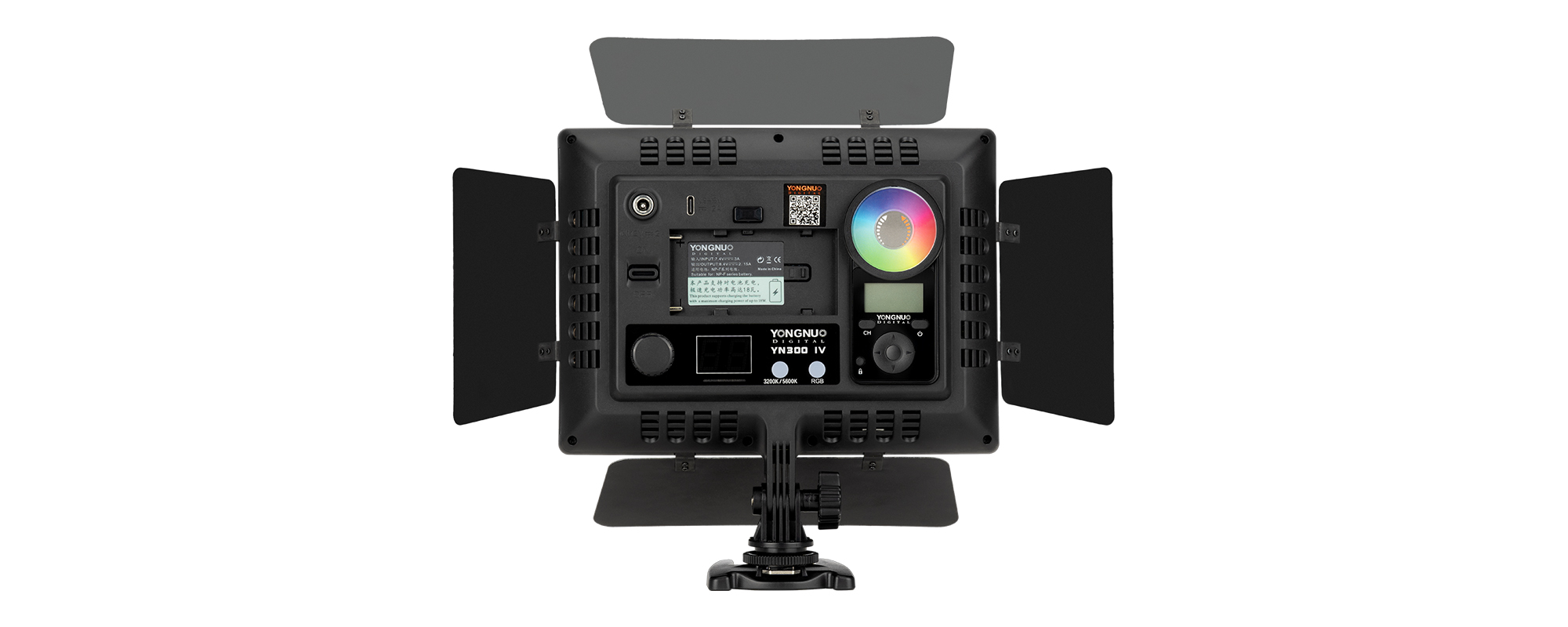 Light modifiers
The gates, which the YN300 IV lamp is equipped with, will allow you to precisely direct and focus the light beam on a given point of the scene. The set also includes a milky diffusion filter, which will beautifully soften the light emitted by the flash, and a warming filter.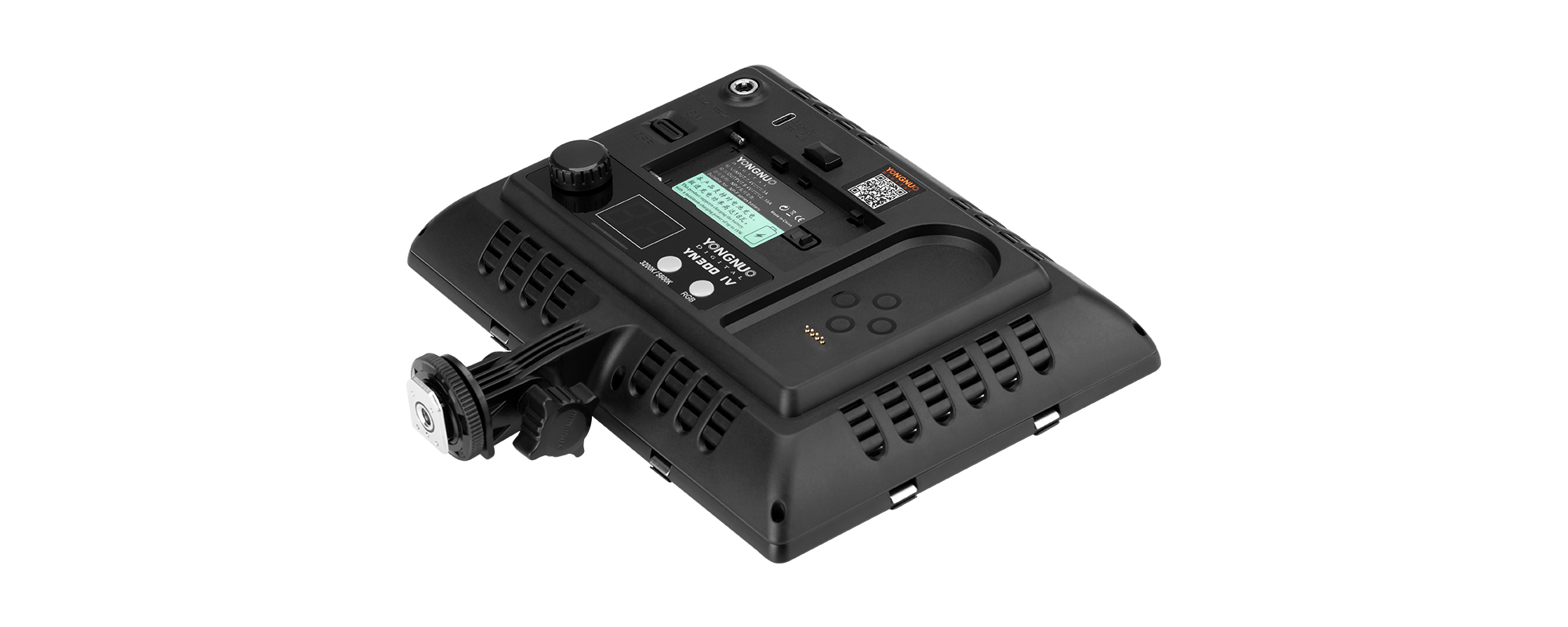 Three ways to power
Depending on whether you're working in the studio or outdoors, the Yongnuo YN300 IV lamp gives you three power options to choose from. An AC adapter (DC 12 V / 2 A) plugged into an outlet, a USB-C charger (9 – 15 V / 2 A) or an NP-F series mobile battery. The battery pack can be charged directly in the lamp. The USB-C port supports USB PD 3.0 fast charging technology, and we can check the current battery charge status on the remote control display.
CAPACULATOR, POWER SUPPLY AND CHARGER ARE NOT PART OF THE SET
Additional accessories and mounts
The flash can be installed directly on the camera foot or on a lighting tripod with 1/4″ thread. The kit also includes a comfortable handle, allowing you to hold the lamp in your hand and a classic lamp stand.
Specification
model: Yongnuo YN300 IV – RGB, WB (3200 K – 5600 K)
power: 24 watts
light intensity:

LEDs: max 2640 lux from 1 m distance
LEDs: max 2640 lux from 1 m distance
RGB LEDs: max. 685 lx from 1 m distance
LEDs: max. 2640 lx from 1 m distance

colour temperature of light: 3200 – 5600 K + RGB
number of LEDs:

316 LEDs with light color temperature: 3200 – 5600 K
60 SMD RGB LEDs
60 RGB LEDs with light color temperature: 3200 – 5600 K

LEDs
60 SMD RGB LEDs
CRI: 96+
estimated lifetime of LED panel: 50000 h
luminous angle: 55° / 110°
wireless control range: 15 m
power supply:

rechargeable: one rechargeable NP-F type battery (not included)
cable: one rechargeable NP-F type battery (not included)
grid: DC 12 V / 2 A power adapter (not included)
USB-C: 9 – 15 V / 2 A charger (not included)

mounting:

cold shoe
1/4 "female tripod thread

Dimensions: 25.5 x 23.0 x 9.7 cm (box dimensions)
Weight: 580 g (without accessories)
weight: 580 g (without accessories) 1250 g (weight of the whole set)

Photometrics

Distance
0.3 m
0.5 m
1 m
LEDs
15170 lx
7830 lx
7830 lx
2640 lx
RGB LEDs
6310 lx
6310 lx
2610 lx
2610 lx
685 lx
685 lx

Kit contents

Yongnuo YN300 IV LED lamp – RGB, WB (3200 K – 5600 K)
remote control
battery for remote control (CR2032 3V)
handle / lamp holder
lamp stand
warming color filter
diffusion filter
Case for lamp and accessories