Description
The Yongnuo YNRay260 LED lamp is a robust light source that will be perfect for the world of photography and film. The device offers stepless power change, color temperature adjustment (3200 K – 5600 K), as well as a wide light angle of 110º. The LED COB technology allows for a constant light output of over 32,000 lumens. There are also 12 predefined special effects. The lamp can be controlled both from a panel on the housing and from a mobile app. The remote control range is 15 meters. The device is also equipped with a Bowens mount, made of heat-resistant metal. It will allow you to connect the flash to the included canopy, as well as to other light modifiers such as gates, softboxes or streamers.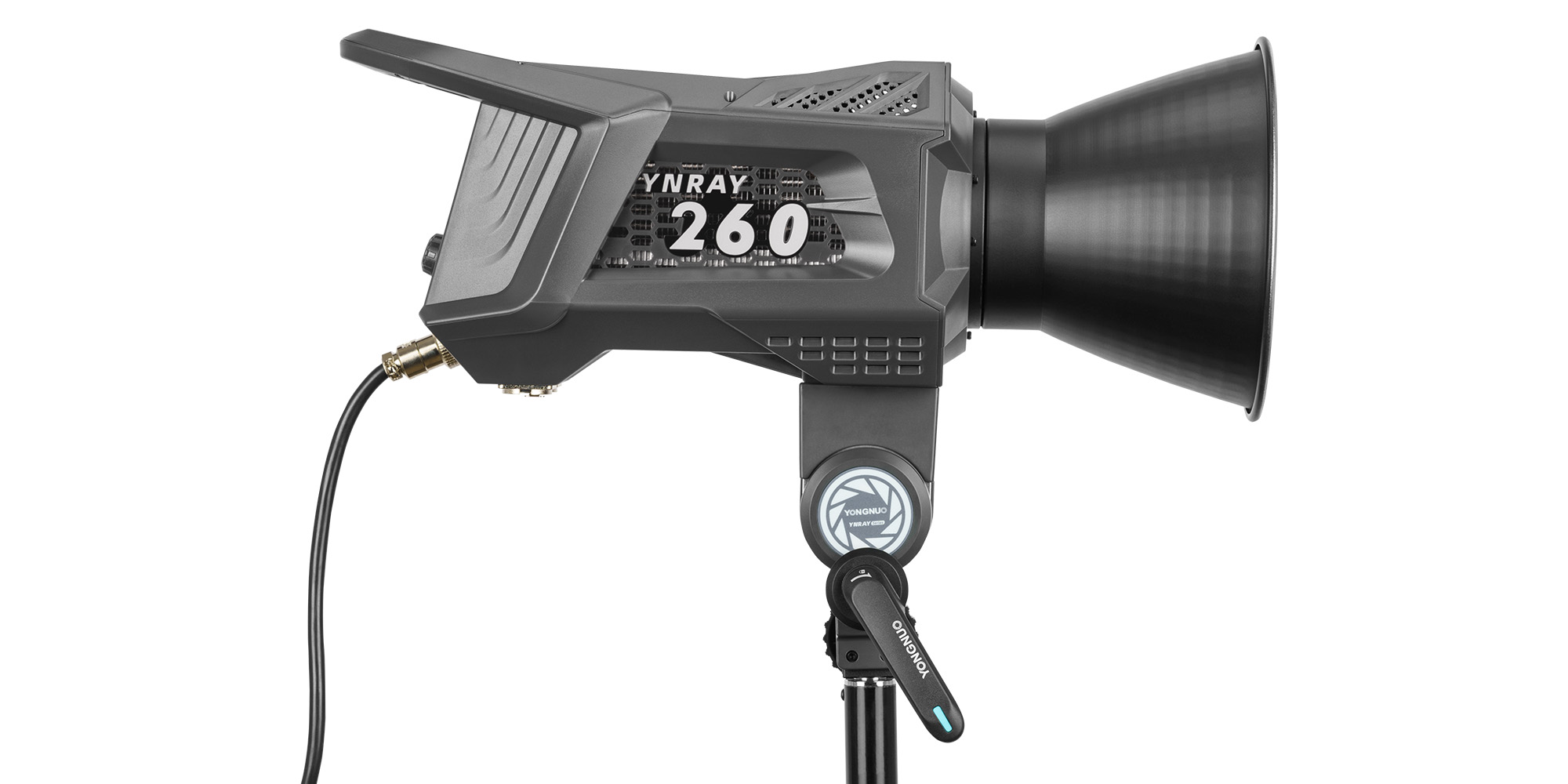 Main product features
250 watt LED lamp
adjustable color temperature (3200 – 5600 K)
COB LED technology allowing for a luminous flux of 32500 lm
the light intensity of 4000 K color temperature from a distance of 1 m is 14800 lx (using the canopy)
high emitted light factor CRI 95+
12 predefined light effects to expand the creative use of the lamp
compatible DC 24 V / 7.5 A power supply included
Bowens mount for connecting popular light modifiers
infinitely adjustable positioning with wide bracket (within 180º)
wide beam angle of 110º
included canopy narrowing the angle of light
possibility of mounting on a tripod with a 16 mm head
a hole allowing installation of an umbrella
quiet and efficient fan for optimal cooling
support for a mobile app allowing remote control of the lamp from a distance of up to 15 m
ability to work with a larger setup of Yongnuo lamps (up to 256 channels available)
possibility to power the lamp with V-Lock / V-Mount batteries (an adapter must be purchased)
included ergonomic carrying bag
High light output
The Yongnuo YNRay260 LED lamp is a powerful light source that is great for use on a photo or film set. The device offers a wide angle of illumination (110º), stepless power adjustment and the ability to change the color temperature from 3200 K to 5600 K. Thanks to state-of-the-art COB LEDs, the maximum luminous flux can reach up to 32500 lm. Combined with the included canopy, this gives great possibilities for creating the atmosphere of frames and shots.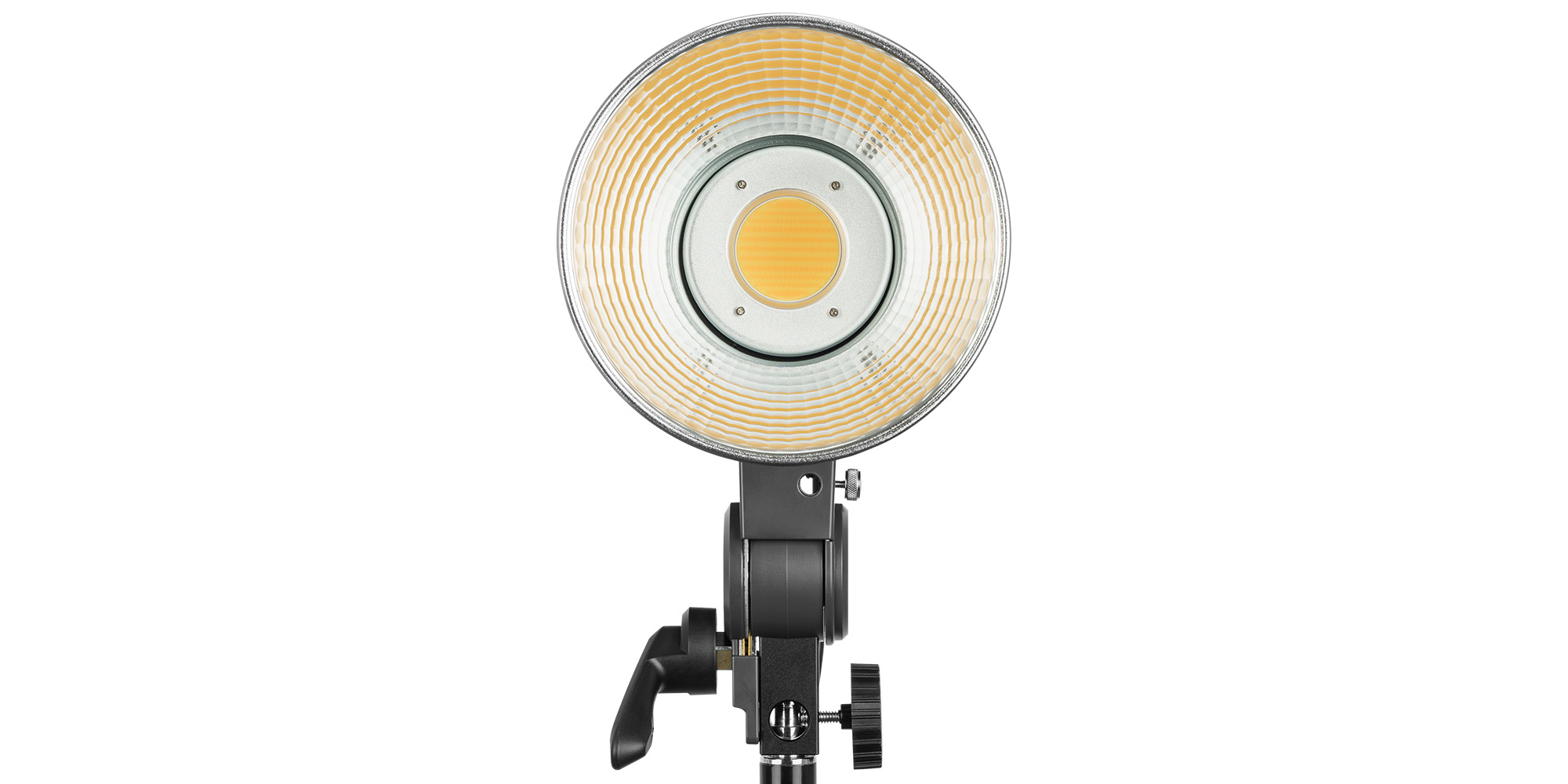 Mobile app support
In the Google Play and App Store you'll find a free YONGNUO app that allows you to remotely control your lamp with your smartphone. With it, you can control the same functions and parameters of the device, which are normally operated with buttons and a dial, located on the housing. The maximum range of remote control is up to 15 meters. The app also allows you to control more Yongnuo lights. Up to 256 channels are at your disposal, allowing you to create an impressive light setup.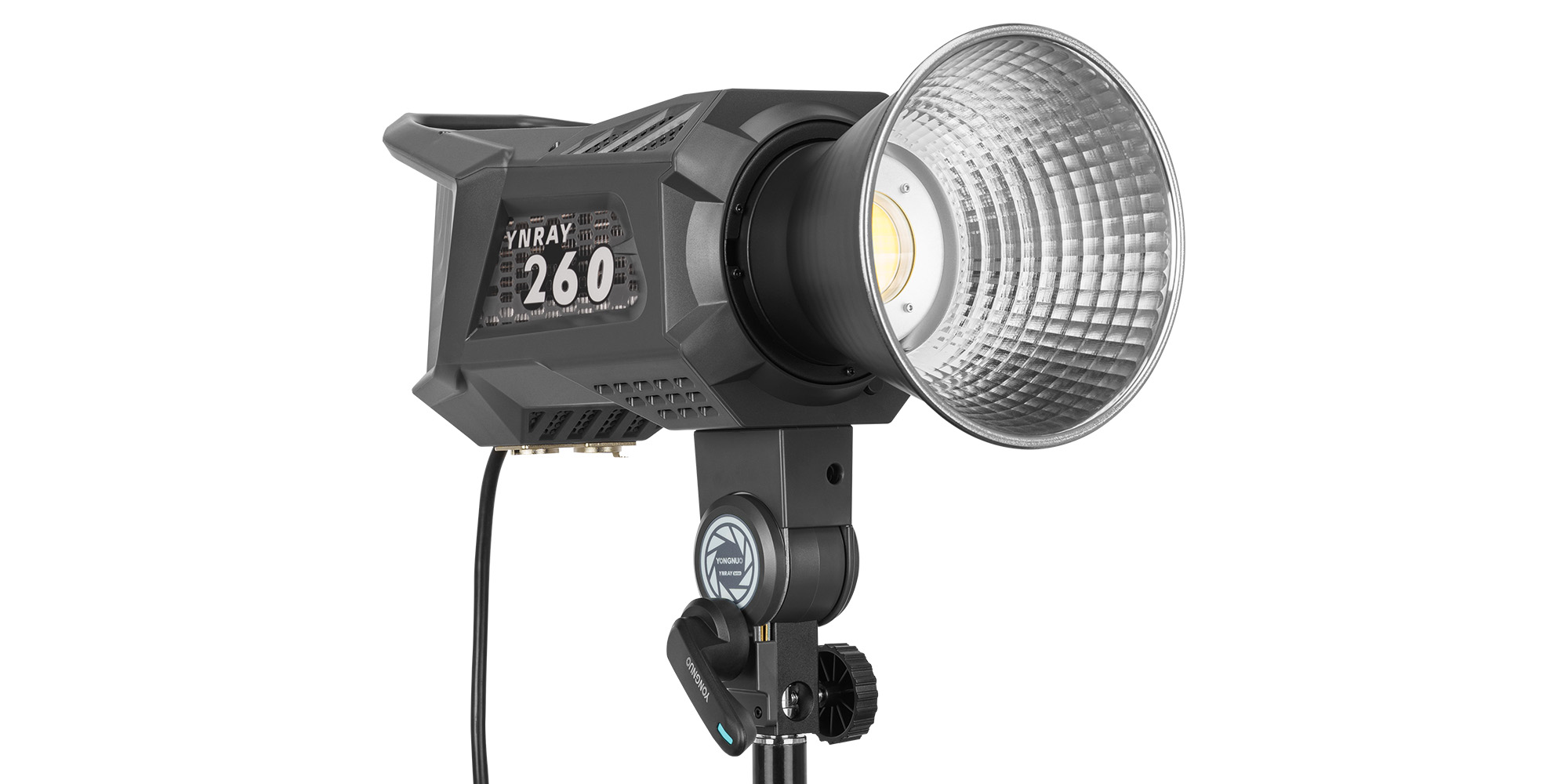 Special-effects-rod-from-Hollywood
The Yongnuo YNRay260 LED lamp – WB (3200 K – 5600 K) offers 12 preset special effects. Spectacular combinations of highlights, flashes or dims will allow you to take advantage of such simulations as paparazzi flashes, thunderstorm, explosion, sunrise or broken bulb, among others. With them, you can easily enhance your movie shots with realistic special effects straight from Hollywood, without having to spend a fortune on a pyrotechnic crew.
Comfort-working
On the back of the Yongnuo YNRay260 – WB LED lamp (3200 K – 5600 K) you will find a wide handle that allows you to conveniently adjust the tilt of the device within 180º. Solid locking of the optimal position of the device is provided by a disc brake with a convenient clamp. On the housing of the lamp there is also an ergonomic control panel with large buttons, an adjustment knob and a bright LCD screen, which will ensure comfortable operation in any lighting conditions.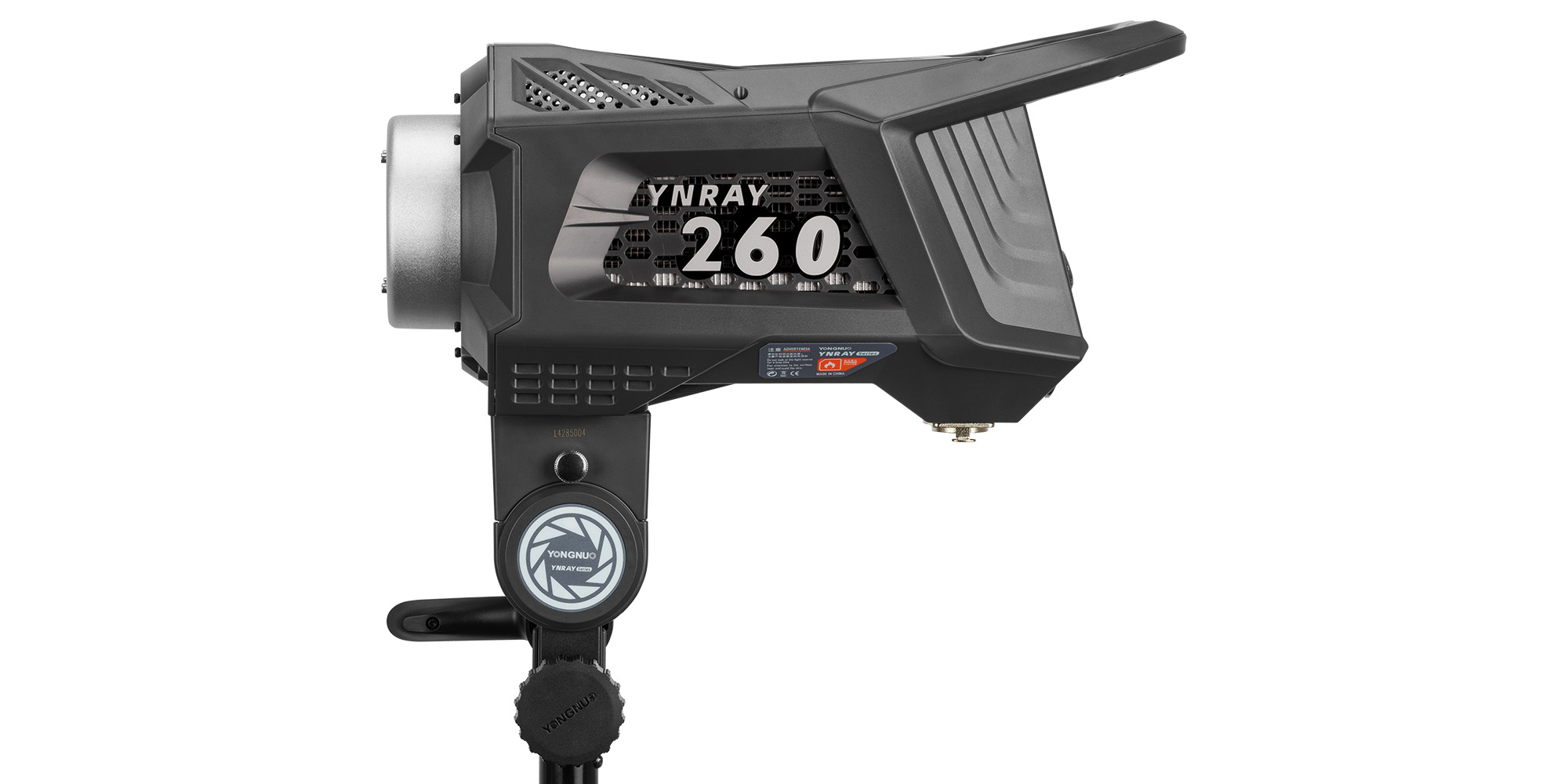 Convenient mounting
Bowens is a universal accessory mounting system that is very popular in the world of film and photography. With it, you can easily and quickly connect the YNRay260 LED flash to the included canopy. The mount is made of metal, which is resistant to high temperatures. The Bowens standard will also allow for the installation of dozens of other accessories, such as gates, softboxes or fluxes. The lamp also offers an umbrella hole. With all these improvements, you'll be even better able to customize the nature of the lighting for your shots and frames.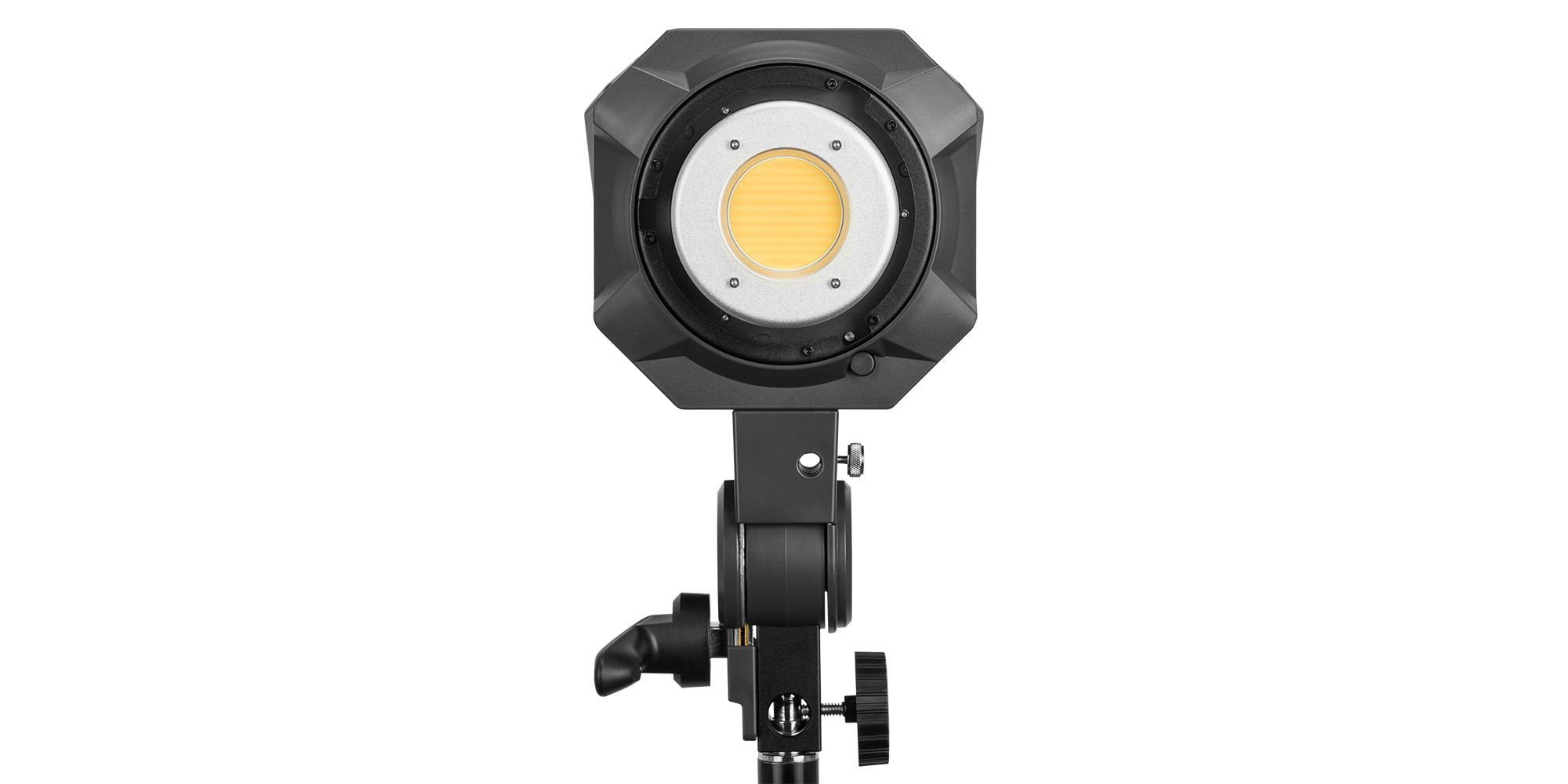 Compatible with DMX systems
The Yongnuo YNRay260 – WB (3200 K – 5600 K) lamp is equipped with two DMX sockets (IN and OUT). With these, you can connect devices to a DMX512 control system. If you use a control console for managing lighting and stage effects, this lamp model will be an excellent addition to such a set.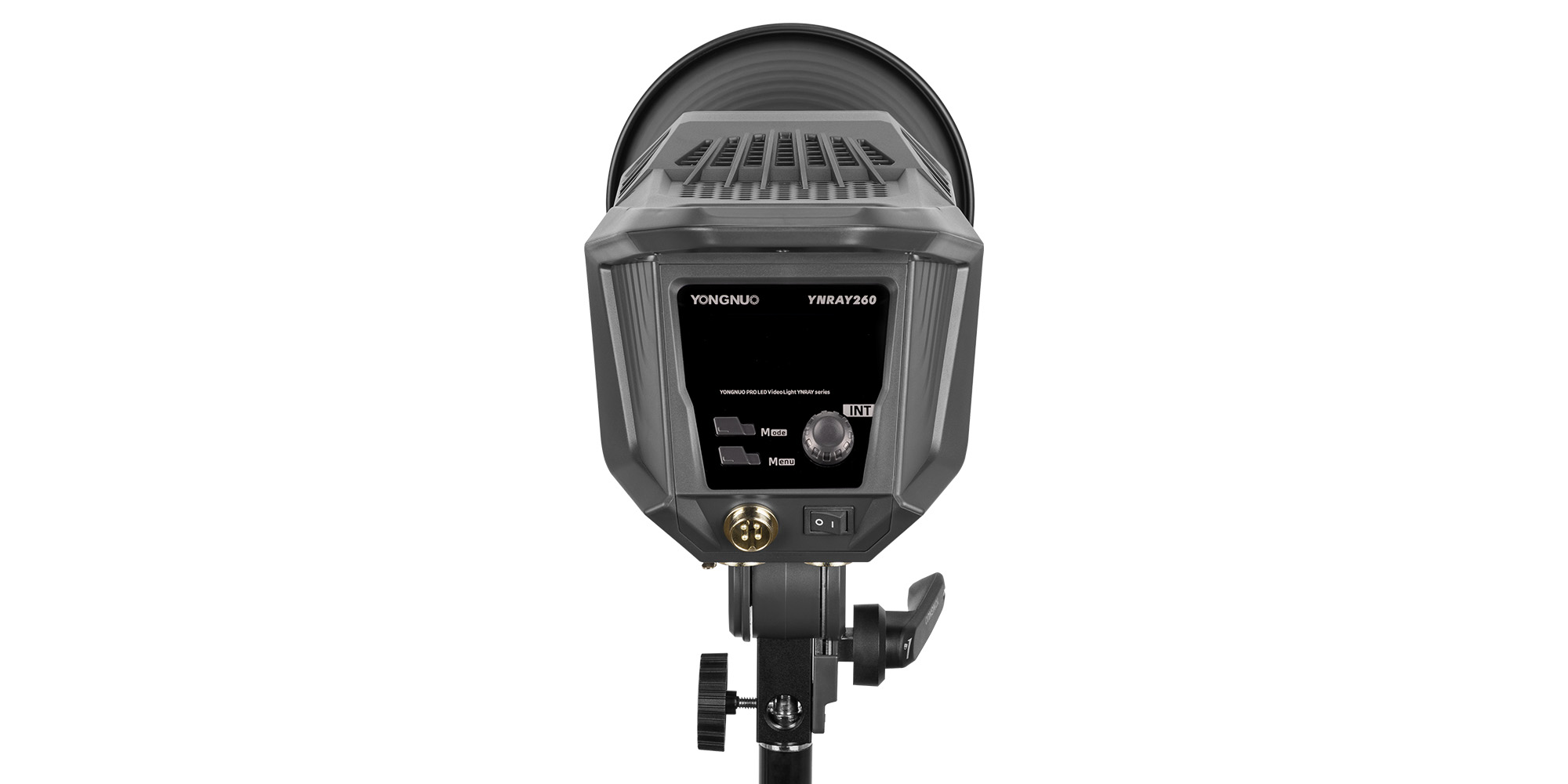 Provided DMX cables MUST be purchased separately.
Various power supply options
Included with the Yongnuo YNRay260 LED lamp – WB (3200 K – 5600 K) you will find a compatible DC 24 V / 7.5 A power supply, which allows you to connect the device to an electrical outlet. It will allow you to use the full 250 watts of power that the device offers. Importantly, the lamp is also compatible with the power adapters of the V-Mount system. Thanks to this, there's also nothing stopping you from taking the device into the field and reaching places with light where access to electricity is limited.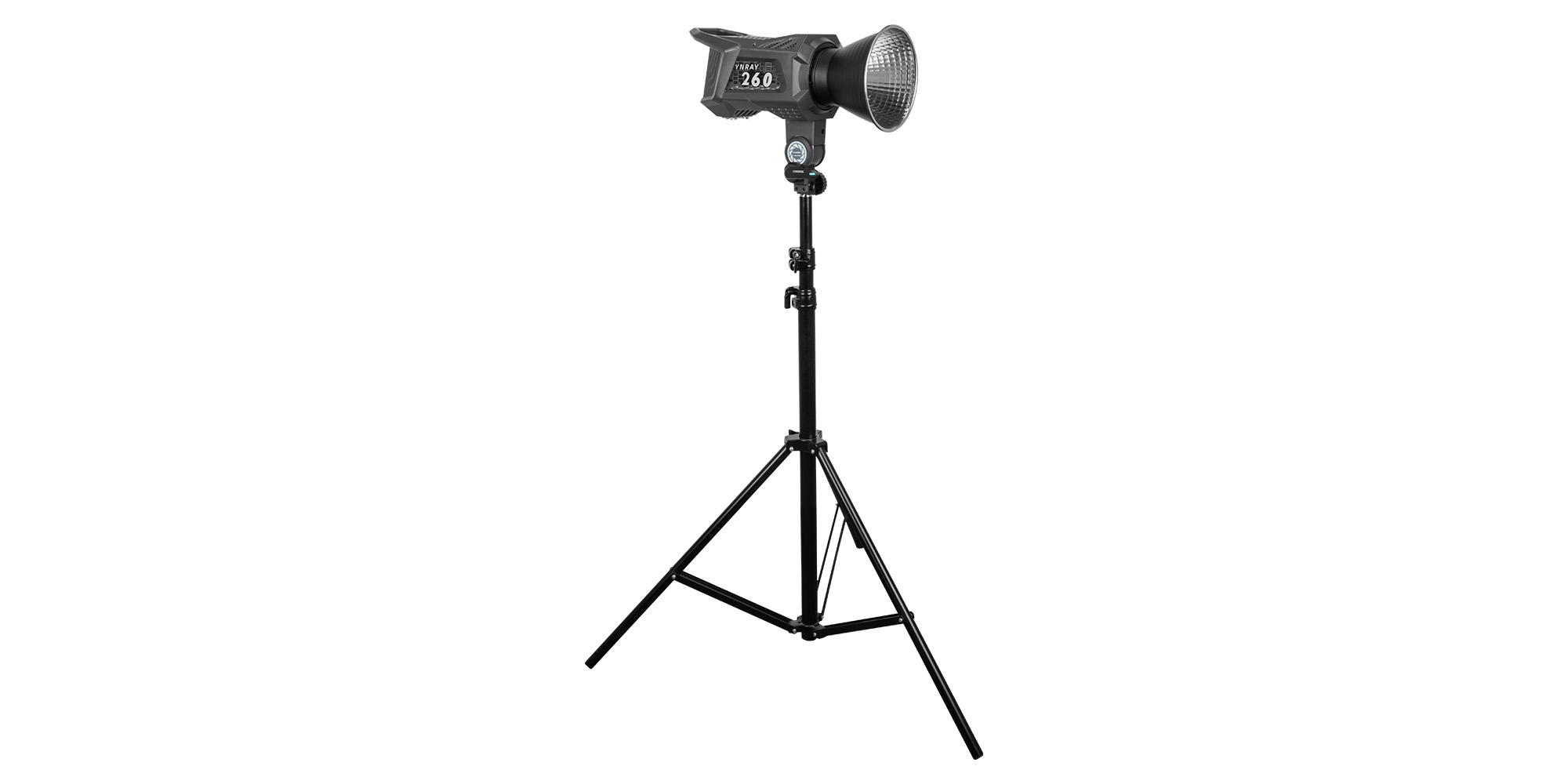 POWER ADAPTER WITH V-MOUNT MOUNTING SYSTEM, V-LOCK / V-MOUNT BATTERIES AND COMPATIBLE D-TAP CABLE / 3-PIN PLUG MUST BE PURCHASED PERSONALLY.
Specification
model: Yongnuo YNRay260 – WB (3200 K – 5600 K)
LED technology used: COB LEDs
CRI light emitting ratio: ≥ 95
Mounting types:

Bowens
umbrella hole
Pod mount compatible with 16mm head

max luminous flux: 32500 lm
light color temperature: 3200 K – 5600 K
power: 250 W
light angle: 110º
Power supply:

network: 1 x DC 24 V / 7.5 A
battery: 2 x V-Lock / V-Moun (26 V / 7 A ; 14.8 V / 7 A)

wireless control range: max. 15 m
estimated life of LED panel: 50000 h
dimensions: 435 x 171 x 321 mm
weight: 2796 g
Kit contents
Yongnuo YNRay260 LED lamp – WB (3200 K – 5600 K)
power supply
cowl
carrying bag
Photometry
| Light color | Distance | No modifier | + Reflector |
| --- | --- | --- | --- |
| 3200 K | 1m | 6800 lx | 8500 lx |
| 3200 K | 2 m | 1900 lx | 2200 lx |
| 3200 K | 3 m | 1000 lx | 1100 lx |
| 4000 K | 1 m | 11600 lx | 14800 lx |
| 4000 K | 2 m | 3000 lx | 3400 lx |
| 4000 K | 3 m | 1500 lx | 1700 lx |
| 5600 K | 1 m | 7600 lx | 9600 lx |
| 5600 K | 2 m | 2100 lx | 2500 lx |
| 5600 K | 3 m | 1100 lx | 1300 lx |