Description
The Micro 3 M500 is the smallest representative of the third generation of sliders created by the internationally acclaimed Zeapon brand. With a load capacity of up to 12 kg, a refreshed design for even smoother movements, an improved drive belt, 3 mounting points and 2 special brackets for perfect stability when working with a tripod – all this will provide a new quality of work on video footage. The unit provides a 59 cm long overrun. You can also automate the impressive capabilities of the Zeapon Micro 3 M500 slider at any time by purchasing a special drive module and pan heads.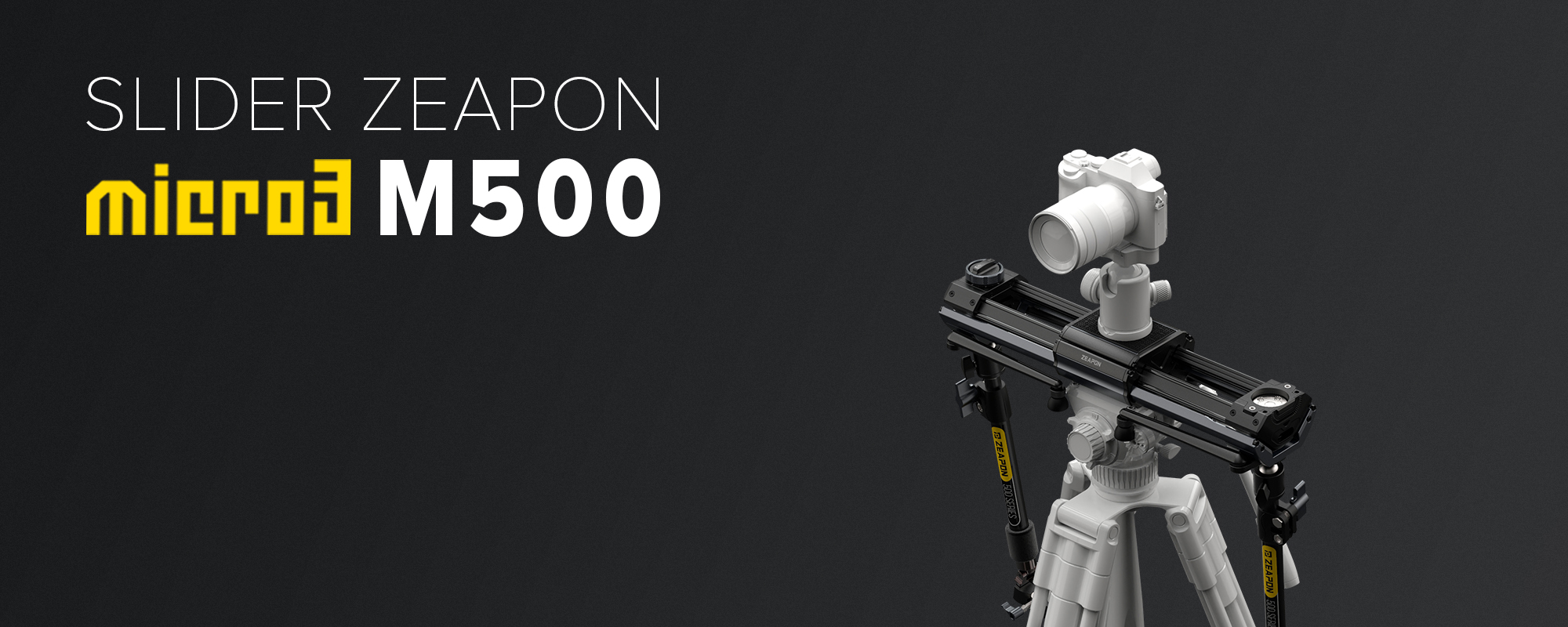 Main product features
perfect smoothness of movement appreciated by video makers worldwide
camera movement from edge to edge of the slider providing an overrun of 59 cm
maximum load capacity of up to 12kg when working horizontally and 4.5kg when working vertically or at an angle
innovative rail for several extra centimetres of reach relative to the length of the machine
collapsible, angled feet protected by non-slip material
includes 2 special brackets for perfect stability when working with the tripod
vacuum resistance adjustment for better adaptation of the slider to current needs
3 mounting points (with 1/4″ and 3/8″ threads) for versatile mounting on tripods, supports and mounts
blocking movement via a conveniently operated large diameter mechanical knob
improved flexible drive belt
large mounting platform measuring 8 x 5.3 cm
innovative retractable mounting screw compatible with 1/4 and 3/8 inch standards
slide guides angled at 45º for perfect stability
slider guides and trolley wheels made of high-quality stainless steel
sturdy padded carrying case included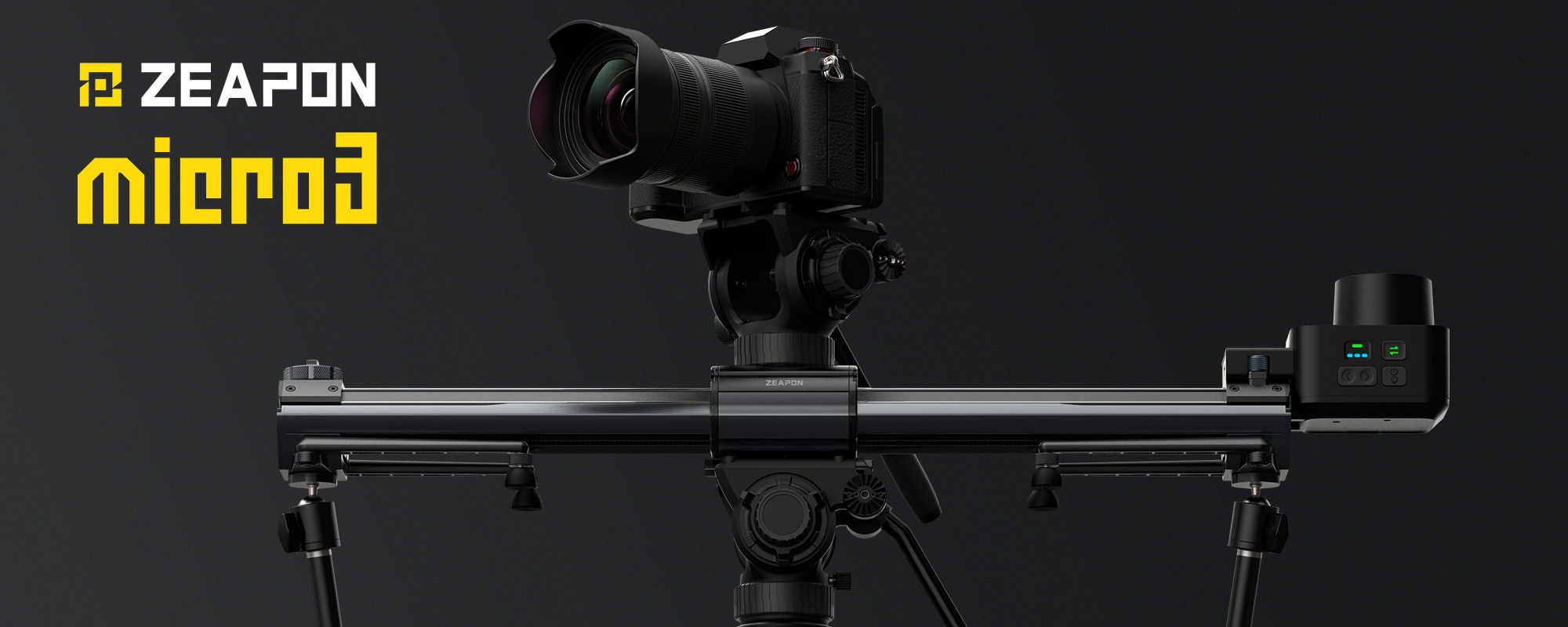 Inspired by sports suspension
The innovative design of the 3rd generation of sliders from Zeapon is inspired by the sport tuning of cars under the Hellaflush sign. The 45º rail position ensures perfect weight distribution of the dolly and even better stability when capturing moving shots. The slider guides and wheels are made of high-quality stainless steel. This material will provide adequate protection against moisture or sand, guaranteeing long-lasting operation in various weather conditions.
Resistance adjustment
For uncompromising smoothness of movement, the Zeapon Micro 3 M500 slider uses a revolutionary vibration damping system with vacuum resistance adjustment. An ergonomic dial with a 5-step scale allows you to conveniently adjust the specifics of the device to the needs of specific shots. The locking mechanism used will also prevent the belt from breaking or the trolley from changing position uncontrolled.
Up to 12 kg load capacity
The Zeapon Micro 3 M500 is a real powerhouse that is not intimidated by any camera or working in non-standard positions! The maximum lifting capacity of the slider when positioned vertically or at any angle is 4.5 kg. When working horizontally, the slider can handle a video set weighing up to 12 kg!
Not-scared-of-low-temperatures
Traditional sliders sometimes refuse to obey when operating in cold weather. This is due to the oil, which thickens when exposed to low temperatures. The vibration dampening system with vacuum resistance control solves this problem, ensuring exceptional smoothness of movement, even during outdoor shots taken in winter. The Zeapon Micro 3 M500 is a guarantee of reliable operation, even at extremely low temperatures!
Improved drive belt
Listening to the voice of filmmakers using equipment from Zeapon, the engineers working on the 3rd generation of the brand's sliders designed a new, more flexible drive belt that is even more resistant to stretching. It has also eliminated all metal ends. This allows you to replace the belt with an original Zeapon replacement item or look for a cheaper alternative if needed.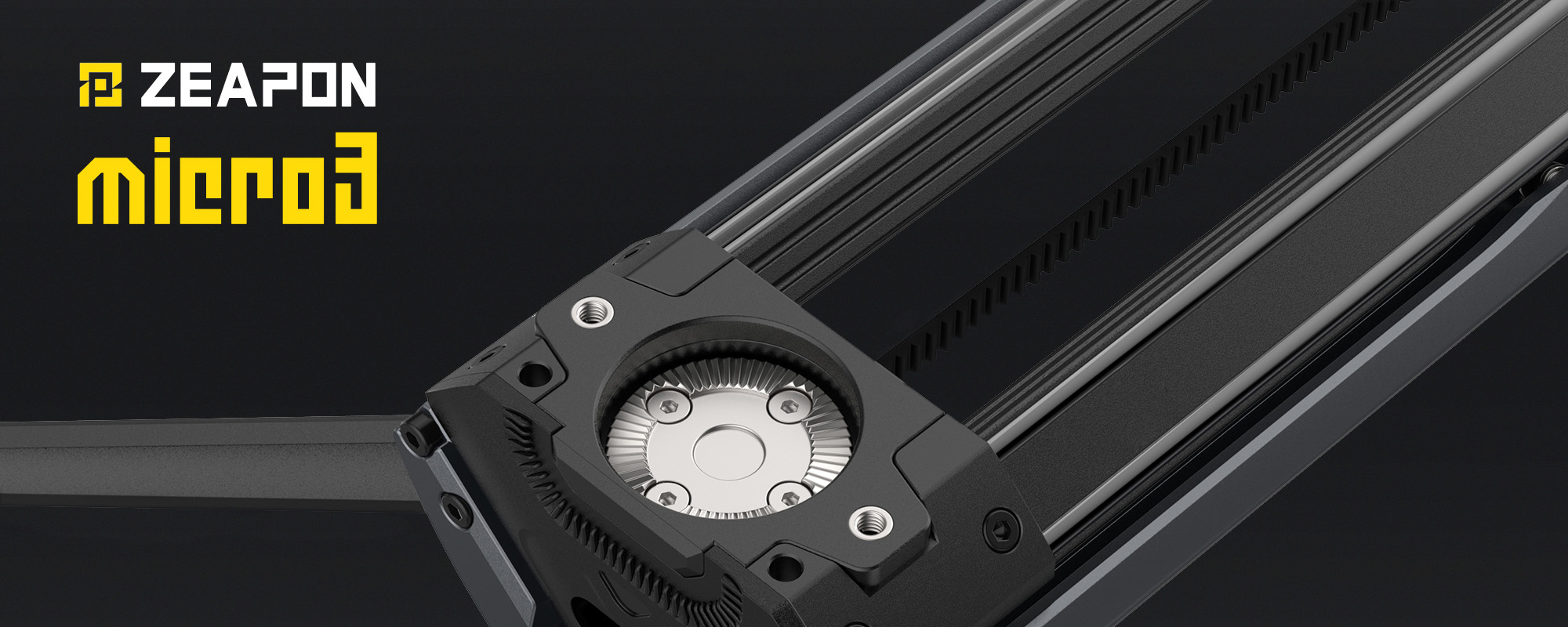 New ways of working
The Zeapon Micro 3 M500 offers completely new possibilities for connecting the slider to tripods, supports and mounting systems. You will find up to 3 1/4″ and 3/8″ tripod threads on the housing of the unit. These will provide even greater versatility for applications where you do not want to use the fold-out legs. Mounting the device is now possible in previously inaccessible locations – even "upside down"! Included with the Zeapon Micro 3 M500 slider you will also find 2 special brackets, making one tripod enough to give you the highest level of stability.
Secure camera installation
The mounting platform used in the new carriage is about 3 times larger than the one known from the Micro 2 sliders. The large contact surface finished with an anti-slip material allows a safer camera installation, guaranteeing perfect stability during recording. Also new is a revolutionary mounting screw, compatible with 1/4 and 3/8 inch tripod standards. To protect your equipment from possible scratches, this element can be hidden inside the platform. Simply press the thread and rotate slightly.
Even more possibilities
In a separate sale you will find a new version of the drive module, designed to work with sliders of the Micro 3 series. With its help you will automate the movement and accurately plan the drive, raids, departures, close-ups and distances, while gaining the possibility to endlessly repeat exactly the same shots. Installation or removal of the motor only requires the turning of two screws. The drive module is not connected to a belt and movement is transmitted via a robust gear wheel. Changing from manual to automated operation is therefore easier than ever!
The Zeapon product family
The electric drive module is just the introduction to the world of innovative Zeapon products. Panoramas, 360º stills and movies, shots straight out of Inception, programming of movements in different planes and even more refined timelapses – all this is possible with further devices that can join your instrumentarium. Explore the modular Zeapon product family, develop your skills and create even better videos and photos!
Drive unit and head are not part of the presented kit. PLEASE BUY THEM ONLY OR IN A PACKAGE WITH THE SLIDER.
Specification
model: Zeapon Micro 3 M500
Maximum load capacity:

angled and vertical operation – 4.5 kg
working in horizontal position – 12 kg

length: 379 mm
reach: 590 mm
weight: 2250 g
Compatibility
drive module for Zeapon Micro 3 sliders
Zeapon Pons PT Motorized Pan Head
Zeapon Timelapse Trigger
Kit contents
Slider Zeapon Micro 3 M500
transport bag
2 tripod supports
H2.5 hexagonal wrench
spare drive belt