Description
The Zeblaze Ares 3 Pro smartwatch – black
Zeblaze Ares 3 Pro is a rugged smartwatch that sets new standards in the world of wearables gadgets for the most demanding. The AMOLED Ultra HD screen with "always on display" mode provides excellent image quality and backlight brightness of up to 1,000 nits. The device meets 12 stringent military standards, making it resistant to extreme conditions, including temperatures (from -40°C to 55°C), humidity, salt water and shock. The smartwatch will also help you take better care of your health (heart rate measurements, blood oxygenation and sleep analysis). The device will improve the quality of your workouts, offering support for 100 different sports. It is a smartwatch that not only impresses with its appearance, but also with its functionality, meeting all the expectations of active people.
Main product features
durable premium smartwatch in black
equipped with an AMOLED Ultra HD screen
offers a resolution of 466 x 466 pixels (326 PPI)
impresses a maximum brightness of 1,000 nits
up to 30 days of operation on a single charge (in economy mode)
Resistant to harsh working conditions tested to military standards
meets IP68 standard (protection against dust and the effects of continuous immersion in water)
resistant to salt water splashes (up to 94 h) and prolonged presence in humid environments (up to 240 h)
resistant to extremely low and high temperatures (from -40º to 55ºC)
dome made of zinc alloy and durable plastic
flattering silicone strap with steel clasp
accurate movement measurements for more than 100 sports and other activities
counts calories burned and measures pace and distance in real time
round-the-clock measurement of health-related parameters (heart rate, SpO2 saturation, sleep analysis)
library of more than 300 different dials
possibility to use your own photo as a watch face
compatible with Android and iOS smartphones
AmOLED Ultra HD screen
The Zeblaze Ares 3 in the "Pro" variant is distinguished not only by its larger display than the basic variant of this smartwatch. The AMOLED Ultra HD screen with a resolution of 466 by 466 pixels provides top-notch image quality and exceptional brightness of up to 1,000 nits. The displayed content will be clear even in very strong sunlight. The screen also supports an "always-on" mode. Protection against scratches is provided by high-quality Corning Gorilla Glass.
Up to 30 days on a single charge
The Zeblaze Ares 3 Pro smartwatch features a capacious 400 mAh battery for long runtime on a single charge. The watch can run for up to 30 days in economy mode and 14 days with typical use. This means you don't have to worry about power during a long hike or intense workout. Zeblaze Ares 3 Pro is always ready to fight along with you, at every stage of the challenges you take on.
Military standards of durability
The Zeblaze Ares 3 Pro smartwatch has passed a series of demanding durability tests, which were performed based on military standards. As a result, it can successfully accompany you on survival expeditions and extreme obstacle runs – both in summer and winter. It is resistant to shocks, freezing temperatures and the hot rays of the sun. It can stay in humid environments for 240 hours. It is also not afraid of contact with splashes of salty sea water. It is an ideal choice for all active adventurers.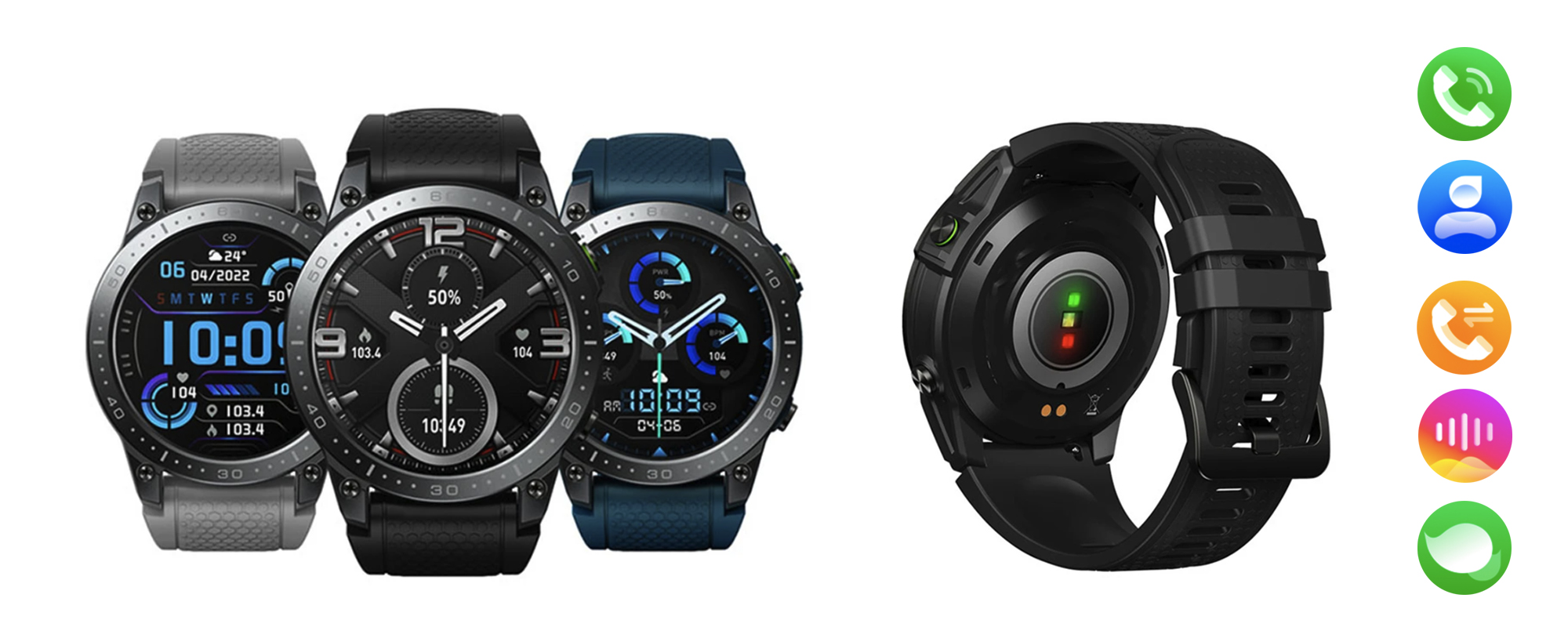 Water is not afraid of him
The Zeblaze Ares 3 Pro smartwatch is IP68 waterproof certified. This assures you that the smartwatch is resistant to rain, splashes and even brief immersion in water. Surfing? Mud bathing? Or maybe street workout on a rainy day? The Zeblaze Ares 3 Pro smartwatch can accompany you during any of the mentioned activities.
Analysis of health parameters
Zeblaze Ares 3 Pro is also a comprehensive tool for monitoring health parameters. It allows you to monitor your heart rate and regularly monitor your blood oxygen level (SpO2). The device also allows you to accurately monitor your sleep, heart rate and menstrual cycle. It will also allow you to perform relaxation breathing exercises. With all these features, take even better care of your body and spirit.
Your personal trainer
If you can't live without physical activity, the Zeblaze Ares 3 Pro will be the perfect exercise partner. The smartwatch offers more than 100 professional workout modes for precise measurements. Among the supported disciplines you will find running, cycling, mountain climbing, team sports and many others. This, among other things, with information on heart rate levels, calories burned and distances covered, you can improve your sports skills and achieve even better results.
More than 300 unique discs
Zeblaze Ares 3 Pro offers an extremely wide selection of dials that will display on the smartwatch screen. The interactive images will not only allow you to personalize the watch for specific needs. The dials are also the best way to customize the look of the watch to suit your mood, clothing style and occasion. If you want, you can also display your own photo or graphic on the screen.
Multitude of functions
Zeblaze Ares 3 Pro is your personal assistant that will help you manage your time more efficiently and reach for your smartphone less often. It will help you stay in constant contact with your loved ones and never miss a notification. Notifications regarding calls, text messages, emails and other applications will appear on the screen. You'll also gain access to tools such as weather, timer, music player and more.
Voice calls
The Zeblaze Ares 3 Pro smartwatch is equipped with a high-quality speaker and microphone. This allows you to make phone calls using Bluetooth technology, without having to take your smartphone out of your pocket. The device also offers support for voice assistants. You can easily pair it with iOS or Android smartphones.
Specification
model: Zeblaze Ares 3 Pro
color: black
Material:

casing: zinc alloy + plastic
button: zinc alloy
clasp: stainless steel
screen: Corning® Gorilla® Glass
strap: silicone

processor: Realtek 8763EW
display: 1.43″, Ultra HD AMOLED (color, touchscreen)
screen resolution: 466 x 466 px (326 PPI)
brightness: 1000 nits max
"always on display" mode: available
sensors: heart rate sensor, pulse oximeter, accelerometer, gyroscope
communications: Bluetooth Low Energy 5.2
Compatibility:

Android: 5.0 or later
iOS: 10.0 or later

Mobile app: FitCloudPro
use temperature: -40ºC to 55ºC
Resistance standard: IP68
battery: 400 mAh (Li-Pol)
Battery life:

saving mode – up to 30 days
typical use – up to 14 days
intensive use – up to 7 days
voice connection – up to 485 minutes

charging time: 1.5 h
wrist circumference: 130 to 235 mm
strap width: 22 mm
envelope dimensions: 49 x x 49 x 13 mm
weight: 35 g (without strap)
Set contents
smartwatch Zeblaze Ares 3 Pro – black
magnetic USB charging cable